Anxiety is something I have dealt with for as long as I can remember!
Back when I was a kid, when I was facing a situation that made me anxious, I would bounce my leg up and down. My mom used to call me thumper because of this.
I've always had an interest in anxiety because I know this is a mental challenge that many others deal with! It shouldn't be something that stops you from doing everyday things but from experience, I know it happens.
So here are 12 things to do to reduce your anxiety!
This post may contain affiliate links, which means we may receive a commission if you click a link and purchase something that we have recommended. As an Amazon Associate I earn from qualifying purchases. Please read my disclosure policy for more details.
1. Focus On Your Breathing
A lot of the time, when you're feeling anxious, your heart rate creeps higher and higher. Take a deep breath. Hold it for five seconds. Blow it out slowly. Do this a couple of times until you feel your heart stop racing. This may help you feel a little more in control of the situation.
2. Write down how you're feeling
Start making a habit of writing your feelings down. Every night before bed, write a little bit about your day. Was it good? Was it bad? Noneventful (I'm sure this is never the case for you mamas!)? Write it all down.
Get yourself a journal that's small enough to keep in your purse so you can bring it everywhere. Then if you have a moment throughout the day where you feel you need to write it down, you're prepared!
You can then go back and read on what causes your anxiety to be triggered and work on how to help yourself so this doesn't happen as often.
3.Go For A Walk or Run
I absolutely love going for a walk when I'm feeling anxious. I also found a love of running last year. Seeing different scenery seems to calm the mind. Walking and running not only helps with anxiety, but you're also burning calories and bettering your body! Win, win situation if you ask me!
Lace-up your shoes and walk out your front door. Go for a ten minute walk or heck, walk for an hour. Go for a run to the end of the driveway and back. Pick how long it takes to help you feel better.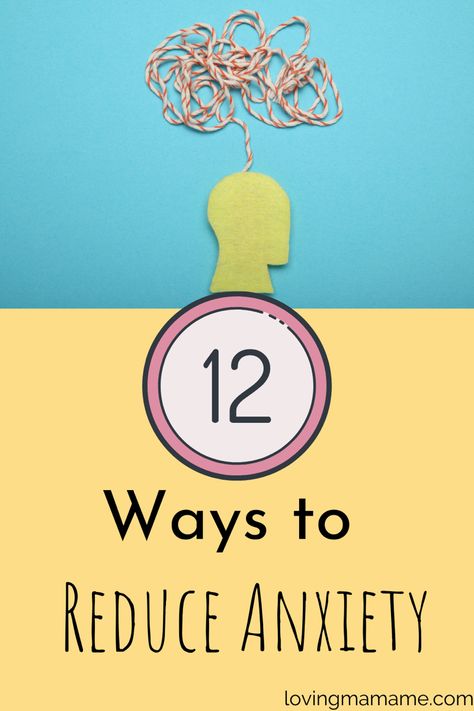 4. Workout
Sure, walking or running is a form of working out but for some of us, we need to do something that is going to make us sweet just a little bit more! For others, walking or running, just aren't their thing! That's okay! Whichever way you chose to partake in exercise, know that your body is releasing endorphins which will allow you to calm down.
Working out is my NUMBER ONE way to reduce my own anxiety! I started working out years ago. I always find that the root of a lot of my anxiety is due to my lack of confidence in my body. So I take a lot of time out of my week to continue to shape my body to what I want it to be! Check out my guide on how to start working out if it's not something you already do! I promise the benefits are so worth it.
5. Listen To Music
listening to music can be very soothing, depending on the genre of course! Personally, listening to music reduces my anxiety because it's a great escape. I listen to a song and sometimes, I feel like I'm a part of what I'm listening to. Other times, I get so focused on the lyrics, that I don't sit and worry about whatever is making me anxious!
6. Watch a Movie
Just like with music, watching a movie is a great escape to use for reducing your anxiety. Try to avoid sad movies. Go for an action or drama film! Here are some of my go-to movies when I need a good getaway!
Law Abiding Citizen
Jumanji
Rampage
Black Panther
The Blind Side
Instant Family
I could go on and on with movies because we watch a lot of them at my house but you get the point! :p Grab some popcorn, pick out a movie, and relax!
7.Read An Empowering Book
Reading is one of the greatest things we can do for our minds! Being a mom, we do a lot of children book reading but it wouldn't hurt to throw in a book of your own to read! Take some time when you lay down at night, to read a chapter or your chosen book.
A girlfriend recommended a book called "Girl, Wash Your Face" and I cannot tell you how happy I am that she did. I have read this book multiple times when I need a boost of confidence in how I am doing as a mother and wife.
8. Read Positive Affirmations
"You can do it!" "You are amazing!" "You got this!"
The more positivity you put into your brain, the happier you will be. Take time in your morning routine to tell yourself 5 positive things about yourself or your day to come.
9. Take Up A Hobby
From experience, the more time I have on my hands, the more I experience anxiety.
What do you do that you absolutely love? Blogging has become my newest hobby! I love reaching out to moms like myself and I love providing tips about everyday things. Think of something that you're good at and get to work! Or think of something you have always wanted to learn and make it a reality.
10. Visit Friends Or Family
Get out of the house and socialize! For some, social anxiety is a huge issue. If that's the case for you, this tip probably won't do much to help reduce your anxiety (I'm sorry!). For some of us, however, being around others helps to reduce anxiety simply because we aren't sitting alone in our thoughts.
11. Play With Your Kids
My children have a way of making me feel so happy (when they aren't stressing me out LOL). Getting in the kid zone, allows you to get out of the adult world for a little bit. Your kids aren't worrying about bills or cleaning or dinner. All they want to do is have fun so join them and let your head be stress-free for a while!
12. Clean
Oddly enough, cleaning is a great way to reduce anxiety, Cleaning gives you a sense of authority and when you feel in charge of things, you worry a little less.
I can honestly say whenever I'm stressed or feeling anxious, I take a break from what I'm doing and clean a room. With my kids home every day, it's almost impossible to keep the house clean all day. Clutter and messes have a way of causing me to be anxious so I always find time to squeeze cleaning into my day.
One day or another, these tips have all helped me learn to reduce my anxiety daily. What works for you? Drop your secrets in the comments! Pin this post to come back for reference! xoxo