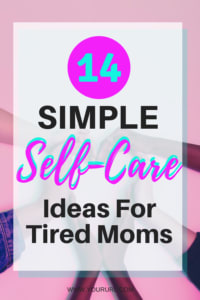 I know you're tired, mama. You've been working, cleaning, changing diapers, making dinner, etc. Day in and day out.
I'm with ya.
Realistically, caring for your house and family is a full-time job of its own.
Sometimes being a mom can be exhausting. We put all of our hard work into caring for our children and spouses. Where does that leave us?
Having the title of MOM, doesn't mean we need to forget about ourselves. It should not define who we are.
In the process of caring for our family, we also need to remember to love ourselves. Let's talk about simple self-care ideas for us tired mamas.
Get Dolled Up
There are days and sometimes even weeks, that I do not take the time to do my hair and makeup. Messy high pony and bun are my go-to mom dos.
I'm not huge on wearing makeup but sometimes, I like to feel beautiful. Taking time in the morning to fix my appearance, makes me feel more like myself. Give it a try!
Buy Yourself Something Nice
When was the last time you spent money on just you? The last time I did was today. Guess what I bought?
$7 Bras because they only because were on clearance (my boobs are shrinking as I lose weight and I've put this off for a while now). I spent a total of $14 on myself yet, had a $160 bill. Good old groceries!
Spending money on yourself every once in a while isn't going to cause you to go broke. Want that $30 dress? BUY IT! Want those $15 earrings? PlEASE BUY THEM! Take a look at this. Here is what I need to take the time to get for myself! What do you guys think?!
I talked about the love of my apple watch when I spoke about how to lose weight( and keep it off). I bought my watch years ago. Someday soon I'm hoping to take my own advice and practice self-care buy spoiling myself with this.
Take The Kids to Grandma's
Somethings are easier done without your little ones! Try taking your kids to grandma and grandpas for a quick visit!
Go get groceries. Go get gas and a car wash! Go for a quick run.
A little bit of extra time at grandma and grandpa's won't hurt anyone! 🙂
Drink Water
I tell you in every self help post… TO DRINK WATER! Water is so absolutely beneficial.
Care for yourself, by keeping your body hydrated so you can stay full of energy for not only your family but also yourself.
Make Smart Eating Habits
How many times have you forgotten to eat during the day? You get so caught up in work or your family and remember to eat right before bed. You binge as much food as you can.
NO. NO NO! Would you allow your kids to do this?
No. So why allow yourself to do this?
Try these tips mama. Meal prep for your weekly lunches!
Exercise
Once again, another topic I always bring up. You're probably sick of hearing about fitness and health at this pount but this is something that I am so passionate. It is something that can shape your life in such an amazing way.
Exercising is a way of self-care for tired moms because its an act that we take the time to do for US! Even if you only find the time to get a ten minute workout in, pat yourself on the back because you still made time for yourself!
If you need help with getting started , check out my guide on how to get started with fitness.
Focus On Your Relationship
How does this fit into SELF-LOVE- if I'm telling you to nurture your relationship?
In order to love yourself and your little ones, you need to keep a strong foundation which means… (drumroll!) FOCUS ON YOUR RELATIONSHIP!
We all know dang well that if you and your spouse are happy, your children notice and they are happy in return. A happy household makes mom's life so much easier!
That being said…
Have A Date Night
Date nights in my household are a rare occasion. But when it does happen, it's probably not what you expect!
Date night can be an hour away from the kids, or an evening or a weekend! Take some time to solely be with your spouse and just enjoy each other.
Take a stab at my kind of date night.. Check the end of this post for the answer:)
Binge Watch Netflix
Come on, you know this sounds so great!
As a mom, we tend to forget that it's okay if the house stays messy for a day so we can self-care. We tend to forget that the laundry is going to be okay if we don't get to it till tomorrow. Oh and those dishes in the sink… they aren't going to run away if we don't immediately get them done after every meal (I FREAKIN WISH THIS WOULD HAPPEN!)
Take a break from your busy life and watch tv. Lately, I've been attempting binge-watching Jane The Virgin but my son is very good at hogging the tv to watch CocoMelon!
Read A Book
Reading to self-love is an amazing thing. There are so many books available that sharpen your mind or inspire you to be the best version of you!
My favorite inspirational author is Rachel Hollis. She writes to moms like us about changing our thoughts to better our lives. She helped me to learn how to not judge myself as a parent and gosh, I just need to share with you one of her great books!
It's called Girl, Wash Your Face and omg… I'm reading it for the second time now and I will probably read it again.
STOP COMPARING YOURSELF TO OTHERS
This is a big one for me. Since I was a kid, I have always wanted to be like someone else. I literally would have been content with being ANYONE other than myself. I wish someone would have told me how much this would damage my self-image as I grew older.
Mama, let me be the one to tell you this: YOU are a great mom, wife, friend and SELF! Stop thinking you need to be the mom who always brings the expensive treats for the class. Stop thinking you need to be the mom who always has a spotless house. Stop being the mom who hes the most expensive attire.
You don't need any of that. Love yourself. Love your family. That's all you need for a happy life.
Get Comfortable With Saying NO
Way too often, we feel obligated to always please everyone. Some of the time, that has us putting our own feelings on the back burners but guess what? It's okay to say no and choose your own feelings or opinions over anyone elses.
Make Positive Affirmations a Self- Care Ritual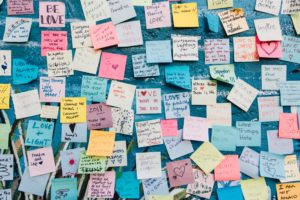 A habit that I need to get back into is writing down positive affirmations on sticky notes and placing them in random places in the house. My favorite spot was always on the bathroom mirror or on the refrigerator door because they used to be my two favorite spots in my house.
Just simply remind yourself…
You are beautiful.
You are a great mom.
You are a great wife.
Without you're amazing self, this world would be different.
Those are just a few examples but you write things that will help you feel better about yourself today.
DO NOTHING!
I'm pretty sure this one is self explanatory. Sit down and do nothing.
WELL…
You can take a nap LOL. But, I do not want you do do anything productive because you deserve free, lazy time!
So mamas, did this help you at all? Pin this if it can help other tired moms learn how to self-care! xoxo