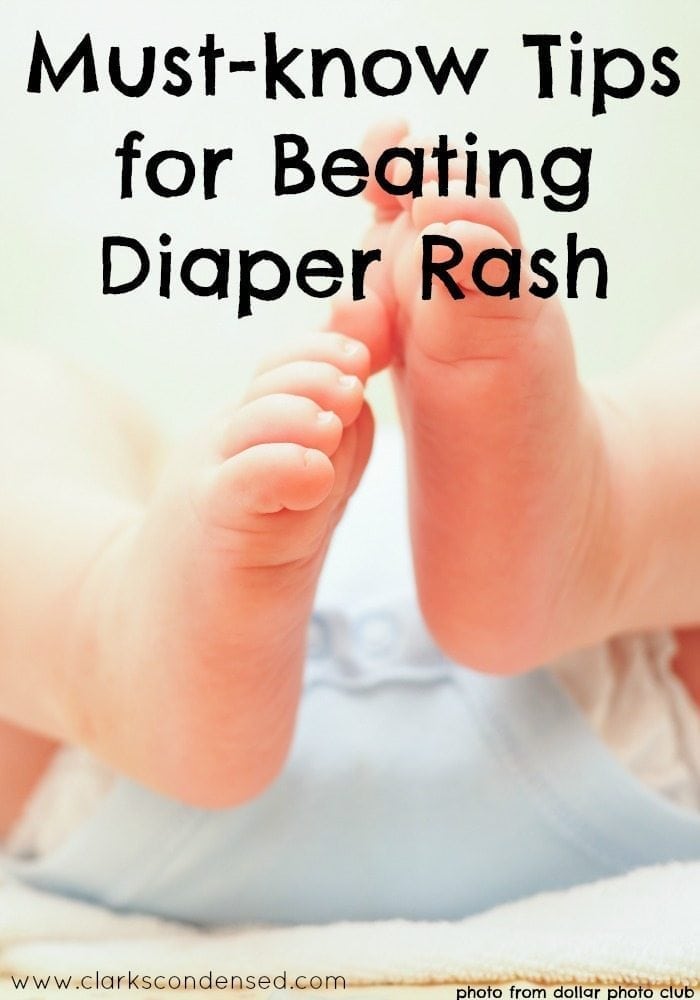 All babies and toddlers will get a diaper rash at some point or another. It's painful for them, and honestly, it's painful to see your baby feel that way!
My oldest pretty much had a diaper rash consistently until he was potty trained – mainly due to the fact that he had a lot of GI issues. I'll leave it up to your imagination to figure out what that results in!
Even though he had a few rough patches throughout his first year of life, people were always commenting on how happy he was. I mean, how could you not just fall in love with this smile?
Which made it so much harder to see him so miserable and sad, because I always knew how sweet he was when he was happy. His sad, in pain faces, always just broke my heart.  
There were times where my son's was blistering and bleeding because it had gotten so bad. There was only so much we could do, since it wasn't just because we left him in a messy diaper for so long. However, we did find some tricks and tips that helped heal the diaper rash faster and help prevent it in the future.
Be careful about wipes
Quite often, wipes that aren't unscented can cause reactions with a baby who has sensitive skin. Avoid using wipes that have fragrances or weird chemicals in them. There are some wipes that are created specifically for babies with sensitive skin, so this might be something to consider as well. I've heard of a new type of wipe that is made with just water, which is supposed to be great for babies who have diaper rashes! If your child already has a diaper rash or open sores on their bum, the chemicals in the wipes can irritate them even more.
Change diapers frequently
This may seem silly to mention, but we've all been there – the baby has a wet or poopy diaper, and you are cooking dinner, on the phone, or in the middle of the store. It may seem okay to wait several minutes to change it…and sometimes, that's totally okay! But the longer a baby sits with a soiled diaper, the more likely they will get a diaper rash. Wet diapers can be harder to know when to change – but just try and change your baby's diaper every few hours (unless it's totally dry), especially if they seem to have a lot of diaper rashes.)
Experiment with different diapers
Take it from me – not all diapers are created equally! And the funny thing is – different babies work better with different diapers. There were a couple brands of diapers we used that seemed to cause more diaper rashes and irritation, but I knew others who raved about them! There are some diapers that are specifically created for sensitive babies, so consider looking in those. If your baby is having a lot of diaper rashes, consider switching to another brand.
Eliminate Certain Foods
This was what helped the most with Jack. He had some different food intolerances, and while we had trouble figuring out all of them, by identifying a few key foods, it helped improve his problems significantly. When those problems were being treated, it resulted in less acidic stool (and less frequently), which resulted in less diaper rashes! If you feel like your child is getting a lot of diaper rashes, regardless of what you do, definitely consider eliminating certain foods to see if it helps. Usually it takes a few weeks to see a big difference with food eliminations. Consult with your child's pediatrician for help.
Use a high quality diaper rash cream
We used diaper rash cream all the time, and we still do occasionally, even though Jack got potty trained in the last few weeks. There's tons of different brands out there, and it's important to use a high quality kind. When Jack was in the hospital with RSV, he had a diaper rash that was so bad, his pediatrician prescribed a medicated diaper rash cream. If your baby gets that bad, be sure to see if that's an option.
However, most people aren't going to have to use a specially prescribed diaper rash cream. There are tons of diaper rash creams available over the counter.
A lot of these tips are probably just common sense, but hopefully they can help you with your child's persistent diaper rashes. Have you found something to fight diaper rash that works well?