Are you a new parent? If so, you're probably wondering what to buy for your little one. Here are 25+ awesome baby gifts that will make your life as a new parent much easier! From practical to luxury, this list shares the best gift ideas as shared by new parents themselves.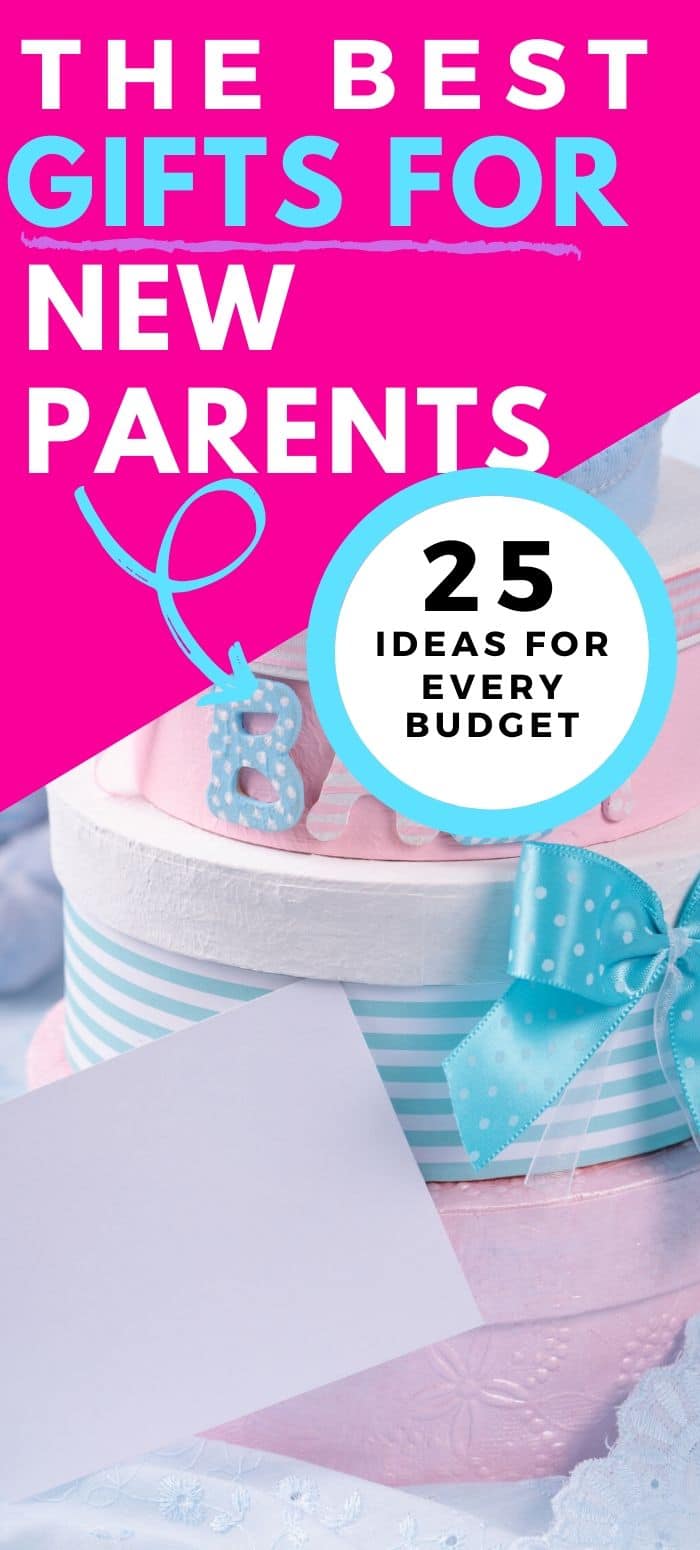 Babies don't require a lot of things – but there are definitely some products that make parenting a little easier.
There are some super inexpensive products out there that are really helpful (such as the oogiebear, the nose Frida, and the Wubbanub), but I'm sure most parents come across some of the pricier items and wonder, "Do I really need this?'
I thought I would share some different items that ARE worth buying. I've surveyed lots of different moms to find their favorite products, and I'm going to share a few of my favorites as well.
Below you'll find different categories, and some of them have specific brands. If there isn't one, it's just something I personally think is helpful but am not married to any specific brand.
Some things are more expensive than others, but I put anything that was over about $30 – but things range from there to the hundreds.
Many of these items would make for a great group gift for a baby shower present!
There were three items that were mentioned OVER and OVER again – so I think I will start off by highlighting those.
Best Baby Products of 2022
Halo Bassinest
We actually have the bassinet, and it is really a great product. It makes it easy to have your baby nearby without actually having them in your bed.
I think this was the #1 product moms recommended. We don't use ours right now – I actually opted for another co-sleeper that I bought on Amazon when Andrew was born. But I did really like using it in the beginning.
Initially, I put it up high enough to actually go on my bed, but I found it easier to have it more in line with the top of my bed. It was easier to lean down and get Andrew or just put my hand on him.
They have a couple of different versions of the Swivel Bassinest, but I personally think the least expensive one gets the job done. They have one for twins that looks rather nice.
I do recommend getting a sheet for the mattress. I feel like Andrew slept better with it. I also bought this off-brand newborn insert that made a HUGE difference. Halo has its own version, but the one I got had better reviews.
Owlet
I have been a fan of the Owlet since it was first released – we have used it with both Oliver and Andrew. It's a monitor that tracks a baby's heart rate and oxygen levels, and it alerts you if they drop to unsafe levels.
With Oliver, it alerted us when he wasn't breathing. It also helped us discover that he had central sleep apnea.
With Andrew, it has just given me peace of mind. It's actually gone off a few times – primarily before he got his tongue tie revised. But I just love it.
We got the newer version with Andrew, and I like it SO much more. The app has been updated since Oliver was a baby, and I love that you can see the stats history, sleep quality, and how much baby has woken up.
We also have a video monitor. It's pretty nice – it has two-way talk, a temperature sensor, etc. You can read our review of it here. Honestly, if you aren't getting the oxygen monitor, I would probably get another monitor. BUT if you do have the sock, they work nicely together, and it's all just in one app.
Dock a Tot
This is something I've never personally used, but I know people rave about it. It's an infant lounger that is comfy and portable.
I know a lot of people use it for co-sleeping. I never felt comfortable with that, which is one of the main reasons I didn't get one. Andrew doesn't love to be laying down while he's awake, anyway, so I don't think I would have gotten as much use out of it. But so many people love this!
Great Baby Shower Gifts
Okay, now I'll share some different categories of items. Some of these you are going to need to buy either way (like a car seat), but when i list those – it's because I think it's worth investing in one that has good reviews and longevity.
Baby Carrier
I am a huge fan of babywearing. It's been a lifesaver with all of my children, and I honestly don't know what I would have done without my carriers.
Andrew is definitely my most worn baby. He's my third child, and he loves to be held…and as much as I'd love to sit and rock him all day long – I can't! So having a carrier is essential.
I'm a big fan of wraps, especially when they are younger. I used a homemade moby wrap, and with Andrew, I have been using a Solly Baby Wrap. Honestly, I think most wraps are pretty much the same – just find one that fits your budget and has good reviews!
I also recently got a ring sling. They take a little while to get used to, but I've been really liking it for when Andrew is awake and wants to look around. It's easier to wear on my hip than a wrap.
Finally, the more structured carriers! These are great to have, especially with older babies (though most you can use from about 8 pounds and up). Here are the brands most commonly recommended in my groups:
Ergo – They have tons of different ones. I have an Ergo Adapt and really like it for longer walks, hikes, etc. We used it in Disneyland in November, and it was great.
Tula
Lillebaby
Happy Baby
Weego – I guess they have a twin one that is excellent for twin mamas.
Stroller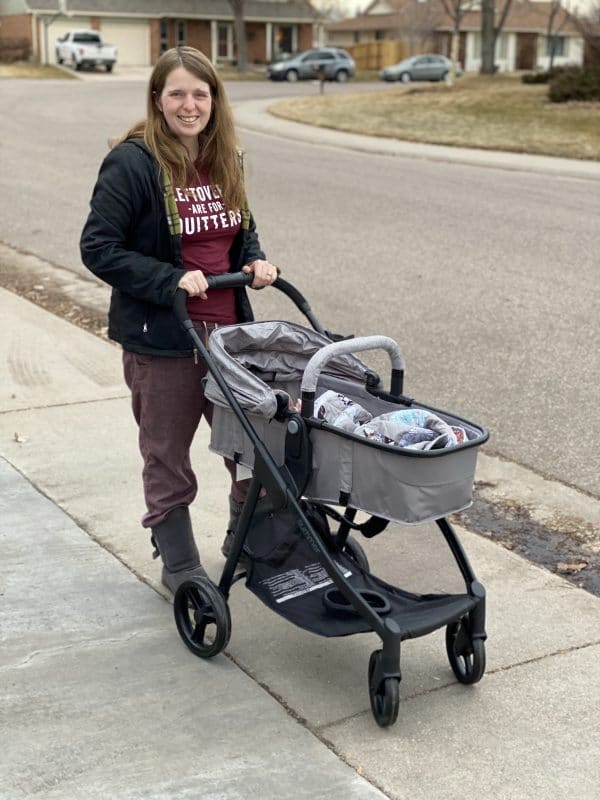 Although I babywear a lot when we are out and about, I still love and value having a good stroller. Sometimes Andrew prefers to be in the stroller when we are on a walk, and it's just nice to have somewhere to put things!
We always use a travel system with our kids. It's just convenient to be able to put their car seat directly into the stroller.
These can be a bit cumbersome and heavy at times, and if you want to put a newer baby directly into the stroller rather than just use their car seat, it's not always easy to do.
Summer sent us the Summer™ Myria™ Travel System to try out, and it's really the best of both worlds. It allows you to use the infant car seat in it, but it also has a super convenient and helpful carriage mode. This is awesome for newborns and smaller babies that can't situp.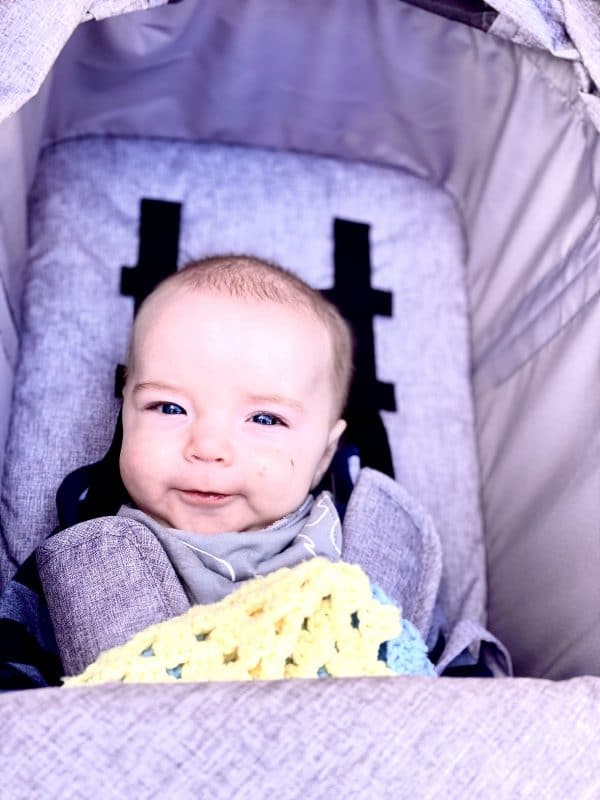 The carriage mode can be used from birth until about six months. I've always loved the idea of a carriage for a stroller, and it is so fun to push around.
What I love most about this travel system is how lightweight it is. When you don't have the car seat in it, it's so easy to push around and up hills. But even with the car seat, it's lighter than other travel systems we've had.
I love that has an extra-large canopy with a peek-a-boo window, cup holders, and a snack tray for when Andrew gets bigger.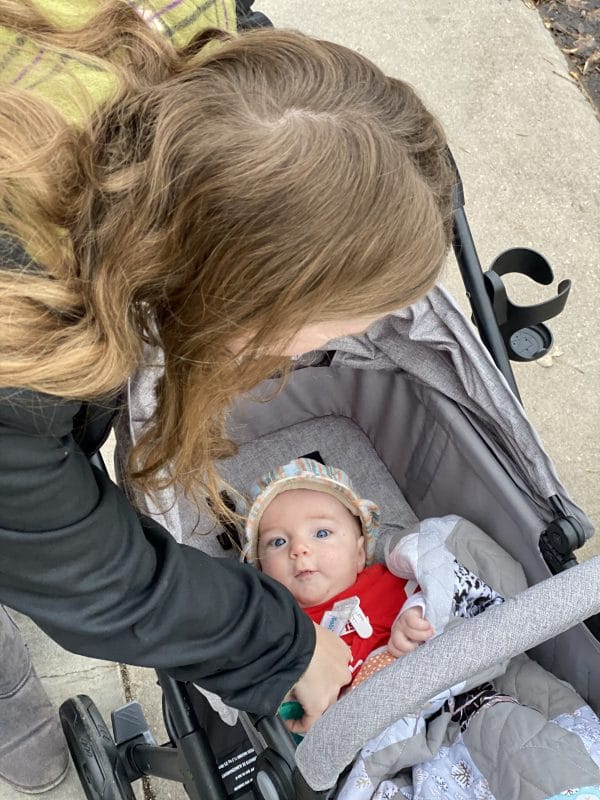 There are tons of stroller options out there. I've been disappointed with some we've had in the past, so take the time to research them to find the one that best fits your needs.
Car Seat
Every child needs a car seat. Period.
I mean, they won't let you leave the hospital without one.
There are different schools of thought on what kind of car seat you should get. Some people go straight for the convertible car seat that rear and front faces from the get go. Others swear by infant car seats.
We have personally always used infant car seats. We don't have big babies, so they are able to stay in these for a long time, and it makes it easy to transport baby from point A to point B.
However, I can see why people would choose to start out with a convertible one, especially from a budgeting standpoint.
Regardless, here are a few things to look for:
A car seat that rear faces for as long as possible. Rear facing is the best option, and thankfully, newer car seats rear face for longer than ever.
Good safety ratings
Make sure it fits! Some stores will allow you to see if a car seat will fit in your car. If you just have one baby, then it will most likely fit. But once you start having more children, it gets harder to fit them in perfectly.
As I mentioned above, the Summer Myria Travel system is a solid option – it includes the Summer™ Affirm TM 335 rear-facing infant car seat, which boasts advanced safety features. It has a uniquely designed base, which includes the reinforcing strength of steel, but it is super easy to install. It also rear faces to 35 pounds, so it's a great choice for small and large babies (always pay attention to the height limits, too! My four-year-old isn't even 35 pounds, and clearly he shouldn't be in an infant car seat!).
Other brands people mentioned over and over again are Doona and Nuna Pipa.
Diaper Bag
I had the worst diaper bag with Jack. It was plastic, didn't have a lot of storage, and it didn't last very long before it started falling apart.
The diaper bag I have now is so, so much better, and I've now discovered why people invest in getting a nicer one.
I personally have a Pekebuo convertible set, and I LOVE it. I have long been a fan of the Pekebuo diaper changing bags, and I've been so impressed with the convertible diaper bag sets. They have a nylon and vegan leather bag, both of which I've tried out and love.
I really like that it can be worn as a bag or backpack, and there's so much storage space. The diaper changing bag is probably one of my favorite products, so even if you don't want a big bag, this is one to definitely get. Here is a video of it. It's from the original bag, which has been improved so much over the years (and I loved the original one!)
I know that other popular brands are Petunia Picklebottom, Ju Ju Be Baby, Skip Hop Baby Bags, Freshly Picked, and Fawn Design.
Baby Monitor
In our first couple of homes, there was really no need for a baby monitor. However, with Andrew and Oliver, we had bigger houses, and they became more necessary.
As I mentioned, we have the Owlet camera, and it works well. I like that it still works in the background, so I don't have to have the app open at all times.
I love having one that's connected to my phone, so I can easily check on Andrew if I happen to be gone. At Christmas-time, I went over to my mom's house to see my sister late one night, and I didn't want to take Andrew – who was sound asleep. It was nice to be able to check on him the whole time I was gone (don't worry, Forrest was at home with him).
Here are a few other popular baby monitors:
There are tons of video baby monitors on Amazon that are affordable and have great reviews. So make sure to check those out, too.
Swaddle
This is one of the less expensive items on my list…but good ones can certainly add up over time.
I have a post about the best swaddles that my sister and I have collaborated on…and I'm hoping to release that in the next month or two. However, I will share a couple here that are worth the expense.
The Nested Bean line is hit or miss with a lot of people, but it helped Andrew sleep SO much better. Within just a few nights, he went from waking every 1-1.5 hours to giving us a 3-4 hours stretch.
For simpler swaddles, I have really liked ones from Copper Pearl and Lou Lou. Oliver loved the Woombie, but it hasn't worked as well with Andrew.
Some others that were mentioned were Swaddle Up and the Ollie Swaddle.
White Noise Machine
We are big fans of white noise in our family! While you can buy an app for your phone, it makes it tricky when you need your phone while baby is sleeping.
We've used various white noise machines over the years, and I have liked both the Hatch Baby Rest and the Marpac Dohm.
Someone on Instagram said they loved the Lectofran white noise machine.
Gathre
This company sells beautiful and easy-to-clean play mats (amongst other products). I have seen so many people rave about these, and I'm just itching to get my hands on one.
Bouncer, Rocker, and/or Swing
I lumped these all together because sometimes, one of these products does all three of these things.
Jack was a big fan of the swing – my other kids have been indifferent. There are so many different swings, and sometimes it's hard to decide which one to get.
I will say you definitely get what you pay for. We have a Mamaroo, and we really like it. It has a lot of different settings, which makes it easy to find a setting that works for your baby. Several others said they loved the Mamaroo as well.
Here are a few other options:
Graco deep seated baby swing
Baby bjorn bouncer with toy bar
Sleeping Place
This encompasses all things related to baby sleep. I didn't get any crib recommendations. I know the IKEA one is popular. We have a great Graco one that we got on Craigslist.
However, people have all sorts of opinions on bassinets and co-sleepers. I do, too! I've used a lot of different options over the years, and my very favorite co sleeper is the Baby Delight Snuggle Nest.
It fits in our bed well, and my son who is 4.5 still fits in it really well. I think we'll make it to at least six months with him. I love that it's easy to travel with, compact, and he can be super close to me while still being in his own space.
Here are some other popular options:
As I already mentioned, the Halo Bassinest. I have this, and Ido like it. It is bigger than the one I have, so I might start using it a little more with Andrew in the near future.
Snoo – I have been so fascinated by this, and apparently people really like these. They are VERY pricey though. One lady suggested just renting one.
Pack and Play with newborn attachments – we used this with Jack, and it worked well. We love having pack and plays for our older babies and toddlers when we travel.
SwaddleMe By My Side Co-Sleeper – I debated getting this one. I went with the Snuggle Nest, because I found one on Amazon that was in a damaged box, so it was only $20.
Baby Lounger
These are all the rage right now. I already mentioned the Dock a Tot above – but people like these for travel, supervised sleep, and just for letting the baby lay in.
The Dock a Tot is obviously the most popular one, but the SnuggleMe is another brand that was mentioned quite a bit, and it's a little cheaper.
Infant Scale
I get some flack about this in certain groups I've been in, but having an at-home infant scale SAVED me with Oliver.
He had some major weight gain issues, and I had to take him in for weight checks. I got so much anxiety in between those checks (I still have a. hard time going into doctor's offices because of it), so having a scale at home to monitor his weight in between really helped.
With Andrew, I was able to catch he wasn't gaining weight after we brought him home from the hospital, and it helped me
I have a Hatch Baby Grow. It's more expensive than most, but it works with their mobile app, automatically calculates weighted feeds, and it's just really nice.
There are other infant scales that are quite a bit less and work just fine as well!
High Chair
Once baby starts eating, they need somewhere to sit, obviously!
When my kids first start eating, I honestly just put them in a Bumbo – there is a great tray attachment. But once they start eating more consistently, I think a high chair is helpful.
I didn't get a ton of recommendations for which one is the best, but one person mentioned the Baby Bjorn brand. When I asked about brands a few weeks ago, the IKEA one was mentioned quite a bit.
We had a space saver high chair with our first two boys, which is great when you have limited space. We are planning to get a stand-alone one for Andrew, though, so we don't give up one of our chairs.
Diapers and Wipes
You can never get enough of these, and I know almost all parents are grateful when they know they have boxes in the closet.
This post talks all about a diaper stockpile, best prices to stock up at, and the most common sizes for infants – it might be helpful! Or a diaper subscription service would be an awesome idea as well.
Breast Pump
If you are planning to breastfeed and/or pump, having a good quality breast pump is essential.
Fortunately, pretty much all insurance companies are required to cover a breast pump these days. Make sure you read this post all about breast pumps and insurance.
However, they sometimes will only cover a manual pump or a pump that has a bad reputation. If that's the case for you, you may want to invest in a better one.
Across the board, people seem to LOVE the Spectra line of pumps, so that might be a good option to look into.
Working mothers rave about pumps like Elive and Willow. They are handsfree and quiet – which make them ideal for the workspace. They are pretty pricey, but I've heard a lot of moms say they are 100% worth it.
Diaper Pail
I know that diaper pails make a lot of people's lists for items not to buy – but when I asked, TONS of people said this was one of their favorite items.
I am absolutely in that camp as well. We have used different diaper pails with all their kids, and they are convenient. We live in two-story house now, and I don't want to deal with walking up and down the stairs every time Andrew has a diaper change to throw it away in the dumpster.
The most popular brands mentioned were Ubbi and Diaper Genie. We used the Munchkin Step Diaper Pail, and it's worked pretty well. You do have to use their bags (or an off-brand), rather than a trash bag. But it's not the end of the world. Ubbi doesn't require any special bags, which I'm sure is part of the allure of that one!
Play Mat
Jack was so enamored by his playmat! I got it on clearance, but it's lasted us three babies. I know so many babies that love theirs.
The one we got for Jack was from Bright Starts, and then we got another one (because apparently we need one on both floors) for Andrew from Baby Einstein.
Two other brands I know people love are Loverly and the Hatchling Co. The Hatchling Co one is so unique – it's all made of wood!