Whether you are bringing home your first baby or your sixth, life is never the same.
With your first, it seems so busy and crazy trying to figure out exactly what you are supposed to be doing with your baby. Are they eating enough? Are they pooping and peeing enough? Is that rash normal? You may be running in and out of the doctor's office more often than you anticipated!
With your second, you may not worry as much about knowing how to raise the baby, but you will be juggling two kids! Of course, I think having two kids is even better, but it certainly is even busier!
Having a baby when you have a child in school? Well, I haven't experienced this yet, but from talking with friends, siblings, and my mom, it's a whole new sort of crazy. You really have to learn how to manage your time. Or you might get a note home from your child's teacher encouraging you to make sure your child gets there on time (yeah, that happened to me when my little brother was born).
Regardless of what baby you are bringing home, I think it's important to revisit some of these basic tips for keeping your sanity when bringing home a new baby. I gathered together some of the best advice from awesome mommies about bringing home a new baby.
Thank you to Sam's Club and P&G for partnering with us on this post.
[thrive_leads id='31149′]
Support
I think this is one of the biggest things moms need – support. I know that there's no way I would have made it through Oliver's first few months without having a good support system in place. I am fortunate to have a very supportive husband, family that lives near by, and a great network at church. I also stumbled upon an amazing lactation consultant who made my life easier.
Even if your situation isn't ideal – there is always places you can turn for support. Most hospitals and many doctors offices have new mom support groups, you can find local mom groups by searching on the Internet or asking friends, and you can even find them online. Here are a few groups I run that people seem to find helpful:
Sometimes you just need someone to help you – even just some kind words. It can make all the difference!
Get the good diapers
There are plenty of discount diapers out there – and for some babies…they work. However, by the time Oliver came around, I understand the value of quality diapers. You know, ones that aren't going to leak when they have a Tablespoon of pee or cause a blow out every.single.time.
With Jack, we discovered early on that Pampers Swaddlers were the only ones that worked with him. They were soft, kept everything in, and lasted through the night. So with Oliver, we just started off on the right foot and only ordered that brand!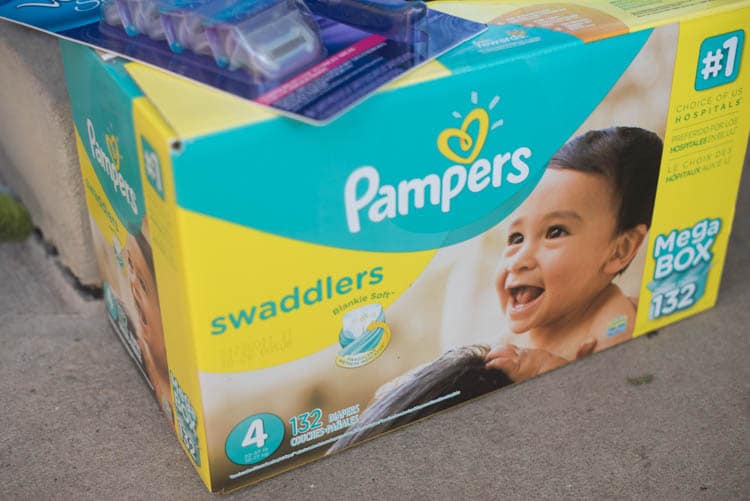 Freezer meals
I think that the last thing anyone wants to do when they bring home their new baby is make dinner. However, just because you had a baby doesn't mean that you – and your spouse or kids – stop wanting to eat. I have always been fortunate enough to have people bring me meals for a little while after I get home – and Forrest is always great at making dinner. But freezer meals are so nice for when the help stops coming and you have many little mouths to feed.
Even after baby has been around for awhile, freezer meals are perfect for busy nights. I also think that just meal planning ahead of time is a great idea. These are two meal planning services I use that have saved me SO much time and money:
[thrive_leads id='30537′]
Coconut oil for everything
I'm sure you've heard of the trend of coconut oil – it's been all the rage for a few years now. And while there may be some controversary of it's healthy benefits…it has some serious practical benefits for baby and mom! I recommend stocking up on the large containers from Sam's Club because you will use it a lot.
Here are a few favorite ways to use it:
Nipple cream/ointment (I love coconut oil way more than anything else I've used!).
To clean up meconium – those tarish, black newborn stools are a PAIN to clean up. Using a little bit of coconut oil helps clean it up so much easier.
Cradle cap! My boys always get cradle cap, no matter what I do, and coconut oil can really work wonders on it.
Strategically plan outings
Leaving the house with kids is a whole new ball game. I remember the first time we went on a vacation after Jack was born – I couldn't help but laugh when we went through the security line. No longer could we zip through it quickly with our one carry on…we now had strollers, diaper bags, all the carry on's and personal items we could reasonably bring, and a car seat.
Going to the store even requires a little bit more of a game plan – especially when you have multiple kids. I am so grateful for more and more stores that seem to recognize the stress that often accompanies taking children to the grocery store, because there are so many great ways to make grocery shopping way less stressful.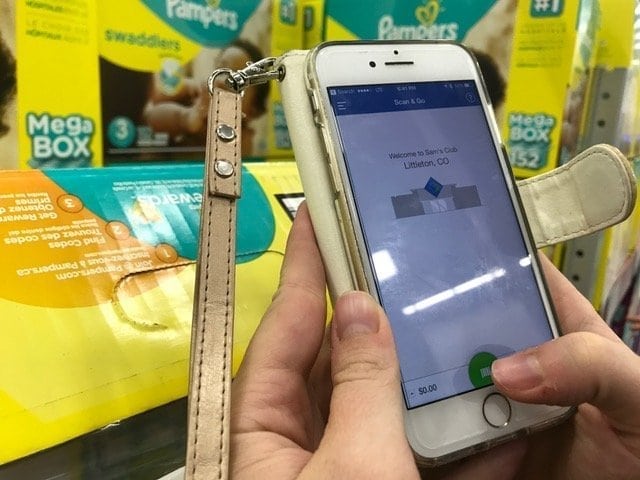 For instance, Sam's Club has THE most wonderful program called Scan & Go. I'll admit, when I first heard about it, I was like, "Really? Is it going to save me that much more time and sanity to just skip the line?" But then I went to a store that didn't have it, and Oliver started having a major melt down right as we were about to check out, and I said to my husband, "Ah…THIS is why Scan & Go is amazing! We could just be leaving now instead of wrangling Oliver for that much longer to go through the checkout line."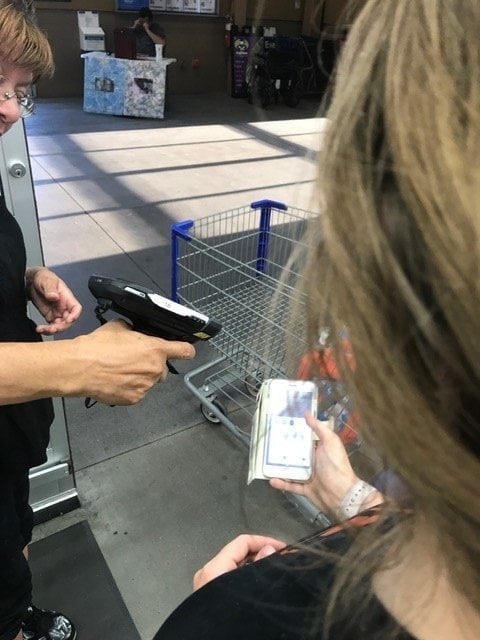 By shopping at stores that offer convenient and flexible shopping options, it makes life a little bit easier. With Sam's Club Scan & Go, all you have to do is download the app, scan the items as you put them in the cart, and as soon as you are done shopping, you just check out. Here's a video showing me do this from start to finish:
Added bonus – it's a great way to involve the older kids in your family! Jack thought it was so fun scanning items, and it really distracted from the boring-ness of shopping. Plus, I like doing this rather than just grocery pickup, because, let's be honest…who doesn't love samples?!
If you are in the Denver area, I will be giving out $10 Sam's Club gift cards to anyone who uses Scan & Go on Saturday, August 26th at the Lone Tree location from 1-4 PM.
Sleep when baby sleeps – seriously
We've all heard this, and I think most of us have scoffed at the idea. However, it really is important! I'm the worst offender – I just love to hold my babies while they sleep because they just grow too fast. But getting enough sleep those first few weeks and months can be essential to your well-being. You don't have to sleep EVERY time baby sleeps…but it's good to at least schedule in one good napping session 🙂
If you need tips on how to help baby sleep baby, make sure you read my post about gentle ways to help baby sleep through the night. It has been pinned over 100,000 times. People seem to like it 🙂
Stay Organized
It can feel hard when you are being pulled in a million different directions to feel like you can stay organized. However, I really recommend coming up with a new "normal" schedule – especially when you have older kids.
I love apps like Cozi, which is a great (free) family organizer. If you are more of a paper planner person, I absolutely adore the "Mom on the Go" planner. It is probably the best planner I've ever seen.
And if you are like me and need helping figuring out how to stay organized, here are a few great resources:
Babywearing
Whenever I have a new mom lamenting about not being able to put her baby down, there are usually two things I do.
I send her this article about the fourth trimester (unless, of course, her baby is older than three months), and then I strongly encourage her to wear her baby. I'm not kidding when I say babywearing saved my sanity when Jack was baby. I wore him when I worked, I wore him when I went to school, I wore him while I cooked, I wore him while I shopped…well, you get the point.
Babywearing is seriously something I think ALL moms need to know about – it gets even more convenient the more kids you have. You definitely need extra hands when you have a little toddler who needs you to wash his hands, or a school-age child who needs help with their science project.
My favorite baby carriers are the Moby Wrap (here is a homemade moby wrap tutorial) and the Ergo Baby. If you get an Ergo, I recommend buying directly from their website, as there are A LOT of counterfeits out there.
Stop watching the clock
Newborn babies are not meant to be on a schedule. Try not to focus on how much you aren't getting done because your baby needs you so much. It will only drive you crazy!
Grocery Pickup
Another awesome feature that many stores across the country are doing is grocery pickup. It's seriously heaven sent – especially when you have a newborn baby and a) don't want to go out shopping (GERMS!) or b) you don't want to take a baby, a toddler, and any other kids you have to the store. You can simply do your grocery shopping online, checkout online, and then you just drive to the store, and their associates load it in!
I was especially excited to hear that Sam's Club had recently rolled this out. Even though I love going inside (again, samples!), there are definitely times when we need things from there, and I don't want to drag the kids across the whole store. At Sam's Club, you do still have to go in, but it is better than the long trek through the store.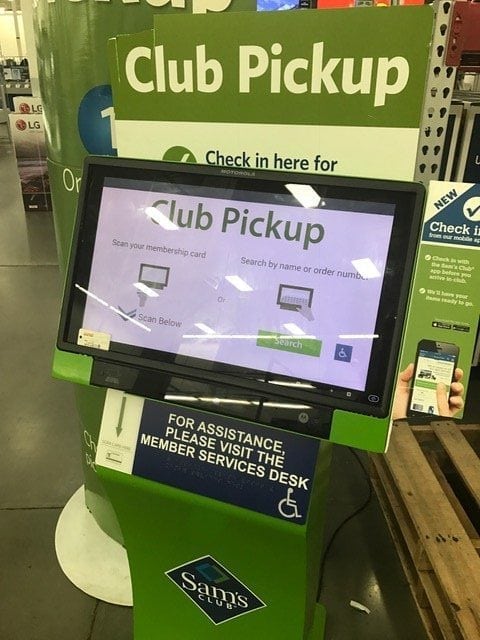 I love using the Six Sisters' Meal Plan with Walmart Grocery Pickup. They send you a meal plan each week – with the grocery list all ready to go – and all you do is hop over to your preferred grocery pickup store, add all your items to your cart, and you can pick it up the next day! You can get $10 off your first order here.
Cluster feeding is normal
It is normal for your baby to want to eat frequently when they are a newborn or around a time of a growth spurt. This is typically more common with breastfed babies, since breastfeeding is more of a supply/demand process rather than a set amount of milk every few hours. However, any baby can cluster feed, and it CAN be normal.
However, it's super important to know the signs of dehydration or not getting enough milk. If you are breastfeeding, after your milk comes in, diaper count can be pretty reliable. I absolutely LOVE this article about how to know when cluster feeding is not normal.
Tips for surviving cluster feeding? Netflix, learning to nurse in a baby carrier, and just accepting that this time will pass quickly 🙂
Mamaroo and Rock and Play
These are the two most commonly recommended items moms mentioned that they think are must-haves. I would agree! We LOVED our Rock and Play, and we can't wait to use a Mamaroo with our next kiddo!
Dry Shampoo and Concealer
Stock up on these for those days when you just can't take a shower! You can even get your favorite brand on autoship from Amazon.
Or, at least, buy this hat so people know you are keepin' it real 🙂
Relax
I know, this may seem impossible, but I promise, it's worth doing. You just had a baby – it took nine months to get to that point, and it takes a lot longer than a few days to recover. Cut yourself some slack, turn on some Netflix, and just relax.
Learn to Say No
This is so important for any stage of life – but especially when baby is first born. You have to make sure you are keeping the well-being of your family and self your priority, and that means saying no.
It's okay to say no to people who want to come and see your baby when you just want to sleep. It's okay to say that you can't help with the school Halloween party a week after your baby is born. It's okay to say no to the sink full of dishes when you can hardly keep your eyes open. You'll have plenty of time to say yes in the future.
Accept and Ask For Help
If someone wants to help – let them! It really does take a village to raise a child, and there's no reason to think you have to be super mom all the time.
Even if people don't offer to help, it's always okay to ask for it. There are many people (myself included!) who are more than willing to help, but they may not be as forward to offer it. If you are struggling in any way, always find help.
Stay Stocked up on the Essentials
There's nothing worse than having to go to the store with a brand new baby because you just ran out of diapers, tooth paste, paper towels, or even razors! It's those items that you need in your household…but you don't realize until they are gone just how much you do!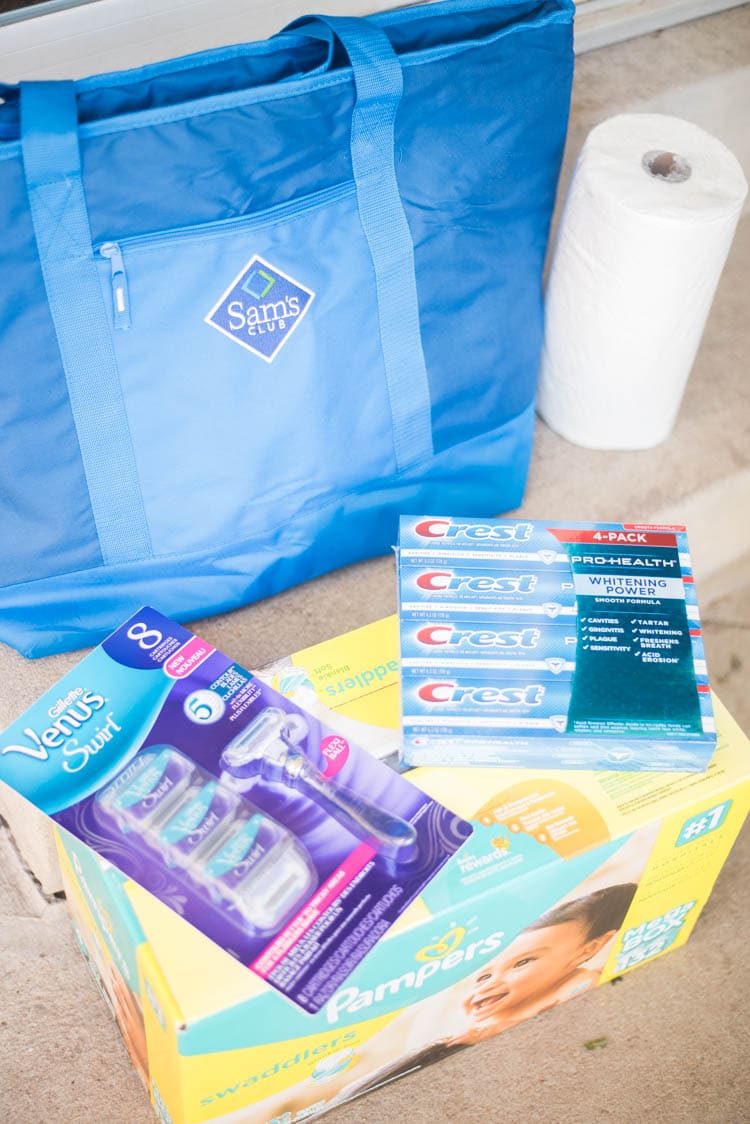 Becoming a member of a warehouse club like Sam's Club is an awesome way to make sure you never run out of the essentials. Some people wonder if it's worth getting a warehouse membership before your kids start eating you out of your house (FYI – it starts happening sooner than you think), and I definitely say YES! It's great for non-perishable goods that you know you will use eventually. Sam's often puts things on sale, so you can wait for those sales, stock up, and be good for awhile! Chances are, there will be some good stock up sales before your baby is even born 🙂
Listen to your doctor
If your doctor tells you to rest – rest. If your doctor says you need to take your pain medication every three hours – take it every three hours.
I sometimes critique physicians because of their lack of information on some topics, however, when it comes to your recovery, it's important to listen to them.
Diaper Changing Stations
These are so helpful to have throughout the house – just little stations with a changing pad, diapers, and wipes. I loved having one in my bedroom for those late night diaper changes.
Take Care of Yourself
I get it – it's HARD to take care of a newborn, other children, a house, etc. Taking care of yourself might be the last thing on your mind. However, I truly believe that when mom is taken care of, she is far more equipped to take on the daily challenges of being a mother.
Even if it's just a few minutes, make sure you do something for you every day. It might be as simple as taking a shower or eating a candy bar you don't have to share with anyone else.
Here are a few things you could do that don't require too much work, but will leave you feeling better:
[thrive_leads id='30982′]
Convenient swaddles
I don't know how anyone but nurses can master the swaddle with a blanket. Mine always get loose! One of the best things we bought with Oliver were swaddles that you just had to use some velcro or a zipper for. So much better for the middle of the night!
Here are a few awesome swaddles to consider:
Let go of Expectations
I can't tell you how many moms I have talked with who have said, "Well I read all the books, took all the classes, and watched all the videos…but actually having a baby to raise is nothing like I expected!"
Rarely do things go as planned. It's great to be prepared, but I think it's even better to realize the most important thing is to love your baby – and your other children as well if you have them.
Some days you might stay in your pajamas all day, your older kids will eat macaroni and cheese for three days in a row, and your baby only ever wears a onesie. And THAT'S OKAY. Your life is totally different now – it's busier, more chaotic, and probably a little more stressful. However, as long as your children go to bed knowing they are loved and cared for – THAT'S what matters!
Enjoy Every Minute (That You Can)
I know a lot of people hate this sentiment…but I really do think it's important to realize that this stage of your child's life passes quickly. My five-year-old just started Kindergarten, and I can't help but be grateful for all the time we've had together – for better and for worse.
I highly recommend making some kind of baby memory book. I LOVE using Blurb to make baby books. If you are on Instagram, starting a Chatbook series is a great idea (I am seriously on volume 35…it's so fun to get these printed memories of my family).
Of course, keep in mind that it's okay to be frustrated, annoyed, or sad at times. No one ever said you have to think every moment is amazing – just keep in perspective that no bad day lasts forever.