There's a lot of preparation before your baby arrives – but you don't need to buy everything! In fact, there are a few things you might want to wait for your baby to arrive before you purchase them – and here they are!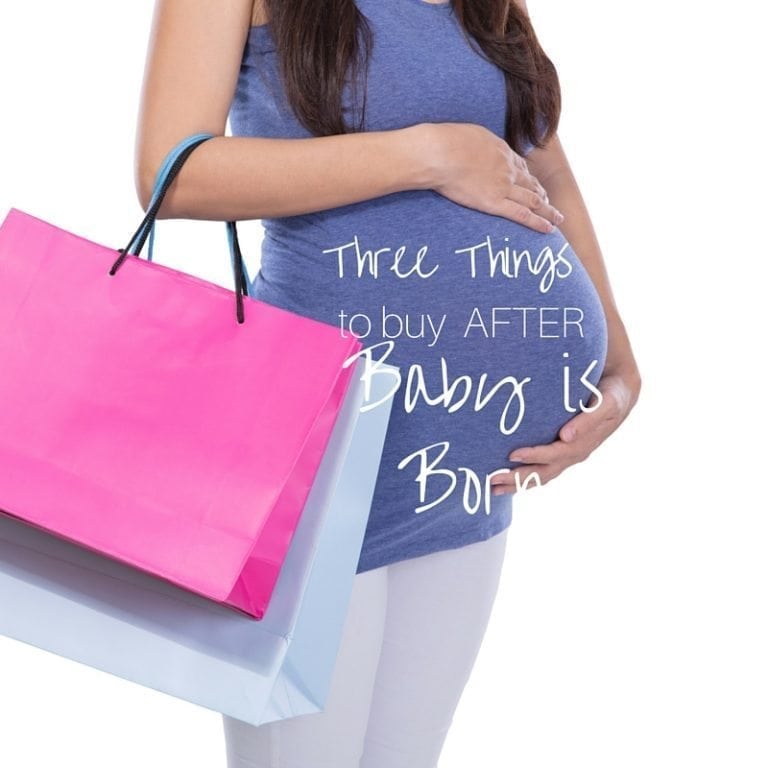 Browsing through Pinterest, I often see "must-haves for babies" or "things to do before baby is born."
Which are awesome. I know when I'm pregnant, I love preparing for my baby to come, which often involves buying things.
However, the thrifty side of me doesn't want to buy anything that isn't totally necessary or that will be a waste of money. For instance, when Jack was a baby, we bought a bunch of baby food and products to make homemade baby food – and he NEVER ate purees #fail, so we kind of skipped that with Oliver and have saved money.
After having three children, there are a few things I don't recommend buying like crazy (or at all) before our baby arrives.
1. Diapers
Okay, this is a hard one – because I DO think it's helpful to have a diaper stockpile from when you buy them on sale. However, you can easily end up with WAY too many diapers, so I generally recommend waiting until baby has arrived to start watching the sales.
You have no idea what diapers your baby will be in and for how long. People told me not to stock up on newborn diapers because most babies don't stay in them for long than a week.
My two youngest were in them for probably two months.
Somehow, I ended up with a ton of size one diapers, and my son's chubby little thighs outgrew them about a month ago (which is still longer than most babies are in size one). So now I have five packages of size one diapers we will never use!
You also never know how your baby will react to the diapers, so be aware of that. LUVS worked horribly for my oldest – blow out every. single. time. Some babies are more sensitive than others. Some babies are pee-central, and they need extra absorbency. It would really be unfortunate to have a garage full of diapers that give your baby massive diaper rash!
I do think stocking up on size two and three diapers is okay – you'll likely use a lot of those. But just know what your store's return policy is. And for what it's worth, I think Pampers Swaddlers are the BEST diapers around. At least for our boys 🙂 If you sign up for Amazon Family, you can get the best prices on diapers and wipes, too. You can get a 30-day free trial here to see if it is worth it to you.
2. Clothes
I'm not going to tell you to not buy clothes at all before your baby is born – I know that's practically impossible. However, it's not necessary to buy tons of different clothes in one size – especially the smaller size. Many babies outgrow clothes really quickly (again, if they aren't my children). As tempting as it may be to get those teeny tiny newborn outfits, some babies don't even fit in them at birth!
If you do try and stock up on things beforehand, always try and buy them on sale or at a second-hand store like Once Upon a Child (they always have 10 onesies for $10). I think onesies tend to last longer than some clothes because they tend to stretch. But I think overall if you want to save money, don't buy too much of one item. I
I do really like this line of baby clothes, though. So soft and very high quality. I do like to buy clothes that we can use for multiple children!


3. Bottles
We haven't used bottles very much with our babies, but if you are planning to use bottles, I would wait until your baby is born. Sure, have a couple for when they come home from the hospital, but don't commit to one specific type before birth.
Babies come with different preferences and challenges, and it would be unfortunate to buy 20 of one kind of bottle, only to find out that they refuse it. This is particularly true with babies that are switching between breast and bottle – I think they tend to be a little pickier (and you want to make sure they don't develop a bottle preference!) If your baby is in that camp, you might want to check out my guide about bottle feeding a breastfed baby!
The same can be said for pacifiers. There are so many different kinds. Your babies might be like mine and only like soothies (especially when attached to the Wubbanub!)
When we used bottles, I absolutely LOVED the Dr. Brown bottles. They are great for breastfed babies, and they are very simple to use. With Jack, the few times we used a bottle, we used the Playtex Drop-in system. It worked quite well!