During pregnancy, it's more important than ever to make sure you have a balanced, healthy diet. You need to make sure your diet includes these five essential nutrients. Here is why they are so important and how to get them.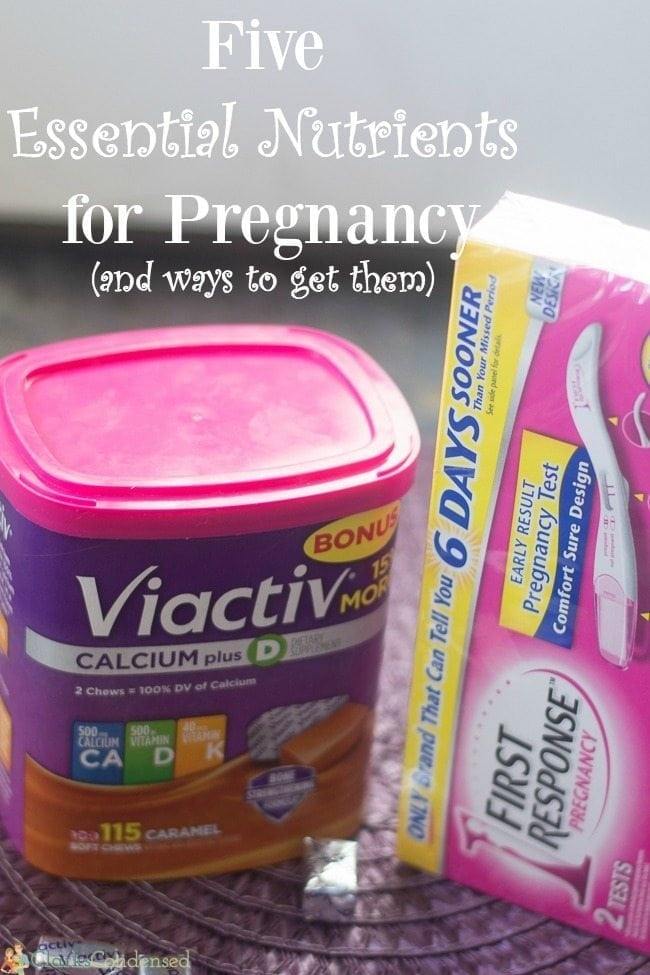 When you're pregnant, it seems like there are a million recommendations of what you need to be doing.
Some of these recommendations are probably okay if you ignore them, but when it comes to nutrition, I think it's important to pay attention.
As many of you know, Oliver was affected by intrauterine growth restriction (IUGR), and as a result, was considered small for gestational age (SGA.) His IUGR was most-likely caused by placental insuffiency (I had a blood clot in it, three infarctions, and it was only 200 grams – most placentas are about 500 g at full-term.) We don't entirely know why those issues happened. However, I can't help but wonder if I had been more vigilant about making sure I was getting the right amount of nutrients and vitamins, if I could have prevented some of those problems.
There are certain nutrients and vitamins that not only will help you feel better during pregnancy but can greatly affect your growing baby as well. I have read a lot about different nutrients during pregnancy – and there are a lot! Sometimes it can be a bit overwhelming to make sure you get adequate amounts of everything, so I thought I'd share five essential nutrients for pregnancy that I've found from my research and where you can get them. Some of these nutrients may be in your prenatal vitamin, but it's very possible that some are not (or are not present in an adequate amount.)
And as always, this is not meant to replace medical advice. Consult with your OBGYN or Mid-wife about what's right for you.
Folate and Folic Acid – 400-600 mcg
I think most women have heard of the importance of having enough folate or folic acid in their diet while pregnant. When you buy your prenatal vitamin, you want to make sure it has this in it. I know that there are some women who can't have folic acid during pregnancy, but for the majority, it can prevent some very serious issues.
First of all, it helps support the growth and health of the placenta. Your placenta is your baby's lifeline, so it is so important that it is taken care of. Another important thing that folic acid can help prevent is spina bifida and other neural tube defects, such as anencephaly. From what I've read, when you get the correct amount of folate, it nearly eliminates the chance of these problems. It's important to be getting enough folic acid before you even get pregnant because it plays a role in your baby's development before you may even know your pregnant.
The easiest way to get enough folic acid is through a prenatal vitamin. However, it is also in oranges, strawberries, spinach, cauliflower, pasta, beans, and nuts.
Calcium – 1,000-1,300 mg
Some people will say that pregnancy takes calcium from your teeth – that is actually a myth. However, having adequate amounts of calcium while you are pregnant or breastfeeding is still very important. It is recommended that you get between 1,000 and 1,300 mg per day. You don't need to take in extra calcium – you just need enough (and many of us probably don't.)
Calcium helps to create strong bones and teeth, prevent blood clots, as well as help with muscle and nerve function. Part of me wonders if the blot clots that formed in my placenta may have been prevented if I had taken in more calcium through my pregnancy. Calcium is actually not always well-represented in a traditional prenatal vitamin (often they only provide 20-30% of the recommended amount of calcium), but because your baby needs the calcium to built healthy teeth, bones, muscle, and heart, you need to make sure you are getting enough! Calcium can be found in dairy products, spinach, kale, collard greens, and certain foods that are fortified (such as cereal and orange juice.)
Not only does your baby need the calcium, but you need to preserve your own bone mass as your baby is growing. By taking in enough calcium daily, it prevents your body from taking calcium from your bones.
In case your prenatal vitamin and your diet doesn't provide adequate amounts of calcium, you may need to take a supplement. I'm a big fan of Viactiv Calcium Soft Chews – I think they are the best calcium supplement available. Unlike a lot of supplements, they are easy to keep down, and they actually taste quite good – they come in either chocolate or caramel flavored.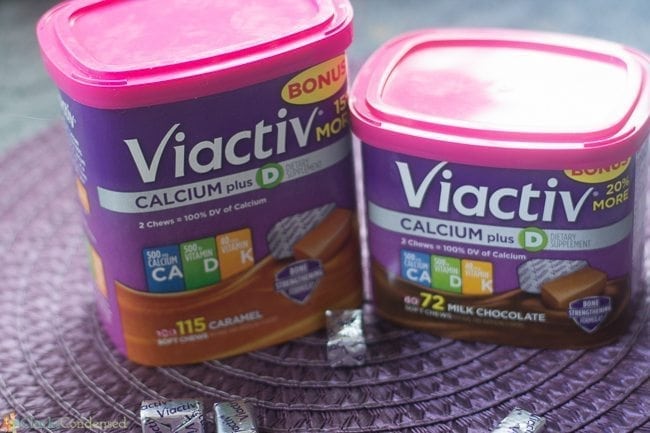 Not only does it provide you with 500 mg of calcium, but with 500 IU of Vitamin D as well as Vitamin K. These are key nutrients in pregnancy, and according to Heidi Diller, RDN, they are nutrients that may need supplementation when a mother's diet may be impacted – especially if she experiences morning sickness. Two chews will provide you with 100% of the calcium you need! You can print off a coupon for $2 off one package of Viactiv Calcium chews here. They are available at most major retailers such as CVS, Walgreens, and Target.
Vitamin D – 600 IU
I have very low Vitamin D – some of that is due to the fact that I'm very fair skinned (or so a few doctors have said), but ever since my pregnancy with Jack, it's gotten even lower. It's actually been somewhat resistant to treatment as well. This was a bit of concern for me during my pregnancy with Oliver, because I know it's important during pregnancy.
The institute of Medicine (IOM) recommends 600 IU per day of Vitamin D for all women – including pregnant women. The latest research shows that even higher levels may be necessary for improving a mom and their growing baby's Vitamin D levels. I've also read that low Vitamin D is linked to an increase risk of certain kinds of cancer, osteoporosis, and more. It helps the body with calcium and promotes bone and teeth health.
Sadly, Vitamin D is not found in a lot of foods (though it can be found in milk and fatty fish.) Being out in the sunshine is actually a great way to get a natural source of Vitamin D. My doctor recommended I sit in the sun for 10-15 minutes a day to get an extra boost (which is hard during the winter!) Beyond that, Vitamin D supplementation is often needed, especially for breastfed babies (because not very much Vitamin D is secreted through breastmilk.)
Protein – 71 grams
I wish I had known about the important of protein before my last pregnancy. As I've learned more about IUGR, it's often recommended that women who have babies affected by this condition should increase their protein intake.
Protein can help repair cells and with the production of amino acids. It can be found in most animal meats, poultry, eggs, dairy products, beans, and nuts.
Iron
I'm well-acquainted with the importance of Iron during pregnancy (and afterward as well.) I have struggled with anemia off and on over the past few years – especially during my pregnancy. I actually took a prenatal vitamin that didn't have iron, because any time I had one with iron in it, I would throw up.
With that said, it's very important to make sure you are getting enough iron – especially if your prenatal vitamin doesn't have iron. Having enough iron has a lot of benefits – it helps to prevent low birth weight and premature delivery.
If you are like me and have a hard time handling iron supplements, there are fortunately plenty of other ways to get it in your diet – beef, pork, beans, oatmeal and spinach are popular sources.
There are obviously other nutrients that are very important for pregnancy, but I believe these are some of the most important