Labor and delivery is one of the most intense things a woman can go through and being prepared can make it so much easier. Here is everything you wanted to know about giving birth.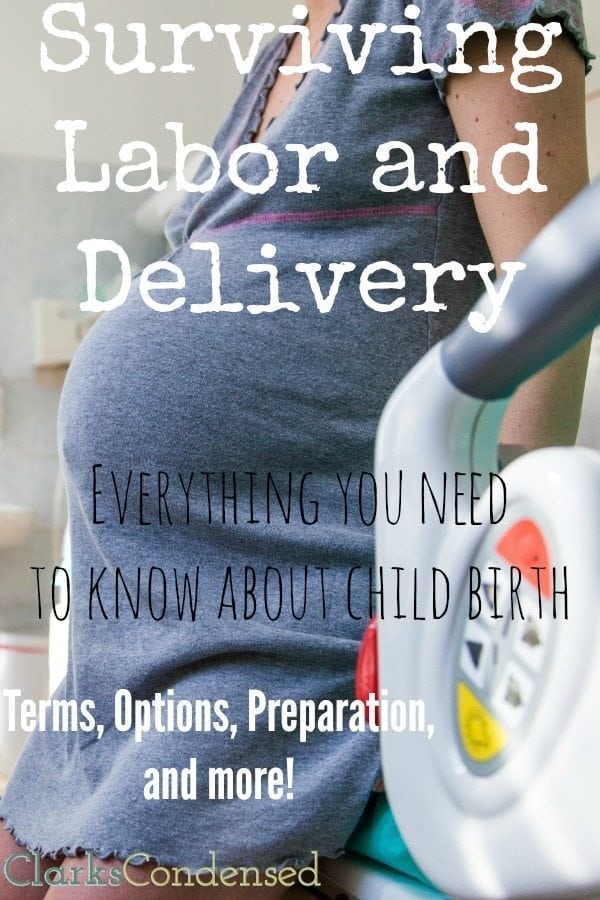 Everything You Need to Know about Labor and Delivery
I've been blown away by the popularity of my "Surviving Pregnancy" series, and I have loved reading all the comments from my readers. Because of that, I figured it would only make sense to add another chapter to this series, all about childbirth.
I think one of the best things a mother can do is know everything she can about labor and delivery — if anything, it helps to alleviate some of the mystery and hopefully ease some common labor and delivery fears.
Because I had a hospital birth, that's what I am focusing on here. So if you are here looking for advice on surviving a home birth or at a birth center…you may want to look elsewhere, because I really have no insight on that.
If you haven't signed up for a hospital class yet, save some money and time and signup for this AMAZING online class, taught by one of the best Labor and Delivery nurses around! I try to give a lot of good information for pregnant moms on this site, but I do think it's important to take a class from a professional. There is an option for EVERY budget. Use the code ccpnc for a very exclusive discount!
To skip down to a specific section, click one of the topics below:
Labor and Delivery Advice
What do before Going into Labor:
Preparing for labor and delivery starts far before you check into the hospital. Here are a few suggestions of things to do before that day arrives (and if you are wondering when yo uwill go into labor, this is a great quiz to take: When Will I Go into Labor Quiz).
Classes:
Around 30 weeks, I would recommend taking a labor and delivery class. Most hospitals offer them.
I know at Intermountain Hospitals in Utah, they have a ton of classes. Some are for women wanting to go the natural route, others for those who want epidurals, breastfeeding classes, and even sibling adjustment classes. Insurance will often cover these as well.
I think the most helpful thing I did to prepare for labor and delivery was this. A lot of the information I knew, but it was nice to have a Labor and Delivery nurse talk through everything I possibly needed to know.
I loved being able to take it with Forrest, as well. If you are planning to do something like hypnobirthing, you can search around for local classes. I've seen them advertised a lot! You can also do self-study at home for hypnobirthing – you can find out more information here on that.
I did some hypnosis when I was trying to get my baby to flip from being breech, and I found it to be very relaxing. Also talk with your physician, who might be able to make recommendations on certain classes.
If you aren't able to take a class, here are some books on labor and delivery you can read.
You May Enjoy: Three Pregnancy Classes Every Mom-to-be Should Take
Register:
This is something I highly recommend doing. It saves you a lot of time when you get to the hospital to deliver your baby, and believe me, the last thing you are going to want to do is fill out a bunch of paperwork as you are having contractions.
To pre-register, call the hospital you will be delivering at. Some hospitals will require that you come into pre-register, others will have you do it online, and others will have you call. It really varies.
It is a good idea to register around 28-30 weeks, and it really doesn't take that long. The hospital will have all your information on file, and when you go to check-in, the process will go much faster.
Pack Your Bag:
I'd recommend packing your bag at around 30 weeks. Yes, that may seem early to some, but for anyone that has had a baby come a little earlier than expected, I'm sure they'd say packing your bag early is a good idea.
Remember that less is more, and check out my guide here to what you really need for your hospital bag. Some may even suggest having your bag in your car, because you never know where you'll go into labor!
If you are getting an epidural, you will have to lay on your side…which can get uncomfortable. I recommend bringing a pregnancy pillow – you can get $50 off this one using the code C113D4. I bought this one while I was pregnant, and I don't think I could have survived pregnancy without it.
When should I go into Labor and Delivery

I think most mothers-to-be dread the thought of going to the hospital, only to be turned away. While many mothers prefer to labor for awhile at home (which is totally fine, if you aren't super far along in the laboring process, and the longer you are at the hospital, the more likely there will be interventions) there are definitely some reasons that yell "go now!" Here are a few of them
Water Breaks: If your water breaks, you will most likely need to go to the hospital. Call your physician for more specific instructions, but in general, most babies will need to be delivered within 24 hours in order to prevent infection or other complications. When your water breaks, be sure to make sure it was clear; if there is anything greenish or brown, you must tell your nurses at the hospital about it, because that is meconium (see terms below) and your child will need some special care after birth. This is a great article on how to tell if your water broke or you peed.
Contractions: The moment you feel your first contraction, you may want to use the 411 Approach – 4 minutes apart, lasting 1 minute, for one hour. Definitely pull out a contraction timing app! At this point, you could definitely be in active labor, and it's worth going in for. You never know how far along you are until a medical professional checks you. I highly recommend checking out BloomLife. It is an AMAZING contraction monitor that you can use at home. It can save you from going to the hospital prematurely. Get 15% off your first week using the code Clarks15.
Decreased Movement: Towards the end of your pregnancy, you may start feeling your baby less, just because they are running out of room! Typically, if you feel your baby move 10 times over the course of 2 hours toward the end of your pregnancy, it's probably okay. If you don't feel that much movement, lay down, drink a glass or orange juice, and see if the movement increases. If not, and you haven't felt anything at all for awhile, call your OB/GYN for their advice.
Signs of Pre-eclampsia: I won't go into too much details, but Pre-eclampsia is very serious. Basically, it's high blood pressure and excess proteins in your urine during pregnancy. There are many complications that go along with pre-eclampsia (which can be fatal), if you are worried at all that you might have it, call your doctor right away. You can find out more about pre-eclampsia here, but some of the symptoms include an increase in blood pressure (even just a small increase could indicated pre-eclampsia — over 140/90 is not good,) excess protein in urine (as determined by a urine test), terrible headaches, changes in vision, upper abdominal pain, nausea, vomiting, dizziness, sudden weight gain, and/or swelling.
Umbilical Cord Prolapse: I learned about this in my labor and delivery class, and while they said it is pretty rare (less than 1 percent of births will be affected,) it is extremely dangerous. I'd never heard of anyone having it until recently when a friend of mine talked about it on her blog. This happens before delivery, and it's when the umbilical cord falls into the cervix, ahead of the baby. If left untreated, the baby's oxygen supply can get cut off, which would inevitably result in stillbirth or severe brain damage. If you suspect that your cord has prolapsed before you've gotten to the hospital, get on all fours, and call 9-11. Here is more information on a umbilical cord prolapse.
What To Expect when You go to Labor and Delivery
Before you go into labor, it is a great idea to become familiar with the hospital you will be delivering at. Many hospitals will even allow you to take a tour of the labor and delivery ward and take you through the process of checking in. The hospital I delivered at didn't have this option, but they did have an online tour with information on what to do when you come in.
First of all, you'll check-in with the front desk.
They will ask for your name, ID, and if you are in labor. This is where pre-registering comes in handy, because you can surpass doing most of the paperwork. Believe me, when you are having contractions, the last thing you will want to do is sign paperwork.
Then, you'll be brought to triage
The nurse will ask you to dress down to a hospital gown (I know a lot of women LOVE these for laboring in). She will come back in a bit to do some tests, to make sure you are in active labor, and to see how far along you are.
You will be hooked up to a machine to monitor your contracts, and your child's heart rate, and the nurse will also check how dilated and effaced you are (if you have no idea what that is…skip down a few sentences).
Most of the time, unless you are already five or six centimeters dilated, the nurse will come back in an hour to see if you've progressed at all.
If you have progressed, they'll officially check you in.
If not, some different options will be discussed. For me, I didn't progress in that hour, and I was actually sent home.
I was so mad, because I was in so much pain. The nurse gave me a shot that basically stopped the contractions, (I didn't know that at the time, and I was really annoyed, since I was pretty much at my due date. Had I realized what it would do, I never would have agreed) but I ended up coming back about five hours later anyways. If you haven't progressed, you can ask if you can walk around for awhile to see if that helps, and I think most nurses will allow you to.
Once you've officially checked in, your nurses will come in periodically to check your progress, answer any questions, offer pain medication, etc. until you are ready to deliver. Your physician will be called and pretty soon, you're little bundle of joy will be there!
Pain in Labor and Delivery
It's no secret that I'm a big fan of pain management during labor. I absolutely loved having an epidural and felt absolutely zero pain. Some people claim that epidurals make your baby less alert after birth, but that was totally not the case with Jack. I probably had the most amount of epidural you could have, and he was incredibly alert and nursed right away.
However, I feel it's important to prepare for a natural labor and delivery even if you don't want one.
Medicinal:
Local Anesthesia: This may just be used to numb a small portion of the body, like if your physician needs to do stitches after childbirth. It does not alleviate labor discomfort.
Regional Anesthesia:
There are two types of regional anesthesia — the epidural and spinal anesthesia. Both of these methods require having medication placed in the lower back, near the nerves. This causes certain regions of your body to block pain but allow you to remain conscience.
The spinal anesthesia typically works quicker and doesn't require as much medicine as the epidural, but it causes more side effects, such as a headache. Typically, spinal anesthesia is just given for a c-section. The epidural doesn't work quite as quickly but is still very effective in helping manage the pain.
After receiving the epidural, you will be in control of if it wears off or not, as medicine is administered through an IV, and you can press a button to get more relief.
There is a limit on how much you can press the button, though. Some people like to let their epidural wear off toward the end so they can feel the pushing a little more. I didn't, and everything was fine.
When using local anesthesia, a catheter will be placed, as you won't be able to get up and go to the bathroom, and you will only be allowed to drink liquid (typically just water or apple juice) or eat ice. However, recent research says you can eat, so talk with your doctor.
When I had my epidural, my whole body felt extremely heavy, and I had to have Forrest help me turn over.
Beyond that, though, it was the most wonderful thing ever!
Some people may experience an epidural headache after the matter, and that is "cured" by another epidural.
Most people have little to no complications. I know that many people are concerned about not being able to get up and walk around with an epidural, but I've heard that some anesthesiologists will give a walking epidural if asked for. I have no idea how it is different, but it's a good thing to keep in mind if you don't want to lose total mobility.
General Anesthesia:
This is only used during an emergency c-section, where there is no time to administer local anesthesia. You are completely put to sleep, and if used, it will be awhile before you'll be able to see your new baby.
Opioids:
This is just pain medication, delivered through your IV. They can enter your baby's bloodstream, however, unlike an epidural, and are known to cause nausea.
They typically aren't administered if the baby is expected to arrive in an hour or less. For more information on these methods, check out this BabyCenter article.
Natural Child Birth Pain Relief:
So, I'm in no way an expert on these methods, as I had my epidural pretty early on, but here are some popular methods for those who want to go the more "natural" route.
This seems to be the current trend, at least around where I live. It works on the premise that if a mother prepares for birth, it doesn't have to be painful, and works with a variety of techniques using visualization, deep relaxation, and self-hypnosis. I know some people swear by it, and others think it doesn't work. Those that say it works do admit that you have to really be dedicated to it and be willing to prepare fully. Here are a bunch more resources on Hypnobirthing.
Breathing:
Breathing techniques are probably the most common form of non-medicinal pain management (and what you see on TV the most). It's more than just breathing in and out, and there is actually somewhat of an art to it.
Water:
You've probably heard of people having water births, and I believe it has been shown that water can help reduce pain during birth.
Many hospitals have tubs that you can labor in if you want, though I don't know how many of them will actually allow you to deliver in them; I know that most birthing centers will, at least.
My room had a jetted tub, which I didn't use during labor since I had my epidural, but I did after giving birth, and it was awesome.
Massage:
There are several pressure points that are supposed to reduce pain during labor.
Personally, I don't even like getting a regular massage (when I got one, I felt like I had been run over by a truck), but if you are into that type of thing, here are some common pressure points for helping with pain during labor.
Ways to Give Birth
Vaginal:
This is the most common form of childbirth and it's what most people aim to do. It typically means there aren't any complications with the birth. There have been many studies showing the benefits of vaginal birth.
However, don't feel bad if you have a Caesarean section. No matter which way you deliver, you aren't a failure!
Sometimes when giving birth vaginally, your doctor may use forceps or a vacuum to help guide the baby out. Some people are really against this, so if you are, be sure to let your doctor know.
Jack was delivered with the help of forceps, and I was totally fine with that. He was faced sideways, and my doctor felt I would have been pushing for hours if he hadn't used them (I much preferred only pushing three times).
Caesarean:
Typically, a Caesarean (or C-section) is performed if the baby is breech, is too large to pass through the pelvis, the baby is in distress, or something with your well-being goes wrong.
Some mothers have planned C-sections, which happen when a physician determines ahead of time that a C-section will ultimately be necessary, or if a mom has had more than one previous C-section.
I know that some celebrities have planned C-sections, just because, but I wouldn't recommend that.
An emergency C-section occurs when the baby or mother is in distress. These are typically much more serious and happen a lot faster.
VBAC:
This acronym stands for vaginal birth after Caesarean. Many mothers who have delivered via Caesarean really want to deliver vaginally the next time around, and luckily, there is a very high success rate.
There are risks, so make sure to discuss these with your doctor.
Typically, if you've had one C-section that didn't have complications, you are a great candidate for a VBAC, but after you've had two C-sections, there aren't many physicians willing to allow you to have a third attempt at a vaginal birth.
Around 60-80 percent of women who attempt at VBAC will be able to deliver vaginally. The link at the beginning of this paragraph gives more information on VBACs, the risks involved, and what makes you a good candidate. Here is a great post that discusses VBAC risks vs benefits.
Placenta Delivery:
This is often referred to as the "second birth", and I've been surprised about how many women I've talked to have no idea that you have to deliver the placenta.
Usually within 30 minutes, your physician will have you push again a few more times to deliver the placenta.
I honestly don't even remember it happening, to be honest. But, it's very important, and if it doesn't detatch, your physician will have to detatch it themselves, which, I've heard, is incredibly painful.
What to expect when inducing
Occasionally, your physician may want to medicinally induce your labor. There's various reasons for this, but it is typically because 1) you are overdue 2) you are partly in labor, and they just want to move things along quicker, or 3) there are medical reasons.
While some people refuse to be induced at all costs, it is sometimes necessary. You can read more about labor augmentation here, but here are a few methods:
Oxytocin (Pitocin) — This is what most people are probably familiar with. Basically, it is a synthetic version of the hormone that is naturally released during labor. It is transferred through an IV, and your physician will order a small amount to begin with, and adjust it accordingly until your uterus starts to react by producing contractions. Your child will be monitored the entire time, to ensure they are not under distress. While there typically isn't harmful side effects to oxytocin, I've been told that contractions can be more painful.
Stripping of Membranes — some physicians will do this toward the end of your pregnancy. Basically, the insert a finger into your cervix, and separate the amniotic sac from the uterus. I've been told this is rather painful, but physicians will do it to avoid having to induce you later. It weakens the amniotic sac, and can help kick your body into gear for dilation and effacement. I actually had this done with my second baby (without oermission), and it hurt so bad.
Prostaglandin Drugs: These are applied to the cervix to help "ripen" it. It is typically something physicians will do if they want to start the process of induction without using oxytocin. They usually take between 6 and 12 hours to go into effect and can cause labor to begin.
Natural Forms: There are probably a million old wives tales out there for inducing labor, and everyone is always willing to throw in their two cents on what they think worked. For me? Pineapple. Lots of pineapple. And eating at Red Robin. I'm just saying — myself included — I've heard of several other moms who went into labor after eating at Red Robin. All kidding aside, take these methods for what they are worth, but hey, if you are wanting to get that baby out, some of these are worth a shot. Don't try putting yourself into labor until you've reached 39 weeks though. And, word of warning — don't use castor oil. I've heard it tastes disgusting and can have negative side effects. Plus…it causes diarrhea and even vomiting. With that said, here's a list of different natural induction methods.
Complications
No one wants to talk about the things that could go wrong during labor and delivery, but inevitably, they do happen.
Chances are, your labor delivery will go off without a hitch, but it's important to be prepared for if things do go wrong. A pregnancy can be completely normal and have a traumatic labor and delivery.
Fever or infection:
Getting a fever during labor is quite common. I had one, and they just had to give Jack and I antibiotics while we were in the hospital.
But if you do get a fever, it will be monitored closely. Typically, nothing serious results, but it can result in things like Toxic Shock Syndrome, which can be lethal.
Abnormal Presentation.
note: with my second pregnancy, my son was breech at 37 weeks. You can read about how how to turn a breech baby at 37 weeks here.
Most babies will "flip" around 30 weeks, to be facing head down, and facing toward your abdomen, rather than your back, which is the preferred way for them to be.
Otherwise, their feet may be closer to the birth canal or even their little bums. This is more commonly known as breech.
If the baby is facing your back, it can result in painful back labor and a difficult delivery. With both of these complications, it can result in prolonged delivery, more painful labor, risk of injury to the baby, more tearing of the birth canal, etc.
While some doctors are able to deliver a baby breech, it is typically better to be delivered via C-section, to prevent injury to both mother and child.
Umbilical Cord Compression:
This happens with the cord becomes pinched or twisted and may result in decreased blood flow and oxygen to your baby's organs. While it isn't always a cause for concern, it can result in fetal distress, which often will result in a C-section.
Placenta Previa: Unless you don't get any ultrasounds, you will likely know if you have placenta previa before you go into labor.
Basically, it's a complication where the placenta either completely or partially covers the cervix. While it sometimes resolves itself, it can last until delivery, which eliminates any chance of having a vaginal birth.
My sister, Cindy, had complete placenta previa, and it was a scary experience, even though everything turned out well for her.
If you have placenta previa, and the placenta does not move, you will almost certainly start to bleed at some point during your pregnancy and will probably be hospitalized until your baby is born.
If a vaginal birth is attempted, it can (and most likely will) be fatal for both mother and baby.
If you have placenta previa and you begin to bleed, or have decreased fetal movement, call your doctor immediately.
Meconium Aspiration:
This can happen before, during, and after delivery. Basically, the baby inhales a mixture of meconium and amniotic fluid. It can block a child's airway, cause swelling of lungs, which can result in problems with their breathing directly following birth.
When your water breaks, it is typically clear. However, if it is green at all (especially if you are not at the hospital when it happens) be sure to tell their nurse.
There will need to be a specialist on hand to make sure they suction out all the fluid immediately after birth. This often happens because of a problem with the placenta, such as aging, which happens when a baby goes far past their due date.
Cephalopelvic Disproportion: Basically, this means when a baby's head is too large to pass through the birth canal without severely hurting the mother and causing problems with them.
VBAC Complications: Although most VBACs go off without a hitch, it's important to know that there are some risks are involved. Chances are, if you are a good candidate for one, everything will go fine.
About 20-40 of every 100 VBACs do end in C-section. The biggest risk involved in a VBAC, while very rare, is rupturing of the scar on the uterus from a previous C-section.
This can be deadly to both mother and child. Another risk is the risk of infection. This is more likely to happen in a mother who tried to have a child vaginally but ended up needing a C-section.
If your VBAC does result in a C-section, there are various other risks involved, that are typical risks for any c-section, which I'll discuss next.
C-section Complications: There are a variety of complications that can come from having a C-section. First of all, there's the risk of infection, which is higher with a c-section instead of a vaginal birth.
The recovery time is generally longer (the standard in the US is staying for four days, instead of two), and there is a risk of blood loss.
Prolapsed Cord (see definition under "Should You Go In.")
Pre-eclampsia (see definition under "Should You Go In.")
Labor and Delivery Terms
Amniotic Fluid: This liquid fills the sac that surrounds the baby, and it is mainly made up of water and fetal urine.
Breech: The baby's feet or buttocks are positioned to be born first.
Crowning: This is when baby's head has come through the birth canal and is visible through the vaginal opening.
Dilation: The amount the cervix has opened (or dilated) in preparation for child birth. This is measured in centimeters, and when you have reached 10 centimeters, you are ready to deliver!
Effacement: In order to deliver your baby, you must be 100% effaced. Basically, it is the thinning, or shortening, of the cervix.
Engaged: This typically occurs in the last month of pregnancy, and it's where the baby's "presenting part" (typically the head) has made its final resting place in the pelvic cavity.
Episiotomy: A cut made to the perineum (muscle and tissue between the vagina and rectum) to assist in childbirth by widening the vaginal opening. These aren't commonly used anymore.
Meconium: This is dark-green or black and is the first bowel movement of an infant. If it presents itself before the child is born, a specialist must be on hand to ensure the child doesn't inhale any into its lungs.
Mucus Plug: This is essentially mucous that helps protect the baby while in utero. You may hear about people losing their mucus plug – this is a great post about the mucus plug that explains everything you ever wanted to know!
Placenta: This is a piece of tissue that helps give the growing baby in utero nutrition, as well as dispose of waste.
Posterior: Baby is in face-up position during labor and delivery. It is much preferred for the baby to be face down.
Post-Term: A pregnancy that has lasted past 42 weeks
Preterm: A baby born before 37 weeks gestation.
Stations: These indicate how far the baby has dropped. -3 means that the baby's head is not in the pelvis, 0 means the head is at the birth canal. When a baby begins to crown, the station is +3.
Transverse: The baby is horizontally positioned in the uterus. This can result in a c-section if the child can't be moved.
No matter how your labor and delivery goes — whether you use an epidural or go totally naturally, there are no complications or it ends in an emergency c-section — it is all worth it in the end.
Just remember, you'll soon be holding your sweet newborn for the first time! Labor and Delivery can be scary, but if you are prepared (as much as you can be) it can be a wonderful experience as well.
I hope that this information will be useful to at least one mom out there. I don't profess to know everything, or be informed about every aspect of birth (obviously — I've only had one baby!) but I do love learning about the miracle of birth, and helping others learn about it as well! Please let me know if you have any other questions, either in the comments, or at katie (at) clarkscondensed (dot) com.
If you enjoy this post, you have to read these 15 things you may not know about childbirth recovery and a list of postpartum recovery essentials!
Disclaimer: I am not a medical professional. All of this information has come from my own experience and research. If you have any serious questions, please, consult your physician.
For more on pregnancy, click on this popular posts from the past: