Recovering from childbirth can be a little rough. Here are some postpartum recovery essentials that every mom-to-be should know about.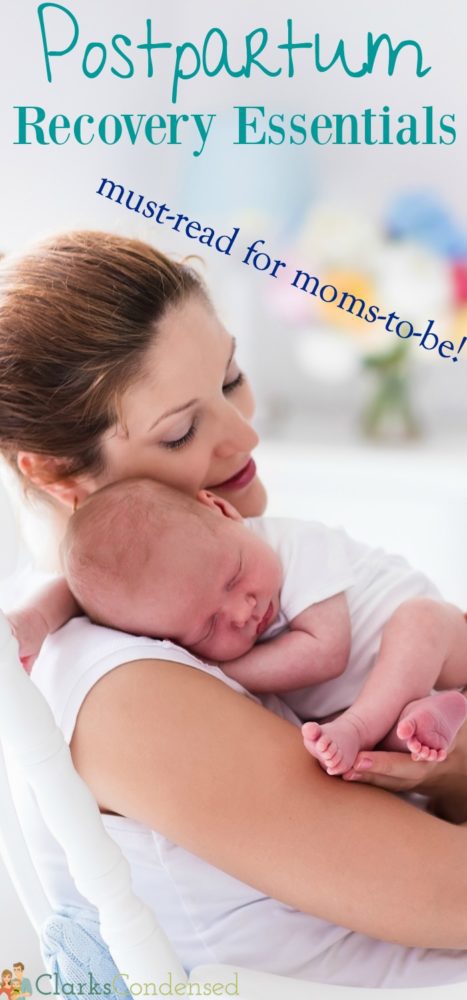 Once you've delivered your baby, left the hospital, and come home, it's easy sailing, right?
I mean, nine months of housing a baby, dealing with morning sickness, exhaustion, and aches and pains everywhere…taking care of a baby should be a breeze?
Well, in case you haven't figured it out by now, giving birth to that baby is just the beginning of an adventure. An exhausting, emotional, yet incredibly rewarding adventure. And while most of your energy will probably be expended toward taking care of that tiny human, well, you've got plenty of recovery to do yourself.
I've talked plenty about recovery from childbirth in the past. If you don't know what to expect after having a baby, make sure you read that post first. However, today, I wanted to share a childbirth recovery survival kit. Here, I will share some tips and tricks for making those months (yes, months) after giving birth a little bit easier.
Use What the Hospital Gives You
Right after you give birth, chances are, the hospital will give you a nice supply of products to help aid in your recovery. They might seem strange at first, but I assure you – they help. If for some reason your hospital doesn't provide you with these things, you can easily find them at drugstores like Walgreens.
Perineal Irrigation Bottle – this is basically a little squirt bottle to put warm water in. Before you use the restroom, fill this bottle with warm water. You will use this instead of toilet paper for awhile – it's especially important to use if you've had stitches. It's very soothing!
Tucks Pads – this kind of remind me of makeup remover pad. They are thin circles that are soaked in witch hazel. They are for hemorrhoid care, but they are oh-so-soothing after giving birth.
Dermoplast – this is basically a numbing spray to make the pain a little easier to handle. This new Dermoplast is an all-natural alternative that sounds oh-so-soothing.
Frozen Pads – my hospital did this, and I thought it was brilliant. Basically, they froze the giant diaper pads you get after giving birth. They are so so helpful for the first day or so when there might be more swelling.
Postpartum Sitz Bath – not all hospitals will provide these or teach you how to have one, but basically, you just need a small tub of water. You can put 2-3 inches of warm water in the tub or you can get one that goes directly in the toilet. You just need to soak in it a few times a day to help relieve pain.
Stool Softeners – do NOT skip taking these. You will be given them after you give birth, and I promise, you need to take them. It will make going to the bathroom a whole lot easier (spoiler alert – it really is not a fun experience right after birth.)
Water Cup – the hospitals I have delivered at always give me a nice, large water jug. I LOVE these, and use them forever after I give birth. It is so important to drink tons of water, especially if you are nursing.
Large pads – the hospital will give you large maxi pads (or sometimes diaper-like pads) right after you give birth. Be sure to take some of these home! I have friends who swear by disposable underwear.
Advil (or other pain medication) – Just take your pain medication. You can take the lowest dose, but there is no reason to try and be "tough." You will be in pain, and Advil will help you. I only used Advil with Oliver, and taking it regularly (and before the pain started again) helped a lot.
Other Useful Product
Breast Shells – I highly recommend these if you are breastfeeding. Those first few weeks can be very painful or uncomfortable. My lactation consultant recommended these as I was recovering from mastitis. They are just shells you put over your breast that keep them dry and stop them from getting irritated from your bra or shirt.
Lansinoh TheraPearl 3-in-1 Breast Therapy – These are AMAZING. I got a set of them when I had a really big plugged duct, sore nipples, and mastitis, and they were some of the only things to bring me relief.
Postpartum girdle – there are tons of different brands available – I have heard great things about the Bellefit line. They are designed to help compress the body and help women get back to their former figures by providing the body with more support and draw back in loosened muscles. I've been told these are highly recommended for women who have had c-sections.
Yoga Pants – don't even worry about fitting into any pants that aren't stretchy for awhile! Take time to relax and put your feet up and just be comfortable. Though, word of warning – as my sister says, once you go stretchy, you can't go back!
Robe – I loved having a robe for the first few weeks. It made it easier to do skin-to-skin and to nurse…and it was just comfortable! This one looks so comfy.
Healthy Snacks – it might be tempting to eat lots of sugary snacks or other junk food, but eating healthy snacks is the way to go. It will help you stay energize (and avoid a sugar crash.)
Skin to Skin – I think skin to skin is one of the best things EVER. For me, whenever I was feeling overwhelmed, I would do skin-to-skin with Oliver, and it almost always calmed me down. It also helps promote breastfeeding, and breastfeeding helps the uterus contract down to normal size faster, so it's a win-win!
Breast pump – I don't recommend pumping a ton during the first month or so, because too much pumping during that time can result in an oversupply of breastmilk (which is NOT a good thing.) However, there will be times that you feel super engorged and your baby doesn't want to eat. A breast pump can be helpful for relieving that pressure. Women in some breastfeeding support groups I'm in SWEAR by this line of pumps.
Netflix – I love Netflix, especially right after I have a baby and there are lots of long feedings ahead of you. I love finding a good series on Netflix and just turning it on when I sit down to nurse.
Postpartum Recovery Products from Earth Mama Angel Baby – I fell in love with products from this company after I had Oliver. I especially love the nipple cream – much better than lanolin. They have an excellent Postpartum Recovery line with some great products to make recovering a little easier. Their products are all-natural and soothing.
Chocolate – Okay, I know I said that healthy snacks are better…but you deserve a new treat every now and then! Chocolate is my favorite (though it can cause issues in breastfeeding babies, so just be aware of that!)