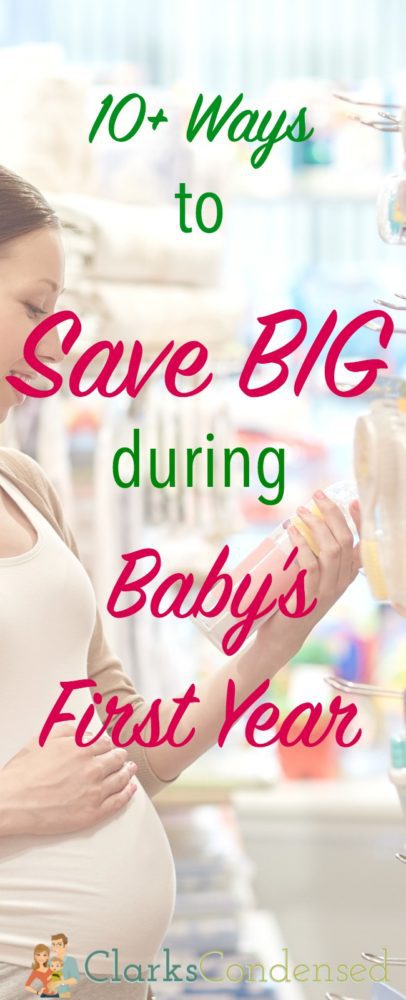 A quick glance on Pinterest will bombard you with posts about "must-have baby products" or "essentials for babies."
I mean, I've written one myself.
As you read these, you might wonder, "How on earth does anyone afford a baby?"
Well, to be honest, babies don't actually need that much. Some clothes, diapers, a place to sleep, something to eat, a car seat…however, most of us tend to buy more than just that, and the prices do add up!
When we had Jack, we were dirt poor. We were in college, working jobs for $9.00 an hour, and pinching pennies wherever possible. Needless to say, I spent a lot of time finding the best ways to save money for when he arrived. I used to spend hours taking online surveys just to make ends meet!
Fortunately with Oliver, our budget was a little more flexible. Still, I'm not a big fan of spending unnecessary money, so I've still done my best to make his arrival have less of an impact on our budget than it may have otherwise.
In case you are finding yourself in a situation where you have a bundle of joy on the way but need to save money, here are some of my best tips for saving money when having a baby!
Consignment Stores
Seriously, I love consignment stores. Almost all of Jack's clothing has come from either Once Upon a Child or Kid to Kid – with the occasional splurge on a Target outfit (from the clearance rack, of course.) Kids grow out of clothes so fast, and I feel like at consignment stores, they always have like-new clothes available for cheap prices. Once Upon a Child often has $1 sales, where everything is $1. Seriously, best sale ever. Find a store near you and subscribe to their emails and like them on Facebook so you don't miss a sale. I also like THREDup, because it's an online consignment store.
These stores often sell baby products (cribs, strollers, etc.), toys, books, shoes, etc. for very affordable prices. You can check out my post on how to save on kids clothing for more tips!
Off brand products
I have mixed feelings when it comes to off-brand products. I've tried some things that are definitely horrible quailty that are off-brand, but I've also discovered products that are just as good (just way less expensive.) It's kind of a game figuring out where you can afford to go off-brand. For me, I'm really picky about diapers, but that's the main place I don't go off-brand.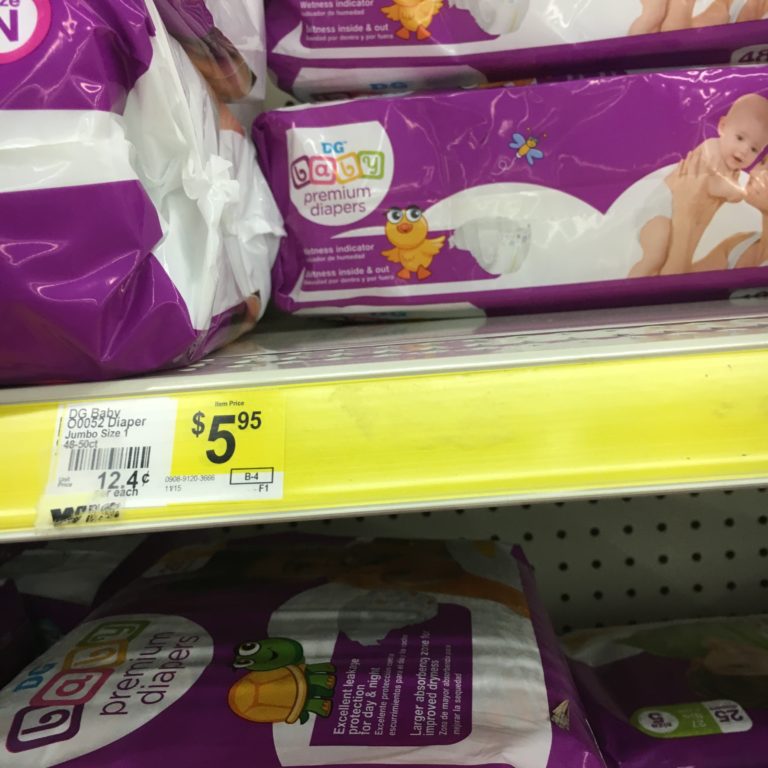 Facebook Groups
We live in a great time and age where we can connect with others pretty easily over the Internet. Facebook yard sale groups are all the rage right now – and for good reason! These groups are a place where you can buy and sell gently used products, and baby products, clothes, etc. are super popular in them!
Definitely search around and see if there's one for your area. If you do use these, though, make sure you are safe and only meet in public areas!
Amazon
I love Amazon, especially Amazon Mom. You can get reasonably priced baby items – especially if you use their subscribe and save feature (for up to 20% off.) I am always waiting for their super deals on different products and then I stock up. You can get a free trial of Amazon Prime when you sign up for Amazon mom, which, let's be honest, is worth it for the free 2-day shipping!
Multipurpose products
This is especially important when you are buying furniture! We have a dresser that doubles as a changing table, a convertible crib that has gone from being a crib, to a toddler bed, and can be converted into a full-size bed, and we have a rock and play that doubles as a bouncer and a bed for Oliver! We also have used a Pack and Play that worked as a bassinet and a crib for our sons. Don't buy a million products – find a product that can be used for multiple uses. It will save you money AND space in the end!
Sign up for Freebies
There are SO many freebies out there for new/pregnant mamas and their babies. If you are formula feeding, formula checks are sent out in the mail all the time (you can sign up on different formula companies websites for freebies.) I wrote a post all about different freebies you might be eligible for.
When you have your baby, take home any of the extra wipes, diapers, etc. that are in your room. You have to pay for them anyways, so if you opened a package of diapers, take all of them home!
Classes
I don't think you need to sign your baby up for anything too intense, but I think it's fun to sometimes participate in mommy and me classes. There are some that are super expensive, but you can find affordable (or even free) options through the library, recreational centers, and even on Groupon! I always recommend checking out Groupon for things that may be out of your price originally – I'm often surprised with the deals I find there! Find a local mom's group on Facebook to find out the latest on everything (Macaroni Kids websites are excellent resources for this!)
Cloth Diaper
Okay, this is not something that I do. However, I know it's pretty popular right now, and it can save you money. I think the initial investment might seem a bit steep to people, but it does save money overtime! You generally need several sets of covers (people rave about this brand), inserts, and a diaper sprayer makes things easier (or so I've been told!)
Buy Books Secondhand
I think it's so important to read to your babies from the start! Books can be SO expensive though. My favorite place to get gently used children's books is on Amazon. So cheap! There are a lot of great ways to save money on books – be sure to check out Anita's post on how to save thousands on children's books!
Trade Babysitting
Babysitters are expensive! I'm not actually a fan of having anyone besides my parents babysit, haha, but if you do need a babysitter, I recommend trading with other moms! I know a lot of people who do this to save money, and it works out quite well.
Breastfeed
Okay, I don't care how you feed your baby, but breastfeeding is cheaper. With Jack, I used a bottle three times, so really, my only expenses were a couple of nursing bras, a large box of nursing pads for the first month or so (reusable ones are even better), and some nipple cream. My sister gave me her breast pump that I used a couple of times (for the said three bottles.) If you are able to breastfeed, I encourage you to do so! It does save money overall. Plus, I love breastfeeding, so win-win for me! Be sure to check out my tips for breast pumping over here!
If you want to get a high-quality breast pump for less than most of similar (or even less) caliber, the Spectra S2 Pump is very highly recommended and just over $100.
Make Baby Registeries
There are a lot of companies that will give you a little incentive to make a baby registry with them. I remember Babies R Us gave us a $20 gift card, and Target gave us a baby kit that was filled with tons of high-value coupons!
I loved signing up for the Amazon baby registry. They sent me a box filled with samples, and I also got an additional 20% off anything remaining on it.
DIY Projects
You can do a lot DIY projects for baby products! I mean, I made THREE Moby Wraps for $10, a toy/lego price for way less than they retail for, and I made an easy reversible blanket for about $8. There are so many DIY projects you can do in a nursery as well!
Use ePantry
I recently discovered this website, and it is AWESOME. You can get high quality, eco-friendly and safe products for your baby (including diapers, baby wash and lotion, etc.) for club prices. You can get $10 off your first order if you sign up here.
Buy clothes as you go
You have no idea what size your baby is going to be or how fast they are going to grwo. I'm lucky, because my kids stay in their clothes for a long time. I mean, Oliver is almost six months, and he's still in 0-3 month clothes (and Jack was the same. I make tiny babies.) I don't recommend buying tons and tons of clothes before your baby even arrives. Most babies don't stay in newborn clothes for very long, so avoid buying too many of those kind!
Cut Hair at Home
Some babies won't need a haircut until they are two, some will need several during their first year. If your baby falls in the latter camp, try doing it at home! Seriously, it will save you a lot of money, and it's not that hard. Here are some tips for cutting a baby boy's hair at home!
Make baby food (or do baby led weaning)
Baby food can be pricey! If you make your own baby food, it can lessen the cost of their food when they start solids. I recommend buying a baby food processor if you decide to go this route (though soft foods like bananas and avocados can be fed as is). I used my breastmilk trays to freeze baby food for Jack.
You can also do baby lead weaning, which basically means they feed themselves from the get go, and it's really just the food everyone else is eating. We did this with Jack, and it worked great. We didn't have to buy or prepare separate foods. He's not picky at all, and I think this is partially why! This is an excellent resource about baby led weaning.
Borrow short term products
So many things that you use with a baby are only used for a month or maybe two. If you want to use a bassinet, consider borrowing one from someone else. The same goes for swings, bouncers, activity centers, etc.
Be smart about stockpiling
I love stockpiling things, but you need to be careful! Don't stockpile too many diapers of a specific size until you see how your baby is growing. I had a hunch Oliver would be similiar to Jack, so we bought a large box of newborn diapers, several boxes of size one, but I have really stocked up on size twos! I buy diapers when I see them on sale (usually through Amazon.) However, this will only save you money if you actually end up using them!
Wipes are another story. You can never have enough wipes! Whenever I see a stockup price, I buy a box or two. I stocked up before Oliver was born, and I think we have enough to last his entire first year!.
Clearance
The clearance section is my favorite place. You can find so many things! Sometimes they are in clearance because the box is damaged, it's out of season, or it just wasn't selling as well as they liked. You can find some true treasures – sometimes I don't even know why something is clearanced (just last year I got the cutest dress from Target for $6. No clue why it was in clearance. It was originally $30!) I usually see the clearance at the end of aisles, and other random places, so just keep your eyes peeled.
Buy things that last
While I think it's important to get deals and not pay more than you have to, if you are going to have more kids, it's something worth it to pay a little bit extra to buy something that will last longer. That way, you don't have to buy the same product over and over again!
Cash Back Opportunites
There are so many ways to get cash back nowadays! Before you buy anything online, make SURE you sign up for
Ebates
! You get a $10 gift card for signing up, and you can make a decent amount back with online purchases.
SwagBucks
is another awesome way to make money online (just by doing web searches!)
Shop around
Never buy something the first time you see it! Always, always shop around. Whenever I am about to make a purchase, I look around on Amazon, Google Shopping, etc. to make sure I'm getting the absolute best price. Many companies, like Target and Walmart, will price match as well, so even if you are in store and you really want something, do a quick Google Search to see if it's cheaper somewhere else so you can price match!
Pay cash for appointments
Even if you have insurance, there are times where paying cash might be easier! My friend, Hilary, wrote a great post about when to pay cash or use insurance! Sometimes it is cheaper (with discounts) to pay for doctor's appointments and medications using cash. We actually use a health share called Christmas Health Care Ministires insead of traditional health insurance. It will save us about $250 on average!