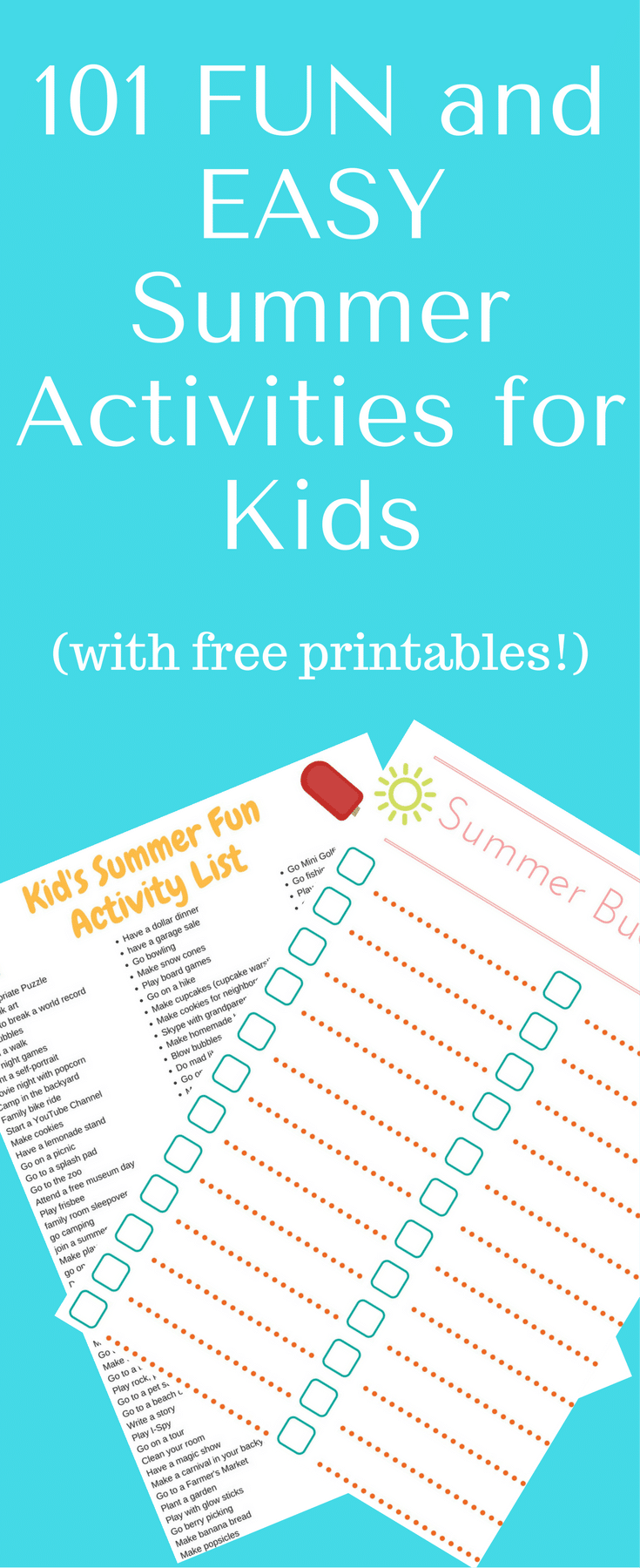 This is our last summer before Jack starts school (give me a moment while I bawl my eyes out).
So I'm still used to helping him find things to do throughout the day – and he's pretty good at using his imagination on his own as well.
However, I know that many parents are starting to look for simple summer activities for kids now that school is getting out.
I put together this list of 100 fun activities for kids – most of them are pretty simple and require little to no cost (though a few of them might be more of a splurge).
I've also put together a printable version of this list, which you can signup for below. You'll also get a fill-in-the-blank "Summer Bucketlist" to help you make your family's list of must-do activities. When you signup, you'll also receive several other printables from other bloggers, which I will talk about more at the end of this!
Blow Bubbles
Age Appropriate Puzzle
Make chalk art – with chalk or the newly popular chalk paint (totally washes over the driveway perfectly!)
Make pottery – at home with a pottery kit or at a place like Color Me Mine
Go on a walk
Play night games
Paint a self-portrait
Movie night with popcorn
Camp in the backyard
Family bike ride
Start a YouTube Channel
Make cookies – we have lots of easy cookie recipes to choose from.
Have a lemonade stand – make sure to use our best lemonade stand lemonade!
Go on a picnic – make sure you bring a waterproof picnic blanket!
Go to a splash pad
Go to the zoo
Attend a free museum day
Family room sleepover
Go camping – make sure you take one of our popular dutch oven recipes with you.
Join a summer reading program – many libaries and book stores do this
Make play dough – this play dough recipe is SO easy.
Go on a bug hunt
Dollar Tree Shopping Spree – $3 limit
Go to garage sales – give each child a bunch of quarters to use.
Run through the sprinklers
Go to the pool
Feed the ducks
Make donuts – a donut pan is a must-have for this!
Have a dollar dinner – give each child a dollar (or two) to buy something from the store for dinner. Anything goes! Then eat everything together.
Have a garage sale – here are our best yard sale tips.
Go bowling – the Kid's Bowl Free summer bowling program is an amazing deal.
Make snow cones – I'd love to get a snow cone maker someday!
Play board games – here are some great board games for families and some fun preschooler-friendly board games.
Go on a hike – make sure you read our best tips for hiking with children!
Make cupcakes (cupcake wars!)
Make cookies for neighbors
Skype with grandparents – or download Marco Polo (or favorite app)
Play at the park
Go on a long drive and play road trip games
Make a sand castle
Make wooden cars from craft kits and race them
Act out skits
Star Gaze
Make a time capsule
Write letters to family members
Make pizza together as a family – our easy pizza dough recipe is always a hit!
Build LEGO towers
Make homemade ice cream – gotta love a good ice cream maker!
Rent a Redbox and make popcorn
Go to sand dunes and sled on them
Go on a nature hunt
Fly Kites
Make paper airplanes – here are some really fun ones to make.
Tie fleece blankets to donate
Do a crossword puzzle
Read a book together as a family – these are all great books for kids
Wade in a river
Go on a train ride
Go to a musical or play
Go on a picture scavenger hunt – give each child a list of different things they need to take a picture of, a disposable camera, and then have fun seeing what they came up with. This may require adult supervision/driving. We used to do this at malls for birthday parties when I was younger.
Have a water balloon fight – these water balloons are AMAZING!
Build an indoor tent/fort – we love our Teepee Joy!
Make caramel popcorn
Go to some kind of sporting event
Make s'mores
Go to a trampoline park
Play rock, paper, scissors
Go to a pet rescue center and play with the animals
Go to a beach or lake
Write a story
Play I-Spy (Jack's favorite game!)
Go on a tour (many towns have free tours at different venues)
Clean your room
Have a magic show – a magic kit will keep them busy for hours!
Make a carnival in your backyard
Go to a Farmer's Market
Plant a garden – here are a few things we learned about gardening our first year
Play with glow sticks
Go berry picking
Make banana bread
Make popsicles
Make a track and have Hot Wheels races
Swing on swings
Have a dance party – or play Just Dance
Have a water gun fight
Make banana splits
Wash the car
Go to a parade
Go Mini Golfing
Go fishing – these are some great kid's fishing kits
Play in the rain
Color – with a coloring book, color wonder, or even on an app
Sing songs around a campfire
Listen to an audiobook – here are the best audiobooks for kids of all ages
What are your favorite summer activities?