Oh boy! Halloween has come and gone! Thanksgiving will be here before we know it. Then, as crazy as it seems… Christmas will come knocking on our door. Have you gone shopping yet? Or have you gotten around to making a list for family members(don't forget stocking stuffers)?
If you're anything like me, you want to have the absolute best stocking stuffers for your your kids. Santa has to be cool, doesn't he?
Every year, my mom takes it in her hands to buy all the grandkids and parents the best stocking stuffers, so this year it's MY TURN!
So here goes nothin! Grab a cup of coffee and start scrolling.
Pin this for later so that you can come back for ideas. Can't wait to help you make your Christmas amazing for your little ones.
Stocking Stuffer Guide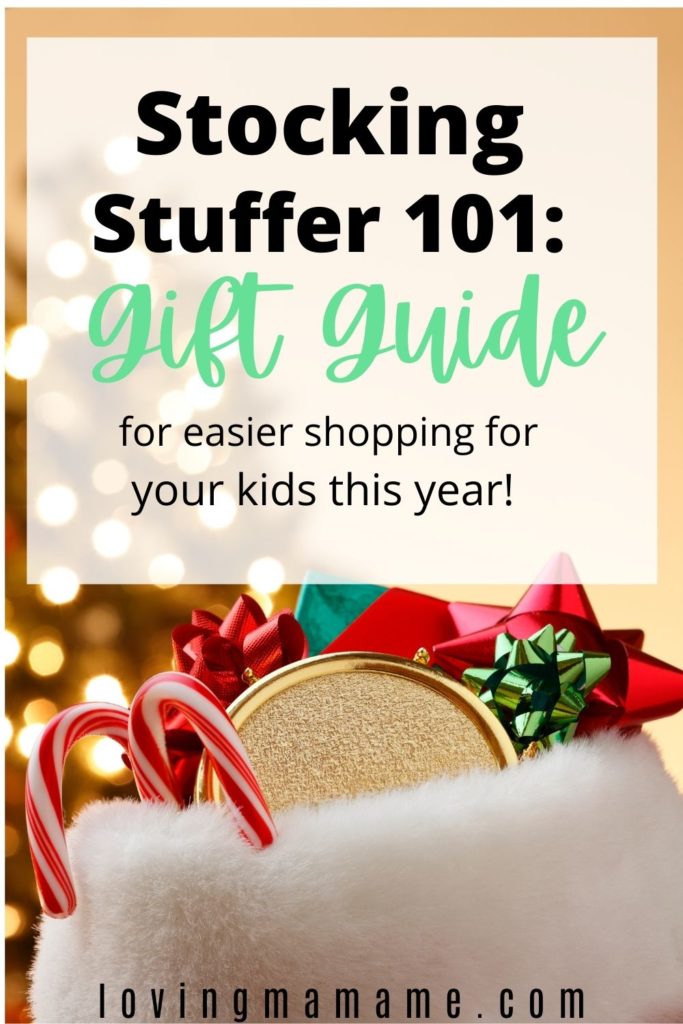 These gloves are so stinkin' cool!! My daughters would have so much fun having a dance party with these on.
This microphone would be a dream come true for any of your kids that love music. It comes in multiple colors and hooks up to all different smartphones! Grab this stocking stuffer and let your littles ones sing their little heart out.
What little girl doesn't like makeup? This is perfect for introducing your daughter to girly things without the overbearance of makeup! It's under $5 and you could easily fit more than one of these in your kids stocking!
Scratch Art Box of Mini Rainbow Notes
When I was a kid, rainbow scratch art was the greatest thing ever. I wish there were mini note cards because I constantly wrote notes and would of loved to make them beautiful! This is a great stocking stuffer to bring out the art side of your kids!
Ready for more? Keep Scrolling!
How many of you parents played around with this music back in the day? 0r sat on grandpa's lap while he played a song for you? I think this would make an amazing stocking stuffer!
I love these pajamas so much!! What kid doesn't like soft and comfy pajamas? Roll these up and use them as a stockin stuffer!
LOOK AT THESE BOOTS! I am so in love with these and am for sure using these as a stuffer for my little boy this year!
Some of our kids are so much smarter than we realize. Try giving your kids something to help them work their brain while they are having fun.
This is so cool! This robot copies what you say. Your kids won't get over how cool Santa is after receiving this! Their stocking is big enough for this stuffer right? LOL!
Trying to figure out how to afford these awesome stocking stuffers for your kids? Let me help you!
Related posts: How To Make Extra Money From Home While Being A Kickass Mom
This gift would be great for a little girl or boy! Make some little boy or girls feet happy with these adorable slippers.
I have never seen a crayon like this but I totally think this is something my daughters might have so much fun with.
THAT'S A WRAP! No pun even intended here but that's the end of this guide! What gifts are you sticking in your stockings?
Leave me a comment, I would love to see your gift ideas.