Baby-proofing is essential no matter how big or small your home is. Here are a few tips for baby-proofing you don't want to miss!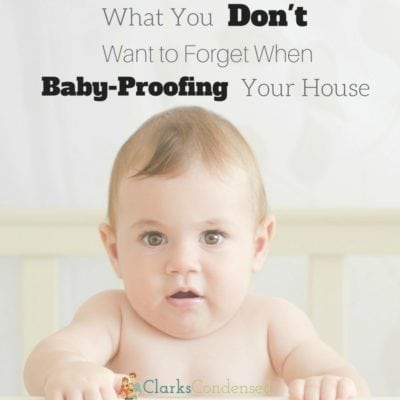 When I became a mom for the first time, I did everything by the book. Literally. I read the baby books, took a  baby prep class at our local hospital,  decorated our nursery, purchased the stroller and car seat and had several baby showers.
But one thing I didn't plan in advance for was babyproofing. At the time I  didn't realize that babyproofing needs to start even before your baby is mobile. I figured I would babyproof the house once our daughter was crawling around- but looking back- there are some things I should have done from the moment she came home from the hospital.
There might be hidden dangers in your baby's nursery, in your living room, kitchen or bathroom.
Today I would like to share a few things that all parents should be aware of when making their house safe for a baby or toddler.
The Nursery
Make sure your child's crib is safe. Beginning in 2011 new rules apply to full-size and non-full-size cribs, which prohibit the manufacture or sale of traditional drop-side rail cribs. If your crib was manufactured before 2011 double check to see if is a drop-down. Some drop-side crib manufacturers have immobilizers that fit their cribs, however please know that a drop-side crib, even with an immobilizer installed, will not meet the new CPSC crib standards.
Adjust your baby's mattress to be at the correct height, as most cribs allow you to adjust it. For a newborn the higher levels make it easier to lift your baby but remember to lower the mattress once your baby is able to pull themselves up, this is usually around the age of six months old.
Try to avoid hanging pictures or shelves directly above your baby's crib or changing the table.
Use the correct size sheet for your baby's crib or bassinet. This ensures the sheet will have a snug fit avoiding the sheet to come loose risking the baby getting entangled in the sheet.
Living Room
Be aware of the dangers of corded blinds.
The Window Covering Safety Council urges parents and caregivers to check their window coverings for exposed or dangling cords.  Little ones are drawn to things that dangle and cords are no exception. Make sure if you do have cords that they are out of sight and reach.  Move cribs, beds or furniture away from your windows to avoid the risk of harm coming to your children. Check all the windows in your living room, bedrooms or bathrooms.
If you are putting new windows in your home consider  installing only cordless window coverings to avoid possible strangulation to your infants and young children.
Cover those outlets! Outlet covers are inexpensive and can be found at the grocery store, baby story, or hardware store.
The Kitchen
Secure your trashcan. Keep the trash in a cabinet, pantry or get a lid that stays secure. The last thing you want is your baby digging through the garbage with potential sharp or messy objects.
Place your baby's seat on the floor. As tempting as it is to place your baby's bouncy seat or foam-styled chair on a table or counter – don't do it. It is not worth the risk of them getting knocked off or somehow wiggling around enough to cause it to tip over.
Move cleaners out from under the sink. Place them up high or use a behind-the-door shoe pocket holder to place each cleaning object in- then hang it up behind a closed hallway door.
Use stove knob-covers to keep your child from being able to turn the oven on and off.
Make sure you turn your pot handles inward while cooking. It's a good habit to get in even if you have a newborn at home who doesn't roam the kitchen yet. Once they are mobile it will be second nature for you to do so and it will help avoid serious injury to your child.
Always stay in the kitchen when you are using the stove top. Especially with small children in the house.
The Bathroom
Keep the toilet lid down and install a toilet lock to keep your baby from lifting the lid. Remember a baby or toddler only needs an inch of water to drown and little ones can easily lose their balance and tip into the toilet.
Consider getting a child-proof cover to put on the door handle to keep your child from being able to open the door to the bathroom.
Put razors, tweezers, medicine, vitamins,  soap, and make-up out of reach and put them on high shelves away from little curious hands.
Make sure you always unplug your curling iron or blow dryer and be sure to wrap the cord up and put it out of reach when you are finished.
Never, ever leave your baby or child alone in the tub- even for a second. Make sure you are not distracted while bathing your child. Their safety is your number one priority. If the doorbell rings or there is an emergency in the house take your child out of the tub and take them with you.
What are some of your must-have tips for babyproofing your house?