Hurray!! You've decided you are ready to make a lifestyle change and get into fitness. But what do you do? Where do you start? Your options at this point are endless. Time to get your journey planned. Let's start with 5 things you should do as you start your fitness journey.
1. Decide what you are wanting to get out of this journey.
There are so many different ways that getting into fitness can help you. Some people are starting their journey to lose weight while others are wanting to gain weight. In another aspect, some people are looking to bulk up while others are trying to slim down. There are also those that just want to tone their body and gain more confidence. The possibilities behind the reasoning to better yourself, are endless and completely up to you. Answer this question: What am i trying to gain by getting into health and fitness?
2. Make a SIMPLE goal.
"Your goal should seem relatively easy or within reach of what you are doing." -Mike Clancy, certified strength and conditioning specialist
When it comes to fitness, it's always smart to set your expectations low. You can always adjust them as you make your way to your goals. You need to start out with a goal that you are confident that you will be able to achieve. For example, when trying to lose weight, is it realistic to lose 30 pounds in a month? No. Although it has been done, that is ultimately not healthy. It is most realistic to lose 1-2 pounds a week so to say you want to lose 8 pounds in a month, is a lot more realistic. Even better, let's break that down and say you are going to lose 1.5 pounds a week. PERFECT! Now you have your goal set.
3.Set a workout schedule a week at a time.
If you are completely new to fitness, you may not know how to start a realistic workout plan. I personally find it easier to workout from home with some of the basic equipment such as bands and light weights( I use 5, 10 and 15 pound weights). Let's follow the basics as if you too, are working out from home:
-Choose the days you are going to workout. You don't need to workout every day, you're body always appreciates a rest day.
-Decide what workouts you are going to do. Your choices are unlimited and google is great for searching for different beginner workouts.
-Decide on how many reps and sets of each workout, you are going to bust out.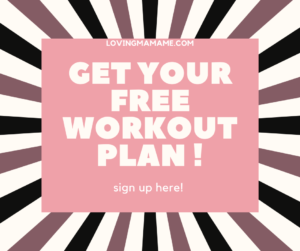 [mailerlite_form form_id=2]
4. Reach out to your friends and family for support.
Making a lifestyle change, can be hard! Therefore, having your family and friends on board with you will make things easier. Of course they aren't obligated to make the change for you, but they can be your motivation. They can help to keep you accountable. In all honesty, I personally have a group of girlfriends all wanting the same outcome, that I check in with every day. The days that I don't check in, I feel as if I am setting myself back. Even if I am reaching out to say "I'm taking a break today," it helps me to know that I am still being true to my goal.
5. Don't be too hard on yourself.
No one ever decided to change their eating habits or fitness style and did this, without slipping up every now and again. You are only human. Just because you have a bad day, doesn't mean you are going to undo all the changes you are making. Re read that sentence. It takes more then A DAY to undo a major change. If you do slip up, get back up and pick up where you left off and don't be mad at yourself because IT'S OKAY!
6. Have fun with your new lifestyle.
You only have one chance to live your life, so have fun with it! Changes are not going to happen overnight but that's okay! The sooner you come to realization with that, the better this journey will go for you. Because that's just what this lifestyle change is.. a journey and NOT a destination. You get to enjoy all the new aspects of this lifestyle change for the rest of your life if that's what you choose. Before you know it, friends and family will see the changes in you and be so happy for you! Take your journey day by day, and remember not to give up.`