Giving birth in a birthing center is being a more popular option – and for good reason! In this post, you will learn about birthing centers vs hospitals, learn more about what birthing centers are and if it's a good option for you, along with a birthing center packing list!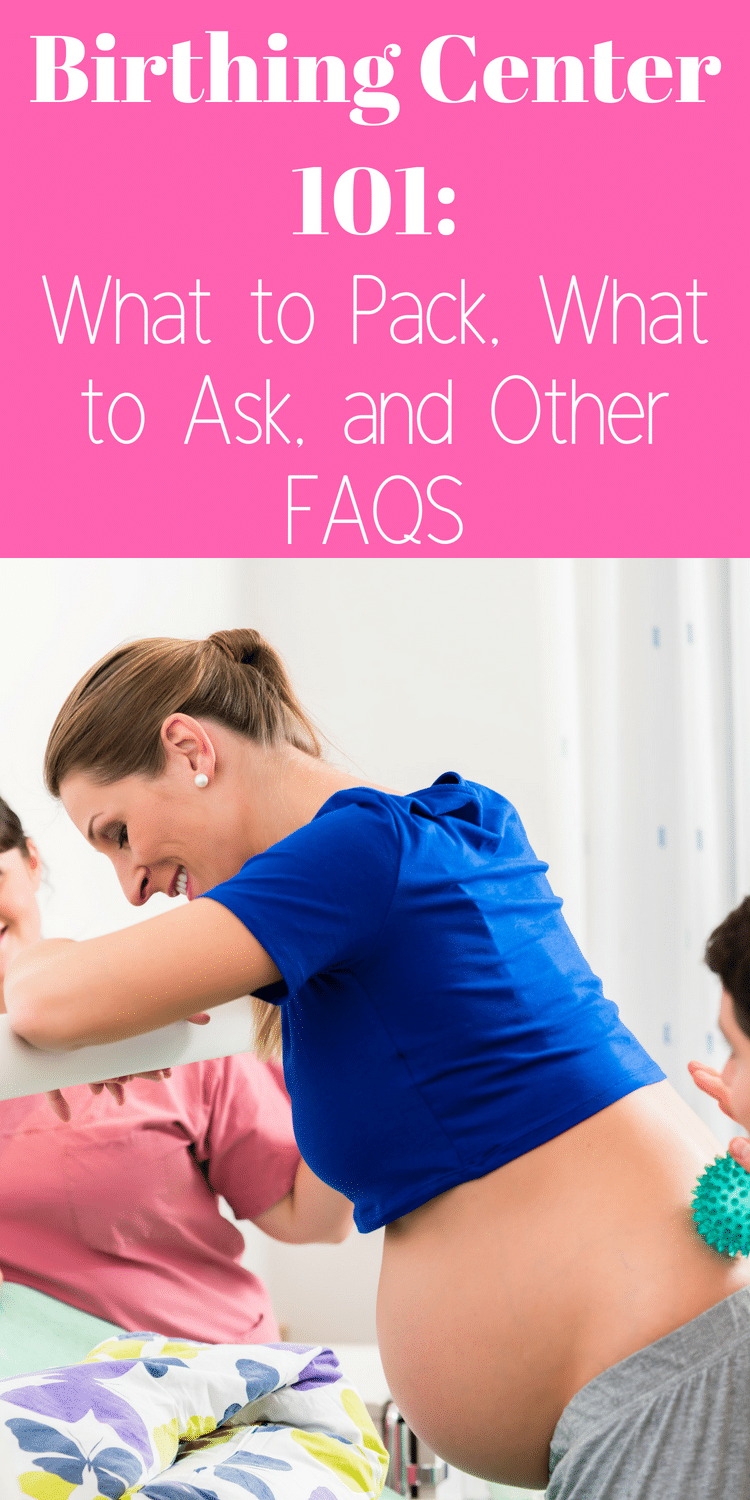 Birthing Center
It's pretty neat to live in a time and age where we have so many options for giving birth.
One option that has gained popularity in recent years is to use a birthing center. You may have heard one of your friends mention it in passing or as you've researched birthing options, it's undoubtedly shown up.
I'll be up front – I've never given birth in a birthing center, but because I believe in sharing information for all pregnant women on this blog, I decided to do a little research and reach out to those who have to put together this post. I'm not going to lie – the birthing center experience sounds rather nice!
What is a Birthing Center?
So first off – what exactly is a birthing center? This is probably the first question you want answers to (unless you are just here for the packing list, then you can just scroll on down for that!)
Essentially, a birth center is an independent facility that has less medical interventions and more personalized care. It is often touted as family-centered care, which I think is a pretty good descriptor. It's kind of the middle ground between home births and hospital births.
If the birthing center is not connected to a hospital, you will typically have all your prenatal and postnatal visits there with the providers.
However, there are more hospitals offering freestanding birthing centers separate from their labor and delivery units. Here in Denver, there are several hospitals that have a dedicated birthing center (such as Rose Medical and Saint Joseph's) that is separate from their traditional labor and delivery area. The main purpose of these birthing centers is to give mothers the option of a low intervention birth but also have them very close to the hospital in case something goes wrong.
There are pros and cons to these – for instance, at Rose, they don't have birthing tubs, and they require that you stay at least 24 hours after birth, which many people using a birth center like to avoid – but I think it often gives you the best of birth worlds. Definitely look into those options if they are near you and see if they are a good option. If they are connected to a hospital, they typically are accepted by insurances. You typically will need to use a provider that has admitting privileges at the hospital.
Birthing Center vs Hospital
There's really no right or wrong answer to whether or not you want to give birth in a birthing center or a hospital.
Here are things to consider about birthing centers:
The ideal candidate is a woman experiencing a low-risk pregnancy. f you have had many complications with your pregnancy or there is any cause for concern, most birth centers will not allow you to give birth there. Many birthing centers do not allow multiple births, however, if they are connected with a hospital, they may be more likely to.
They typically have a shorter required amount of time
While they won't induce you or perform a c-section at a birthing center, they are typically equipped with oxygen, IV, infant resuscitation devices, and even medications like Demoral are available
The c-section rate is typically lower at birth centers. This may be due to the fact that they don't accept high-risk cases more of the time, but there's no denying the care during the labor and delivery process plays a part in it
Birth centers can be cheaper since you typically stay for a shorter period of time
Not all birth centers are covered by insurance – and some won't even accept it. This is definitely something to keep in mind when choosing yours
Less medical interventions – a big selling point for birthing centers are that they have a lot more opportunity to make the birth how you want it with very little medical intervention.
The rooms typically feel more like home – larger beds, more inviting, kitchens, etc.
Freedom to move as you please and even eat/drink
Often offer birthing tubs
Typically very breastfeeding friendly
At Hospitals . . .
You have access to more methods of medicinal pain control, such as an epidural. If you decide at the last minute that you want an epidural, you can get one. This is not the case at a birthing center
Faster access to emergency care such as a c-section, NICUs, etc.
You can still have a lower intervention delivery depending on your provider. Be sure to find one who aligns with your values and goals – midwives are becoming a more popular option, and there are actually many practices that have both OBs and Midwives
More monitoring – this will depend on the hospital, but most hospitals will require at least intermittent monitoring
More medical-feel to the birthing rooms than at a birthing center
May have more restrictions on visitors, who can be in the birthing room, etc.
So if you've decided that you would like to give birth at a birth center, you might be wanting what you should pack. I've asked a lot of different people for advice, and there are a couple of things to consider:
How Long Will You Stay?
Many birth centers allow you to go home within hours after giving birth. For many, this is the biggest allure of a birth center. If you will only be staying for a few hours, you really won't need nearly as much as you might if you were going to stay for the traditional 24-48 hours that a hospital requires.
However, you will want to double check with the birth center. As I mentioned above, the birth centers that are connected to hospitals in our area require you stay at least 24 hours.
How Do You Want to Give Birth?
Do you want to labor in a bathtub or give birth in a tub? Are you going to be using Hypnobabies as your primary pain control method? Perhaps you are interested in massage. Because you are not tied to a monitor, you are free to get up and move around as much as you like. This opens a lot of opportunities for labor and delivery pain management methods and birthing options.
[thrive_2step id='60054′]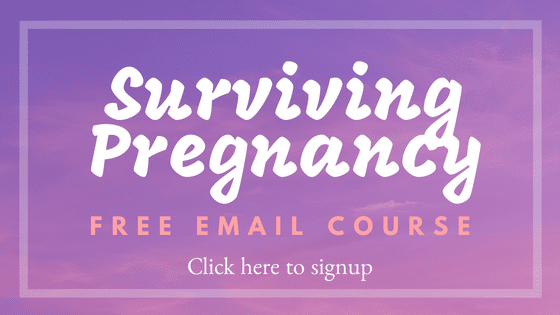 [/thrive_2step]
Birthing Center Packing List
Honestly, many women commented that they brought more than they needed, especially if they only stayed for 12 hours after birth. However, everyone is different, so I would carefully consider what you want/need:
—Birthing Gown – you have a little more flexibility with what you can wear since you won't be hooked up to lots of cords. Many women opt to bring a birthing gown – there are some great options on Amazon.
–Bikini Top or Sports Bra – if you are planning to labor (or even give birth) in a tub, these are helpful to have.
–Swimming Suit for birthing part – again, helpful if giving birth in a tub
–Hair Tie
–Car Seat – you will need a car seat and base to bring baby home!
–Nursing bra
–Clothes for after delivery – a robe, comfy pants, pajamas etc. Robes are helpful to help you have an easier time with skin to skin.
–Going home outfit for baby and for mom
–Diaper Bag with diapers, wipes, etc.
–Nursing Pillow
–Postpartum Essentials – I would double check with your birthing center for what kind of postpartum care and supplies they have. You may or may not need to bring anything with you (though you'll definitely want to have them at home). Here is a post that can help you determine what postpartum essentials you'll need – Postpartum Recovery Kit: Essentials for Recovery from Childbirth
–Camera
–Charger for phone
–Soap, Shampoo, and Conditioner (travel size)
–Labor Music – have this loaded up on your phone or onto a CD. Here are some great labor and delivery music ideas.
–Cough drops
–Robe
–Flip flops
— Nonskid socks
–Oils for massage; essential oils for labor can be really helpful as well
–Massager
–Food; you may want to bring snacks for during labor (at least for your spouse or partner), but you definitely want to consider bringing food for after baby is born. You may have a baby in the middle of the night when nothing is open!
–Tooth Brush/Paste
–Birth Plan
Questions to Ask Your Birth Center
When choosing a birthing center, there are a few questions that you should ask:
Are they accredited?
What providers deliver there?
What hospital are they associated with?
What happens in an emergency?
If a transfer to the hospital is required, does the midwife have admitting privileges?
What is their complication rate?
Do they accept insurance? If so, which ones?
Who is the backup provider?
What postpartum care given to mom? What about for baby? Will tests be performed?
Experiences from Other Moms
"[I brought] Applesauce pouches. I didn't want to "eat" but it was nice to get something in. I [also] brought comfortable PJs to go home in, a blanket and outfit for baby, and a meal for after birth. We weren't allowed to leave and a baby was born at 1 am. There was nothing open at 2:30 when we went to order food. My husband had to run home and get something. Next time we plan on having a crockpot meal ready to go and bringing that to the birth center.
I really didn't use a lot of what I brought. I was at the birth center for 12 hours total. I loved my birth center experience" – Melissa
"A nightgown for the recovery period, an outfit for going home, an outfit and blanket for baby, my husband's swim trunks for shower and tub, and a change of clothes for him to go home in too. I arrived at the birth center ready to push, had a baby about 1.5 hours later, and left 8 hours after that. My second was in a hospital—never again." – Stephanie
"Food, a water cup with a straw, and clothes to take the baby home in. They gave me a robe for while I was there. And I ordered pizza after I gave birth. Went home 6 hours after he was born so didn't need much." -Bailey
"We didn't go to a birth center but had our 3rd child at home with a midwife. So my home/my bedroom was kind of transformed into a birth center of sorts. My midwife brought all necessary supplies for delivery. But I had to figure my own comfort items. I wanted to be super organized since I wasn't sure how having a baby at home would go with 2 kids at home. So I wanted things easily accessible. I had a box full of things (in case we had to transfer to a hospital or birthing center) like what I would have taken with me. Nursing bras and nursing nightgowns, underwear and pads, disposable underwear, swaddle for baby and first outfit. My second favorite cup and straw (my first was on my nightstand) my robe. My swimsuit since we had a birthing pool. And that was about it for the immediate aftercare." Ashley
Now you have all the resources you need to get ready for your birthing center experience. Now reward yourself with a Pregnancy Box Subscription to help the wait until baby's birthdate feel a little less far away!
Other Pregnancy Posts You May Enjoy: