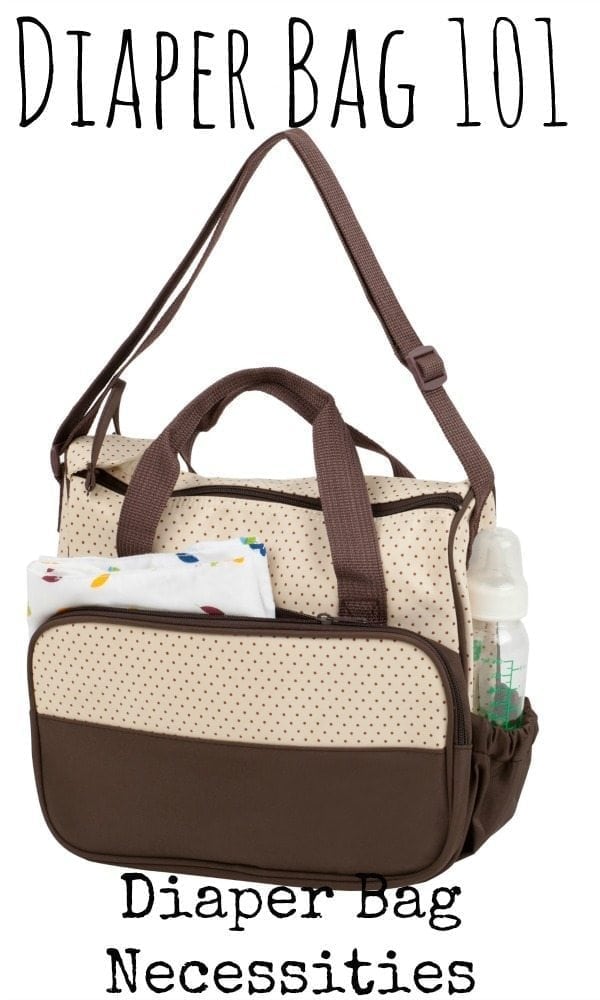 One item I didn't put a lot of though into when we were preparing to have Jack was my diaper bag. We just picked up one that was on clearance at Babies R Us and called it good. However, I soon learned the importance of having a reliable, sturdy diaper bag, and about six months after he was born, I had to buy a new one. The one I bought had started to tear in random places, didn't have a ton of pockets, and was just cheap overall.
I don't think you realize just how much you will use a diaper bag until you have your kid. Although Jack is almost two and a half, I still use our diaper bag a lot (and to be honest, I wish I had a better one!) Throughout his two years of life, I feel like I've discovered what our diaper bag necessities are, as well as a few tips for making the bag a little more organized. I'd love to hear what your diaper bag necessities are!
Diapers and Wipes
I know, duh. The main purpose of a diaper bag is for, well, diapers! However, it's important to always remember to restock your diaper bag with these two items. Maybe it's just because I'm absent minded, but I've had more than one occasion where I thought I had diapers in our bag, only to discover we didn't when we needed them most.
I think it's great if you have a travel wipes container. It frees up space in your diaper bag, and it's just nice not to have to carry around a big container of wipes! Wipes are also essential for more than just changing diapers. You can use them to wipe messy faces, clean up spills, clean up spit up, and even clean up messes on your baby's clothes (or even your own!)
Changing Pad (that has a spot for wipes and diapers)
Our changing pad is probably one of Forrest's favorite items. He even uses it at our house when he doesn't feel like using the changing table in the other room. While some people might think of this as a fluff item, we really love having a quality one in our bag. It's actually quite surprising how often a bathroom doesn't have a changing table (especially for Forrest, in the men's room), or we just aren't near a bathroom when we need to change a diaper. I remember a time or two where I didn't have one when Jack was tiny, and I had to change him on the floor of a bathroom. Not exactly the most sanitary place (not to mention it was probably cold!) The one we bought has a place where you can store several diapers, another compartment for wipes, and another where we store diaper rash cream. It's lasted us almost the entire time Jack has been alive. If you are filling really crafty, you could even make your own! I actually can't find the one that we bought but this one one from Munchkin looks nice (a little pricey though, for my budget!)
Diaper Rash Cream
For us, we can't leave the house without this. Jack has had a lot more severe diaper rashes on a regular basis than most children probably do. Because of this, we always have some heavy duty diaper cream with us at all times. We can leave the house and he won't have one but a few hours he will. Fortunately, most of you probably don't have to use it as much as we have, but it's still a good thing to have in your diaper bag. Our favorite diaper rash cream is something called "Fanny Cream", but as far as we know, the only place that carries it is a small pharmacy in Sanford, North Carolina. And since most of you have probably never even heard of that city, you're out of luck. However, we always like Desitin or Butt Paste.
Small Toy or Book
Babies and kids can get distracted by the simplest of things. When Jack was a baby, we always had either his The Very Hungry Caterpillar Teething Toy, Sophie the Giraffe, or Baby Einstein Take Along Tunes, along with some small board books, and they were a lifesaver! Now, we always have a few little cars stored away to occupy or cheer up Jack when we are out and about.
Extra Outfit
If you child hasn't had a blowout in public, gotten incredibly dirty while playing outside, or spilled their entire dinner at a restaurant on their outfit, it will happen. I've heard that I've heard the only things certain in life are taxes and death, but I suggest children needing to change their outfit while out in public should be added to that list. And unfortunately, I don't always follow my own advice, and it's usually when we need an extra outfit the most. So, to spare yourself the stress of having to go buy a onesie at the store, or, even better, just toting your child around in a diaper while you finish what you're doing (just be prepared for stares), always have at least an extra onesie somewhere in your diaper bag!
Pacifiers
Obviously if your child doesn't take a pacifier, this doesn't apply to you. But for us, having an extra pacifier was key. I was never the type of person who wouldn't give a pacifier back when it fell on the ground but there have been a few occasions where a pacifier was left at home or it fell out in the store, never to be seen again, and I sure was grateful that I always had at least one extra pacifier in my bag.
Ziploc Bags or Small Beauty Bags
The key to organization in my diaper bag where these little zippered bags I had collected over the past few years (Target used to send them out with free samples.) I LOVE using them in my diaper bag to hold pacifiers, extra cash, pens, etc. It's also helpful to have larger bags to keep other items organized, so you don't have to dig through your bag for 10 minutes every time you are trying to find something.
Bottles or Sippy Cups
Obviously, your baby or child is probably going to get hungry/thirsty at some point, so these are necessary items. I highly recommend making sure you only put sippy cups in your bag that don't leak. While we love these cheap sippy cups for around the house, we much prefer taking our Munchkin Click Lock sippy cups when are are out and about. They don't leak at all, so we can just throw them in and not worry about finding a big, wet mess later on. I don't have much experience with bottles (Jack only had one a grand total of three times), but if you use them, make sure to bring them along!
Bags for diapers
You may not always be near a trashcan when you need to dispose of a diaper, so having a bag to put a used diaper in is a great idea. I know there are special diaper disposal bags you can buy, but really, I never felt they were necessary, because we weren't really ever that far from a trash can. However, having some kind of bag can help make it so the room doesn't get all stinky, nor does your bag risk getting dirty.
Snacks
When your baby gets old enough, you definitely want to have a little supply of snacks in your diaper bag. We always had Puffs in our bag and now we always have either pretzels, or something similar, as well as vegetable (and some fruit, depending on the fructose content) pouches. These food pouches are awesome, and Jack still eats from them! They are much easier than bringing a spoon to feed your baby, and once they get old enough, they can feed them to themselves without making a huge mess.
I think that these Take and Toss snack containers are great for the diaper bag. We did have a Munchkin snack catcher, but I found that the snacks would oft time spill out into my bag, since it doesn't have a totally sealed lid. These are nice for letting your child hold their container of snacks without fear of them totally going everywhere if it got dropped!
Bibs and Baby Cutlery
Sometimes I wish restaurants would have bibs and children's cutlery available (wishful thinking!) But since they don't, I always like to have these in my diaper bag when we go out to eat. Jack can hold a fork and spoon just fine, but when they are "adult-sized" it gets a little harder for him. It's also always "fun" when we go out to eat, and he gets food all over his clothes because we don't have a bib.
Medicines
During Jack's short life, he has been on a variety of different medications. For the first year of his life, he had to take an acid reflux medicine, and we never left the house without it. We always had baby tylenol on hand for different reasons. If your child needs medication on a regular basis be sure to have that in your bag, as well as extra syringes! I recommend putting any liquid medications in a plastic bag. We had more than one situation where the lid wasn't on correctly, and it spilled everywhere!
For Mom
Your diaper bag should have some items for you, too! Here are a few "me" things I like to keep in my diaper bag.
Snacks
Have you ever heard the phrase, "When mom ain't happy, nobody's happy"? Well, it's true! Though, admittedly, ever since I was young, if I go too long without eating, I get really grumpy. Anyways, I always have a granola bar or something similar, just for those times when we are shopping, or at the park, and I feel those hunger pangs coming on.
Water bottle
This was especially important when I was nursing. I was always SO thirsty! While I used to carry around my large water jug that I got from the hospital when Jack was really little, it wasn't always convenient, so I found it helpful to just throw in a water bottle to help keep my hydrated. I love the mini water bottles you can buy because they don't take up a lot of extra room.
Chapstick/Lip gloss
I don't really have any reason for this, but I always have a little container of my favorite EOS chapstick (the pomegranate raspberry flavor is my favorite.) It's just nice to have!
Nursing cover
I never had any qualms about nursing in public, but I did always want to wear a cover. I shared the nursing cover shawl I made a few months ago, and it was so easy to take along in my diaper bag because it didn't take any space. I always had this with me, and it always acted as a great blanket when I needed it to!
Hand Sanitizer
I always have at least one mini hand sanitizer from Bath and Body Works in my bag. Believe me, you'll want it for those times when you are changing a diaper and there's no sink nearby to wash your hands! It is also nice to have for any number of other occasions that may arise (playing at the playground, an indoor playground, just being around other kids, etc.)
Pens
I feel like I always need a pen for some reason or another, and there's always one in my bag!
What to Look For in a Diaper Bag
Not all diaper bags are made equally! While it might seem wasteful to spend a lot of money on a diaper bag, I highly recommend investing in a good one. Because if you don't, you'll just end up buying another one (and maybe another one after that) and that will add up quickly. Here are just a few things to consider when picking out your diaper bag.
Make sure it's made of sturdy material. If it looks like it might tear easily, it probably will. Anything covered in plastic is a bad idea.
Lots of storage compartments is a must! I love having lots of pockets on the outside of my bag, and it's very helpful if there are multiple zippered areas or pockets on the inside. It just helps keep things more organized.
Waterproof and easy to clean — this is very important!
Consider having two diaper bags. We had a small, backpack diaper bag that was given to us at the hospital as well as a much larger one. The backpack one was nice when we didn't want to carry around a big bag (like when we would go on a walk or to the store), and it was just big enough for the absolute necessities, like diapers and wipes.
Get something that you like. You don't have to get some ugly bag that screams, "Hey, I'm a diaper bag!" Unless, you know, you like that style! There are so many cute diaper bags out there that honestly just look like purses. My current diaper bag is actually just a bag from Thirty One that wasn't designed as a diaper bag, but it's worked really one as one!
Consignment stores can be a great place to buy a diaper bag. My sister-in-law got a brand new Petunia Picklebottom diaper bag for about $20 at a consignment store, which is incredible. You never know what treasures you might find!