Not sure how to bring down baby fever? Not sure the best way to take your infant's temperature? This article will tell you everything you need to know about infant fevers!
Thank you to FeverAll for making this post possible. All opinions are my own.
When Oliver was just a little over a month old, he was feeling a bit warm, so I took his temperature.
It was 100.6. Since that was just barely even considered a fever, I decided to take his temperature with a rectal thermometer, as well as a temporal thermometer, both of which confirmed the fever was even a bit higher than that.
I've always been told that if a baby has a fever, and they are under three months old, they need to be seen by a doctor immediately.
After we had gone through Jack getting RSV at two weeks old – with a fever being the first sign – we rushed him to after-hours…and then they sent us on to the ER.
His temperature was just barely a fever when we arrived, but because of his age, they had to do a bunch of tests. They did blood tests (which were horrendous) and a spinal tap (even worse), and they admitted him to the hospital for two days.
It was not fun.
Then a few months later, he spiked a very high fever – the highest it got was 106. We were in and out of the doctor's office for a few days, with them being very puzzled. He was actually admitted to the hospital again because his blood culture started growing something.
While it ended up being a false positive, and he ended up having his ear drum burst (despite three doctors saying he had no ear infection), it was not a fun experience. And we have certainly come to know more about babies and fevers than I wish I did!
Since we talk a lot about babies around here, I thought I'd share just a few tips for managing fevers with infants. Remember – I'm not a doctor. You should definitely consult with them about this (I've found different doctors have different "rules"). But I certainly have had my fair share of experience with my baby's having fevers, so hopefully my experience will help you!
What is Considered a Fever?
I think a lot of people freak out when they seem the thermometer go over 99 degrees. However, that really isn't considered a fever (unless it's under arm, and you have to add a degree!)
100.4 degrees is considered a fever, though you should always call your doctor with concerns. Whether or not you should take them in depends on their behavior and other symptoms. I recommend talking with your doctor before your child gets a fever to know just when to bring them in.
It's also important to remember that a fever isn't necessarily a bad thing. It's actually a sign that the body is in full-on defense mode and trying to fight off that infection or bacteria.
What Kind of Thermometer Should You Use?
As un-fun as it is to use them, a digital rectal thermometer is kind of the gold standard for infants, especially under the age of six months. It tends to be a bit more accurate, so I think it's good to have a rectal thermometer on hand.
However, you need to make sure it is a dedicated rectal thermometer. Once it's used in that way, you should not be putting it back in anyone's mouth!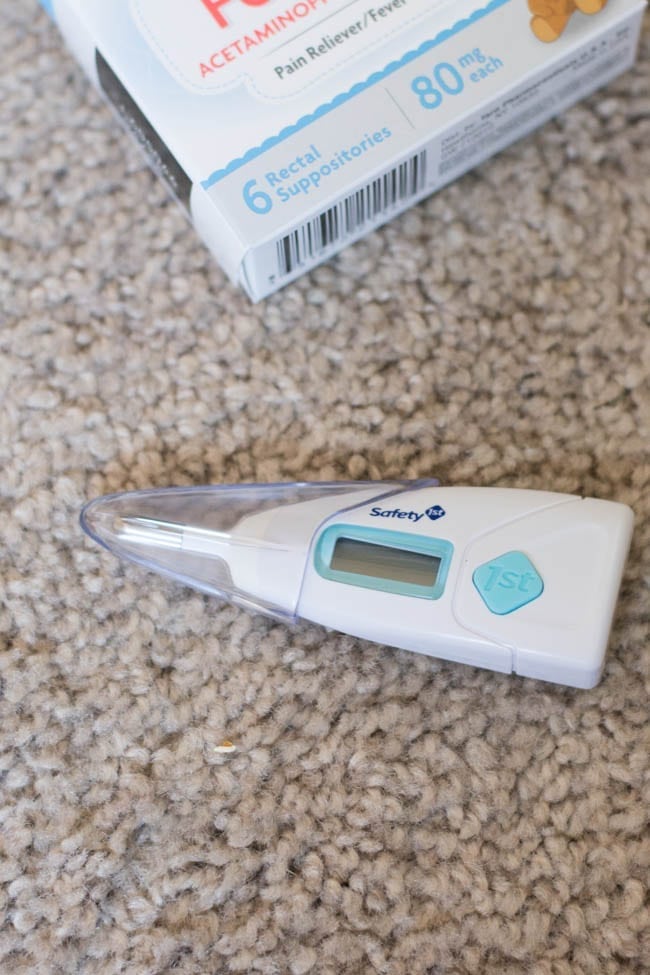 Once our kids get a little older, though, we opt to use a temporal thermometer. They aren't quite as accurate, but I do think they give you a good idea about whether or not your child has a fever.
For everyday use, we love the Kinsa Smart Thermometer. It's very simple to use, and it's very accurate. The accompanying app tracks the temperatures, and I've found it to be very helpful. You can get one for 25% off here.
We actually really love the smarttemp wearable thermometer when our boys are sick. It is a LIFESAVER at nighttime especially, because it connects with your smartphone and alerts you if the baby's temperature goes above a certain amount. We've tried different wearable ones, and this is the only one that was a) affordable and b) reusable. There was another brand I loved, but you could only use it once…and at $20 per monitor, it gets to be a bit pricey!
How to Bring Down Baby Fever?
There is a lot of debate on how to treat fevers – and if you should even do it. When I spoke with our doctor, she said that if a child is running around and acting fine, yet they still have a fever…you don't really need to give medicine.
However, if they are totally miserable, acting lethargic, etc., it's always worth it to give medication. There's no reason to make them miserable. I know that when I get a fever, I feel horrible. I hate the thought of making my child feel that way!
If your child is under three months, you should not give them medication until you've consulted with a doctor. The reason for this is that infants that small typically do not get fevers, and when they do it might be the only sign that something could be wrong. If medicine is given, it can make it harder to diagnose the cause.
For under six months, consult with your doctor for what they recommend for reducing a fever. For children six months and older there are a few different options to help reduce a fever, one of which is acetaminophen
There are a few different ways you can give acetaminophen. Of course, you can use the liquid dispensary – this is typically pretty easy to do.
However, for babies over the age of six months, I think one of the better options is to use a suppository like FEVERALL.
You don't have to worry about the baby refusing to take the medicine, spitting it out, etc., and they are very easy to use. This can actually only be used for infants six months and older, but it is the only acetaminophen branded suppository with dosing for children of that age.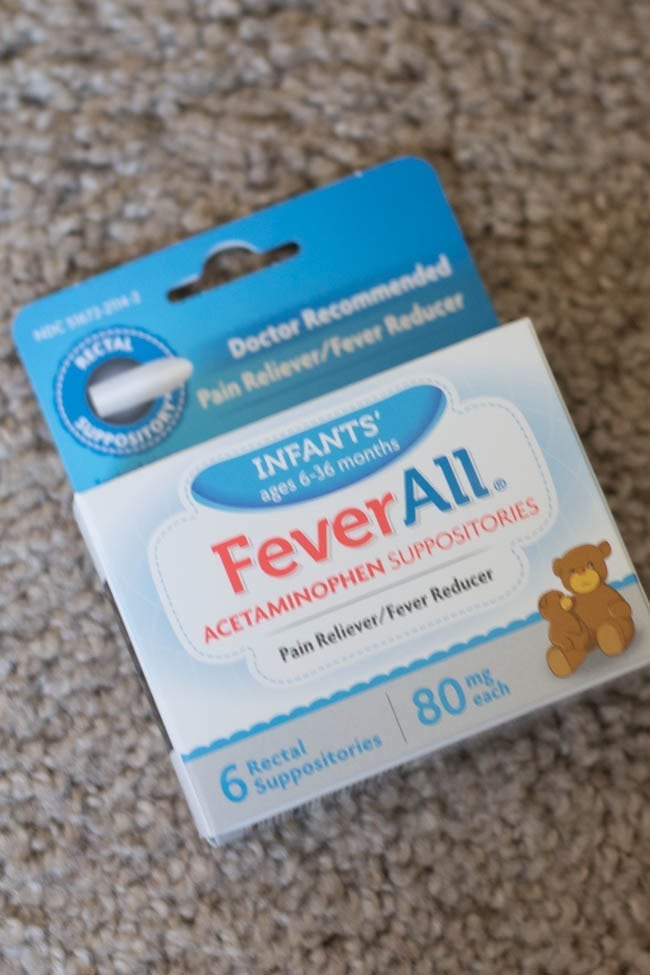 I know that as my kids get older, giving them medicine gets a lot harder. For instance, when Oliver was sick last, he absolutely REFUSED any liquid medicine. We were out of town, and I was wishing I had thought to throw my box of FeverAll in my bag before we left. Look for it in your local Rite Aid, CVS, Walgreens and Walmart stores. Follow them on Instagram and Facebook as well.
There are non-medicinal ways to treat a fever as well:
Dress baby in just a onesie
Give them a cool bath
Keep them hydrated – it is SO easy for a baby to become dehydrated. Make sure that you are feeding them as much as they can tolerate.
Keep them comfortable and give extra cuddles
When is a fever too high?
This is something you really need to discuss with your doctor, because, in my experience, they all have different ideas. I most often see that that if a child is consistently hitting above 103 degrees, and they are acting miserable, you should bring them in.
However, if you are ever worried, don't be afraid to call your on call doctor or even a teledoc if it's after hours. While I hate going to the ER, we've had to take our children in before with high fevers (because of other symptoms coupled with it).
If your baby is under three months, though, ANY fever should be reported to a doctor immediately.
#FeverAllBeFeverReady
Use FeverAll® only as directed. If you have specific questions about fever, acetaminophen or using FeverAll, speak with your child's pediatrician. FeverAll Acetaminophen Suppositories are available at major retailers and drugstores across the U.S, such as Walmart, Rite Aid, CVS and Walgreens. For more information and current offers, visit www.FeverAll.com.
This is a product-provided, sponsored conversation written by me on behalf of FeverAll® Acetaminophen Suppositories. The opinions and text are all mine.