When I was eight years old my parents took my five siblings and me on a dream vacation to Hawaii.
Here we are at a luau–don't we look like we're having an awesome time???!!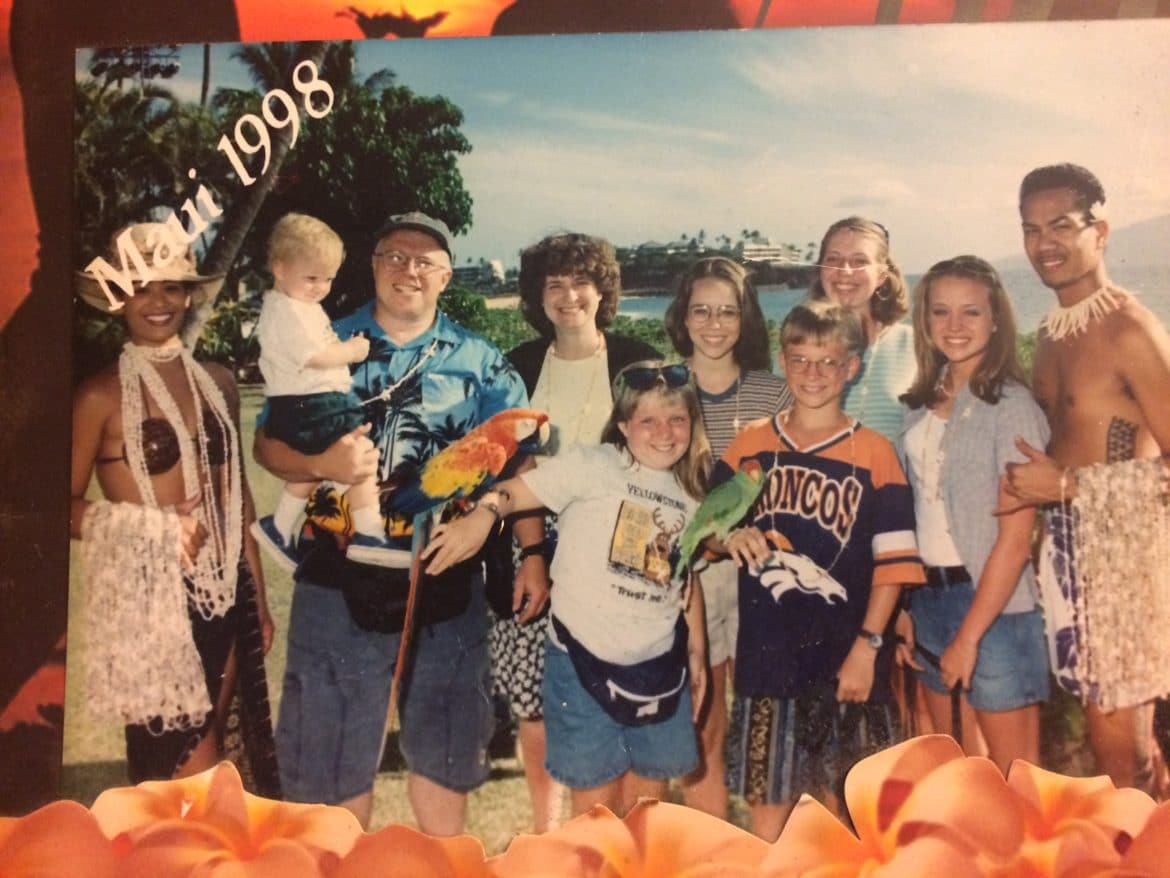 Well, we were–for the most part. But if you zoom in on me–the cute little blond girl holding the orange parrot on her arm–you'll see some very red cheeks. If I'd been wearing my swimming suit, you'd see a red, about to blister back.
You see, my mother grew up in the sixties when "suntan oil" was all the rage, which was to help create a gorgeous tan.
So, when she was planning our trip to Hawaii she thought that while protecting our skin from the sun would be a good idea, we shouldn't go overboard.
I think she bought something with like an 8 SPF rating (which is essentially useless).
One of my sisters, my father, and my older brother and I all ended up with terrible burns, which put a big damper on our trip as we could hardly move at times.
Although my mom still apologizes to us to this day, how I wish she had known the dangers of too much sun and sunburns, as well as proper sunscreen use.
I wish she'd known that studies have found that five or more blistering sunburns between the ages of 15 and 20 raised your chance of getting a two kinds of skin cancer by 68%!
I wish she'd known that the sun was strongest between 10 AM and 3 PM.
I wish she'd known that children with fair skin, moles, and/or freckles (all of which I do) are much more likely to develop skin cancer in later years, so skin protection is essential!
Of course, my mom was and is wonderful – her bringing the wrong kind of sunscreen didn't make her a bad mom by any means. She certainly has done a whole lot more good as a mother than not.
As I'm a mother now, I'm sure there are plenty of mistakes I have and will make – but I'm grateful to have a little more knowledge about sunburns, especially since my boys have inherited my skin.
Did you know that it's estimated that between 60 and 80 percent of sun exposure in a person's life occurs during their first 18 years of life? It's crazy!
Jack loves when we put sunscreen on him, but Oliver is a bit more reserved…but once he sees everyone putting it on, he's more willing. Make sure your children see you putting sunscreen on, too!
Thank you to Blue Lizard for working with us on this post.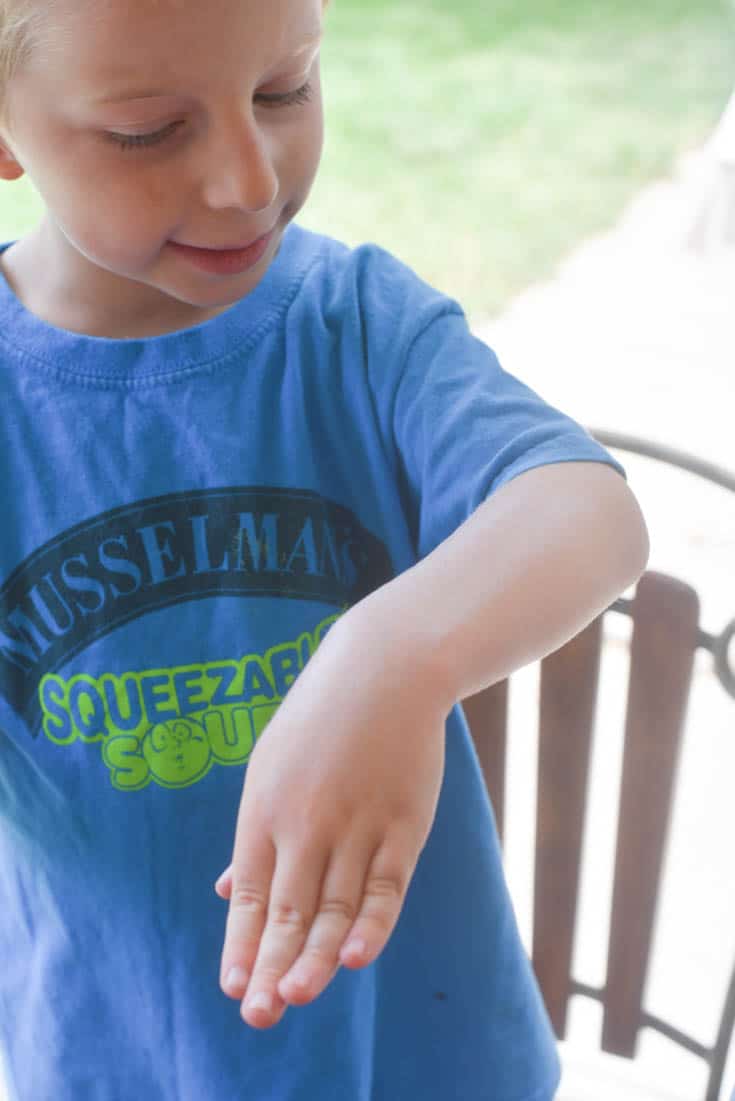 We've tried a lot of sunscreens, but we really do love Blue Lizard.
Blue Lizard Australian Sunscreen is pediatrician-recommended and specially formulated for everyday protection of face and body. It has no potentially irritating chemicals, making it ideal for a baby's sensitive skin.
As a mom now myself I know how easy it is to look at your child and suddenly see those overly rosy red cheeks that can happen so quickly when playing outside in the sun.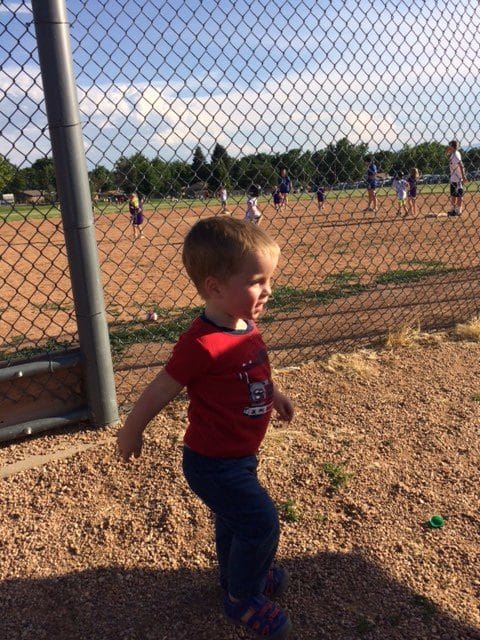 Since receiving my free samples of Blue Lizard Australian Sunscreen I have started slathering it on my boys whenever they are going to be outside. Playing under sunny skies in 90-degree weather can do damage to little faces, and I don't want that to happen to Jack and Oliver.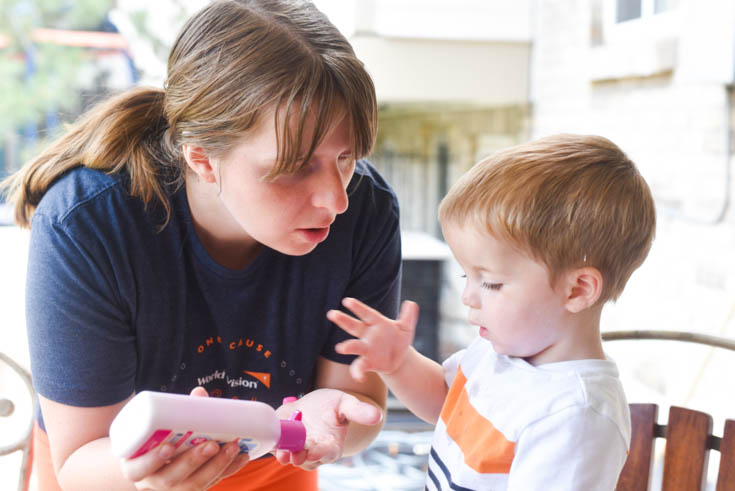 I have one too many memories of laying in bed in so much pain from a sunburn.
So, what should you look for in a sunscreen? Here are a few sunscreen facts to keep in mind:
Look for broad spectrum sunscreen that protects against UVA

and

UVB rays

Sunscreens should be 30 SPF and above for proper protection. 30 SPF protects you from around 97% of UV rays, while that number drops to around 93% with SPF 15.

Be wary of sunscreens that claim to be sweat proof or water proof. Most still needs to be reapplied at least every 80 minutes – sometimes sooner.

Look at the ingredients – not all sunscreens are created equally, and some of them even contain toxic ingredients. Make sure the sunscreen you are using contains natural minerals zinc oxide and titanium oxide as the active ingredients. That's another thing I love about Blue Lizard – these are the two active ingredients, and it is also paraben, chemical, and scent free.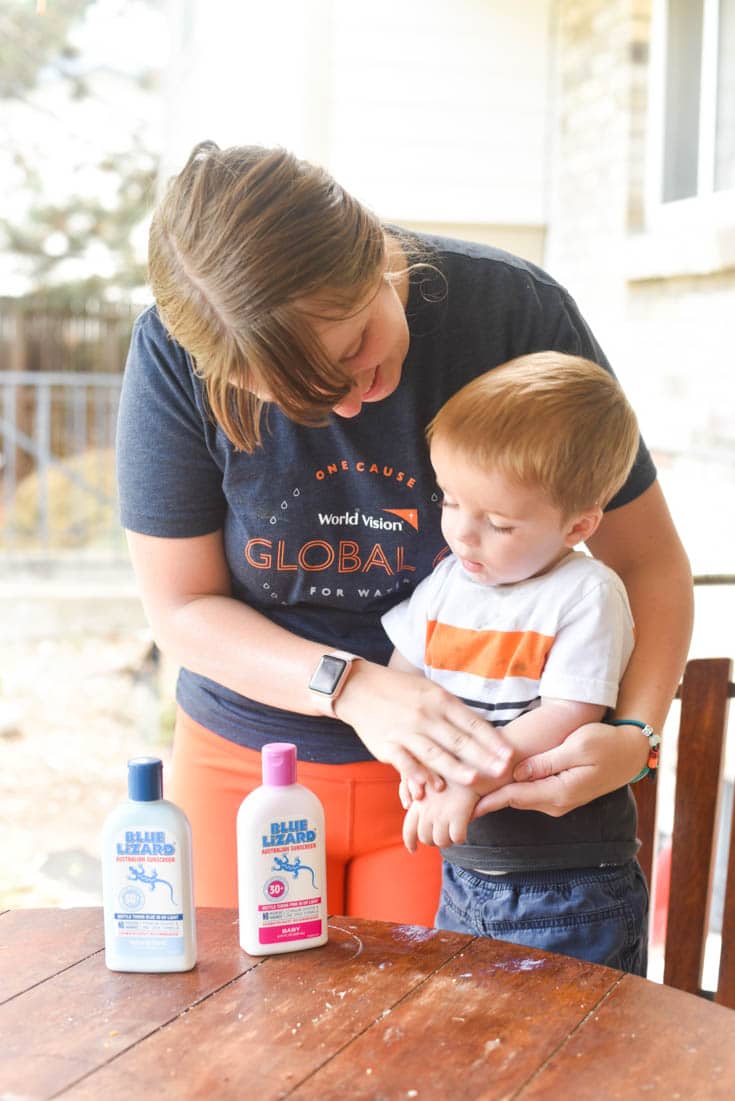 One thing that sets Blue Lizard apart from other sunscreens is the patented BPA-free Smart Bottle container. The bottle of sunscreen itself turns pink (or blue) when in the presence of harmful UV rays, reminding you to cover up. The deeper pink the bottle becomes, the more UV rays are currently present.
We definitely say this worked as we moved it to different places in our yard with varying amounts of sun and shade.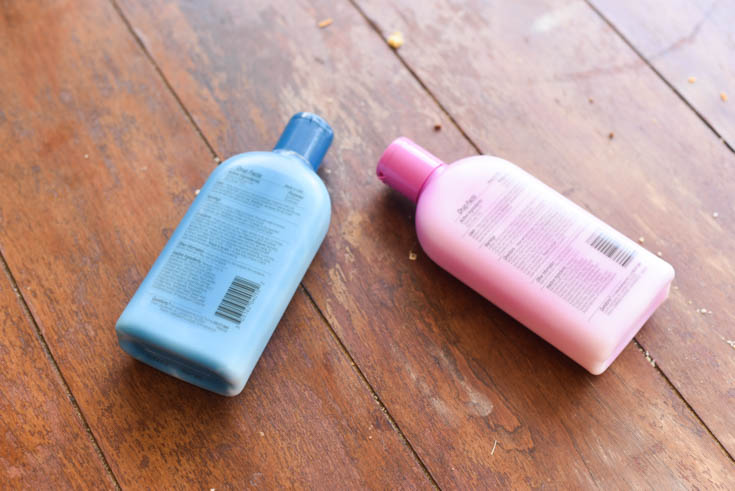 Make sure you are aware of the symptoms and treatment of a sunburn.
Sunburn Symptoms
Redness of the skin

Swelling

Blisters

Pain

Fever

Chills
Sunburn Treatment
Give your child a cool bath or apply cool wash cloths around the body

Consider using aloe vera to help soothe the pain and heat

Keep your child out of the sun until the sunburn is healed

Give child ibuprofen or Tylenol if in pain
Most treatments can be done at home, but if your child starts to get blisters, a high fever, nausea, or starts to feel faint, definitely call your doctor.
Sunscreen Application
I don't know about you, but I usually just slather sunscreen on thickly and call it good. However, I recently looked up some tips on applying sunscreen and thought I'd share them:
Apply sunscreen about 30 minutes before sun exposure

Apply sunscreen to all parts of the body that are exposed to the sun. When I was 18, we went to the beach in California, and I put it everywhere but on the back of my legs. Let's just say I was in a lot of pain later that day after I'd spent half our time at the beach laying on my stomach!

Use sunscreen on children 6 months or older. Talk with your physician about sunscreen for infants under 6 months – however, be aware that it's best to keep your small infant out of the sun – and if they are in it, make sure they are full covered with a hat and other protective gear. They shouldn't be out in the sun for very long.

Reapply every 80 minutes or so. If your child has been particularly sweaty, reapply sooner.
If you are spending a lot of time outside – or perhaps, taking your family to a beach in Hawaii – make sure you stock up on the proper kinds of sunscreen, such as Blue Lizard. It might save you and your family from a lot of pain (and possible skin cancer!).