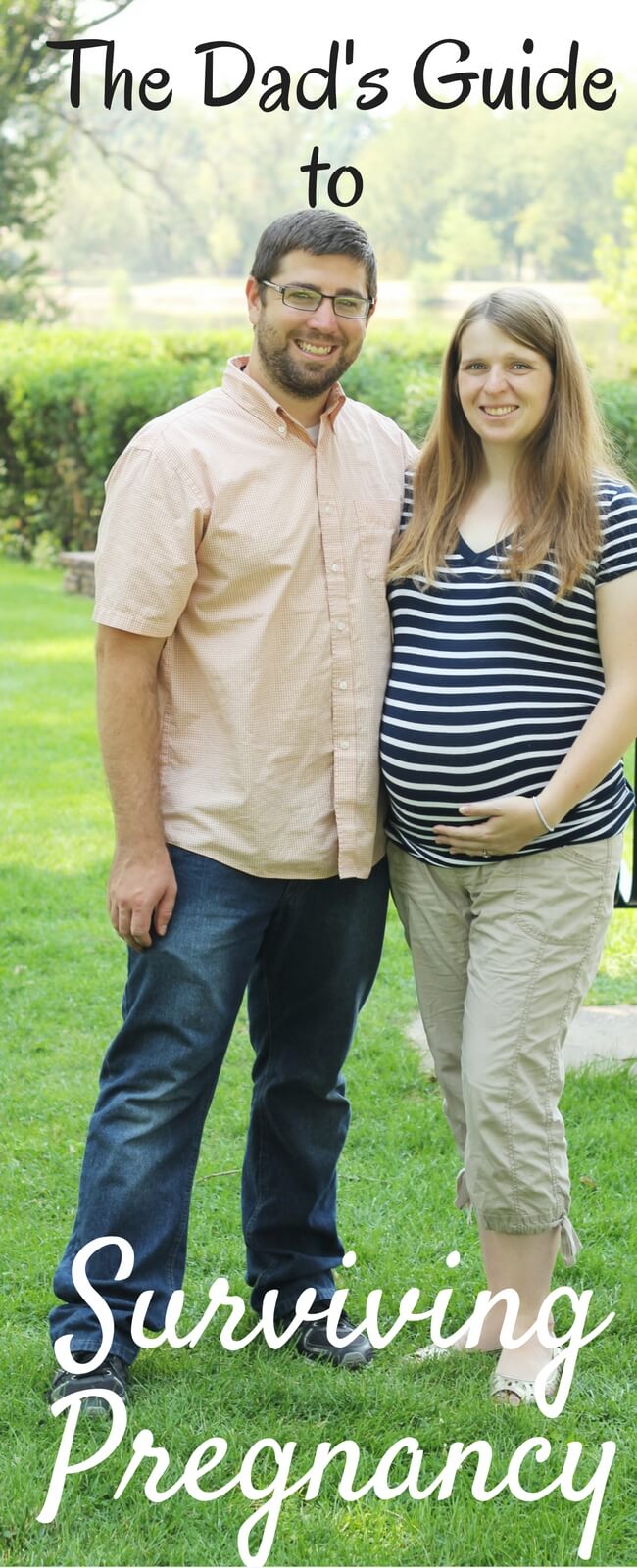 So, your wife is pregnant!
(I'll just refer to her as your wife, because that is simpler for me – feel free to substitute whatever title you want).
As a husband and now father of two kids I've learned a few things. During Katie's second pregnancy, I was around her pretty much 24/7, so that teaches you a thing or two.
So, here is my guide to surviving pregnancy for dads A lot of this applies to first-time fathers who have no idea what they are in for. Not everything is phrased as things to do, but as things to know.
And obviously, I'm not a doctor and this isn't medical advice. I am also not your wife, so make sure you talk with her about how you can best support her during HER pregnancy.
Surviving the First Trimester
Usually, the mom-to-be is the sickest during the first trimester.
New hormones and bodily changes lead to nausea and fatigue. Nausea and fatigue in most people typically cause them to become easily irritable – pregnant women are not exempt. Get used to it. Though, every women is different, so you never know.
The movie "What to Expect When You're Expecting" shows some examples of different kinds of pregnancies and couples. Despite a few crude jokes, it mostly does a good job of hitting a lot of the highlights being pregnant.
Katie wrote this post about how to survive morning sickness – you might want to forward it on to your wife.
The number one rule surviving your wife's pregnancy is to be endlessly patient.
She is making a person, and it is hard work. Your complaints and problems will start to seem real lame, so step up and try to be as supportive as possible.
Morning sickness isn't isolated to the morning.
Sometimes it can just be an all day thing. If your wife does get sick in the mornings you should really make sure you clean to toilet more often. No one wants to
Sometimes it can just be an all day thing. If your wife does get sick in the mornings you should really make sure you clean to toilet more often. No one wants to throw up or gag into a nasty toilet. Especially, every morning. Heaven knows she won't probably want to clean it (it will probably just make her even sicker).
Oh, and these emesis bags are a lifesaver in the car.
Help your Wife Pick a good OB/GYN and attend appointments.
There are a wide variety of OB/GYNs, so try to find the right one for your wife. If your wife doesn't like them – encourage them to switch.
Attend as many doctor's appointments as possible with your wife. It can be helpful to have another person to remember questions and instructions from the doctor. Plus, it is just supportive. Usually, they're at least somewhat interesting.
During the first trimester the mom-to-be doesn't show very much and they usually feel terrible.
Since, no one can usually tell that she is pregnant from looking at her, encourage your wife to tell some family and maybe friends. Most miscarriages occur within the first trimester, 12 weeks, so we didn't tell 'everyone' until after the first trimester.
If something unfortunate were to happen you may not want to make a sad public announcement and have a lot of sad conversations to force you to relive the pain. Mothers, sisters, and friends who have had babies can be a great source of support for your wife that you can't be. Point her in their direction.
Sympathy Pregnancies
Many men will say that they gained weight with every pregnancy, too. So, just be aware that it's common, and if you don't want it to happen…well, try your hardest not, too!
Be prepared to cook and clean
If you want your house to maintain its level of cleanliness and eat regularly, just be prepared. Otherwise, be prepared to eat out and get a housecleaner. Maybe your wife will want to to cook and clean…but chances are, she won't.
Plus, your wife will have a sense of smell like a bloodhound, so you'll want things to smell okay. Gross dishes in the sink might make her run towards the bathroom, so clean the dishes.
She might think that your breath smells gross. You'll brush, floss, use mouth wash, and use whatever other tool you have, but then she'll say that it wasn't good enough.
You'll brush, floss, use mouthwash, and use whatever other tool you have, but then she might still say that it wasn't good enough. You might just smell no matter what you do.
Be prepared to watch a lot of Netflix when her energy level drops, because she'll still want you around.
Go ahead and get new tires now.
She probably won't want to spend the money closer or after the baby comes. You don't want to be driving around with bad tires when the baby does come – especially if it's snowy.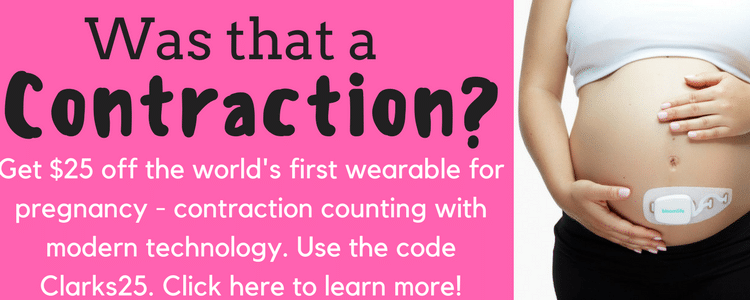 Surviving the First Trimester
Hopefully, your wife starts feeling better by the second trimester.
Usually, by the 20th week you can have an ultrasound to find out the sex of the baby.
I think this makes planning for the baby ahead of time easier, and it is something fun to think about during the long pregnancy. It makes it a little easier to narrow down baby names.
If you don't want to find out, you can still try some of these gender prediction tests. They can be fun – as can these gender reveal ideas.
3D/4D ultrasounds can be really fun, though you usually have to pay extra to do that. I believe that most places that do these require them to be done by week 31 or 32 of pregnancy.
She will be getting bigger, so she will need new clothes.
Since they're specialty clothes they will cost more money, and she will likely only be able to wear them until the baby is born. Then, if she breastfeeds, she will need special nursing bras and tops. Just buy them. You don't really have much of an option.
Katie is more the expert on this – make sure your wife reads this post on finding maternity clothes and this post on finding breastfeeding clothes.
Cook more food, and watch more Netflix.
At some point she might start having weird cravings.
Some say that these come because of a nutritinoal deficiency. Just be prepared to go buy something random in the middle of the night (but also be prepared for her to never want to eat certain things again).
She might want a pregnancy pillow.
They're super huge and kind of expensive…but they can help her sleep better. If you can get $50 off a pretty nice pregnancy pillow here using the code C113D4 (or you can just buy one on Amazon
Keep healthy snacks around, including in the car.
If her blood sugar gets low she will get 'hangry'. Pregnancy hormones combined with 'hangry' is not a good combination.
Beware the pregnancy forums.
People say all sorts of things there. Some of it is true and some of it isn't. More likely than not it will create more anxiety than provide useful information.
These can be really helpful at times, but they can also be a huge source of stress. Katie does have a pregnant mother's support group on Facebook that she intends to keep as supportive and positive as possible – point your wife to that!
Surviving the Third Trimester
This is the time to start preparing for birth. Is your wife unsure about contractions? We highly recommend BloomLife – it's a smart wearable monitor to help you determine if it's the real deal or just Braxton Hicks! Get $25 off your rental with the code Clarks25.
She will probably start thinking that she is the largest pregnant person in the world by now.
Try to reassure her that she isn't. You could say, "Honey, from behind you don't even look pregnant."
Or maybe just say "you are glowing and beautiful." And buy her a new outift.
Since the baby is getting bigger, her other body parts will start to get squeezed, such as her bladder.
She will likely have to go to the bathroom more often. Her stomach will get pushed up, so she will have terrible heart burn. Research the best remedy for heartburn for her. Otherwise, she will likely wake up in the middle of the night with her throat feeling on fire.
Katie refused to take heartburn medicine during her first pregnancy, but she decided to with her second, and it made a world of difference.
If she hasn't started yet, the looming deadline of the birth of the baby will likely motive your wife to nest.
She might want to decorate a ton. Try to focus as much of your money on the things that will actually affect the baby. The baby won't really care about decorations, but if your wife cares about it, try not to stress too much.
Maternity Pictures
Katie never really loved the idea of getting maternity pictures – but many moms do. This might be a fun gift for you to get her.
She did always do a weekly progress picture though, so make sure to encourage your wife to do that!
You can buy a mini doppler device to listen to your baby's heartbeat. It can be kind of fun, though make sure you don't rely on it too much. For Katie, she was able to figure out Oliver was no longer breech with it! You can buy one here.
Swimming and water aerobics are good ways for her to exercise at this stage.
It will help boost her mood, so you might want to suggest this. Here are some tips on water exercise during pregnancy, regular exercise during pregnancy, and a few free pregnancy exercise videos.
Encourage her to go on walks with you. She may not be able (or want) to go very far, but it can lift her mood. It always lifted Katie's, at least.
Register with her
She'll likely have some kind of baby shower – or at least some people will want to buy things for the baby. Registering can be kind of fun – places like Babies R Us and Target sometimes give you gift cards after registering. Amazon is an especially great place to register. Even if you don't give the registry to anyone, they give you a certain percentage off anything left on the registry after baby is born – so fill it up. If you sign up for Amazon Family (free trial) you get even more registry benefits – plus 20% off diapers, wipes, etc.
Thank you cards are cheaper than boxes of diapers and onesies.
Get vaccinated for pertussis, and other things people should normally be vaccinated for.
That includes the flu. Encourage other people you know will be around the baby regularly during the first six months to get vaccinated as well.
FYI, your wife will start feeling ligament pain and general soreness as her body starts to loosen up enough for a baby to come out.
Be patient and understanding when she has to sit down every couple yards or just wants to rest. Her body is working hard!
Take a birthing or hospital class
This will help both of you feel more confident when you go to the hospital. You don't need any extra anxiety or confusion on the day of the birth than is absolutely necessary. If your schedule doesn't allow for an in-person class, this online prenatal class is designed specifically for partners to take together. You can get 10% off with the code CLARKS.
If your wife wants to breastfeed, I would also encourage her to take a comprehensive breastfeeding class. Katie has written tons of great breastfeeding articles she can read as well, and she runs this Breastfeeding Mama's Support Tribe.
Katie says this is a great online breastfeeding class.
Get prepared for the baby now, because it is nearly impossible to 'wing it' when the baby gets there.
A newborn baby is completely dependent on his/her parents for almost everything. Plus, you'll be operating on a lot less sleep after the baby comes.
Encourage your wife to prepare for a natural delivery, even if she doesn't want one.
Braxton Hicks contractions are like practice contractions to help build up the muscles during labor.
Don't be fooled by them. However, if the contractions are at regular intervals, the intervals are coming closer together, and they are painful, then your wife is probably pretty close to having a baby,. I suppose it is better to be too cautious and go in, than to have a baby in your car.
I think this contraction monitor would be rather helpful. It also tracks heart rate.
Pick a pediatrician.
With both of our boys, we didn't put much effort into picking their pediatrician, and we paid for it each time. Take time to go with your wife to interview potential pediatricians – here are eight tips for finding a good pediatrician. If your wife wants to breastfeed, here are a few things to look for in a breastfeeding friendly pediatrician.
Pack a bag for the hospital.
Your wife will likely pack her hospital bag and things for the baby. Don't make her pack for you, too. Katie wrote this post about what dad's should bring to the hospital, and I also wrote this dad's guide to labor and delivery with a few things I packed as well.
Get your car seat installed.
You can look at the instructions, watch a video online, or even to take it to the fire station for help. It's a good idea to do this before baby comes. No hospital will let you leave without one.
Get some sleep.
Enough said.
Go to the hospital, and support your wife while she does the most difficult thing of her life.
Growing and having a baby is not easy. You'll often feel helpless and wish you could do something more for her. The best thing you can do is be there for her. The baby is yours too – and while you can't take away the nausea, the pain, etc., you can be supportive.
I know this list is long, but it does cover something that will drastically change your life over a nine month period. It can be boiled down to being endlessly patient, picking up the slack, make some small sacrifices in comparison to the ones she is making, and reassure her that usually everything will be okay.
If Things Seem Wrong With the Baby:
As a husband, you'll spend a lot of time assuring your wife that little things she does won't severely hurt the baby, or that the baby will in reality like her when it is born.
However, you do want to trust your instincts if something doesn't feel right. For Katie and I, these are decisions that we made together. With Katie's second pregnancy she suddenly began to feel a lot less sick, and the baby stopped moving as much.
We went in to make sure that everything was okay, and they said it was. However, we should have pushed a little harder. The baby was measuring way behind, and he stopped growing very much near the end (he ended up being IUGR).
There ended up being some clots and other issues that could have turned into something a lot worse. Certain precautions and monitoring should have been taken, and plans should have been made for after the baby was born. However, we were lucky, and despite Oliver being born full term at 5 lbs 7 oz, he is now very healthy.
He was in the zero percentile for weight shortly after he was born. Which means that nearly all babies his age weighed more than him. Now, he is in the 25th percentile and very healthy.
So, trust your instincts – and especially trust your wife's. Don't ever tell her she is dumb or silly. If you think something is wrong get it checked out, and don't just trust the doctors implicitly. Get a second opinion from a specialist if you feel it is needed.
Best Books for Expectant Dads
Here are a few more things you might enjoy: