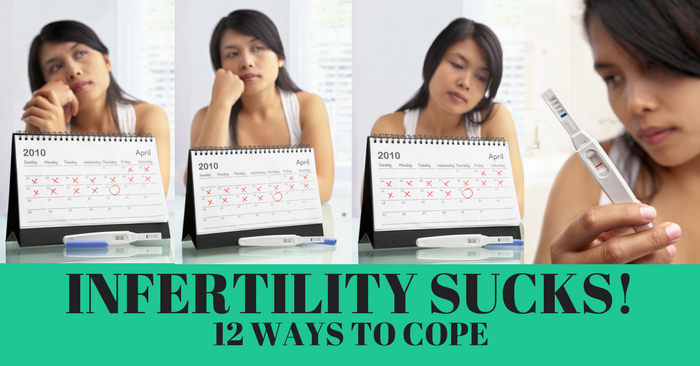 Can I be completely honest about something?
Infertility sucks.
It sucks the life right out of you.
It sucks the joy out of your otherwise happy life.
It sucks the pleasure out of very pleasing moments.
And after awhile, it sucks you out of remembering who you are without infertility.
Part of me doesn't even feel like I have a right to write this post. I know that there are plenty of women who have it harder than I do. I haven't ever even been formally diagnosed. And I have a son. It took three years of trying, but I have him and he brings me so much joy every day. I'm sure he would bring me that joy regardless, but I think I especially appreciate him because of how hard he was to have.
That joy is why I finally decided to write this post. Because that joy is being stolen from me. It's not easy for me to talk about. I don't like to broadcast my failures. But it needs to be broadcast. I need you to know that you are not alone. So what do you do when it all becomes too much? What do you do when infertility has consumed your life and your happiness?
You find yourself again. Here is what I do to find myself. I hope some of these things work for you!
Write About It
For me, this means writing and sharing for all of you to see. But you don't have to post it where everyone can see for writing to help. Write a small poem that conveys a difficult emotion that you are feeling. Write a long, angry journal entry that eventually might simmer out and help you get to the heart of what you are feeling. Or, if you feel you want to go public, write a status about it on Facebook ( you might be surprised how many of your friends are having trouble getting pregnant).
I don't care how you write about it, but I honestly feel that writing about it will help you to process it. I know that it often helps me to understand myself. Going through the emotional roller coaster of all five stages of grief each month makes my head spin.
[amazon_link asins='1441316698,B00NQCIRHC,B00DYW6KDC,1593596723′ template='ProductCarousel' store='clarkconde0b-20′ marketplace='US' link_id='e6ec1994-e25c-11e6-9dea-3726be376dad']
Talk About It
This goes right along with writing about it. When you are forced to put your feelings into words, you begin to understand those feelings a little bit better. Talking and writing about your feelings puts a face to what you're going through.
You really need to be talking about it with your spouse, but I also recommend talking about it with whoever will listen. Talk about it with your parents, so that they don't keep asking when you'll be giving them a grandchild. Talk about it with your sister, so that you can let go of those negative feelings about her accidental pregnancy. Talk about it with your friends, because they might be facing the same problem and you wouldn't even know it if you don't talk about it!
Get Counseling
If you just don't feel comfortable talking about it with people that you know or if that starts to feel like it's not enough, talk about it with a therapist. Counseling has helped me through some very difficult times in my life. I'm not ashamed of going to counseling. I was when I started. I was afraid that people would think I was a crazy person. Or a weak person who couldn't handle my issues on my own. But these are just lies and fears that we tell ourselves. Counseling is just one of many practical tools that you should use when you are struggling.
Go For a Walk
Or exercise in a way that makes you happy. Walking makes me happy. It makes me feel alive when my heart feels dead and numb. Especially walking outside! But weather doesn't always allow for that, so go somewhere indoors and walk. Local malls will sometimes even have walking lanes that tell you when you've finished a mile. Just getting out of the house and out of your head will help.
Do Something That Makes You Happy
Other than writing, talking, and walking; my favorite things to do include reading and cooking/baking. I don't have to do all of these things every day in order to be happy, but I think that doing things that you love on a regular basis really helps you remember who you are and not forget the things that make you happy.
Therapy Coloring Books
I'm not gonna lie to you, I think I'm terrible at art. My sister is the artist and I love her for it. She can make a coloring page look like a professional. Me… not so much!
But there is just something so soothing about the more detailed coloring books. It helps my head quiet down just a bit. I stop thinking so much about myself and my problems. I like that I have to make time for myself in order to do it. I also like that I'm doing something constructive and working with my hands.
There are so many coloring books out there for you to choose from!
[amazon_link asins='1537529617′ template='ProductCarousel' store='clarkconde0b-20′ marketplace='US' link_id='544f05c7-e1f9-11e6-838f-dd5d62fc85de']
I recently got a Harry Potter themed coloring book for Christmas from my sister-in-law and I love it already!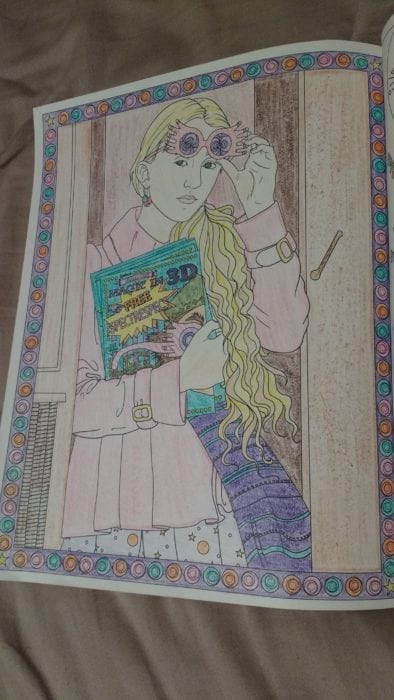 Like I said, I'm no artist! But it was fun to color!
Develop a New Positive Habit
I have thoughts and feelings about different things that I want to improve in my life all the time! Mostly these thoughts clutter up my brain and start to feel like a bunch of other ways that I am failing. Don't try to take on too much. Work on one positive habit at a time. When you feel like you've got that habit pretty well down, work on another one.
My husband and I want to develop 12 new positive habits this year. Instead of thinking of resolutions, trying to take on too much at once, getting overwhelmed, and feeling like failures; we chose one thing to focus on this month and then next month we'll choose another.
Don't Lose the Romance
Don't let your infertility rob your marriage of the romance that it deserves. Get dressed up. Go out to that fancy restaurant that holds a special place in your heart. For my husband and I, this is The Cheesecake Factory. Our first date was there, eight years ago. It is so fun to go back there and think about all the different moments we've had together that have led us to where we are today.
Buy each other special "just because" gifts. Or write your loved one a note. My favorite gift to get from my husband is a love letter.
Show Gratitude
Offer a prayer of gratitude or write down what you are grateful for. It can sometimes be hard to think of things that you are grateful for when you are so mad at the world. If you want to find yourself again, you have to let go of that anger. You have to forgive the world for the cards you've been dealt and play the best hand that you have. Bluff if you have to. Be grateful even when you don't feel grateful. The times when I've kept up with my gratitude journal, I know that I've felt happier.
Be Positive
I've been a "Negative Nancy" at different times in my life. Times when I found it difficult to find things to be positive about. Sometimes it can be hard to break out of the negativity cycle. But if you aren't careful, negativity can consume every aspect of your life.
My favorite way to make a change from negative to positive that I heard about recently was to say thank you instead of saying sorry. For example, instead of saying, "Sorry, I'm late!" say, "Thank you for your patience." Instead of having a negative connotation, you have a positive one. Show gratitude to those around you, be positive instead of negative and it will have a HUGE impact in your life.
Get an Emotional Support Animal
This was one of the things that helped me the most. My husband and I had so much love to share, so much care that we wanted to give, but our failure at getting pregnant kept us from feeling like a whole family. That missing child was a giant gaping hole in each of our hearts and our dogs helped to fill that hole.
They can also help you look beyond yourself and your failures. Instead of being stuck inside your own head, having an emotional support animal forces you to think of another life and their needs.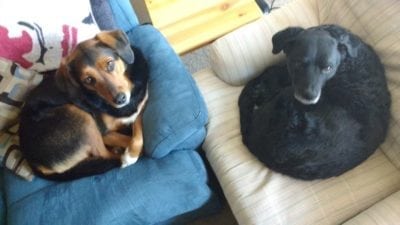 Plus, they are so cuddly and cute!
Skip a Month
I've been holding this one out for last because some people might think this is crazy or dumb. That's fine if you feel that way, but this has saved my sanity more than once. It seems counter-intuitive to having the desired results, but sometimes you just need a break.
I get so consumed with riding that roller coaster of emotions, that sex becomes a chore. Something to be checked off. And then, it's not cuddle-time. It's time to prop my hips up. It's time to sit still and pray and hope. It's time to start that roller coaster ride that always ends in blood and tears.
So my husband and I skip a month from time to time.
We skip a month because we love each other.
We skip a month to make love to each other.
And not just fail at making a baby.
Because we are more than just our failures. We have so many things to be grateful for and so many positive influences in our lives. And we have so much love in our hearts. For our son. For each other. And someday we will share that love with another little boy or a little girl. Not today. Not yet. But someday.