What better way to celebrate pregnancy than with a pregnancy subscription box! Here are the best pregnancy subscription boxes out there that we absolutely love!

Pregnancy Subscription Box Companies You HAVE To Know About!
Who doesn't love getting a fun box of products straight to their doorstep every month?!
A while back, I wrote about the best subscription boxes available, but I decided I should go more in-depth for some of them. I only shared a couple options in each category, so today, I will be sharing even more pregnancy subscription box options!
All of these will cater to you throughout your pregnancy – and they are all so unique. I might go broke my next pregnancy trying these out 🙂
Many of these companies also offer boxes for your baby as well! I think subscription boxes make for great baby shower gifts as well (especially for second, or third, or fourth – and beyond – time moms).
Monthly Subscription Boxes for Pregnancy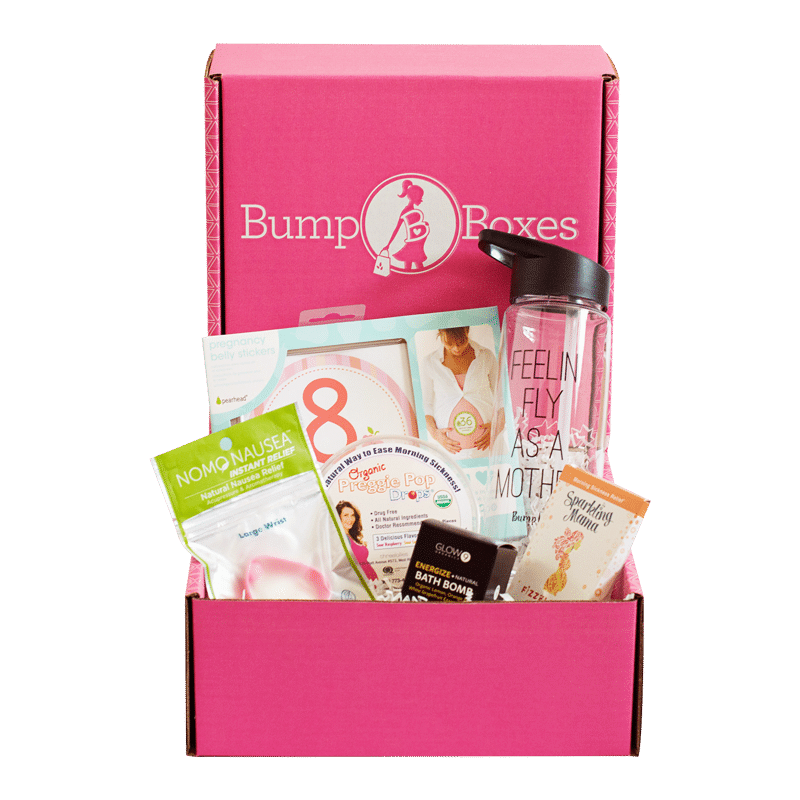 These start at around $35 a month, and each box is filled with products that are perfect for every stage of pregnancy. You can buy it month to month, three months, six months, or nine-month increments.
They each contain 4-8 full-sized products that are specifically designed for YOUR stage of pregnancy. They also guarantee you will love it – if you don't, you can send it back for free and get store credit. They also have a great referral program, so if you love it – you can share it with all your mommy friends!
If you are giving it as a gift, I love that they offer first, second, third, AND fourth-trimester boxes), as well as newborn boxes, and baby shower boxes. Super fun!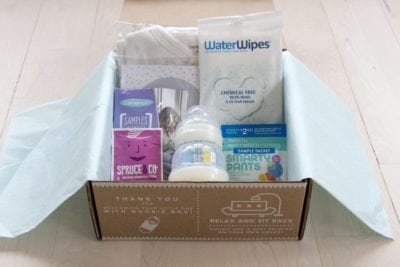 This box was really unique because it's FREE! It was originally launched in just a few states, but it is now available across the country. It has some great freebies for new moms, and it just costs $6.95 for shipping.
I ordered one to see what was inside, and I loved all the options.
They also have paid boxes that you can get, though these are "milestone" boxes, which are for baby's first year. Great quality, though!
CLICK HERE to grab your FREE box.
I recently got a sample of this box, and I LOVE it. It's full of eco-friendly products for each of the trimesters, and they even have a newborn box and a new mom care box.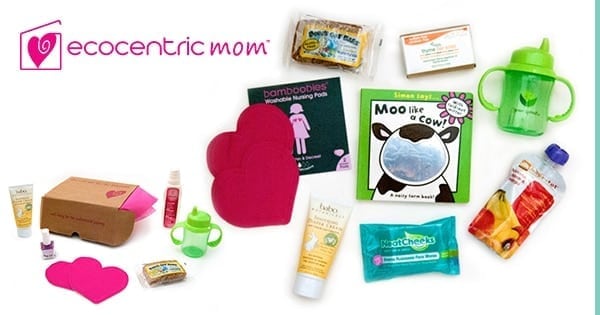 They have packages that start as low as $24.99, though the average box is $49.99. However, they are packed full of great items, well beyond that value of the box. You can get 10% off any purchase of $45 or more with the code CLARKS10OFF! I will try and post a video soon of what came in the box I was sent. I really like this company!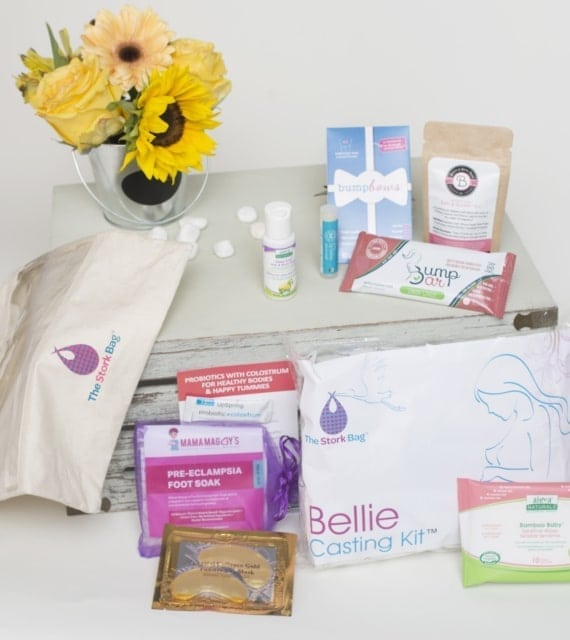 This is a new subscription box, but it's a great one. Apparently, Khloe Kardashian recently raved about it on SnapChat (I don't care much for the Kardashians though, so that doesn't affect my opinion 🙂
It was created by a mother, which is always best when it comes to pregnancy and postpartum products in my opinion. You can buy subscriptions in quarterly installments, prepaid all at once, or as a gift card. You can also buy a box just one time. A single box is $45, but if you pay for more up front, it's less expensive. They have boxes for first trimester, second trimester, and third trimester – and you can also buy a postpartum bag!
Love this one – they tout having boxes for "pregnancy through preschool". Each month, you get a sneak peek at the beginning of the month, and then it gets shipped to you. All the items are picked by experts, and you are guaranteed at least four full-sized products, and the box will be worth at least $45.
Here are the plans they offer (they often have coupons, too – I think right now they have a free box with 6 and 12-month boxes):
Monthly plan – $34 billed monthly, automatically
6 month plan – $186 billed every 6 months
12 month plan – $348 billed yearly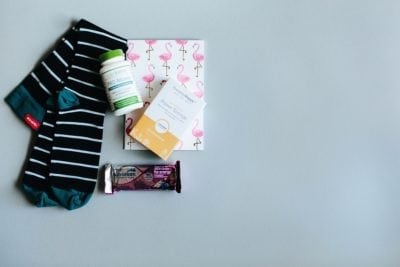 This box has items for your specific stage of pregnancy or postpartum. You will receive 4-6 items in each box. You can check out their Instagram page for more pictures of past month's boxes.
Boxes are available in one month, three month, or six month subscriptions, with the most expensive being $34.95 a month.
This company isn't so much a monthly subscription box as it is a one time box – but it's still really great. I think this makes for a great gift.
They have boxes for mom and baby. For mom, there is a "mom-to-be" box, a hospital bag box (along with a deluxe one), and a new mom gift box. It is a European company, so all the prices are listed in pounds. I'm not 100% sure if you can order it in the USA, but it's worth looking into.
Amazon just started offering trimester-specific subscription boxes! They are $29.99, and they have one for the first trimester, second, trimester, and third trimester. It contains four top-rated items, exclusive discounts, and it is worth at least $40! You do have to be an Amazon Prime member.
You can also get a free Amazon Baby Registry Welcome Box for setting up a registry.
This company sells one of the best prenatal vitamins out there, and they offer it in a convenient monthly subscription model. I use their regular vitamins for women, and I love the ingredients and how well they are made.
You can get 10% off your first three months with the code CLARKS.
I think most moms have probably heard of the Honest Company. Unlike many of the companies I've mentioned, it's not really a small business. But they do offer a subscription service for wellness supplies, like prenatal vitamins.
This is a meal subscription plan that has been created just for expecting moms. It can be hard to make sure you are eating the way you should. You select how many meals a day you want, and what calorie range you want the meals to be in. They get sent straight to your house, and it takes all the work out of making sure you are eating enough for your growing baby. I love that you can adapt the calories amount based on your situation!
This company is a vitamin subscription company, and they have boxes for prenatal vitamins starting at about $25 a month. They also have ones for moms trying to get pregnant and breastfeeding moms.
You can also add other vitamins recommend for pregnant moms to the box as well. The vitamins look high quality. I think the program looks great!
Maternity Clothing Subscription Boxes
Maternity clothes can be tricky. I mean, they are essential, but you only need them for a short period of time! But if there's one thing I've learned, it's important to feel comfortable while pregnant!
There are a couple of companies that cater toward pregnant women and maternity clothing. Some of them offer maternity clothes rental, while others offer styling services for clothing that you can purchase and keep.
I personally LOVE Stitch Fix. I haven't used their maternity services, but I have done several boxes with them, and they are easily my favorite clothes.
You fill out a styling survey, and you are assigned a personal stylist who creates a box of clothing just for you based on that. You pay a $20 styling fee (which can be applied to any purchases) and within a few days, you get a box of clothing.
You can try on the clothing for a few days, and if you want to buy it – you just don't send it back!
Le Tote is a clothing rental company, so to speak. I think that their Maternity offerings are quite nice.
Starting at $69 a month, you will get a box full of maternity clothes that have been picked according to your style and preferences. You can pay to keep the items, or you can send them back! You can have unlimited returns a month, so if you need clothing for a specific occasion, you can get items sent to you right away.
This is another rental subscription box for maternity clothing. You get 3-5 items a month (depending on the subscription you choose – $69 or $99), and they also have a special $50 box for maternity formal wear, which I think is awesome.
You fill out a style quiz, and your boxes are sent based on that. You can get unlimited boxes a month – all you have to do is send the other one back. Even if you want to keep some of the items, you can send others back and get ones sent back as a replacement. They have some really cute outfits as examples!
Okay, this one isn't really a subscription box, but I thought it was interesting so I wanted to include it 🙂 It's similar to the other maternity clothes rental options, but you get to choose what is sent to you. You have a month to send it back (and if you don't – not a problem. You are just charged for another month of the rental!). They also allow you to buy the clothing as well.
The Online Prenatal Class: Okay, I admit this isn't a subscription box – however, I think all moms should know about it. This online prenatal class is GOLD – and you can sign up for it to pay in payments, so it's kind of like a subscription box. Anyways, the class is taught by an experienced L&D nurse, and it's perfect for anyone who:
Is nervous about giving birth in the hospital
Needs the flexibility of a course that's online
Worried that your anxiety about giving birth will impede your ability to enjoy it
I can personally vouch for the creator of the course, Hilary. She is very straightforward, gives great information, and will definitely help you prepare for the most exciting day of your life. You can get a special discount using the code CLARKS, so make sure you take advantage of it now by clicking here!
Baby already here? Click here to find out the best baby subscription box companies!