Preparing for a c-section? Here are the essentials of a c-section hospital bag, including one little-known item EVERY c-section mama needs to have in her bag.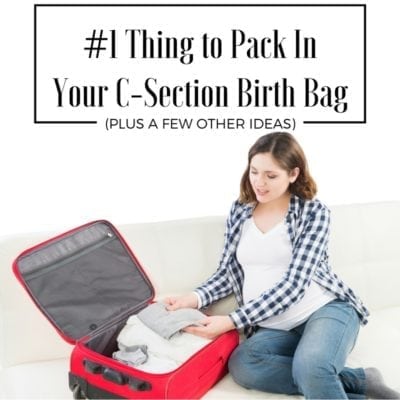 I'm a first-time mom and had quite the first birth experience! You can read about that in my other article, "8 Reasons My Son's C-Section Birth Was Imperfectly Perfect"
In addition to being a first-time mom, I am also an armageddon packer! So, I ended up bringing a ton of stuff that I never used.
I started out just wanting to write the things I actually used, but I ending up putting a couple of things on this list because I thought other people would probably use them, even though I didn't.
Honestly, a lot of what you need for a vaginal birth is very similar to a c-section, so this post that Katie wrote about hospital bag essentials is a good place to start.
However, here is my shortlist of everything I think you'll need for your c-section birth bag – that I found super helpful for mine.
The number one thing that I could recommend to you, the one thing that I hope you take seriously, is that Depends were the best thing that I packed in my C-section birth bag.
Since I knew that any kind of birth leads to a messy afterbirth, I wanted to be prepared with Depends on hand in case I wanted extra protection from all that extra mess.
What I didn't know was that due to my c-section incision, any other underwear would be borderline impossible to wear comfortably. So basically there are two huge reasons for Depends over your ordinary underwear/pad combo:
Cleanliness: I don't want to get gory, but there will be blood! Lots of it! When I switched from the initial disposable underwear+5 pads to Depends I felt much cleaner and felt that everything was completely contained.
Comfort: You do NOT want to have any kind of waistband putting pressure on your incision. Between the pain from the surgery and the pain from your uterus contracting… well… you've got enough pain and discomfort in your life! (Stay on top of your painkillers!). Depends have a comfortable, no pressure waistband that is perfect for optimal healing without aggravating your incision.
(I go into more recovery tips in my other article, "10 Things You Might Not Know About C-Section Recovery")
While any kind of depends will work, Depends Discrete is less bulky and fit a bit more feminine.
Ok so, I'm probably alone in this, but my catheter was one of my favorite parts of the whole C-section process. I had a small bladder before I ever got pregnant. My friends even joke when they drink lots of soda that they have a "Brittany Bladder."
So add to that an oversized baby at full term and I felt like I was living in the bathroom towards the end of my pregnancy. Well, after about 24 hours of blissfully not having to think about emptying my bladder, they removed my catheter and encouraged me to start walking as I could.
The first time, it felt like a miracle that I made it to the bathroom… because… OW! Abdominal surgery! But, pretty quick I was walking laps down the hall. I thought I'd want my robe for company, but I was fine in my hospital gown for that.
I did appreciate having it for those walks in the hall, though. I felt way less exposed than I would have if I had to do laps in just my hospital gown and as I already said above, waistbands are not your friends right now, so pants were a no-go. Definitely, consider buying a robe!
Here is a great list of hospital labor and delivery gowns.
Shower Toiletries
I actually don't think I used mine at all, but I did shower (once in the three days I was there). They had plenty of antibacterial soap in the shower to use and I was in too much pain just standing and trying to get my body clean to care very much about doing anything fancy.
If you're breastfeeding, you'll want to avoid getting your breasts soapy, since baby might not like that and that's still so new, you don't want to throw a wrench in it by deterring baby from the breast. My husband helped me shower, but I know that the nurses would have helped if I had asked.
You definitely want someone in the room with you to make sure that you don't move wrong somehow and keel over in pain.
Leaving Outfits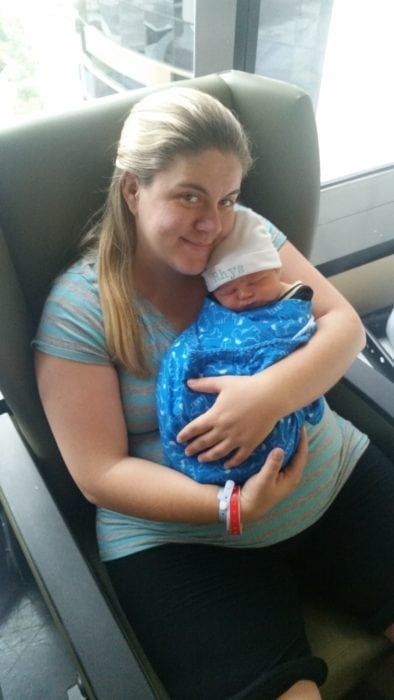 Hot flashes make extra clothes uncomfortable, I just stayed in my gown until the day we left. For a leaving outfit, I recommend an outfit that won't put pressure on your incision. I wore my pregnancy pants and a pregnancy shirt and I felt good with those (gaucho pants are another great idea).
I even rolled up my pants legs because these hot flashes were no joke!
Think loose-fitting and no waistband.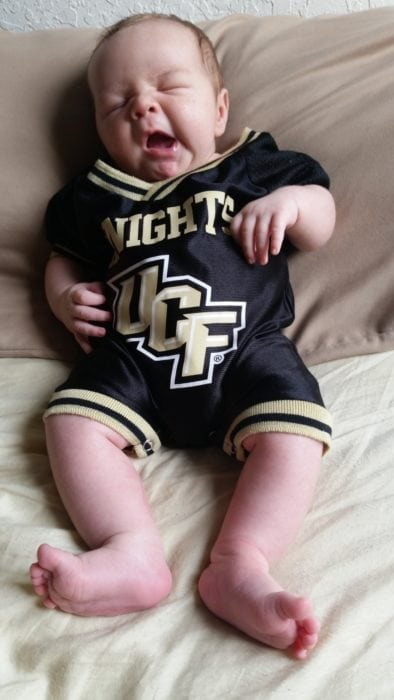 My husband had a couple of changes of clothes but saved the one that matched my son's outfit for the last day. My son had the cutest UCF outfit!
Journal
I'm not the best at writing in my own journal, so I decided to start a mother/son journal for specifically writing down memories for my son.
I wrote out my son's birth story shortly after he was born (at home, but next time I'm hoping to get it done in the hospital) and eventually I hope we'll be able to have a correspondence there back and forth.
I'm better at writing than talking sometimes and I know that communication is huge for any relationship.
This might be a "me" thing since I sleep with an eye mask all the time. But, since there are lots of lights and noise in a hospital, you have to get your sleep however best you can.
I was able to nap through the day at different times and I was grateful to be able to block out the light and just sleep.
Everyday Essentials
Other than that, I think all we used were our cell phones and cell phone chargers. We had our wallets, and my husband had cash for his food (the hospital we used had discount dad meals for a few bucks in cash that came at the same time as the mom meals).
I remember thinking about all the "down time" at the hospital and thinking I needed to bring games, movies, books and so much more!
But being parents was brand spanking new for us and all we talked about, or even thought about, was our son. What we could be doing for him, his beauty, the wonderful miracle that he was, and even how we could get the crying to stop at some points.
Oh and sleep, we also thought about that and tried to get some sleep when we could (almost impossible in a hospital). So we didn't need very much, but this is the simple list of what we did need.
I hope this list helps! Tell us in the comments what would you add to your c-section birth bag!
Be sure to check out this post about what Katie wishes she would have brought to labor and delivery with her third baby.