Making childhood memories and having long-standing traditions have always been so important to me.
I have so many from when I was a child that I hold dear to my heart and I hope you do, too. Because these memories are such a huge part of my childhood I have tried to make sure my own children get some of the same experiences that I had.
While everyone comes from all over the world, I think there are a few universal things that every child should get to experience because I know how magical they made my own childhood.
Often times going out of our way to let these moments happen might seem bothersome or too much work- and I won't argue with that- I promise it will always be worth it.
Playing at the Playground
Growing up there were several playgrounds near our family home.
I remember playing at those parks on hot summer evenings while my dad played softball at the nearby baseball field. I can still picture the huge metal slide my siblings and I would run to as soon as we got there- oh the joy it brought us!
Now that I'm a mom I see that same joy in my daughter's faces as they conquer the playgrounds near our home. The first time my daughter successfully crossed the monkey bars was at our local playground, and it was one of the proudest moments in her young life. She was so excited and she felt such an accomplishment that only those monkey bars could bring.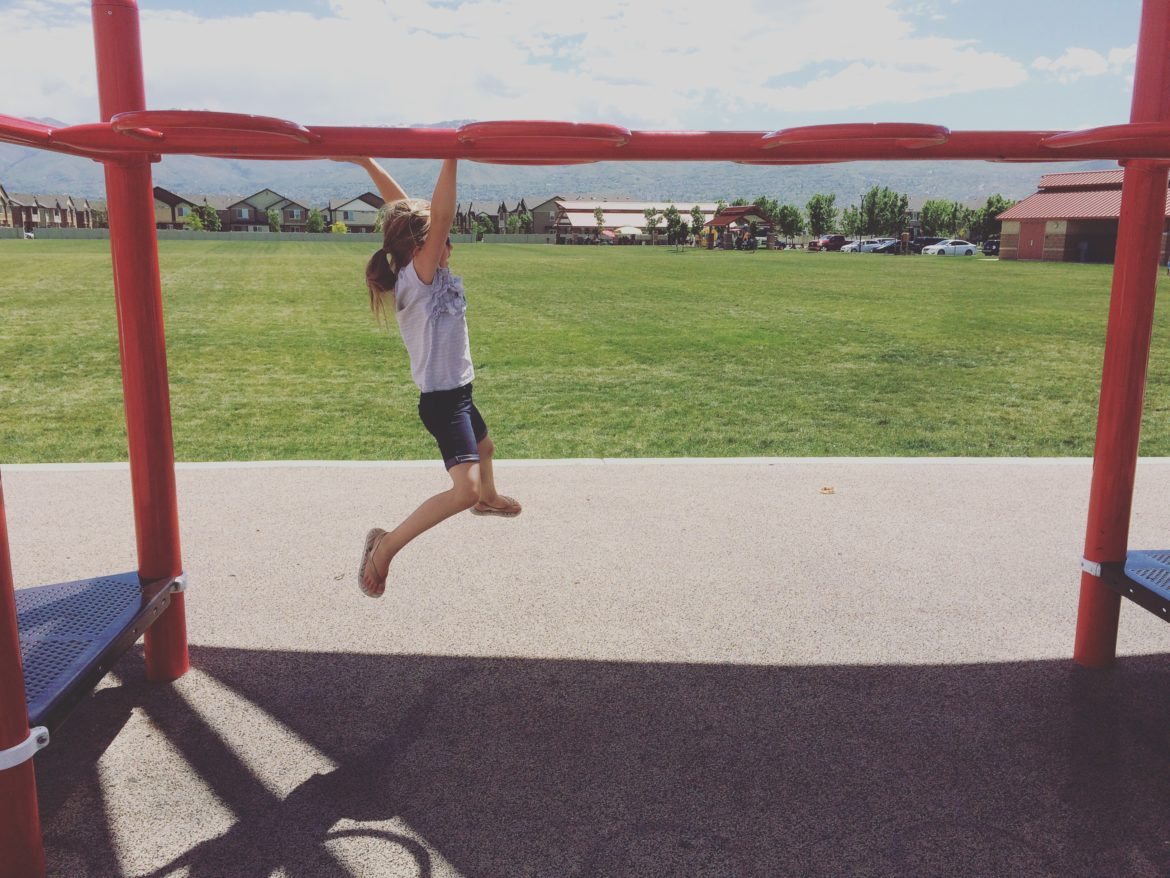 What I love most about playgrounds is how they force my children to be imaginative!
They are a place for play and learning, but they also help children develop in the areas of leadership, teamwork, and perseverance.
I will often find my two daughters running around the playground with their friends as they come up with games and stories that force them to work together and to listen to one another's suggestions and ideas.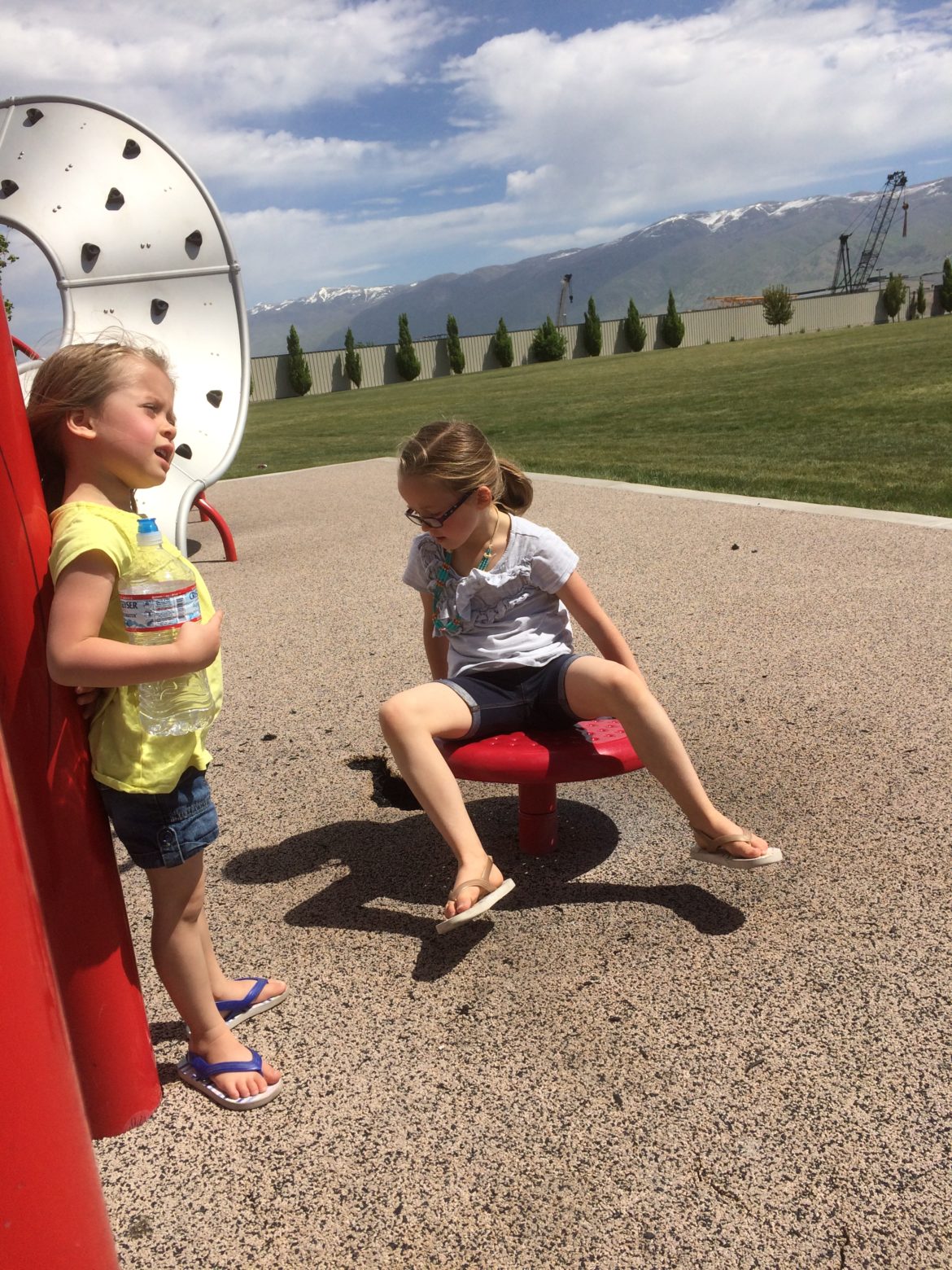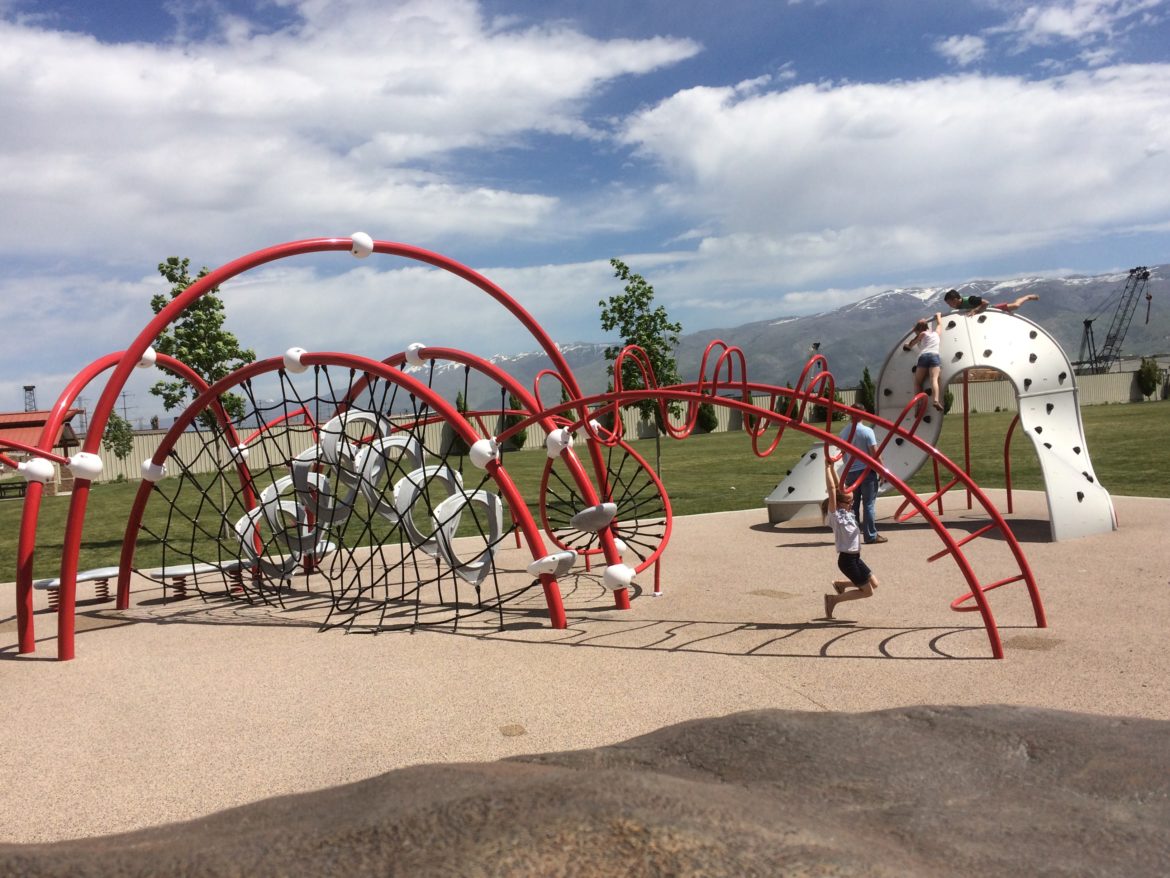 I can't help but think that the time they spend on the playground today might help shape their tomorrow's into a more productive and active lifestyle. Your children will never forget the days and hours spent playing outside at different parks- it will be a memory they won't ever forget
Splash in Puddles
I think every child needs to experience splashing in rain puddles.
I know not everywhere gets rain but if you do- think about letting your little ones run outside after the rain to splash in them- r make your own puddles!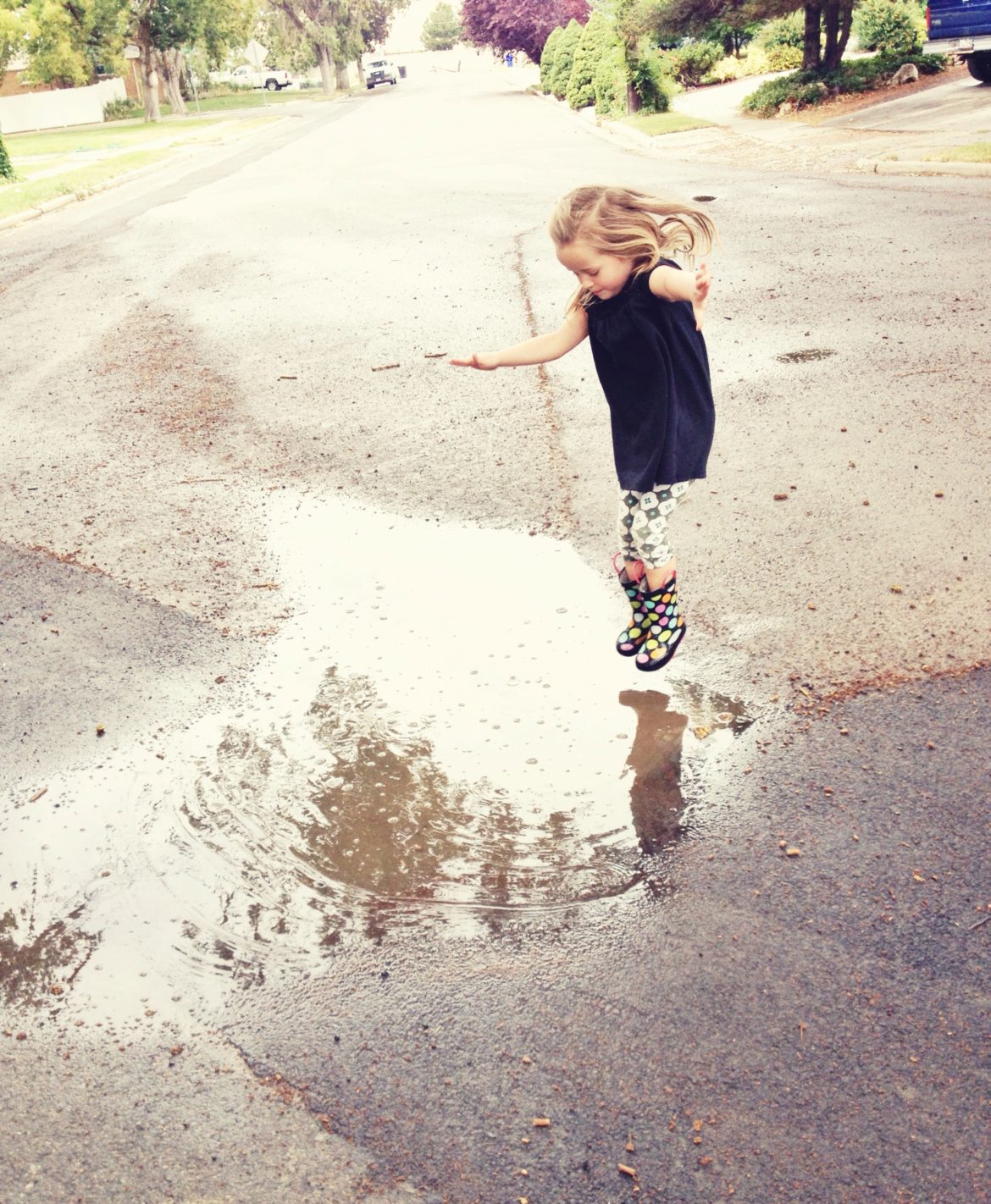 When my kids go out in the road (supervised of course) or on the sidewalk to splash in the puddles after a storm it brings the biggest smile to their faces. It's the first thing they tell their daddy when he gets home from work, and even if they come in wet and cold and a little muddy- I wouldn't trade it for anything.
Play in the Sprinklers
Now if you really don't get rain where you live- you definitely have to let your kids play in the sprinklers! This is truly a childhood rite of passage.
A few summers ago my then five year old went in her room, pulled out her swimming suit, put it on and proceeded to go in the backyard and turn on the sprinklers all by herself without my knowledge.
When I noticed what was going on I was then able to capture this beautiful image of her experiencing a carefree, joyous experience that I won't soon forget.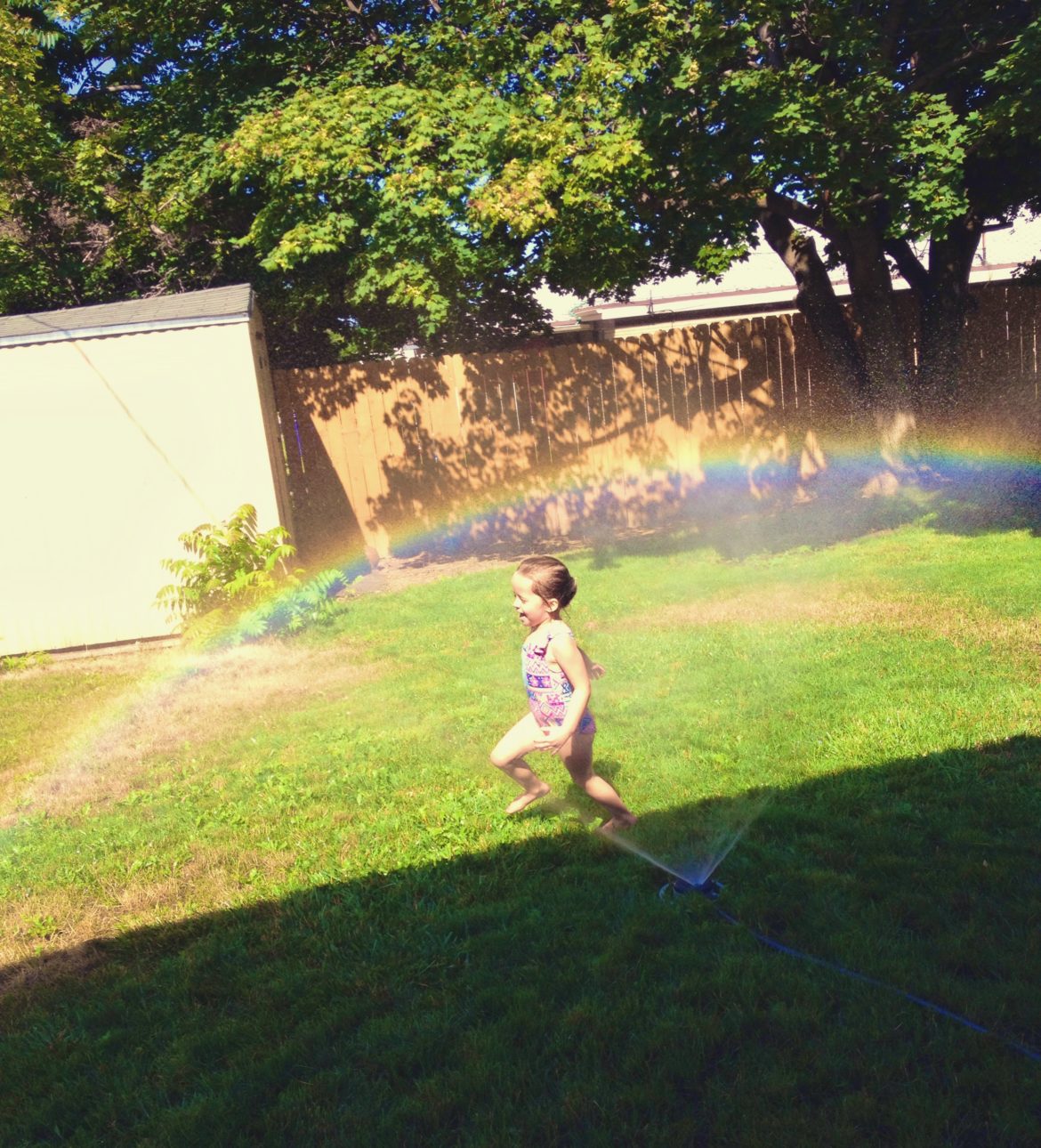 Two years later she still talks about the time she set the sprinkler up all by herself- something tells me she will always remember.
Explore Nature
No matter where you live- the country or the city- get your kids outside and start exploring.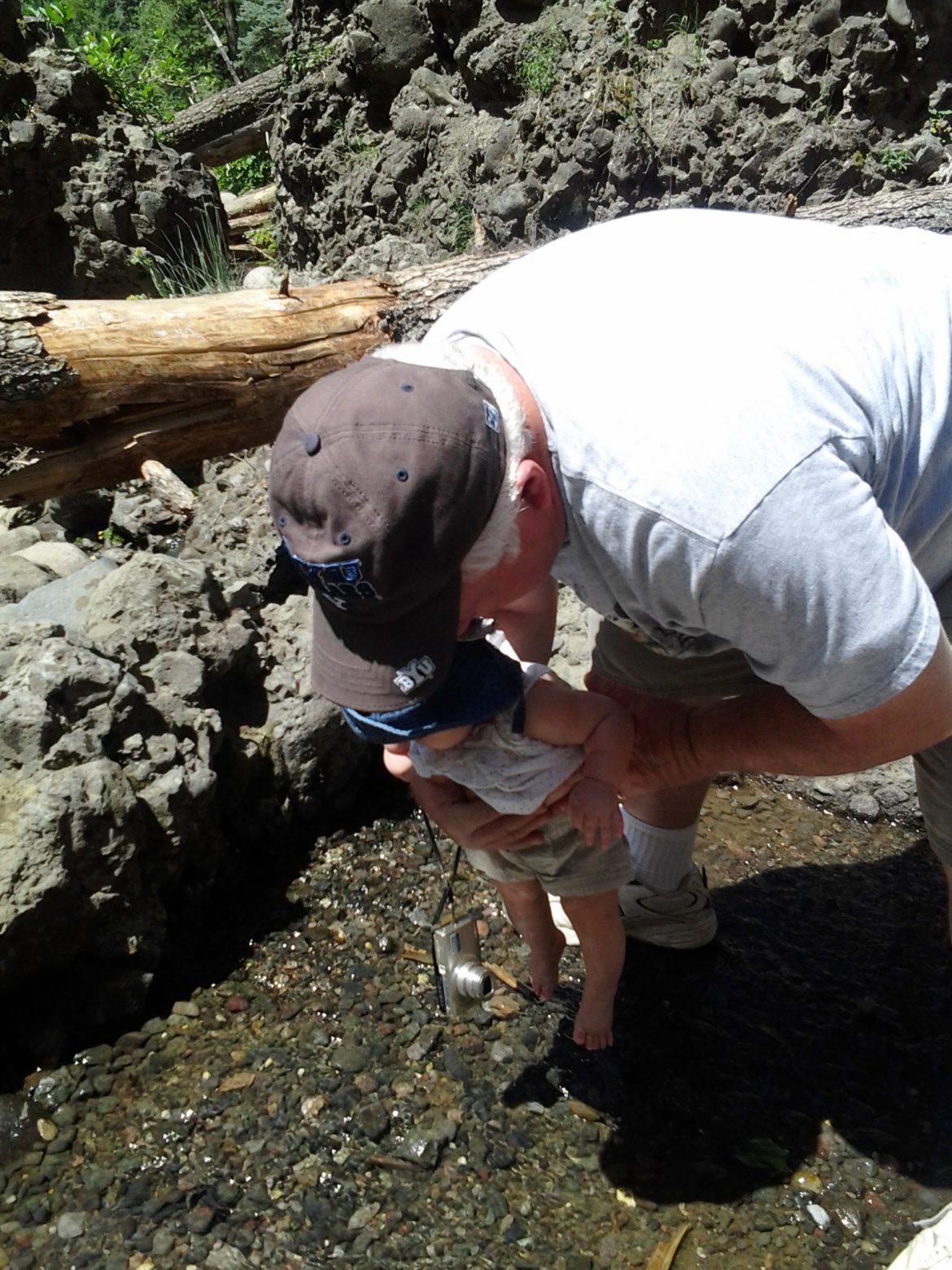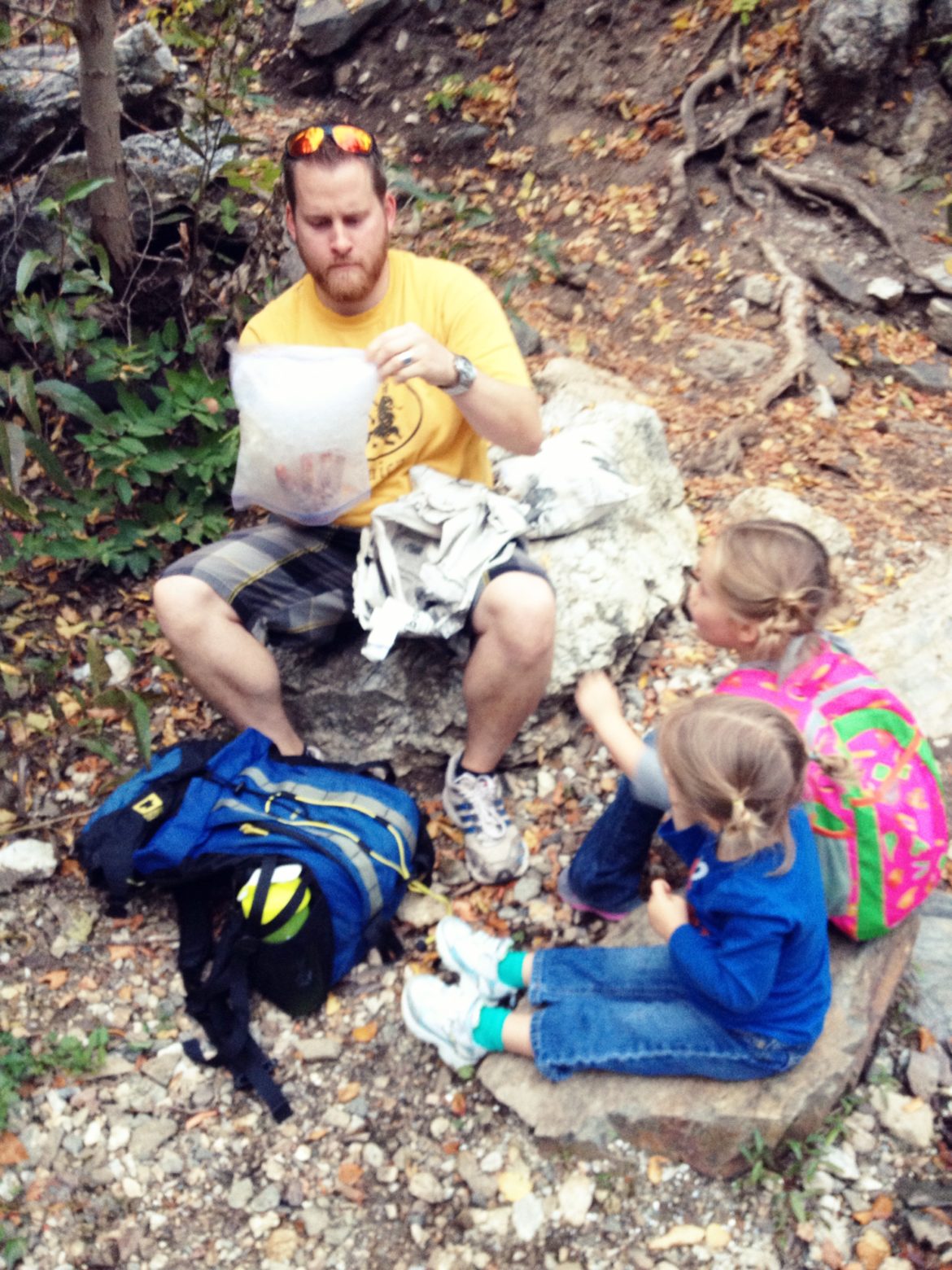 Whether it is the creek behind your house, the quaint Main Street up the road or walking up and down the sidewalk in front of your house- there is always somewhere outside to explore. Let your little ones dip their toes in a stream, search for leaves on a fall afternoon or feed the ducks at a local pond.
Some of my favorite memories with my little girls are the times when we got outside and moved around.
Some other outdoor activities could include:
make back pack ice cream
flying kites
catching bugs
going on a hike
swimming
riding bikes
sledding
building snowmen
tin foil dinner
roast s'mores
go on a scavenger hunt
play with chalk
go to a sports game
Popsicles
This might seem silly but I promise you – it will be a memory worth making.
Popsicles equal summer time at our house and I hope my girls grow up remembering that when the weather warmed up- out came the Popsicles and other cool, icy treats.
Some of our best conversations come after we have slowed down and just sit and chit chat together on the front porch.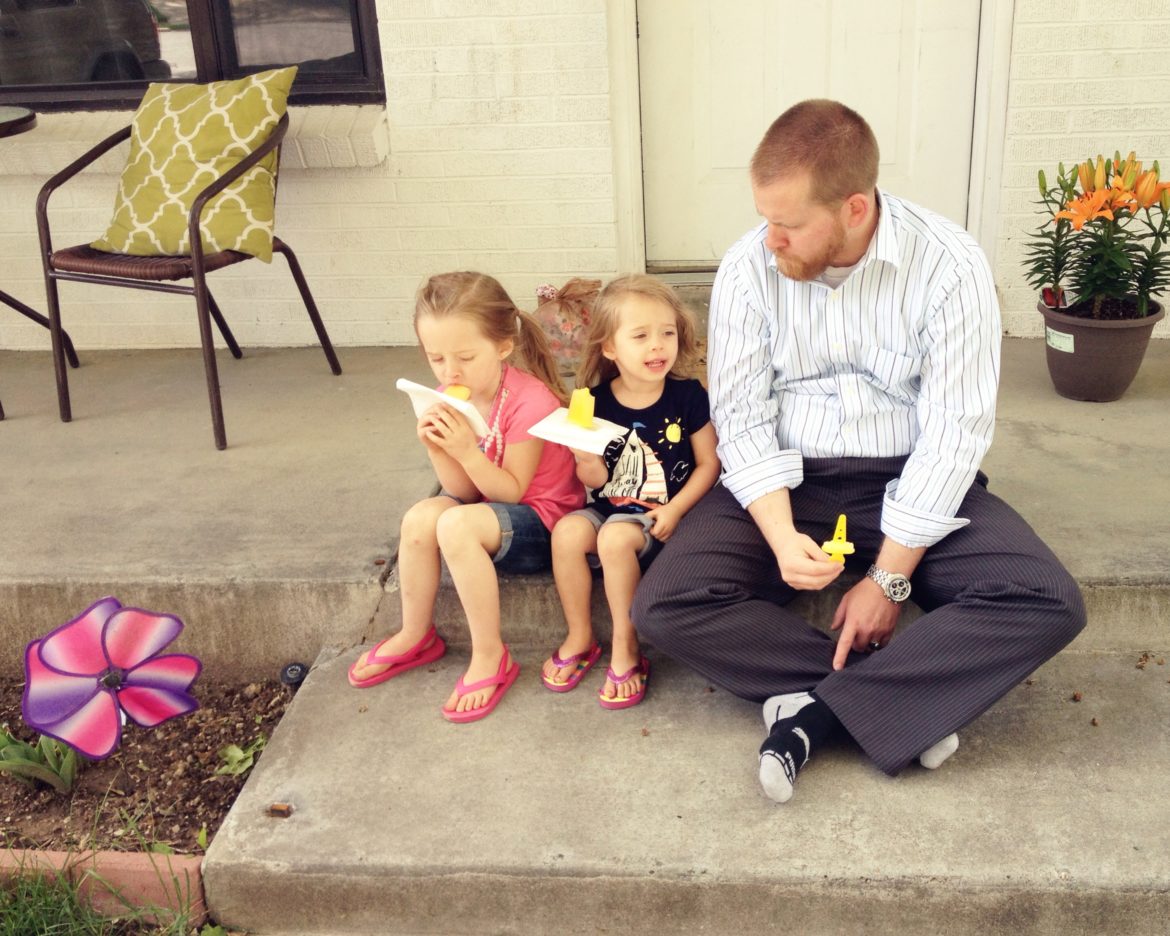 Popsicles can be such a social event, too.
The neighbor kids love to gather outside and play for a few hours and then take a well deserved break by cooling down with a treat. We buy these in bulk every summer and just expect to share them with the gaggle of children who find their way into our front yard.
I want my kids to bring their friends home and I want their friends to be comfortable here, too. Offering Popsicles to hot and sweaty kids- including my own- means so much more than just eating a treat- it's building lasting friendships.
Swim Lessons
When I think of my childhood I also think of the swim lessons I took every summer at our local pool.
Eating certain candy always reminds me of those summer days my siblings and I would gather for our lessons each week. Skittles and Red Vines were always my after swim lesson treat!
My children take lessons from a local woman in our neighborhood but I know most rec centers also offer swim lessons- sometimes year round!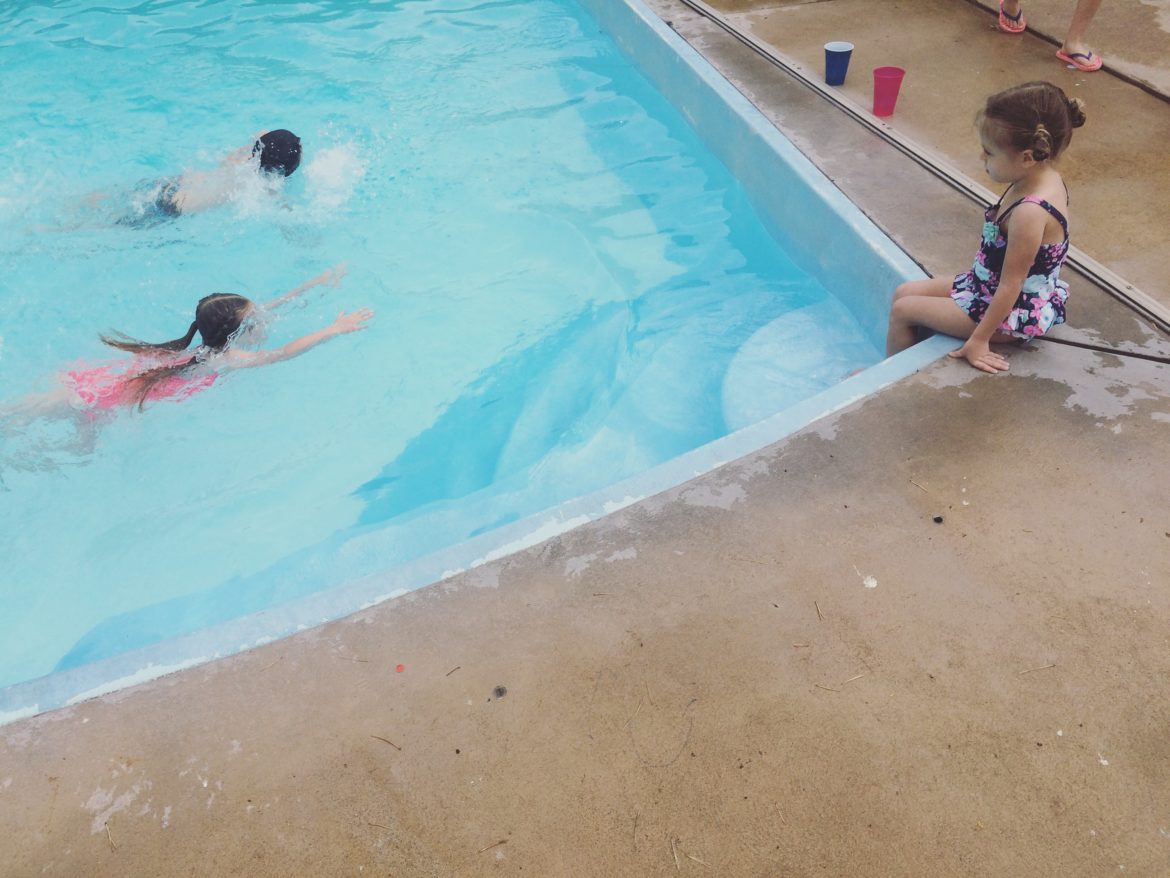 Even when my girls complain and cry about going (jumping off the diving board terrifies them) I know they are learning life saving skills while also building memories- even if some of them do include tears!
They won't tell us when they're older that we didn't give them every opportunity to learn to swim. Swimming lessons also helps build confidence and discipline- something I think we all want for our children.
Night Games
I had a friend growing who I loved to play with on the weekends because it meant we got to play night games with her several brothers and sisters and neighbor friends. "No Bears Out Tonight" and "Flag Football" are the games that come to mind that filled our evenings with fun and happiness for hours on end.
Sometimes we would play in our backyards and sometimes we would venture to the park. Night games can be accommodated for little ones all the way up to older teens.
In our neighborhood today I still get a smile on my face when I see the older neighborhood kids out playing games at night, running through the yards and having good, wholesome fun together.
Lemonade Stands
Oh, this one can be tough! I admit, when my kids ask to have a lemonade or treat stand my first instinct is "no way!" The work and effort that goes into it can be tiring.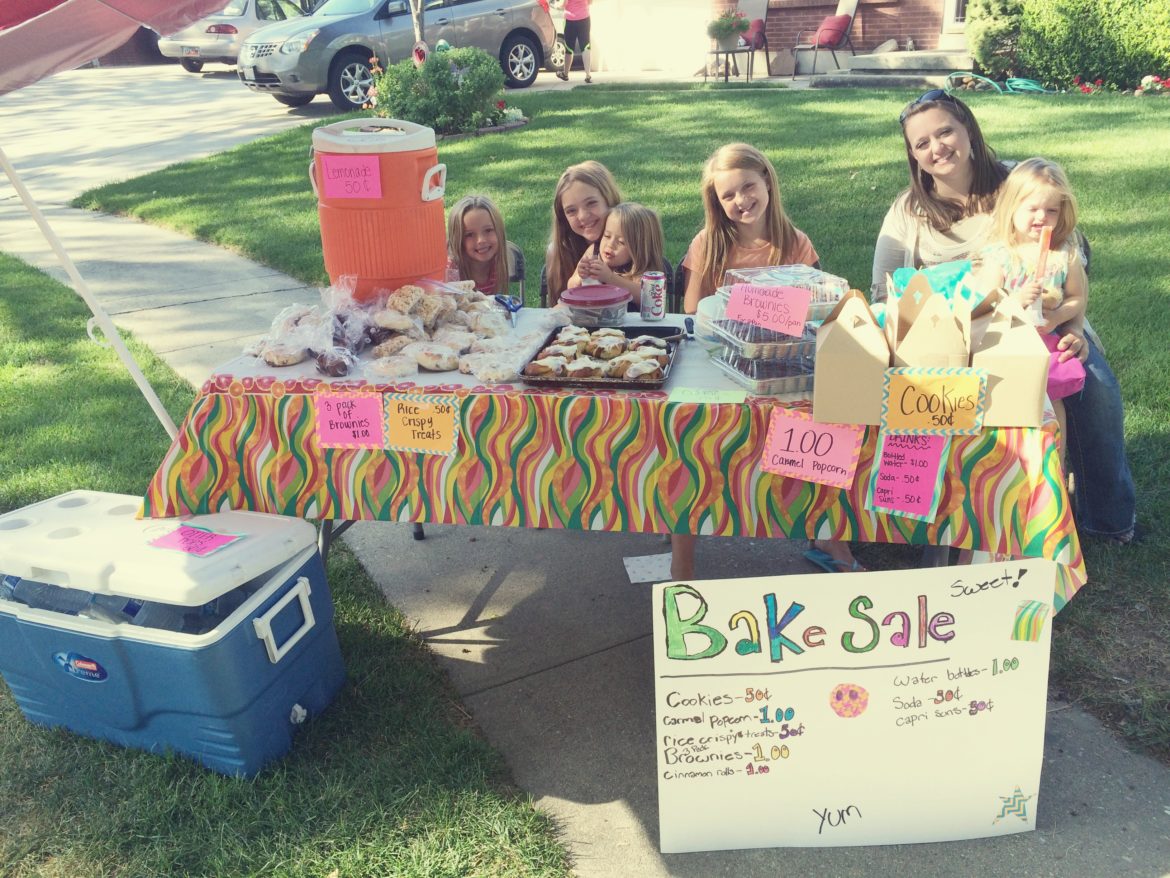 But if you haven't caught on to the theme I have going here- doing the hard things is usually worth it and helps create memories that are so important. Your kids will look back on their childhood and remember that time they got to make lemonade, set up a table and sell drinks to those passing by.
Let Them Be Little
This one is all encompassing.
Let your kids eat ice cream outside on a summer night- even if it's past their bedtime.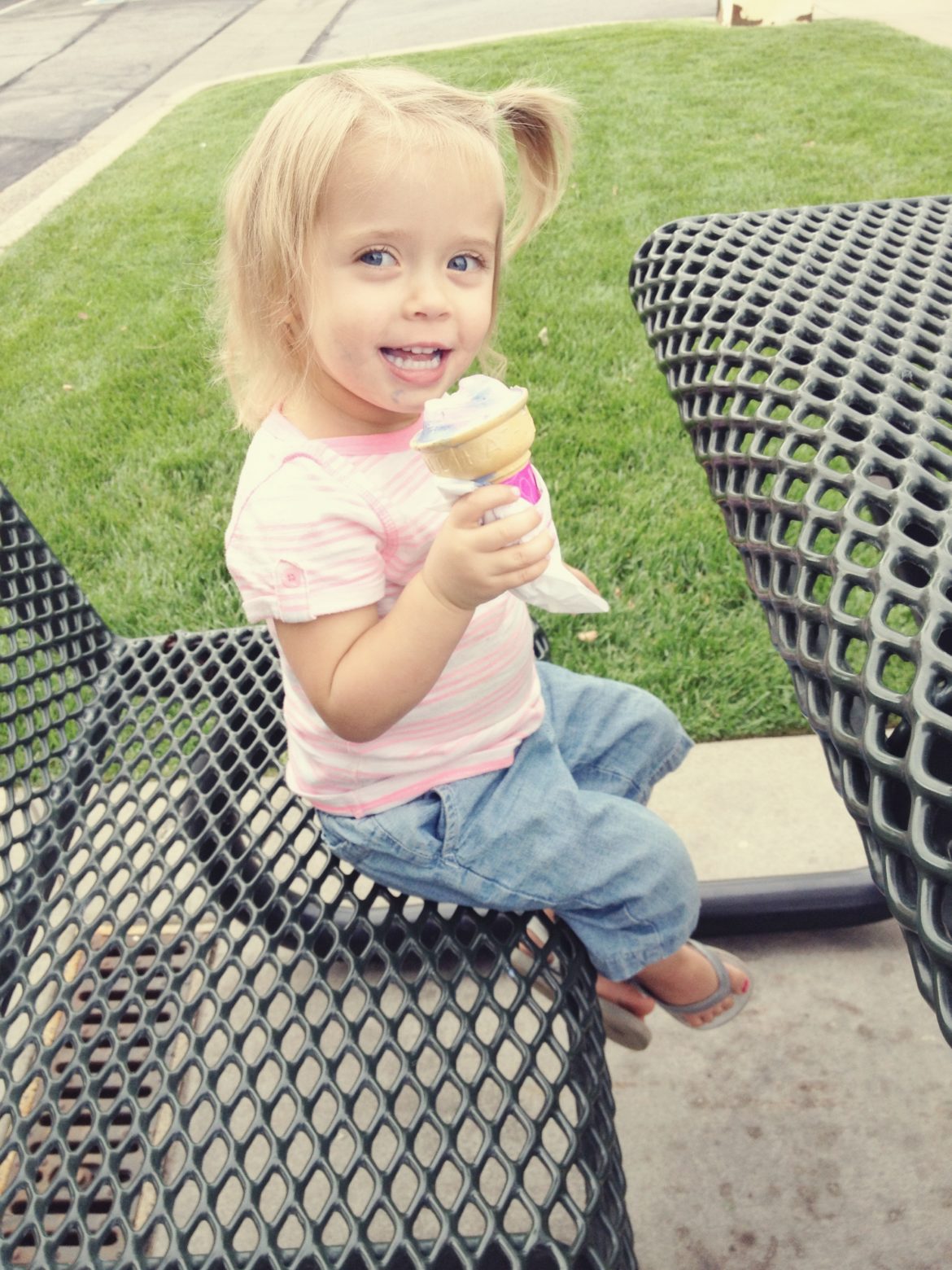 If they ask to stay up late for a movie night- say yes every once in a while and don't forget the popcorn. Roast marshmallows over the barbecue and have S'mores, let them help you make cookies, or get up and run around outside with them when you can.
You children are only little once, as cliche as that sounds. Our world is filled with so many possibilities! Share those possibilities with your kids to help them building lasting memories that will carry them into adulthood.
To learn more be sure to check out this inspiring video by global playground and manufacturer Landscape Structures.