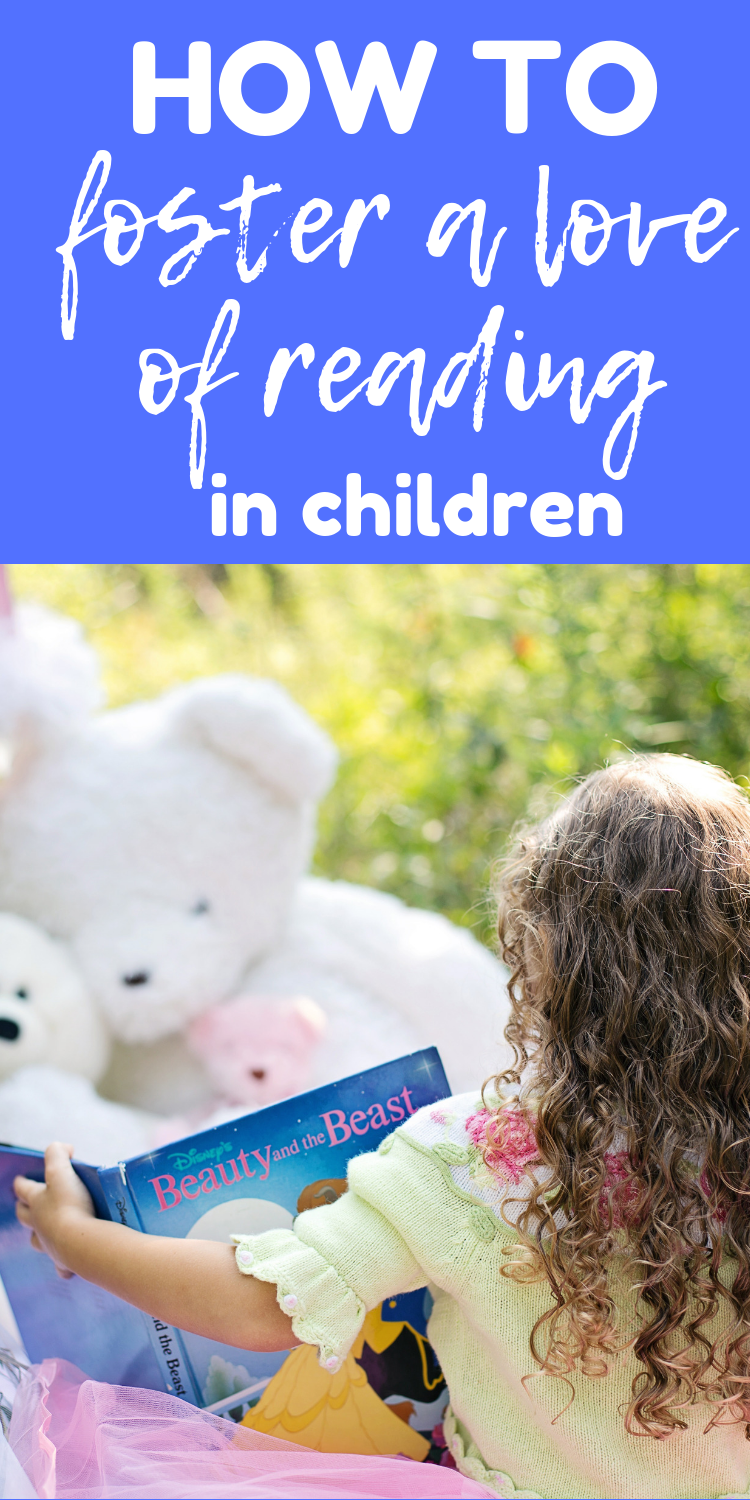 Reading is not just a crucial life skill – it's a great way to leave your worries behind! Fostering a love of reading early in life is important – here are a few ways to help your child love to read. 
Some of my most vivid and fond memories as a child are from my dad reading me Disney books on his bed before bedtime.
He has a collection of hardback Disney books of all the classics, and I loved picking one out and having him read them to me.
Although I will admit in recent years I haven't read nearly as much as I would like, I grew up loving to read. I'm grateful that my parents had many books available in our home, took us to the library frequently (even if we racked up late fees!), and read to use from a young age.
I believe that of all the skills our children learn in school, learning to not only read – but love to read – is one of the most crucial.
However, I know that reading can be a struggle for many children – and fortunately, there are a lot of resources you can use to customize your child's reading experience to make it a better time for them.
Today, I am going to share a few different ways to install a love of reading in your children from a young age. I hope that this will help give you some ideas – whether your child is just born, a preschooler, or older, I don't think it's ever too early (or too late) to instill a love of reading
Read to Them
I think the number one thing you can do is just read, read, read. Even when your child is a baby, you can read them books. Not only does it help with language skill, but it's great for their development otherwise.
Jack is 6.5 now, and while he still enjoys picture books, it's been fun to see him start to challenge himself and start reading books that are a little more challenging. And even though he can read, we still read to him any chance we get. Forrest just started reading Harry Potter with him, which he's excited about. I tend to stick to the simpler books still (partially because Oliver never misses a chance to sit with me while I read out loud as well).
Do it often
Make reading a part of your every day! Whether it's right in the morning, scattered throughout the day, or at bedtime, make it something that's regular – not rare – in your home.
Go to the library
Libraries are such a wonderful resource in communities. I loved going there as a child, and I love taking my own kids there. Our library did a big remodel recently, and they've created such an inviting and fun area for children. I think allowing your children to go and look through books, choose ones that stand out to them, and just be in an environment that revolves around books can be so valuable.
Don't be afraid to get them their own library cards. My children were so excited when they got theirs. It can make them even more excited to go and get a book when they have their own card to do it with.
Most libraries have activities for different ages as well, which can make it even more fun.
Storytime
We love going to the library storytime. Our library has a lot throughout the week for different ages, and they are so interactive. Lots of songs, an activity, and plenty of reading. I think most children enjoy being read to, and it can be a fun change of pace to have someone else reading to them.
Make it interactive
For some kids, it's hard to just sit and listen to a book. While there's value in teaching your child to sit still for a period of time, there's nothing wrong with trying to make your reading experience more interactive.
This can be anything from acting out parts of the story, doing a picture read through (just talk about the pictures rather than the words), or trying a different format for books.
Although I'm not a big fan of screen time, I do think there is value in some apps for children. Anything that encourages reading and exploring the world around you is a good thing if you ask me! We have some great children eBook apps that we really enjoy.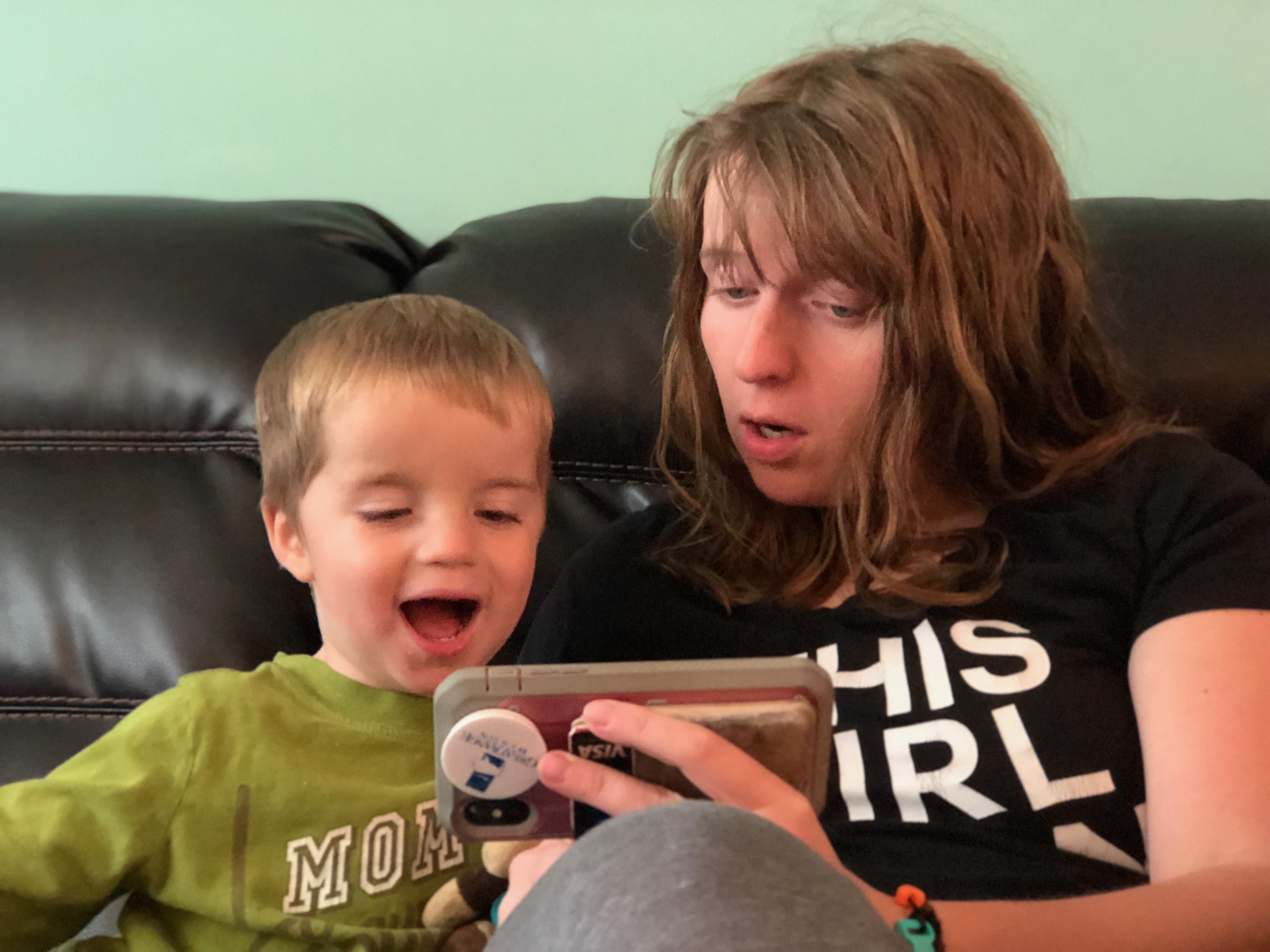 You can read it yourself, or you can have the book read to them, which is kind of fun. We really loved turning to the augmented reality version. Oliver couldn't believe it when I had a butterfly land on the plate of cookies in front of us.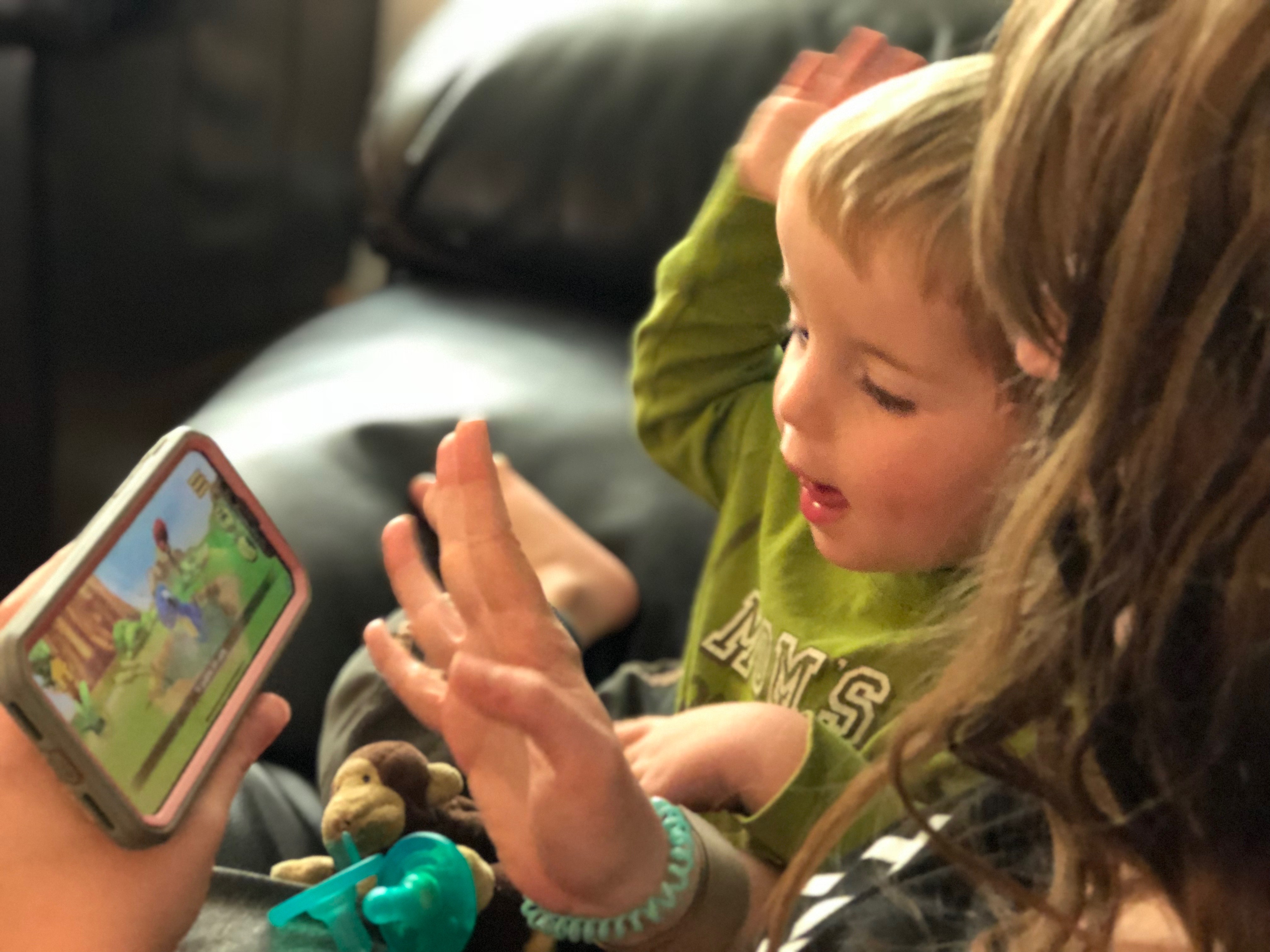 The story follows Dex T-Rex as he gets a little rough while playing and how he learned about how the things he did affect others. Oliver loved watching him be a little rough – but he seemed to understand as he went back to correct those mistakes. We've been trying to teach Oliver recently that sometimes he might do things that hurt other people – even if he doesn't mean to – so it was a good way to reinforce that.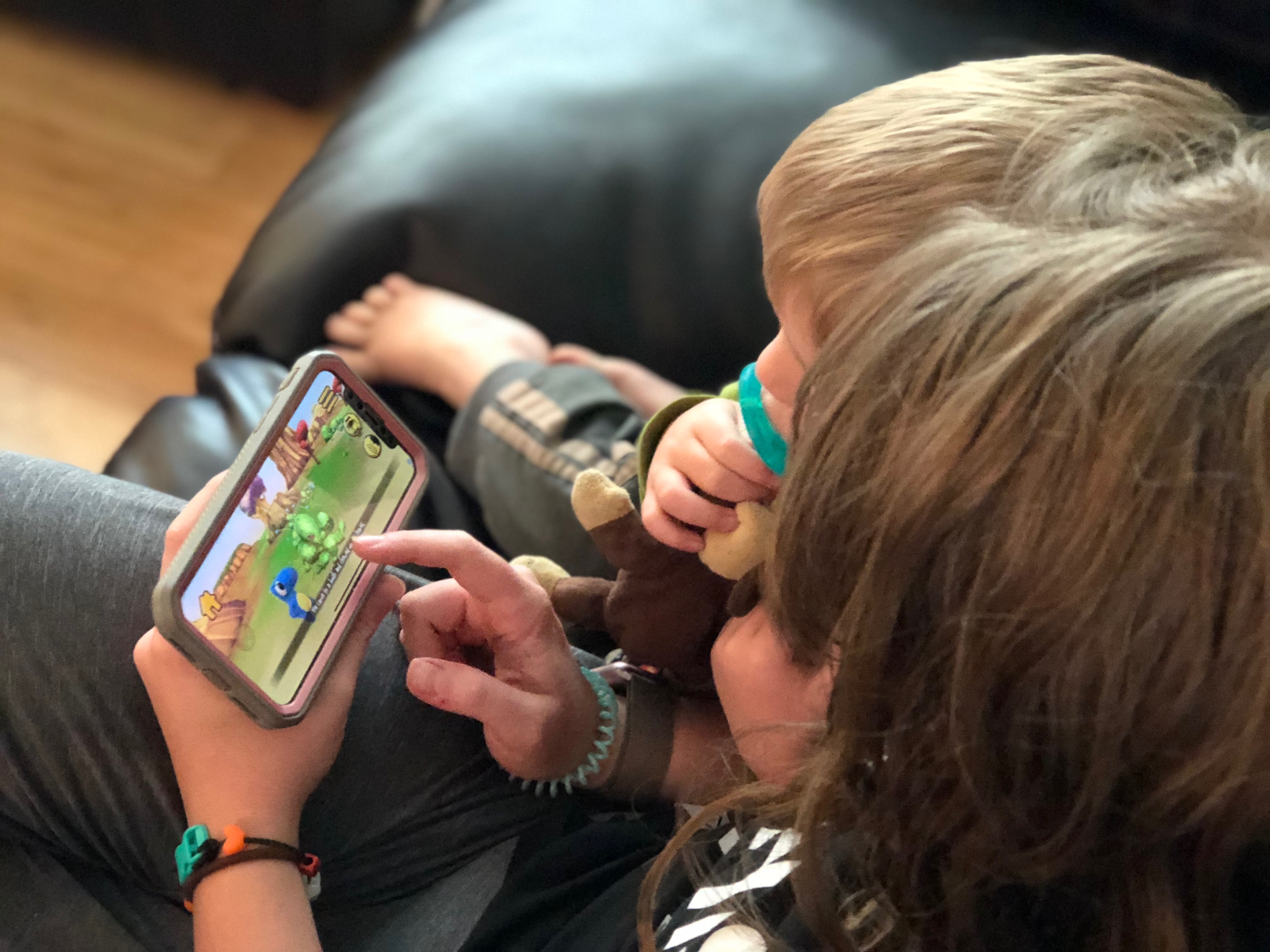 Anyways!
Switch it up
When Jack was in Kindergarten, his teacher sent home a monthly "Reading BINGO" sheet. Although I forgot about it most of the time (#reallife), I did like the idea of it. It encouraged the children to read different places and in different scenarios. It made reading a little more exciting to be outside under a tree rather than just on the couch. Sometimes it can be as simple as switching an environment to help your child enjoy reading just a little bit more.
Read Yourself
As a busy mom, I often find it difficult to do much else beyond keeping my kids alive – so reading isn't always at the top of my list. However, I really believe in the power of modeling behavior – and if your children sees that you love to read, they will very likely pick that up as well.
So make time to read – tell your child about the books you are reading, books you've read in the past, and what you love about reading. Talk about what they've read as well! You never know what you might learn, and if there's one thing I've learned, it's that children really love to have people be interested in what they are doing. Asking questions can also help with reading comprehension as well.
Audio Books
I think audio books are amazing! I know people who struggled with reading for one reason or another, and when they discovered audio books, it changed everything.
Our doctor recently suggested we have Oliver listen to audiobooks as a way to improve his speech annunciation, which I thought was a cool idea. She said she did this with her daughter, and she believes it helped more than anything else.
Try Different Books
Not every child will respond to every book the same. While some kids will get lost in the fantasy and excitement of Harry Potter, others will enjoy the simple and positive nature of Little House on the Prairie. All it takes is finding one book they really love to realize
It may not be a book you love yourself, and that's okay. The other day I was saying something about how many Jack should try some books that aren't just LEGO books, and Forrest mentioned, "Well, those books have been really helpful in him learning to read – and wanting to read!" And it's true – it may not have been a book that I thought was fun, but he LOVES to read them, and that's great. This morning he even told me, "Instead of turning on the TV this morning, I read my book! It's non-fiction!" haha!
If you have a hesitant reader, ask around for different books that your friends' children have enojyed.
Try different ways
Read a book in a silly voice. Read it backward. Read just the first line of every page. Just mix it up and make reading a little more fun!