A diaper stockpile can save you a lot of time and money when done correctly. Here is everything you need to know about stocking up on diapers.
Diapers can be one of the most expensive parts of having a baby and toddler. However, if you pay attention to the sales and find ways to save on diapers,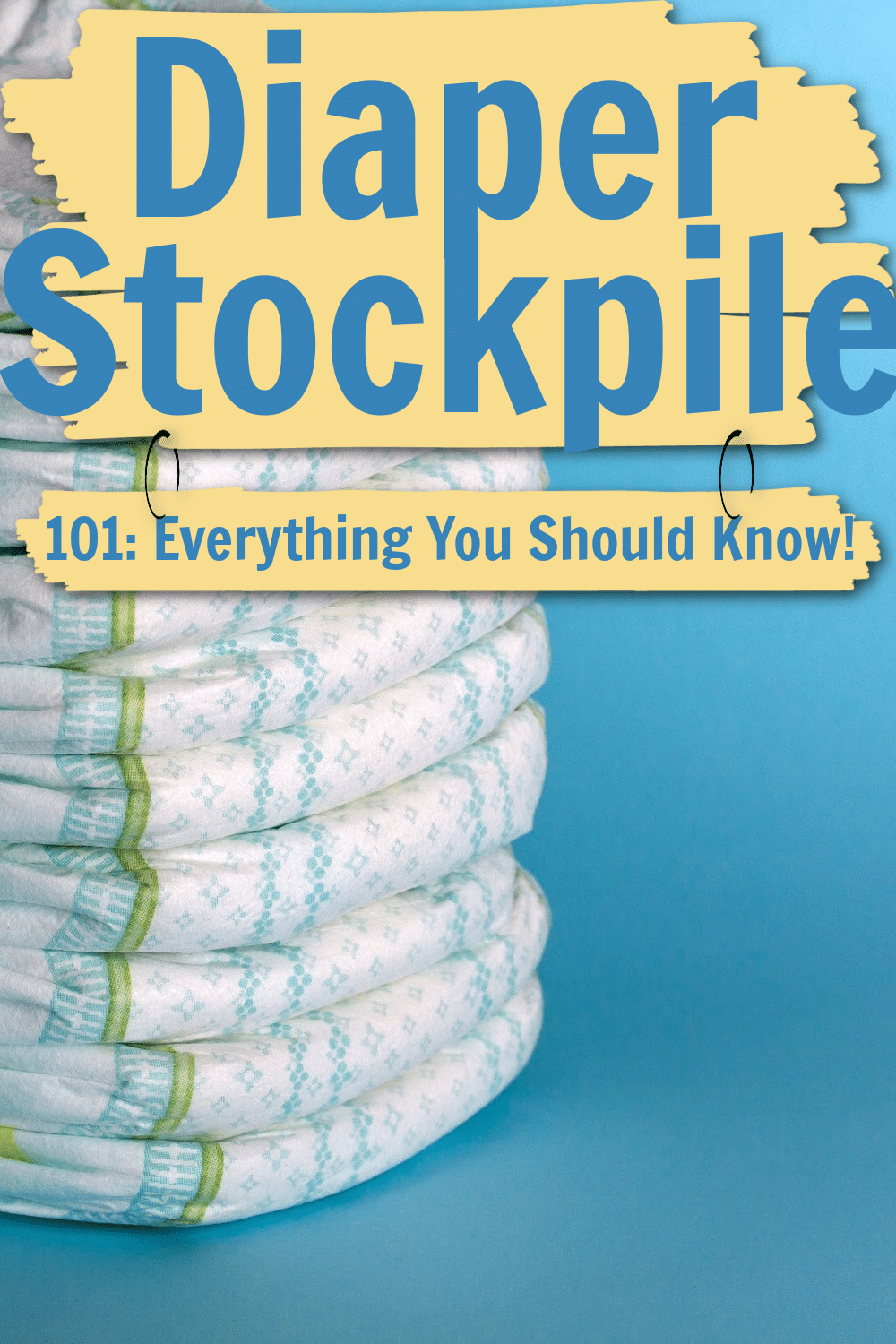 Diaper Stockpile
When it comes to stocking up on baby supplies, here is my biggest rule:
Never Pay Full Price
There are SO many deals and ways to save out there, that I think this is a pretty easy rule to follow. I see diaper coupons in our newspaper circular, online, and even just by paying attention on social media!
By knowing how many diapers you need during the first year, it can make it even easier to stock up when you see a great deal. You don't just have to stock up on the size your child is in.
When should you start stocking up in diapers?
This is the one question I hear a lot – when should you start stocking up?
I hesitate to give a one size fits all answer for this. When you are pregnant, you may see a great deal that you just can't pass up. I know I did a few times! Because we knew which brand we liked with Jack, it was a little easier for me to justify stocking up before Oliver was born.
I don't think I would stock up on sizes beyond one before your baby is born, just in case the kind you get don't work with your baby (either the fit, skin sensitivities, etc).
After your baby is born though and you get a good idea of how they seem to be growing, their body type, etc., I would say go at it! No trouble in stocking up.
When it comes to wipes…start stocking up as soon as you see an amazing deal once you find out you are pregnant. The thing with wipes is that you can use them whatever size your baby is.
Do keep in mind that some babies are more sensitive than others, so I would lean toward stocking up on wipes that don't have any scent/geared toward sensitive skin until you know for sure how your kiddo reacts.
How to Find the Best Deals on Diapers
You might be wondering how do you even get diapers to these lower prices per diaper.
There are tons of ways! For all the best ways – check out this post – How to Save on Diapers. However, here is a brief recap.
Amazon
EVERY parent needs to signup for Amazon Family. You can really get the best deals on diapers (along with other products) by using their Subscribe & Save program. You can get a free 30-day free trial through this link. This is where we buy most of ours.
Coupons
Either new newspaper circulars, emails, or from websites, you can almost always find a coupon. If you aren't brand loyal, this can be especially helpful.
I LOVE Coupons.com. Make sure you browse through their coupons each week and print them off.
Cash Back Apps
I'm a big fan of cashback apps because you can use them on top of regular coupons! I often see diaper rebates here.
Here is an article I wrote about – I've made hundreds by using these – the best cash back apps. The number one I would recommend signing up for is Ibotta – you can get $10 back right after you redeem your first rebate when you sign up through our link.
Deal Websites –
I recommend following a deal website that shares diaper deals. I always like Freebies2Deals and Utah Sweet Savings!
Rewards Programs
A lot of diaper companies have rewards companies. These sometimes can help you get more diapers or earn rewards for other products. I love the Pampers Reward program – they randomly have rewards numbers that you can use even without buying diapers.
Club/Warehouses
If you aren't really a big fan of couponing and what not, stores like Sam's Club offer the best prices, in my opinion, right off the bat. They will be higher than if you are using coupons, but there's definitely the added convenience of the large box sizes and availability.
Diaper Stock Up Price
I see a lot of different ideas on what the ideal stock up price is. To be honest, it might be different for everyone! But as I've read tons of different blogs, I find that everyone definitely has their number.
The first thing to keep in mind is to look at the individual cost of each diaper, rather than the cost of the box. This is where you'll find the best deals and value.
The larger the diaper gets in size, the more you will likely be paying more per diaper…but you will also be *most likely* using fewer diapers the older your baby gets (since most babies/toddlers don't have poopy diapers with every feeding like a newborn does!).
Below are the averages that I've come up with from the blog posts I've read and my own experiences. You can occasionally find them cheaper if you are watching the deals and sales (I've seen people getting diapers for as low as 8¢ per diaper) but I feel these are pretty reasonable. I feel like I've often seen people saying between .10 and .15 cents, though this will vary depending on the size of the diaper.
Also, keep in mind that when there's an emergency…there's an emergency. These are the prices I would recommend stocking up with – not necessarily driving yourself mad trying to find if you are in a bind 🙂 I think that in general, trying to find under 16¢ a diaper is a great find.
Newborn: 12¢ – 16¢
Size 1: 10¢ – 14¢
Size 2: 10¢ – 15¢
Size 3: 10¢ – 15¢
Size 4: 13¢ – 15¢
Size 5: 15¢-22¢
Size 6: 15¢-26¢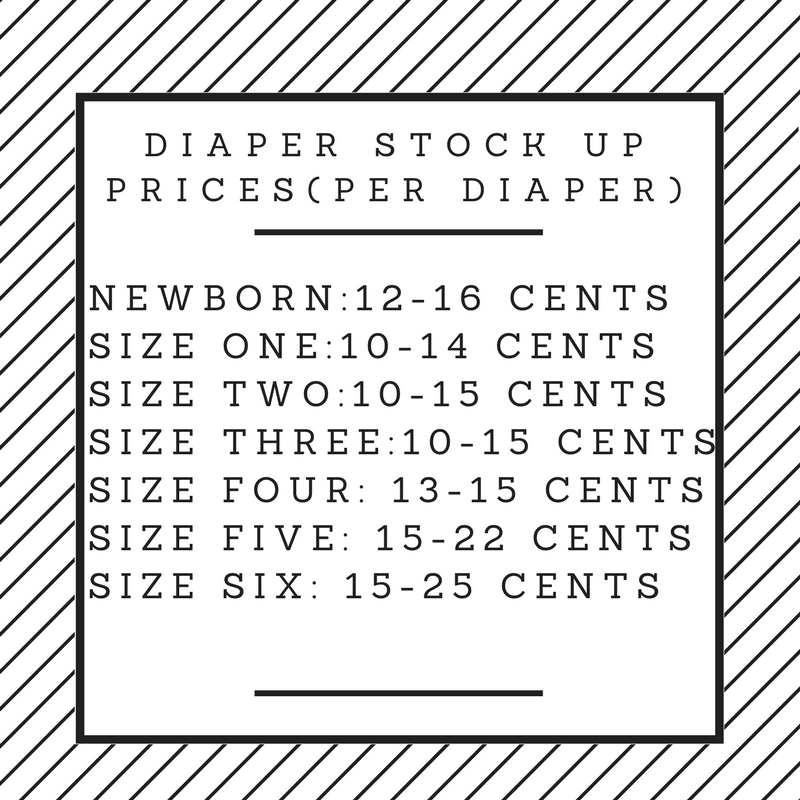 Best Price for Stocking up on Wipes
I think that aiming for under 2¢ per wipe is a pretty good deal. You can often find wipes deals for $1 or under – even as low as 50 cents (the savviest of shoppers might even get them for free!).
Whenever you see a good sale on wipes – stock up! You can use them even after your kiddos aren't in diapers anymore.
Although I prefer Pampers for diapers, I really like Huggies wipes!
Best Diaper Brand
This will truly depend on your baby and your preferences. However, with both of our two oldest boys, we used Pampers Swaddlers above all others. With our third, we used Huggies Snugglers and found they worked the best.
I remember when Jack was born, we had another brand of diapers – not only did I feel they ran small, but they did not hold in ANYTHING! We then tried another brand…and then the same thing happened.
Swaddlers were the only thing to hold in blowouts and urine throughout the night. I love how soft they area, and their wetness indicator.
In my survey, Pampers came out on top as the most popular diaper brand. 34.6% of those surveyed said that Pampers were their favorites – the next closest brand came in at 25%.
However, I strongly recommend ordering a sample pack from Diaper Dabbler. They let you order a variety of different brands of diapers, so you don't have to buy a big pack only to find out it doesn't work for your child. I WISH this existed when my boys were little (especially my first).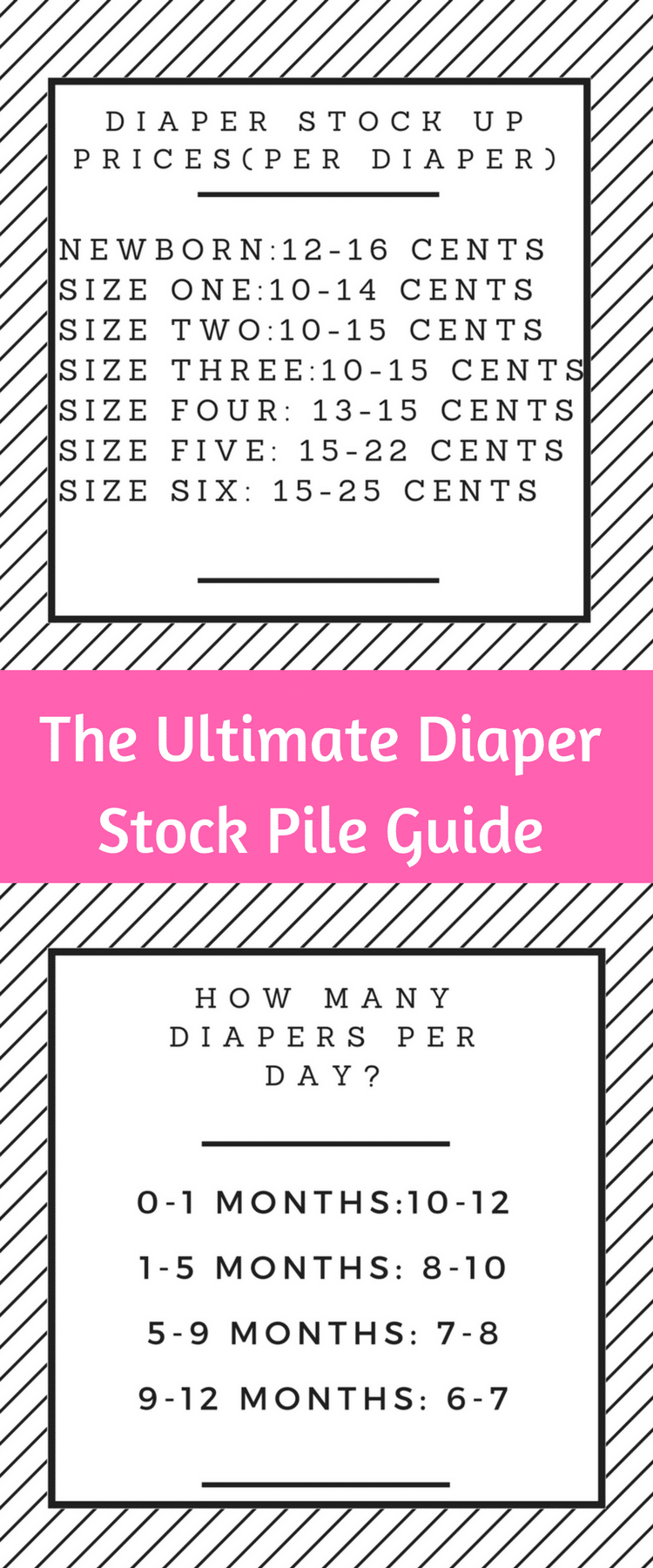 What do you think? Be sure to share your experience in the comments!
Other Posts You May Enjoy: