At this point in our lives, it's hard to get out of the house for a date night for just Forrest and me.
Oliver is nursing, and I'm just not a big fan of hiring babysitters. While we definitely need to do more at-home dates after the boys go to sleep, we often try and have family date nights, which are always a lot of fun.
I think we all look forward to them!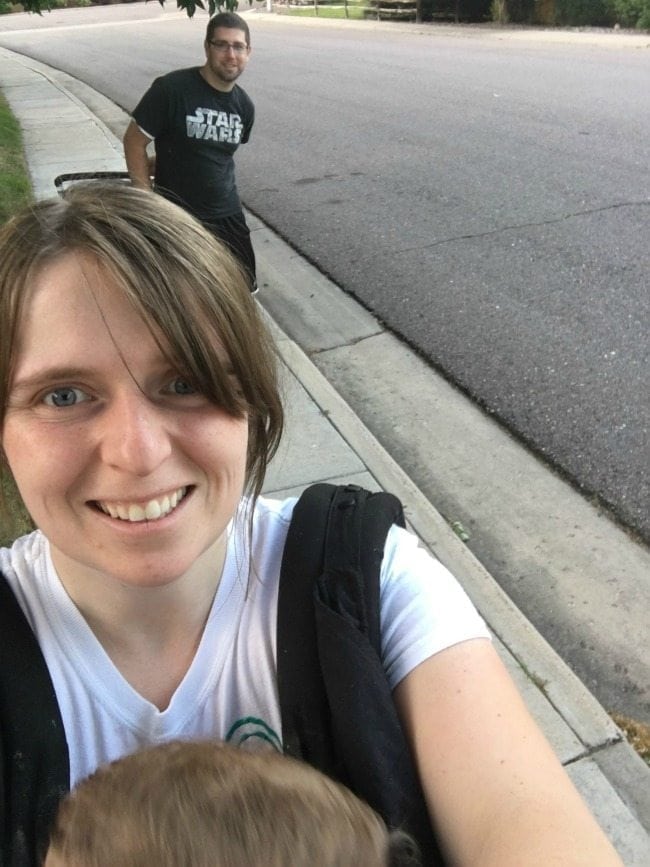 We try not to make them super fancy or expensive. Sometimes we go out to eat (mainly when we have a coupon or it's kids eat free night!), but occasionally we like to do something a little different. So, I thought I would share a few ideas for inexpensive family dates. I'd love to hear if you have any ideas as well!
Thank you to Blog Meets Brand and Baskin Robbins for sponsoring this post.
1) Walking and Ice Cream
We go on walks almost every night – Jack usually rides his balance bike while Forrest or I carry Oliver in our Ergo Baby carrier. It's nice to go when the temperature has cooled down a little.
Ever since Pokemon Go came out, we've really been enjoying these walks, and they've lasted even longer #noshame.
Occasionally, we like to go somewhere and get a treat afterward – typically after we've been walking around a lake nearby our house. It's a fun incentive for Jack to not complain, and we all like to cool down after a fun walk. Plus, it feels like you can justify a treat more after you've been on a walk!
The other day, we decided to walk to Baskin Robbins, which was (according to Google) a 17-minute walk. It was so fun. We had just heard about their new USO Patriot Pop flavor, as well as their new Polar Pizzas, and we couldn't wait to try it out.
The new USO Patriot Pop is so fun – it's tangy and fruity (cherry, lemon, and blue raspberry) and we all really enjoyed it. Our Baskin Robbins was having a "Buy 2 scoops, get a free waffle cone" promotion right now, so it was even more fun to enjoy it in that.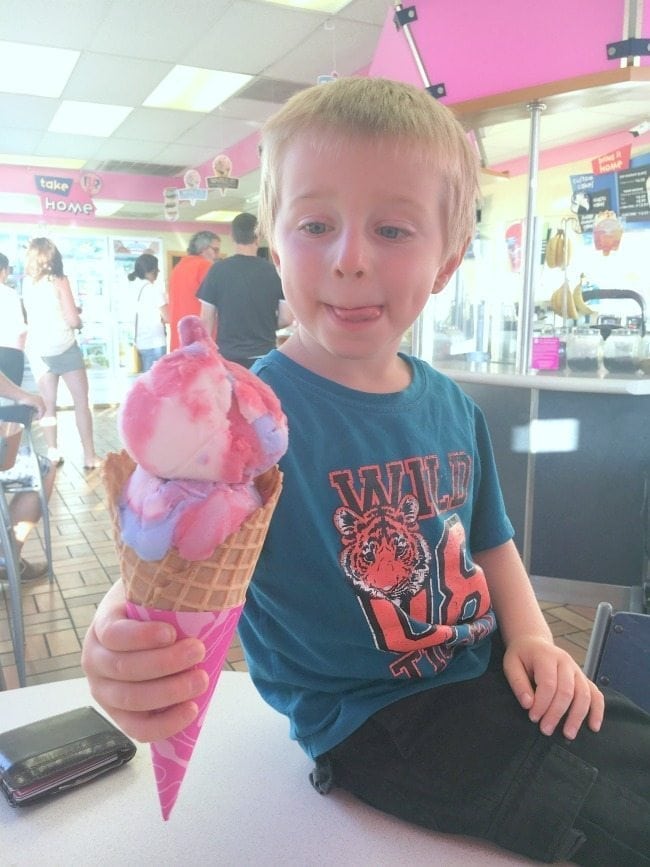 We also got the new Polar Pizza, and it was so good. It was around $20, but we had a $2 off coupon. Each slice was very rich, so you really only need one, which will make the pizza go further. I loved the thick, brownie crust on ours. We got the cookies and cream flavor, but I thought that one featuring July's flavor of the month – OREO birthday cake – looked fun, too.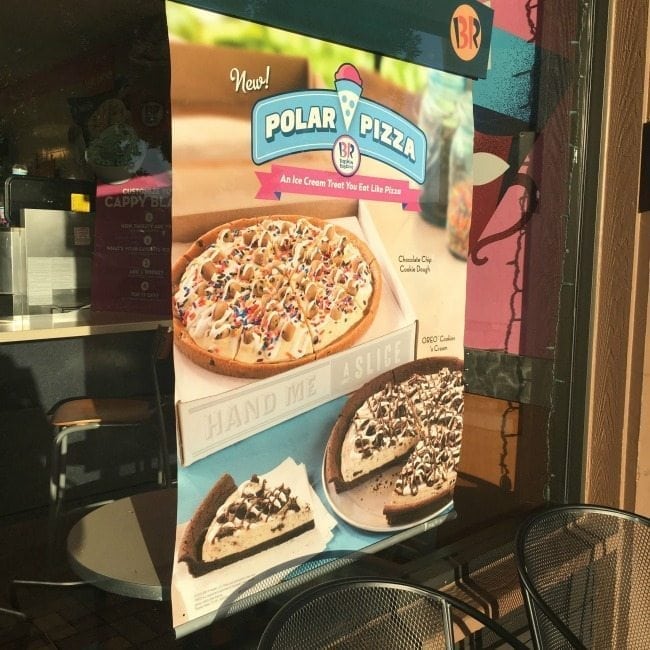 Tomorrow is National Ice Cream day, and Baskin Robbins will be offering the USO Patriot Pop flavor as a float. You can get the yummy USO Patriot Pop in some soda pop. For every float that is sold tomorrow, Baskin Robbins will donate 75 cents to the USO in honor of their 75th anniversary. If you're not sure what the USO is, they are a great non-profit organization that supports the USA military service members. They help them stay connected to their family and home during deployments and when they come back home.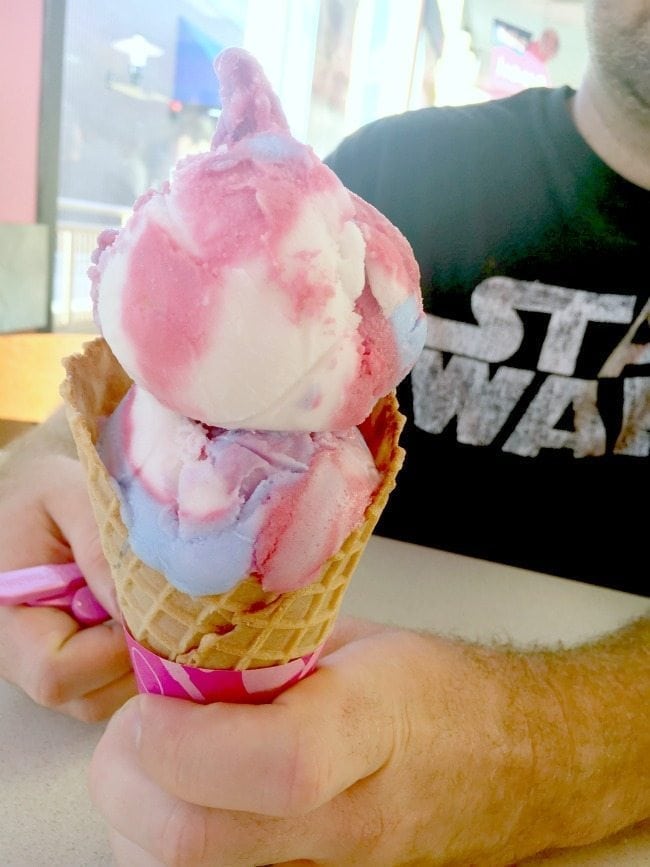 2) Game Night
We are big fans of games around here, and I LOVE having a night just dedicated to playing games. You can pop some popcorn and everyone can pick one (or two) of their favorite games. If you need any ideas for fun games, here is a list of my favorite board games for larger groups.
Some games may take a little longer to play, so if you like those types of games, just prepare to settle in for a long night of playful banter and fun! We really like Settlers of Catan – Jack even enjoys it. Another one that I've heard good things about is Ticket to Ride.
3) Cooking Competition
Does anyone else love cooking competitions? They are so fun to watch. Jack really enjoys them, which makes it even more fun. Our current favorite is Cupcake Wars!
You can come up with a fun cooking competition. This is a little easier if you have more kids, but it's also something that you can do with other families. You could do an Iron Chef competition, Cupcake Wars, Chopped…the sky is the limit!
4) Movie Night
Nothing quite as fun as a good old fashioned movie night. You can do a themed night (and have foods that go with the movie), make your own movie screen in the backyard, or just pick a random movie, make some fancy (or plain) popcorn, and enjoy your evening. We personally only really use Netflix and VidAngel anymore. VidAngel is a great company that makes it so you can watch movies with your family without worrying about some inappropriate word or scene slipping in. It's way better than RedBox!
5) Dollar Dinner
A friend of mine posted about this awhile ago, and I thought it was so fun. Once a year, the family will go to the store and each kid will be in charge of buying something for dinner that is at or around $1. Then they all come home and eat it.
She posted the dinner, they came up with, and it made me laugh, because it was full of sugar and pizza and goodies. You can put more rules on it, but I think it's one your whole family will look forward to.
7) Stargazing
We had a garage sale with my parents recently, and Forrest decided to buy a telescope they were selling. Jack couldn't wait to use it! They had fun trying it out. I think there's nothing quite so beautiful as staring at the stars on a clear night.
You could go in your backyard or on the roof (if your kids are old enough to be safe), or you could drive up to the mountains. Forrest and I once hiked on a mountain at night to go watch a meteor shower, which was really neat. Just make sure you have blankets and water!
8) Campfire and S'mores
If you can't tell, we love being outside, especially during the summer. I think a classic campfire and s'mores is something the whole family will enjoy. When we visited my sister in Rexburg a few summers ago, we went to a little area near their house with fire pits and had a great campfire with S'mores. I loved it!
Forrest bought me this backyard firepit last year, and we've already used it a lot (especially for dutch oven cooking!) If you don't want to go outside, there are plenty of ideas for indoor S'mores on Pinterest.
9) Pizza Night
If you've read our blog for awhile, you'll know that we love pizza night. We try and do this every month or so, and it's so fun. Everyone can be involved, and it's easy to customize your pizza. Here are a couple of our pizza posts:
Perfect and Fast Homemade Pizza Dough Dutch Oven Pizza
10) Library Night
If your family is full of book worms, this is a great idea! You head to the local library and everyone checks out some books. Then you can go home and all cuddle up on the couch and read your favorite one, or you can all decide on one to read out loud.
11) Fort and Sleepover
Every child needs to make at least one fort during their childhood. I have lots of fond memories of making them with my big brother when I was young. Jack has made a few, and it's always so fun to see how much joy it brings him.
So, you could all make an epic fort together and sleep in it that night. I think all kids would find this to be a dream come true!
12) Volunteer Somewhere
It's always good to teach your children how to serve – and to do it yourself! If you need any ideas, I wrote this post about 10 meaningful ways to serve with your children.
13) Around the World Dinner
You could pick a country as a family, research the foods there, and make a delicious meal with different items from it, or you could all just pick your favorite company and make something from it. Just take a trip around the world from your dining room table. Extra points if you decorate!
14) Outdoor Competition
This can be anything from a Cornhole competition to playing soccer or frisbee, or even creating your own outdoor Olympics. I just saw a friend on Facebook post about her family's annual Olympics, and I thought it was such a fun idea. I'm sure Pinterest has lots of suggestions!
15) Homemade Ice Cream
I love homemade ice cream – there's nothing quite so delicious. It's a great activity to do with your family. Whether you use an ice cream maker or you make it in a plastic bag, everyone will enjoy this!