I heard someone once say that school is like a vortex – once you put your baby into the system, there's no turning back, and it spits them out a mini-adult 12 or so years later.
I know the "trend" nowadays is to put your kid into preschool earlier and earlier – usually for at least two years. While I totally support parents who want to do that, I had absolutely no desire to.
I debated whether or not I wanted to do preschool at all. We do a lot of learning at home, and Jack gets socialization at church, the gym, and with cousins. However, when a sweet lady from our church offered to open up her home for a 2.5 hour preschool once a week, we felt it would be a good opportunity for him.
It felt like a good way to transition into the world of schooling…because as much as I want to homeschool him, it probably isn't going to happen.
Jack? He'll do just fine. He loves to be with friends, he loves to learn, and he's just the sweetest little guy.
Me, on the other hand? Not so sure how I'll do. He starts in about two weeks, and I'm already a nervous wreck.
So if you are a fellow mama about to send her baby off to the wolves…I mean, to school, here are 10 things I'm planning to do on Jack's first day of preschool.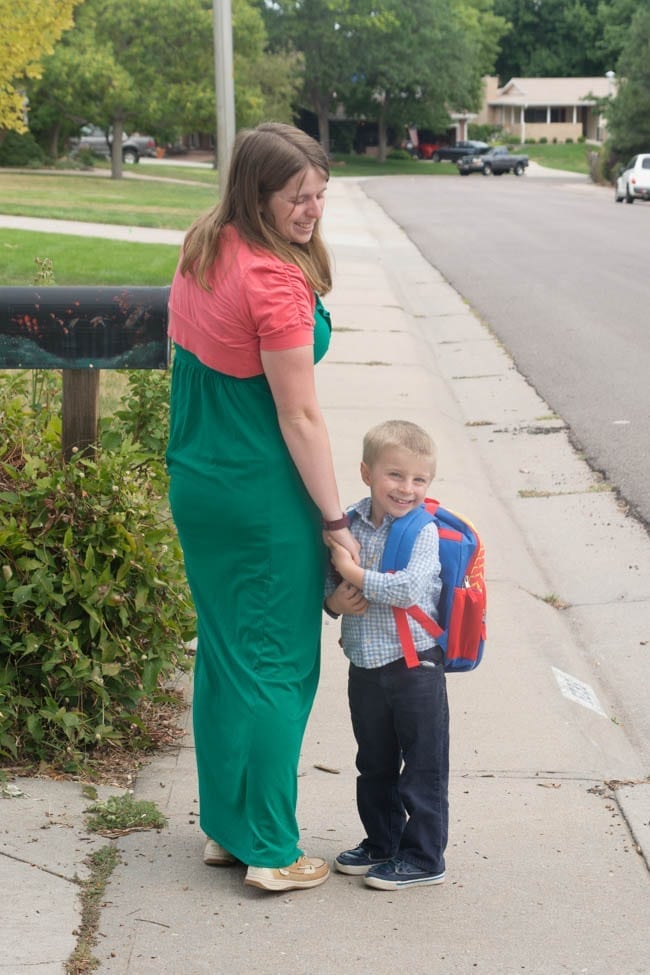 1) Make him a yummy breakfast
Your child needs to be ready for a busy day of play and learning – what better way to start their new adventure than with a nice, yummy breakfast?
2) Dress them up and take cute pictures
They likely won't protest this yet. I know Jack still smiles his sweetest (sometimes cheesiest) smile whenever I ask him to. I'm quite certain he'll even hold up a sign that says first day of preschool.
While I hope he'll always be willing to do this, I know that, at least for this year, he'll do it because he wants to…not just to make his ol' mama happy 🙂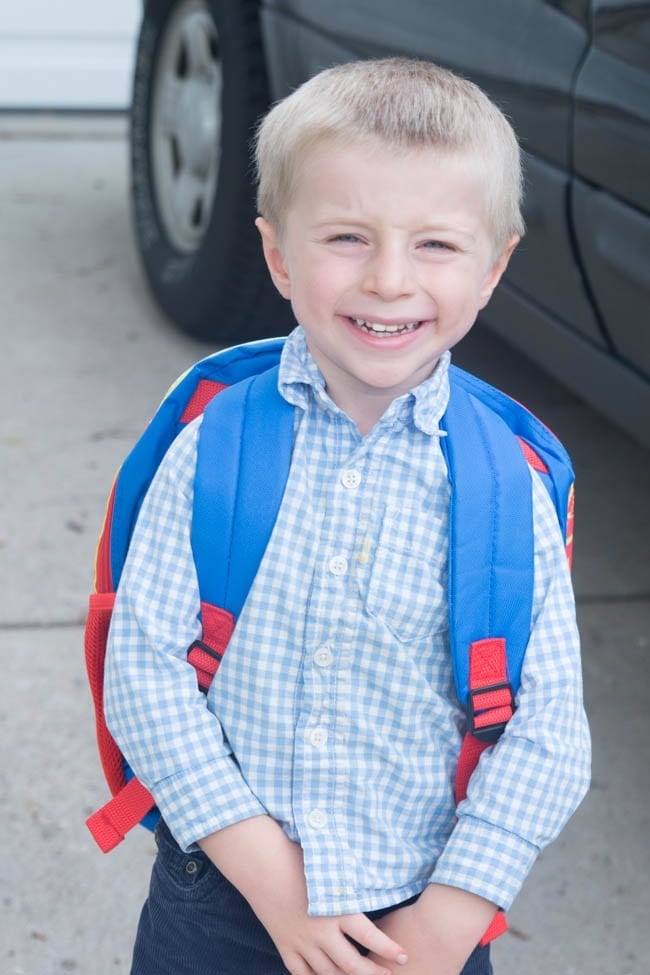 3) Drop them off and try not to cry
Jack's pretty brave, but he always gets so concerned about me when I cry. However, I know that I'll be on the verge of tears as we go to drop him off (I know, I know, it's only one day a week). I don't want him to be nervous or feel bad that he's leaving me behind, so I will definitely be trying my best to put on my game face!
4) Cry As soon as you get in the car, you can let the waterworks flow. It's okay to cry! Your baby – the child you carried for nine months and who has been the center of your universe for so long – is being taught by someone else. It's okay to feel a little bit sad to be moving on to a new stage in life. Crying always helps (well, me, at least).
5) Put on some comfy shoes and go for a walk
Don't just go home and wallow – get some fresh air. It really does wonders for the body and the spirit. Slip on some comfy shoes and just stroll. I personally love going to a lake by our house and grabbing some frozen yogurt along the ways..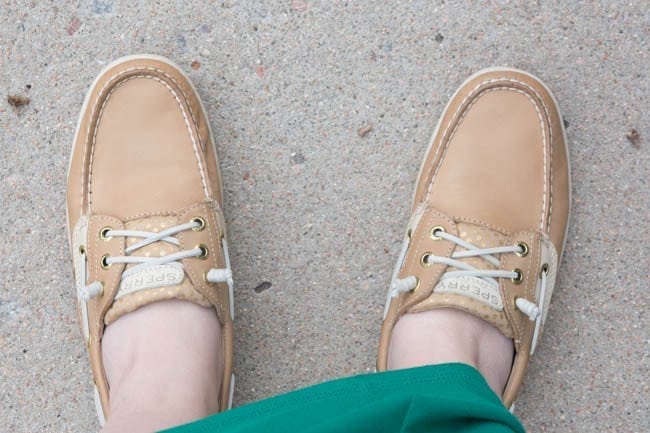 6) Go to your favorite store
After your walk, do some retail therapy. Walk up and down the aisles of your favorite store, and maybe, just maybe, enjoy the peace of not having someone ask you for a toy or food every few feet. Well, unless you have another child who can talk. Then just enjoy only having one person beg you for toys and food 🙂
7) Buy a special treat
Treat yourself to a diet coke, a muffin or cookie from your favorite bakery, or to your favorite gossip magazine. Then maybe buy your child a special first day of school treat for when they get home.
8) Look at their baby book
Remember how tiny their little hands were, what their favorite words were, and then try and fill in all the blanks you've forgotten to fill in over the last few years (or is that just me)? Maybe even write a little bit about how it felt dropping them off for their first day of preschool!
9) Pick them up and be happy
No matter how much you missed them and wanted to just come back and take them home, act excited. Ask them about their new friends, what they learned, and look through their backpack with them. This is a whole new territory for both of you – enjoy it!
10) Hug them a little tighter at bedtime
Life goes fast – especially when you have children. Today is preschool – before you know it, it's high school graduation. Hug your little one, tell them you love them, and try to enjoy this new stage. I know I'm going to!
In all honesty, I am excited for Jack. I know he will love preschool, and I can't wait to see how he grows over the next year (though hopefully it doesn't go too fast. Kindergarten is a whole other story!) I have Oliver home with my still, which will make the transition easier. I also am looking forward to giving him some of the one-on-one attention that Jack got for so long before Oliver arrived.
How did you feel when your child started school? Follow Famous Footwear on Instagram and let them know how YOU plan to take on the new school year!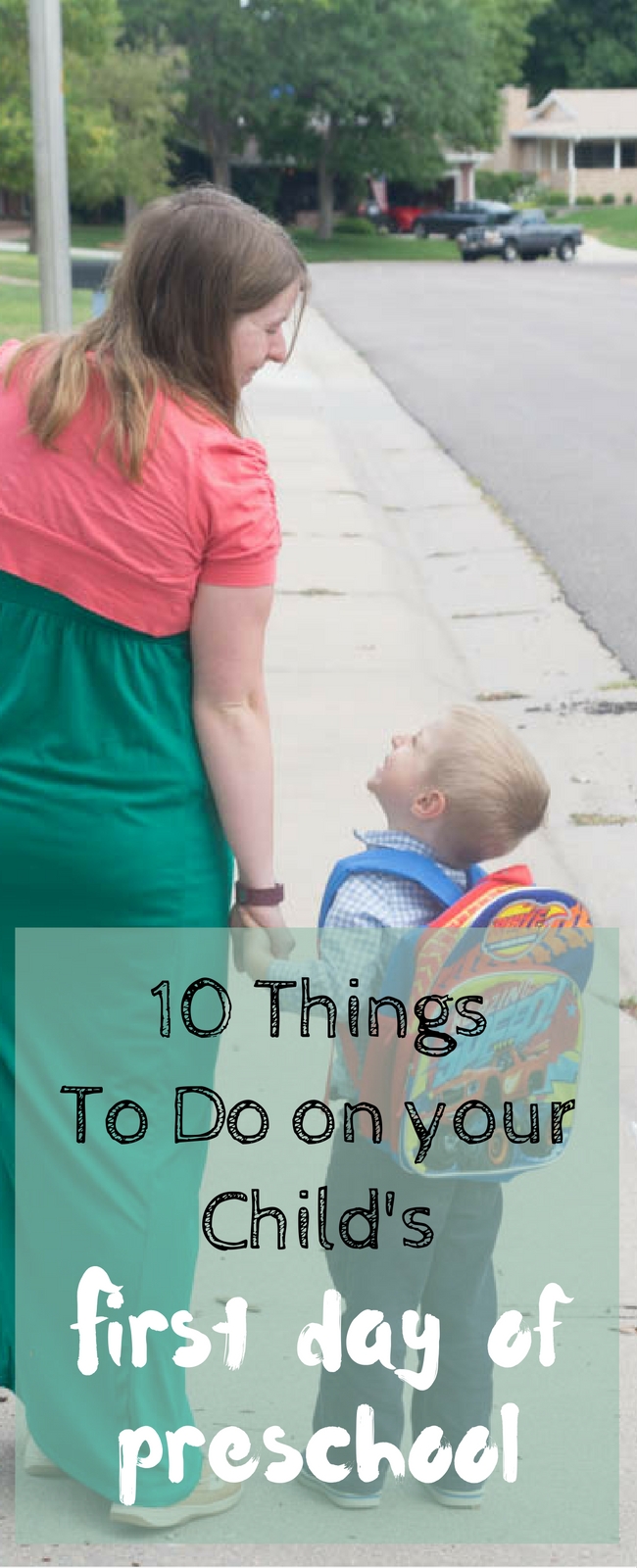 Bonus: Buy my friend, Hilary's, book about public school called "School Mom".  Read it and prepare before the big leagues next year when your baby starts kindergarten *cries in a corner*. Really though, it's an awesome preparatory book for navigating the public schooling world.