Surviving Pregnancy: The First Trimester. Tips on How to Make it Through those first 12 weeks!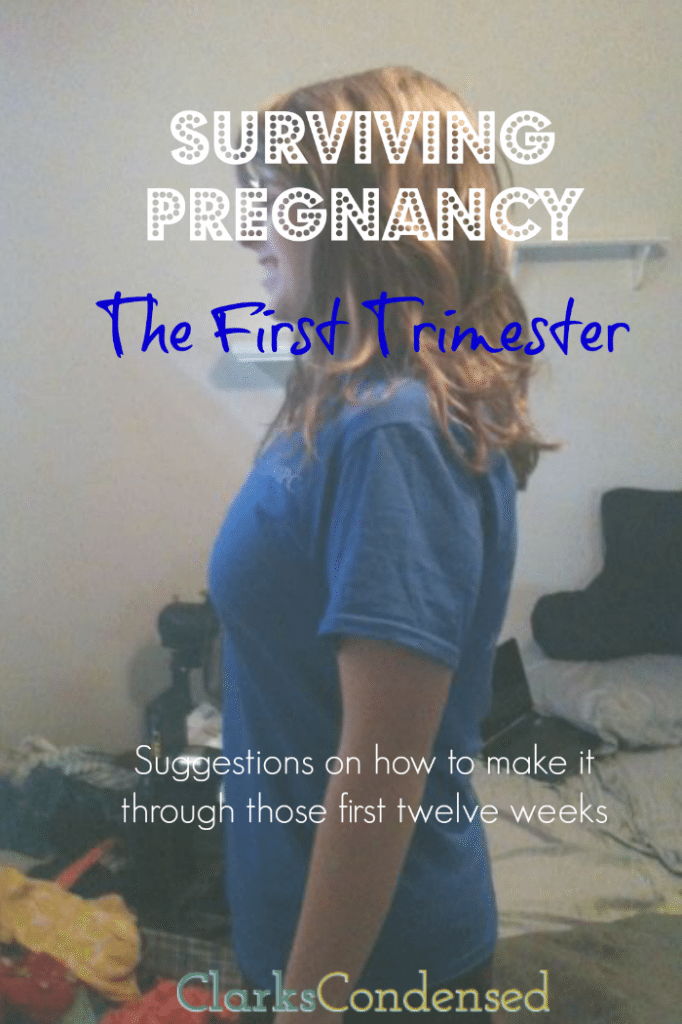 I just wanted the glow! The one that they promise you on the cover of those magazines. Well, I'm calling it — pregnancy sucks. Making a human being is really hard. I have no control over my body or my emotions.
Have you seen What To Expect When You are Expecting? It's probably one of my favorite movies. Yes, it's cheesy, but I saw it right after I had Jack, and I really felt like I could relate to the moms in it. I particularly could related to Wendy (played by Elizabeth Banks,) who said the quote at the beginning of this post.
Pregnancy has its ups and downs. Some have more ups than others, but it's definitely a crazy ride. While there are plenty of books and websites that have guides for every trimester, the next three weeks I'll be featuring my tips on how to survive pregnancy one trimester at a time. Here are some tips and suggestions for the first trimester.
First Trimester Survival Kit
First, here are a few items that might make the first trimester a little more bearable!
Pregnancy Pillow (get $50 off using the code C113D4 – it makes it only $39.95!)
Prenatal Yoga Video
What to Expect When You are Expecting (Both the informative book and the hilarious movie)
Stock up on inexpensive maternity clothes (you'll need them soon enough!)
Also, make sure to join our NEW pregnant mamas unite Facebook group – a safe environment to offer support and advice to other pregnant mothers. We also have a great breastfeeding mama's support tribe on Facebook as well.
Grab all these baby and pregnancy freebies (just pay shipping.) Use the code C113D4!

Carseat Canopy – we love ours!
Udder Covers – nursing cover
Nursing Pillow
Breast Pads
Belly Button Band
Baby Leggings
Have you ever heard of Stitch Fix? It's pretty much my favorite website EVER. You pay $20 for a styling fee, and then you get a box of carefully curated clothing and accessories sent to your door. You can keep whatever you want (and pay for it) or send it back! The $20 styling fee goes toward anything you buy. They have a maternity option, which I think is awesome. While you are laying on the couch feeling sick, order one, and it will be a nice surprise when it arrives in the mail!
Facts About The First Trimester
The first trimester technically runs until about 12 weeks. Your babies heart is beating at about 18 days past conception and is constantly growing and changing. In fact, the baby will be growing extremely fast during the third and fourth week. Your baby starts moving at about six weeks, and by 10 weeks, all organ systems should be functioning.
Your baby's heartbeat is probably between 120 and 190 beats per minute. By about 12 weeks, the sex of the baby can probably be determined, though most technicians probably wouldn't try to give you an answer. At the end of the first trimester, your baby can blink, can purse its lips as if it was sucking, and it can respond to touch. Oddly enough, even if you can't feel the baby, around 8-12 weeks is when your baby is most active.
Schedule Appointment
Most physicians don't want to see you until you are about eight to ten weeks, but I'd recommend calling to get an appointment as soon as you find out you are expecting. Quite often, physicians are scheduled out for weeks in advance, and if you just call a few days before you want to get in, you probably won't get that appointment. I think finding the right physician for you is very important, and I wrote an article before about how to find the good OB/GYN or midwife. I've found the best time to schedule your appointment is right when the office opens or right after the office reopens for lunch. Otherwise, you can almost always expect to wait in the waiting room for a while.
First Visit
The first visit can be kind of nerve-racking beforehand. That's how I felt at least. I had no idea what to expect. But don't worry, although it may be kind of long, it's nothing to stress about. Plus, if you're lucky, you might even get first glimpse at your little one. Here are a few things to expect:
My first visit took about an hour and a half, so make sure to schedule out a good chunk of time.
Bring insurance information and personal (and even family) health history
At my office, I started out each visit talking with the nurse. At the first visit, we talked for quite a while about everything. From health and fitness to depression to nausea medicine, we covered it. If you have any questions, be sure to bring them up to the nurse. I found that my time with my doctor was short, but the nurses were more than willing to talk with me as long as I needed. You'll also get your weight checked, blood pressure checked, and take a urine test — typical for every upcoming visit.
You'll likely be given information about certain genetic tests that can be done.
First ultrasound! Depending on your doctor, and if insurance covers it, you'll probably get to see your baby. This was definitely my favorite part, being able to see Jack moving around and hearing his strong heartbeat. They obviously won't be able to tell the gender, but you'll walk away with some fun first pictures.
When you go back to the examination room, most of the time, a nurse will come and check your babies heart beat. This will happen at every appointment — and it was always my favorite part!
Taking Care of Yourself
It goes without saying, that when you're pregnant, it's not just about you anymore. You are completely responsible for another human being and everything you do to your body while pregnant will affect that growing child. Kind of a big deal, right? Because of that, having a good start to your pregnancy — specifically during the first trimester — is essential.
If you haven't started taking prenatal vitamins, start now. While ideally you would have started them six months before conceiving, that isn't always a possibility. You should sleep whenever you can. Seriously, I can't stress this enough. It will give you more energy, help with morning sickness, and believe me, once baby arrives, you will wish you had slept when you had the chance. The first trimester usually isn't too bad sleep wise because you don't have a big belly in the way, so take advantage of that.
Eat healthy. Don't fall into the mindset that you are eating for two because growing babies don't have the same nutritional needs as a full-grown adult. While pregnant, you only need about 300 extra calories, assuming you started your pregnancy at a normal weight. Make sure to not indulge on the sweets too much and eat balanced meals regularly throughout the day.
Pamper yourself! I don't think there's any better excuse to pamper yourself than when you are pregnant. Give yourself a manicure, get a pedicure or even a massage. It might make you a little less stressed out and help cancel out some of the not-so-glamorous parts of pregnancy.
Exercise
As hard as it might be to work up the energy to exercise, you won't regret it. Even just trying to go on a walk every day (or even every other day) will leave you feeling more energized. Because I was in school while I was pregnant, I had to walk just about every day, probably for a total of 45 minutes.
During the first trimester, most types of exercise are still okay. Obviously, if you have some type of high-risk pregnancy, some restrictions may apply. But for the most part, play it by ear. Don't work so hard that you want to throw up or pass out but working up a good sweat is fine. There's a lot of great pregnancy exercise videos out there, for when you don't want to leave your house.
The further along in your pregnancy you get, the less you can do, but for now, enjoy your workouts! I really enjoyed doing Zumba, walking, and running on the treadmill (well, when I felt good enough.) My doctor told me that moms who exercise throughout their pregnancy tend to have easier deliveries, and I think he's right!
Symptoms You Might Experience During the First Trimester
When I was six weeks along, I went to an appointment at WIC. The nutritionist asked me how I was feeling, and I told her great – because I hadn't been sick at all! I ate those words later, because about a week later, I started throwing up every day, at least once or twice, and I constantly felt nauseous. That lasted the majority of my pregnancy. I was definitely not one of the people who magically felt better after the first trimester ended. Be sure to read all about morning sickness here.
While everyone is different, the most common symptoms during the first trimester of pregnancy are fatigue and morning sickness. Don't let the phrase morning sickness fool you, though — it can happen all throughout the day! If you are feeling extremely sick, be sure to talk to your physician, who can prescribe you an antiemetic medicine if you want it (or you can try some of these natural morning sickness remedies.) Some other tips for keeping morning sickness under control are to eat small snacks or meals constantly throughout the day or buy some ginger candy. My nurse told me that I should have some crackers by my bed to eat right before I get out of bed, which did help (I would get sick the second I stepped out of bed each morning otherwise.)
You may also experience some other less-than-pleasant side effects, such as discharge, constipation, mood swings, or heartburn. For me, the heartburn didn't come until the third trimester. It's even common to experience some bleeding, though any bleeding should be reported to your doctor, just for when. Food sensitivities or aversions might also start during the first trimester as well.
And of course, you may start to experience some weight gain. I didn't gain any weight until about 20 weeks…but I was also throwing up a ton, so it made sense. The average woman gains between three and six pounds during the first trimester, though consult with your doctor for how much you should be gaining. You may also start to get a little pregnancy pooch, though it may feel (and look) more like you just ate a little too much. Don't worry, though, soon enough you'll be pulling out your maternity clothes!
Mood Swings
So I think this deserves a section all on its own. Pregnant women are notorious for having mood swings. I remember reading somewhere that even if you have the most wonderful spouse in the world, there might be times during pregnancy that you just want to strangle them. I was SURE that would never happen. But I'll admit, there were times that Forrest would say the most normal, simple thing, and I would get so annoyed! And then the next moment I would feel terrible and want to cry. And then I'd be giddy. Moods change so fast while pregnant, so just expect that. And tell your spouse to expect it as well. They can be hard to deal with, but if you both are ready for them…it makes them a little more endurable. And always, always, have an emergency supply of chocolate. I found that solved most problems! However, if you find yourself experiencing more than just the occasional bout of sadness, be aware that prenatal depression is a real thing. I wrote about my experience with prenatal depression here — don't suffer alone.
At the end of the movie What To Expect When You're Expecting, when Wendy has her baby, she looks at him, and then at her husband, and she says, "I think I found it . . . He's my glow." And regardless of how easy or hard your pregnancy is, I hope that you'll feel the same way. I know I did.
disclaimer: I am not a medical professional, therefore, don't take my advice as such. so you should always consult with your doctor about anything you are worried about.
To read the next parts of this series:
The Second Trimester
The Third Trimesteror click here to read what I wish I knew about pregnancy before I was pregnant
And if you are miserable and sick, you might want to read this post about morning sickness remedies
Prepping for Labor and Delivery? Here's EVERYTHING you need to know about Labor and Delivery, as well as 15 things you may not know about recovering from child birth.