Let's all be honest! Who here feels like a zombie by the end of your "stay at home" shift? If you answered with "me", keep scrolling and take a peak at a day in my life raising two kids. I did not intentionally become a stay at home mom, but here we are! In the midst of a crazy pandemic. My 2nd grader ( Kimberly) is distance learning and my 10 month old (Jameson) is riding out his life as he normally would!
6:30 AM is when my husband leaves for work. Kimberly makes her way downstairs at this time too and plays quietly while she awaits my awakening (this occurs at 7:30 when Jameson wakes up).
"MOM! What's for breakfast?" Kimberly harps as I barely manage to make it one foot out of my bedroom door. This is how I am awakened!
"Good morning to you too, Kimmy. Give me thirty seconds so I can pee and wake up," I say back as cheerfully as I can. I set Jameson down. He starts screaming. Here we go. Welcome to my day!
Set Up A Schedule
The kids sit and eat honey nut cheerios for breakfast. It takes Kimberly no more then five minutes to scarf down her breakfast, put away her bowl and get back to the questions.
"What are we doing today? I'm bored," Does anyone know how to make eating breakfast. a little funner for children or am I the only parent that bores their kids with food?
We are only on week one of thirty six for the school year. We are starting out distance learning as we wait to see how the year is going to play out. So we definitely don't have a solid schedule down yet but, here is how we are going to try to get it done!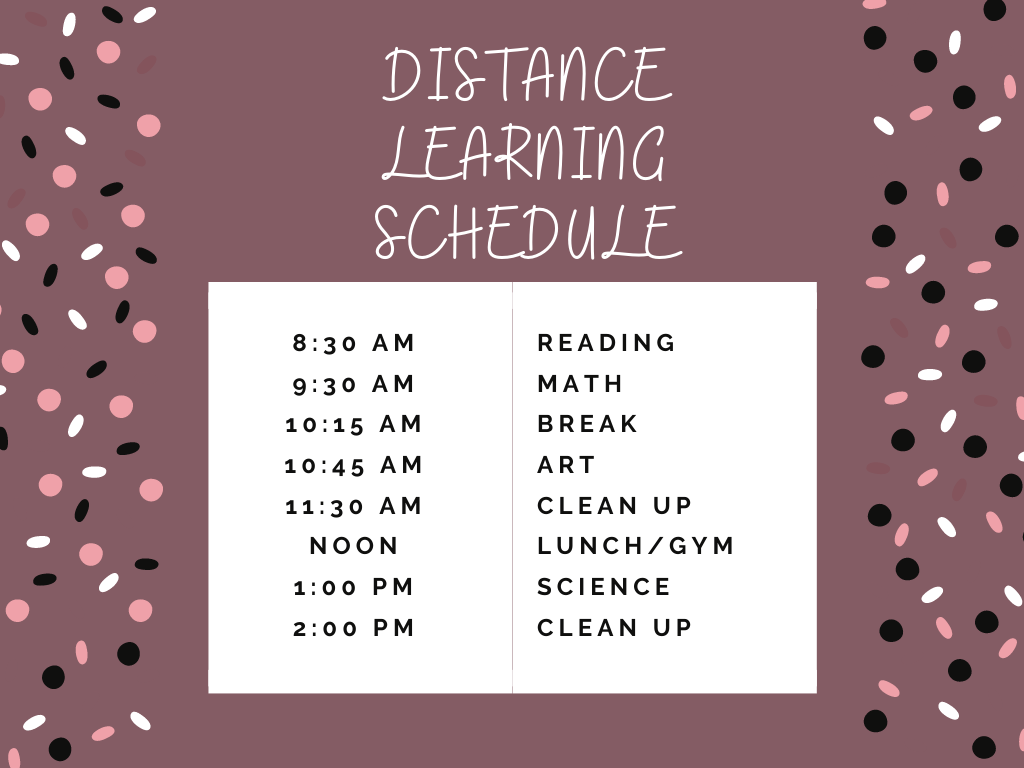 Usually having some daytime structure, makes being a stay at home mom a heck of a lot easier. Having an infant at home makes any type of structure extremely hard because trying to entertain him in general for a whole day is almost impossible. Being a mom apparently makes you a superhero so of course, I'll make the day as structured as possible! I lay Jameson down for a nap at 10 AM. That should solve our problem for an hour or two!
Kimberly works on school work and I take a break from helping her to get some house work done. Jameson wakes up just a half hour into his nap. His normal morning nap time is usually so much longer than this. There goes my stress free cleaning time.
I put away Jameson's toys and he has no problem taking them out immediately. I start to fold laundry and guess what? You guessed it. Jameson comes right behind me and unfolds the clothes. It's a never ending battle!
Find Time For Yourself
We've reached lunch time. HALLELUJAH! My "stay at home" mom shift is almost complete! My afternoon looks a lot like my morning except for one huge factor. Somehow, I need to squeeze in a workout.
Often, I lose sight of taking care of myself. I would rather have a clean house and happy kids, then to take time to myself. I sometimes have to remind myself that my children need a happy and healthy mom and working out is a source of happiness and health for me. What does working out do for you , mama?
Workouts at home with my kids, aren't as structured as they are if I were to make it to the gym. An at home program that I used to religiously follow is 21 Day Fix. I've shifted my fitness goals now and I don't wind up using this program as much. My workouts might now involve dumbbells and mini bands, Check out this article if you're looking to start your fitness journey!
Have a Glass of Wine
This might ULTIMATELY be the best part of my day. Dad gets home from work, This means my stay at home mom shift is over, right? Wrong! I'm trying to tackle dinner now. Jameson is crawling around whining because I can't hold him while I'm standing over the stove. Kimberly is again bored and wanting me to play with her now that shes done with school for the day.
Dad showers and I pass the kids off to him once he gets out so I can pour a glass of wine and relax. To me , relaxing is sitting at my computer, and working on my writing. Kid free time is the best time for this! Believe it or not, I started this article a few days ago while trying to play mom!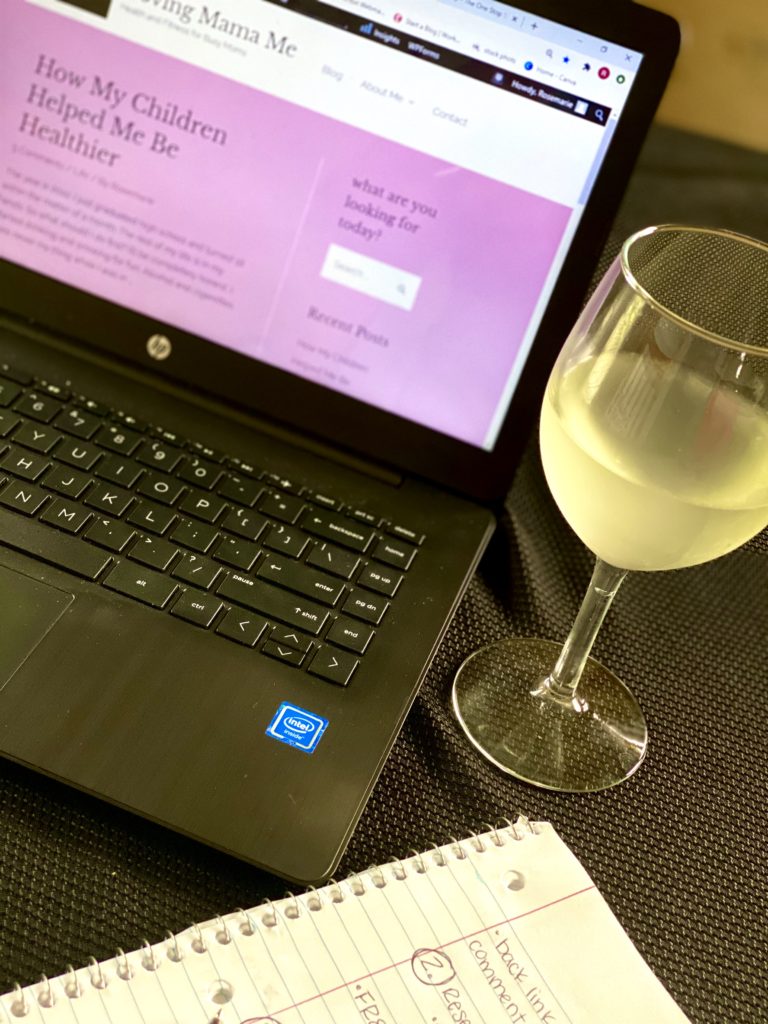 After reading about my stressful day, I'm sure you need a glass of wine too so go grab one! Then come back and share with me how you survive being a stay at home! Leave a comment, mama!