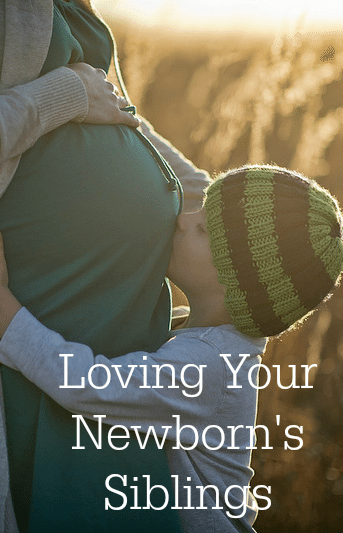 Katelyn is a wife to a graduate student and a stay-at-home mother to fraternal twin three-year-old girls and a new baby boy, and is in love with them all.  She grew up in Wisconsin, graduated from BYU, and currently lives in Indianapolis.  She spends much of her free time blogging, reading books, going places, teaching Sunday School, and enjoying herself.  She writes about her family, her life, and her interests over at What's Up Fagans?   You can also follow her on twitter @whatsupfagans, on Facebook or on Pinterest to know "what's up" with her.  
Loving your newborn's siblings
When contemplating adding another member to your family there are often many fears and worries – Can we afford another? What's the best age gap for optimal sibling bonding but also parental sanity? Will we be able to do this all again and enjoy it all the same?
The question Katie asked me to answer was "How do you show your older child love before/after the new baby arrives?"
My husband and I recently added a "little" 9.5lbs bouncing baby boy to our family. And the transition has been very good. His older, three year old, twin sisters adore him and still feel loved by us. And here are some things that helped us:
Have twins first, so they have a playmate at all times and thereby won't need you as much, and give birth to a large, happy, non-colicky, sleep- super-well baby.
Just kidding!
While those things certainly did help in our situation, you can't always control such things, nor can you plan on them. So for the things we could control, this is what did that seemed to help:
Prepare Them
We tried to be very open and honest with our children while pregnant. We explained that there was a little baby growing inside of Mommy's tummy. We had them feel the baby move around inside of my belly. We let them help us set up his bedroom, hang up his clothes, buy diapers for him, and more, all the while explaining that they were for their baby brother.
We also tried to prepare them for what a new baby would be like. We told them that babies cry a lot, sleep a lot, and wear diapers. They can't do things that they can do as big girls. We also explained that Mommy and Daddy are going to need their help taking care of the baby. But, most importantly, we emphasized that he, the baby, will love them and that we, the parents, will still love our girls just as much as our new baby.
It's also a good idea to help your child become more independent in certain areas before the new baby arrives. It will make things easier for you, and your child.
Involve Them
A new baby is part of your growing family and it's important for your older child to know that the baby will need help, and that your child can fill that need! I have been amazed by how much my girls have wanted to help me. I've had them not only fetch me diapers and wipes, but even wipe a dirty bottom and throw out dirty diapers of their own free will!
When the baby starts to cry, they know they can help him by trying to get him to take a pacifier, or by singing him a song. Other times they bring him blankets, hold his hands, hug him and kiss him. They even help me burp him by patting him on the back with me.
I know sometimes as parents we tend to freak out about anyone else touching our new baby because we're paranoid they'll hurt them. This is especially true when those other people are clumsy, self-absorbed, toddlers and preschoolers. But, if we don't let our older children/child show love and affection themselves to the new baby, they could easily become jealous, or fearful of the new baby, or resentful. Letting your child share in your love fest with the new baby is so important to actually showing love to your oldest child.
Get Back to the Routine
The first few weeks with a new baby are just going to be a little rough as you all get to know each other and try to get sleep. But, as soon as you can, get back to doing the things you normally did before the baby came. Go to playgroup and the library and the zoo. Get back to normal nap times and meal times. This shows your oldest child that they are still special, that you still understand their needs. While a new baby makes getting out harder, you have to realize that this is your new reality, and adjust. And the sooner you can, the happier you all will be.
Once we started getting back onto our routine and taking our girls places and getting out with them, they seemed much happier. In fact, they even starting taking better, longer naps, and even stopped getting up in the middle of the night. They feel loved because we aren't ignoring their needs and wants.
Give them attention
There may be some acting out after the baby is born. They want to know you still care about them. So, going along with my previous point, pay real attention to your oldest child. When they come to you for help, give it to them, look them in the eye, and tell them constantly how much you love them.
While you may not be able to meet their needs immediately anymore, you can try to have them bring things to you instead, like their books, or have them try new things on their own, like getting their own silverware. My girls have actually become more independent since the baby was born and more responsible and seem to love their newfound freedoms. I think they feel extra special that we trust them with these new responsibilities.
While a new baby makes it harder to have energy to play with your kids as they may require, try your best. And if all else fails, it's always okay (at least in my book), to "watch" a movie together as you actually catch up on some sleep.