Curious about new products for your baby? Just want a nice surprise in the mail every month? Here are the best baby subscription box companies for new moms!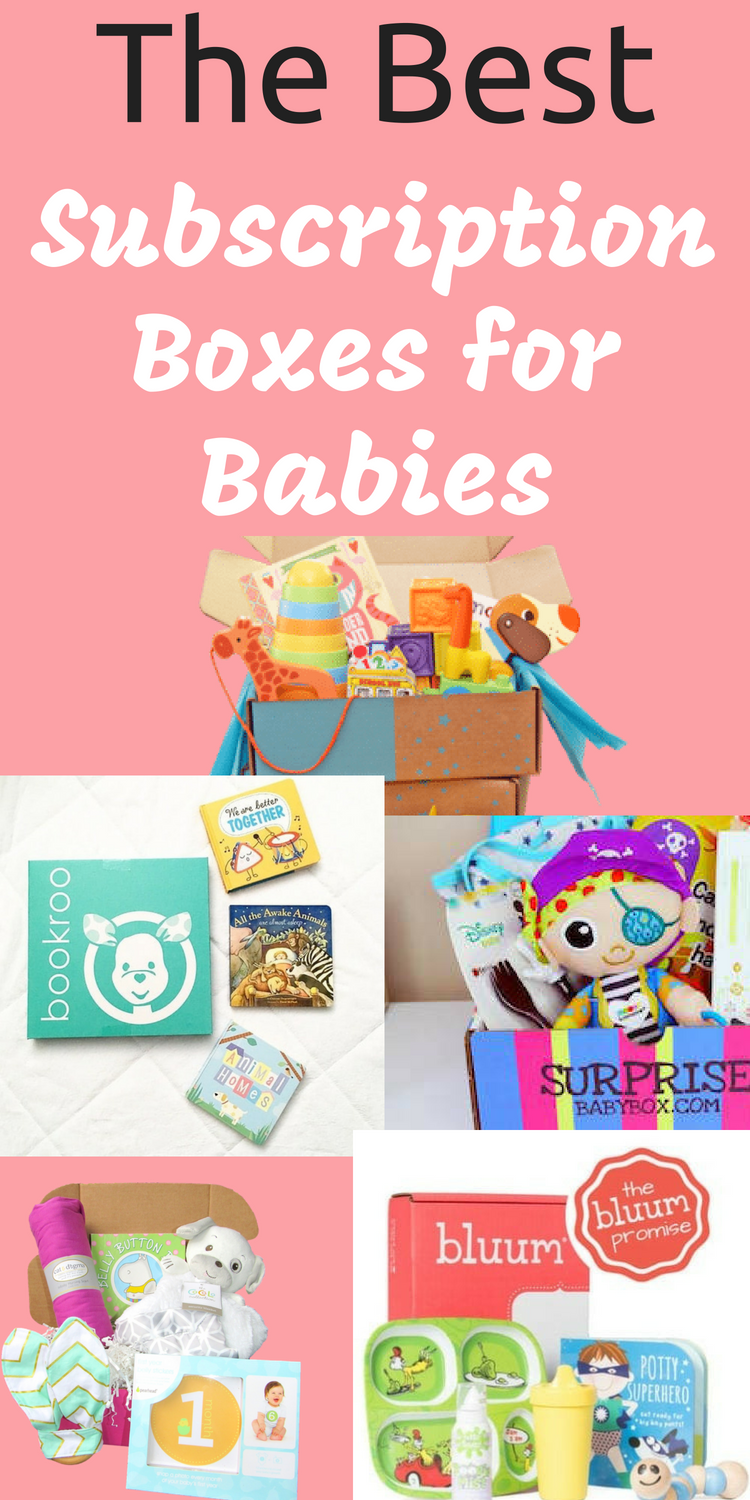 Subscription Boxes for Babies
Subscription boxes are a great way to learn about new products! Which is why a subscription box for baby is a great idea.
In the past, we've talked about pregnancy subscription boxes, so it only seems logical to share about baby subscription box companies that we've found, as well! That's the next step in your parenting journey!
As parents aren't we always trying to find the next big thing to help make our life easier? Not to mention our babies?
However, it can be hard to buy every new and exciting product that we here talked about with our friends, which is why subscription boxes come in handy – they give you a sampling
There are so many fun subscription boxes available right now that are catered just for baby! There are lots of different price points which make it affordable every month and they are delivered right to your door- such a plus for a new mommy!
We want to share with you some of our favorite monthly subscription boxes for babies with you to help you decide which ones might be a good fit for your baby!
Monthly Subscription Boxes for Babies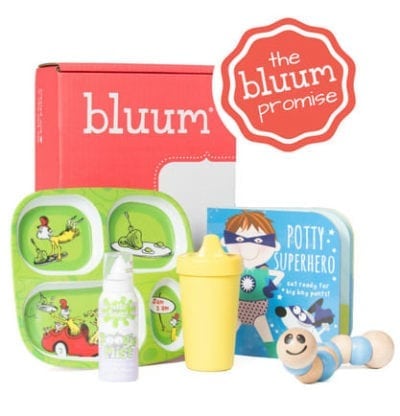 Bluum is a monthly baby and toddler subscription box.  It customizes every box to your child's age in months. The boxes include full-size items for your child, and usually an item or two for mom as well. It runs $34 a month and is billed automatically. Each box will have at least $45 of product in the box, so you know you are getting a great value. You can also pay ahead for a 6-month or 12-month plan.
Okay, this takes the cake for the CUTEST idea for a baby subscription box! It's all the rage to take a monthly picture of your baby so you can measure their growth (it's so fun to see at the end of the year). I know I thought long and hard about how I wanted to set up Oliver's when he was a baby.
This subscription box is $24.99 a month (no contract), and they send you a box of props for a monthly baby picture. I love the idea!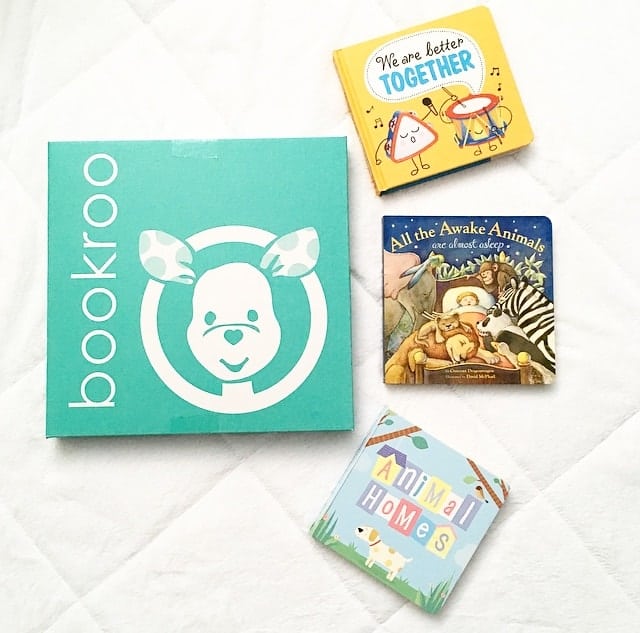 This is a book subscription company that sends a specially curated box of books for your child's specific age each month. We've gotten several of these boxes, and my boys are always so excited.
It's never too early to start building your child's library, and they offer some great board books for babies. For babies, they will receive three board books each month – with no contract it is $19.95 a month, but if you commit to more months up front, it can be as cheap as $16.95.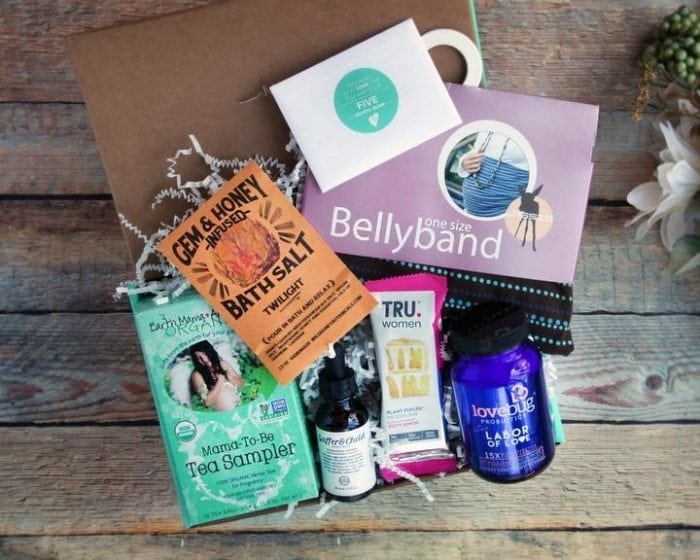 Ecocentric Mom is a monthly eco-friendly subscription box for women, moms, and moms-to-be.
They have a number of subscription options: Woman/Mom Only, Pregnancy, Mom & Baby (for ages 0-18 months), Mom & Toddler (18 months – 4 years).
Shipping is free within the United States, $12 to Canada and your month subscription box will run you $32.99 a month. If you make a purchase of $45 or more, you can use the code CLARKS10OFF for 10% off!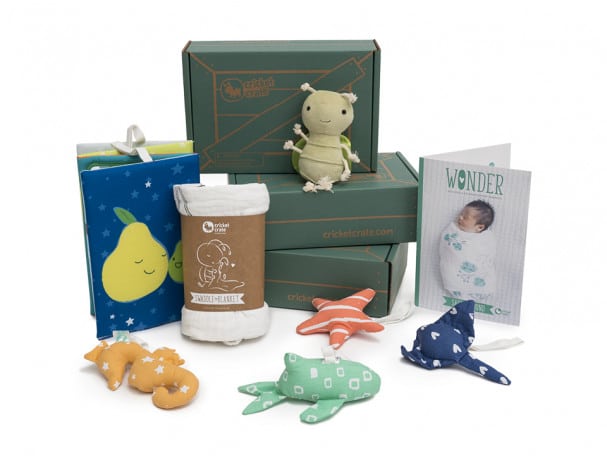 Kiwi Co is one of our favorite companies. They have STEM-themed subscription boxes for children 0 to about 15. The "Cricket" box is perfect for children 0-2. It comes with:
Developmentally appropriate projects
Wonder Magazine – contains tips, tricks and activities to do with your baby
Cricket Board Book
and more!
We got a sample of one of these recently, and I can honestly say it's one of my favorite subscription boxes. You can check out all their offerings here. They even have a Cricket box that is specifically for newborns!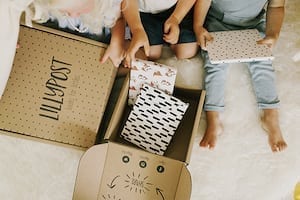 Lillypost is another amazing subscription service that revolves around books! Each month you will receive children's books plus extra goodies to your door. Select from Board Books, Picture Books, or a mixture of both and receive 3 books each month.
Each box has a retail value of $25 to $50 and costs as low as $15.95 a month. Another reason to order-  for every box they ship, they donate a book to a child in need.
Shipping: $4.95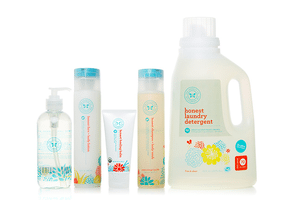 The Honest Company Essentials Bundle includes premium natural, non-toxic personal care & home cleaning essentials. You can choose from baby wipes, baby lotions, soaps, conditioner, dish soap plus so much more!
The Honest Company is known for providing high-quality products that you can know are good for your babies.
Choose 5 items from their collection each month for $35.95
This isn't a traditional subscription box for a few reasons:
They are a one-time gift basket, so no monthly fees or subscriptions required
You know exactly what is in the box when you purchase it, so there are no surprises. Often with subscription boxes, you will get a few items you may or may not like, so this guarantees you will at least know ahead of time what you are getting.
Gooby Box offers boxes for mom and baby, and they both make for great unique baby shower gifts. All the products inside are tried and true products that moms everywhere love.
The newborn essentials box contains:
Velcro swaddle (we LOVE theses)
Baby Bum Diaper Brush
Safety 1st Lighted Nail Clipper
Vaseline
Boogie Wipes
Phillips Avent Soothie Pacifiers (the only ones my boys would ever take)
Pacifier clip
They also offer a baby bottle variety set, which I think is amazing. It contains five popular bottle brands (I think all of them were on the list we compiled of the best bottles for breastfed babies), and they come with the slowest flow nipple that bottle brand offers, which is SO important. Not all babies take to bottles easily, so this is a great way to have multiple bottles in your arsenal without having to buy a box of each.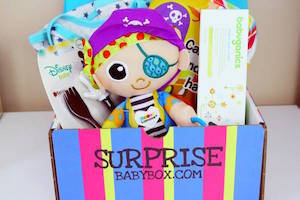 Each month is  a surprise to what you will get! Some items may be:  First baby books, clothing and accessories, toys, teethers, meal accessories, healthy snacks, bottles, cleaning products and more! They feature brands such as Carters, Gap, Gerber and many others.
This box costs $29.95 a month
This is a FREE box that you can get for creating an Amazon Baby Registry and having $10 or more purchased from it. It really is filled with some awesome items. You can start your registry here. It will contain products for both mom and baby. I've seen diapers, wipes, bottles, a diaper clutch, shampoos, lotions, and more! They change what is in the box frequently, but it's free, so you can't really complain!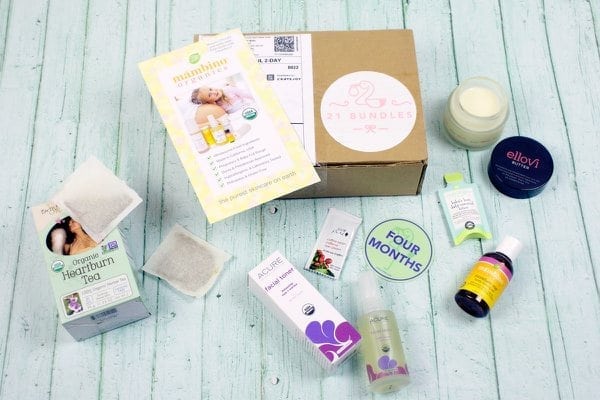 21 Bundles is a service that sends baby-safe products to expecting and new parents every month. We love that it is for every stage you might be experiencing!
Each month is tailored to your specific stage of pregnancy and new parenthood.
21 Bundles covers the 9 months of pregnancy and your baby's first year. Get this box for $39.99, they ship world wide and you can cancel at anytime.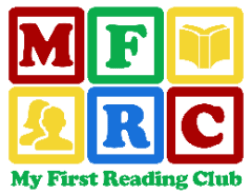 My First Reading Club focuses on books for children from birth to age 5.
Each month children will receive a gift box with 2 age appropriate books- and sometimes a surprise gift!
It will run you as low as $19.99 a month with free shipping!
YUMI
Meal delivery services are all the rage right now – why not set one up for your baby?
Of course, you won't need this until baby is 6+ months, but I know that so many moms stress about what to serve their baby, and if they are giving them the best.
Although we are big fans of baby led weaning, pureed foods definitely have their place. YUMI offers a subscription-based meal delivery service designed just for your baby. It comes with up to 20 meals a week (the more you get, the less they cost per meal).
Keep in mind that this is a bit pricey. The least expensive a meal will end up being is $3.95 per container, which is a good chunk of change for baby food. However, I've never seen such fancy baby food in my life, and you can rest assured that they are made with fresh, organic ingredients and contain superfoods, which are important even for little ones.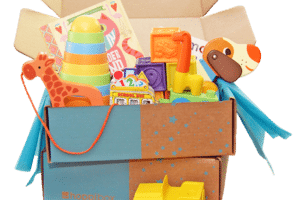 Hoppi Box is a quarterly toy subscription company that delivers an of assortment of high quality, full-size toys tailored to their specific age, developmental stage and milestones. They focus on children 0-4 years. A new box is delivered to you  in March, June, September & December. You will be charged $75 every three months- including free shipping!
Each box contains 3-5 toys that are specially tailored to your baby's age, developmental stage and milestones. Suitable for ages 0 to 4 years.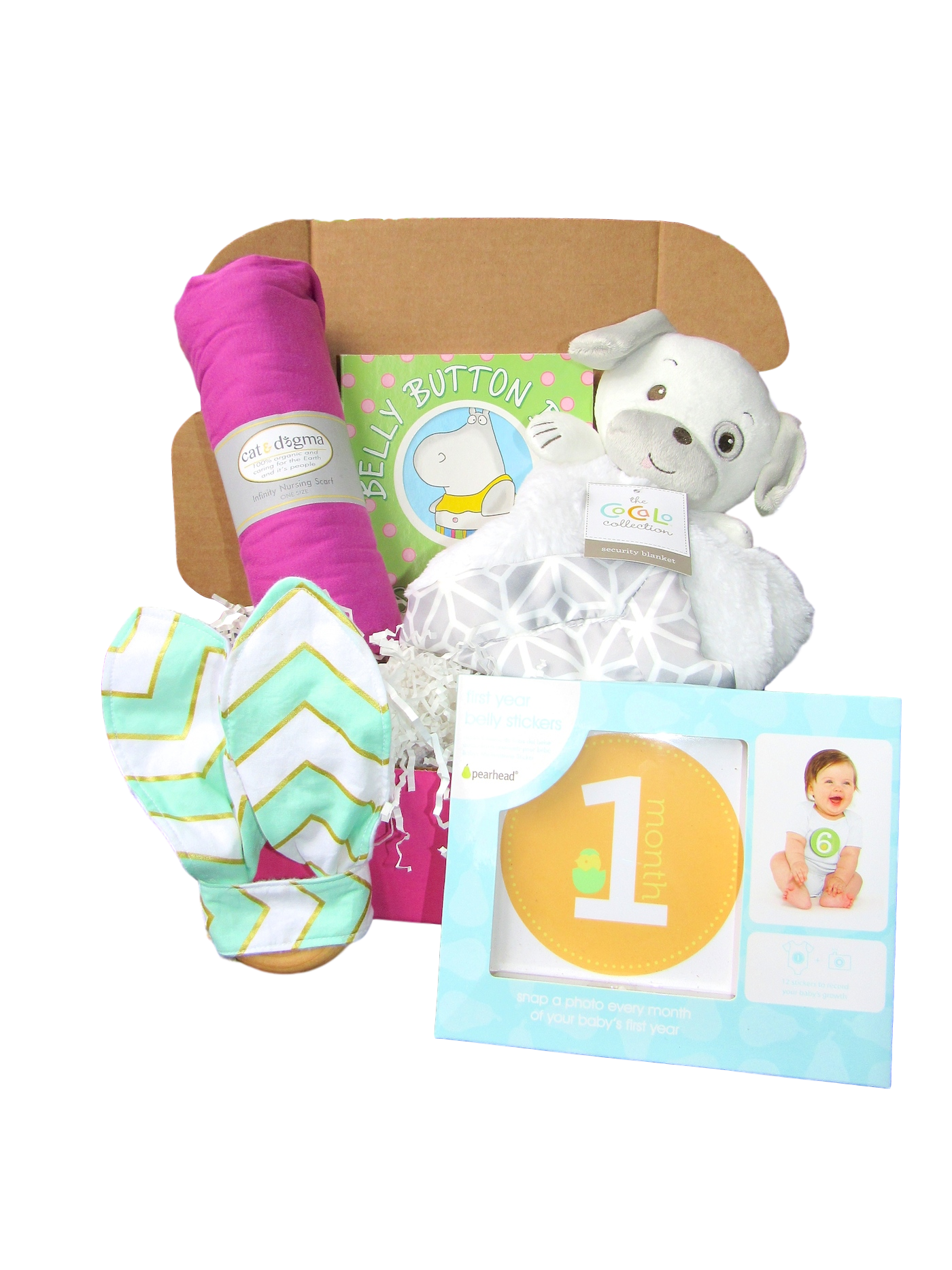 This is a mommy box company that has a variety of boxes for both mom and baby. Their "shower with love" box has some really great baby products in it, including:
Nursing scarf
Security Blanket
Monthly Belly Stickers for baby
Belly Button Board Book
Organic Bunny Teether
They also have a box meant to pamper mommy a little bit – because let's be real, mom needs that after having a baby!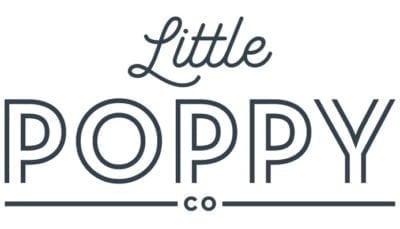 This is for you all the girl moms out there! For $11.99 a  month (plus $3.50 shipping) you will receive three new bows each month. Pick between a nylon elastic or alligator clip.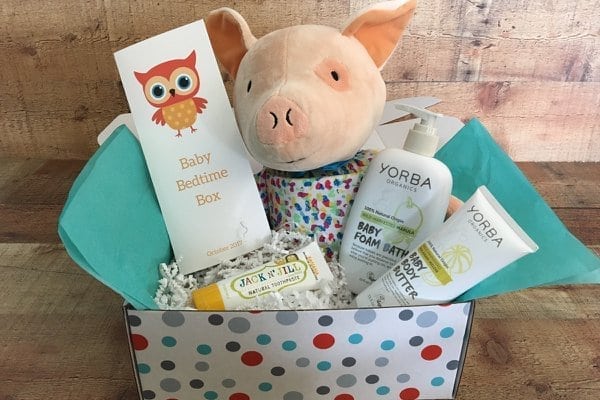 These boxes come in two sizes.  The Mini Baby Bedtime Box has 2 to 3 bath and bedtime items per box.
The Baby Bedtime Box has 4 to 6 bath and bedtime items per box. Both boxes include toys, soaps, books, bath foams and more!
This box costs $39.99 a month with free shipping.
There you have it – our favorite baby subscription box companies! Let us know if we missed your favorite.
OTHER SUBSCRIPTION BOXES YOU MAY ENJOY: