Looking for a functional, yet compact diaper bag? Maybe hoping to find the best diaper bags for dads? The Peke•Buo bag might just be that! Here is our review of this innovative diaper bag/changing pad, as well as an exclusive Peke•Buo coupon code – get 10% off sitewide with cc10 and 35% off with cc35 on non-clearance items!
I am always on the lookout for the latest and greatest baby products.
So when my brother-in-law told me he had just heard about the greatest diaper bag, I knew I had to learn more.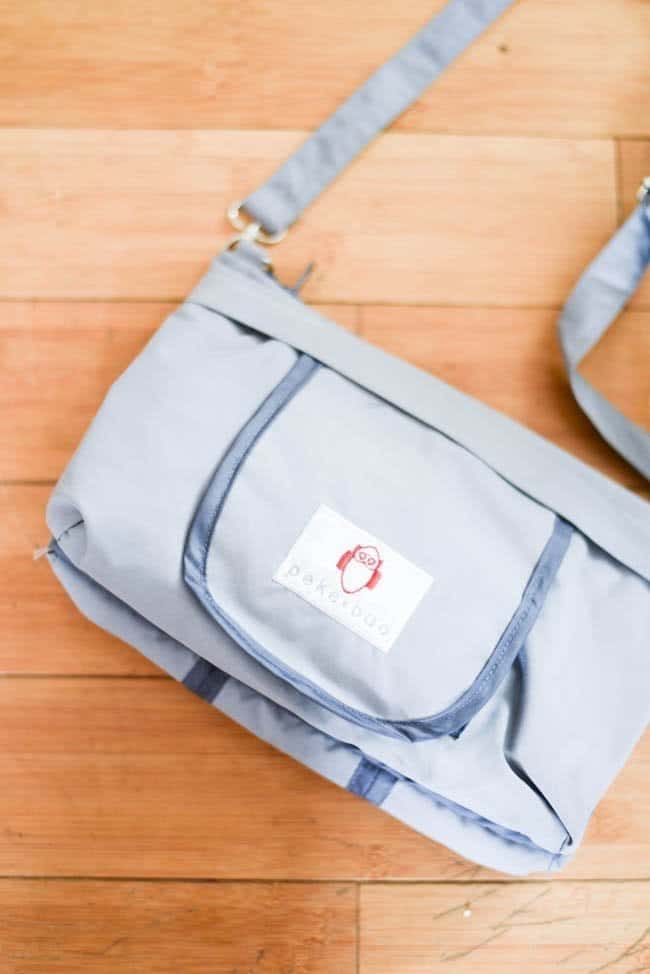 You see, I'm not a big purse or diaper bag person. I only bring my big diaper bag to church, and it's a good day if I even remember to bring my wallet places.
I just don't like carrying around bulky bags (and neither does my back!).
The Peke•Buo diaper bag and changing bag is the solution for moms like me – or really, for anyone who doesn't always want to carry a big diaper bag to the bathroom!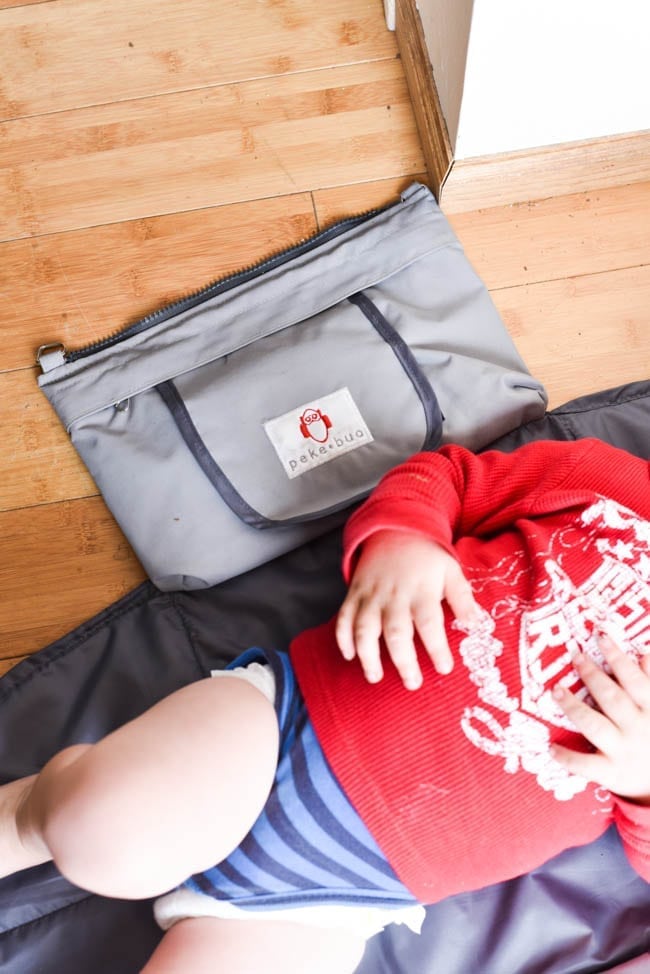 So, I was pretty thrilled when the creator, Sariah, was willing to send me a bag to try out. I could hardly wait the few days for it to arrive.
You guys – this bag is amazing. And I can't say enough good things about it.
It's easy to carry around, it turns into a changing pad at a moment's notice, and it actually has a surprising amount of storage in it.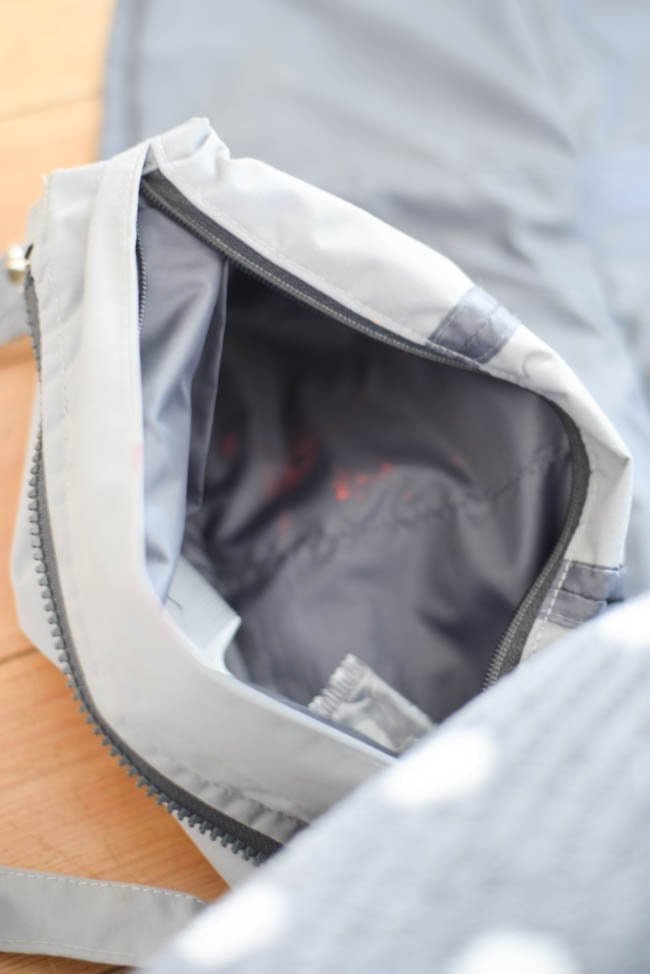 When we were flying to North Carolina this past December, we almost missed our flight, and right as we were getting to the gate, Oliver had a big, poopy diaper. Instead of having to lug my diaper bag (or worse, grab a diaper and wipes and hope there was a changing table available), I just flung this over my shoulder, ran to the bathroom, and I was able to change him on the changing pad surface in record time.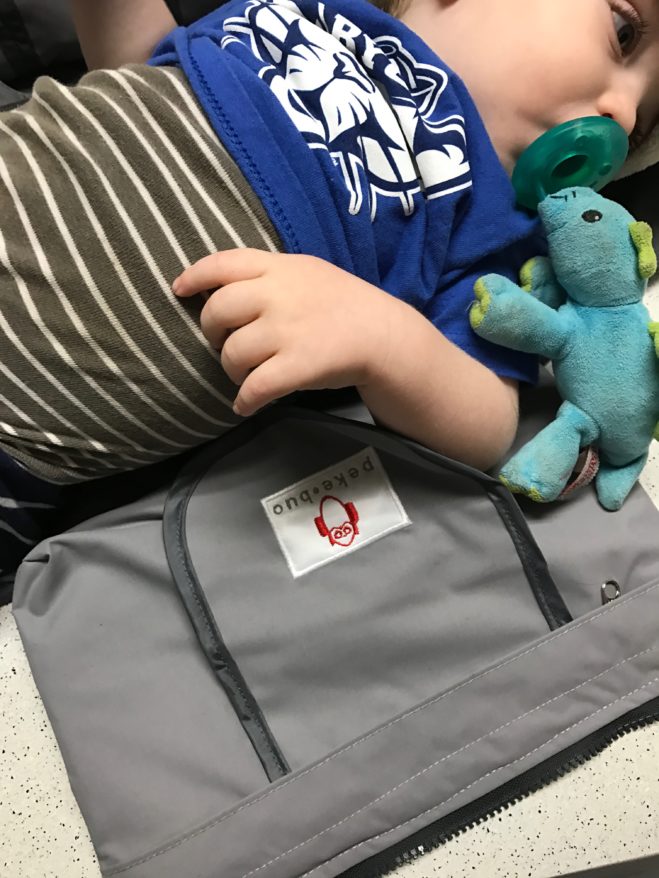 Here is the process of turning it from a functional bag into a fully equipped changing pad: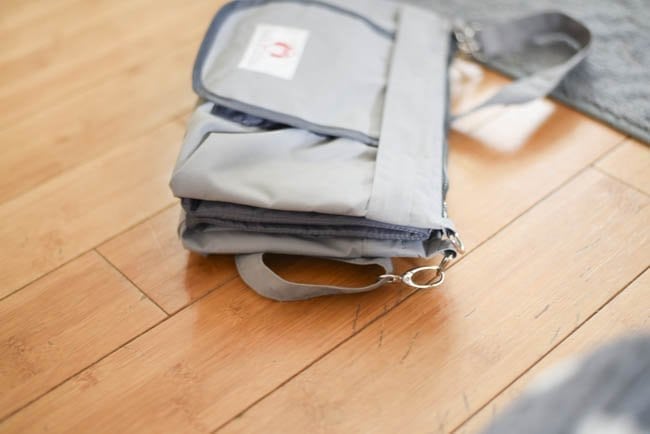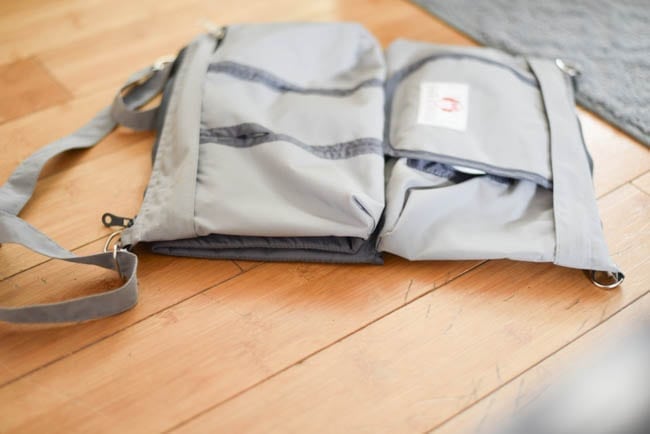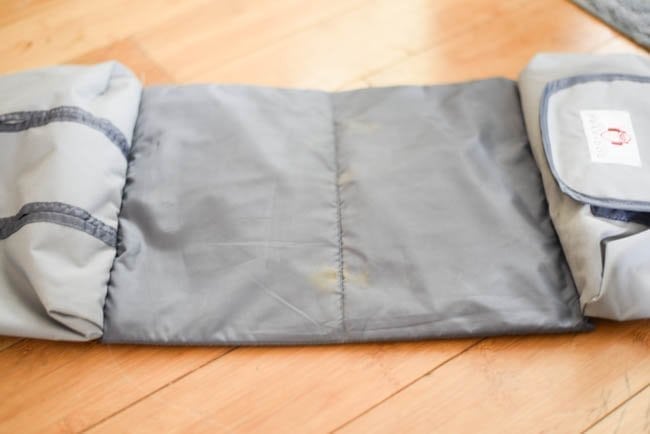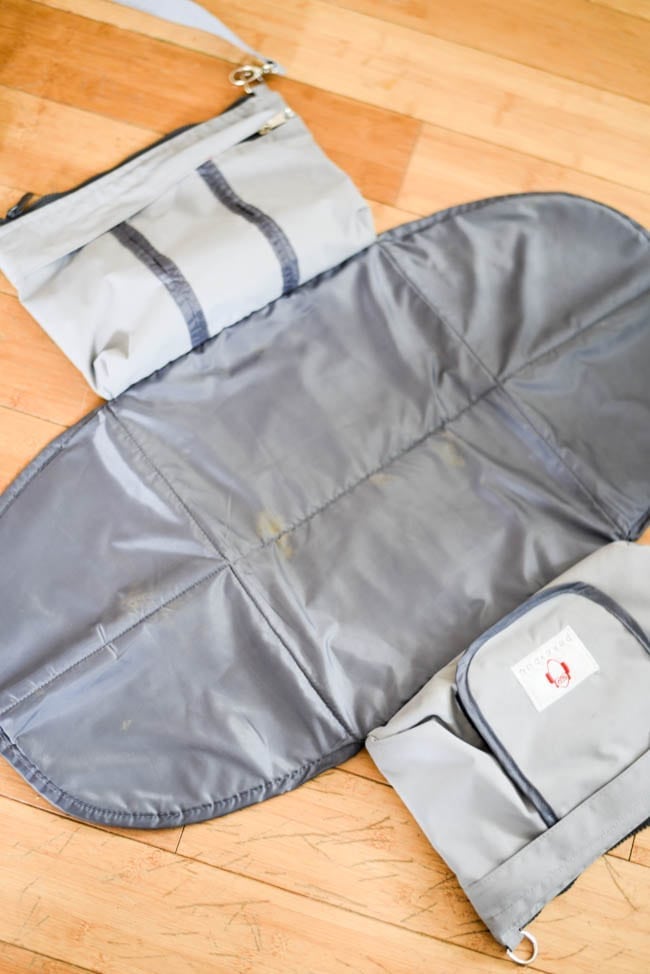 Not convinced? Here's a video:
I love this bag, and I use it on a daily basis. It's nice to have it fit into a larger bag or to just use it on its own. I love that there's plenty of space for diapers, my IDs, my Lipsense, wipes, treats, and more! It has this handy magnetic feature that holds one or two diapers in place (though you can also fit a diaper into the pocket!).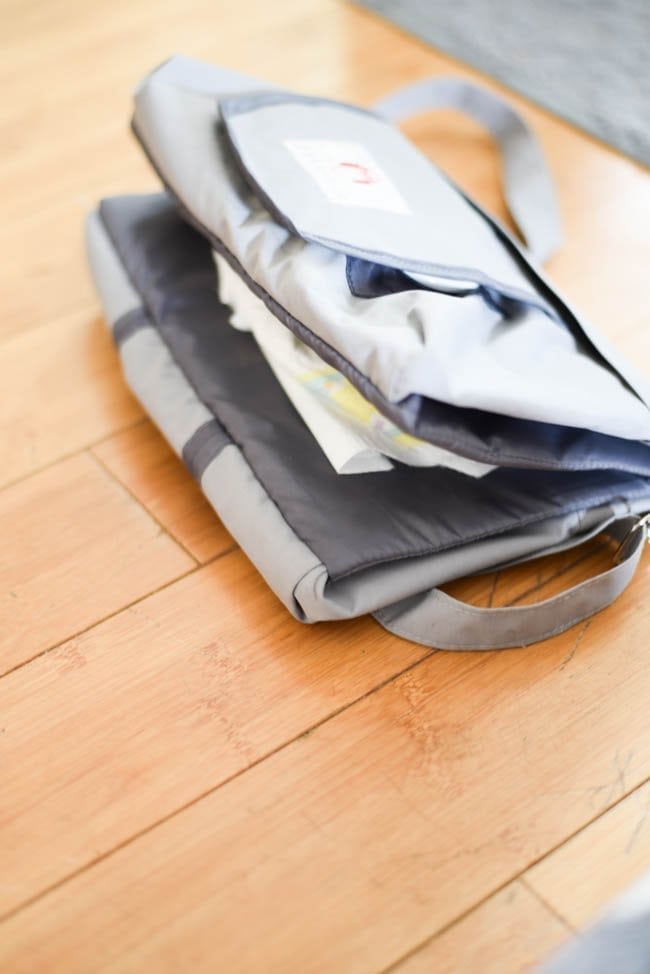 It is also mom and dad approved – Forrest doesn't mind carrying it around when he has to change Oliver's diaper, and I've heard the same from other dads. It just makes life easier.
This definitely gets 5 stars from Clarks Condensed – if you use the code cc35 at checkout, you can get 35% off any new bag, and use cc10 for 10% off clearance bags.
Currently, it's available in grey, blue, and red – all of which are super cute!
Because I think it's important to give you all the best review and thoughts possible, the people at Peke•Buo sent a bag to a few of our readers to try out. Here are their honest reviews and thoughts after using the bag for awhile:
Natalie's Review
Our baby is only 11 weeks old, but we are always out and about with him to church, friends' homes and restaurants. The Peke•Buo is a great diaper bag disguised as a purse.
I've only begun to realize all the handy details like the tissue and disposable bag pockets, but is has already proven itself very useful. The moment I saw the special pocket and opening for quick access to baby wipes, I knew it was a well-designed product!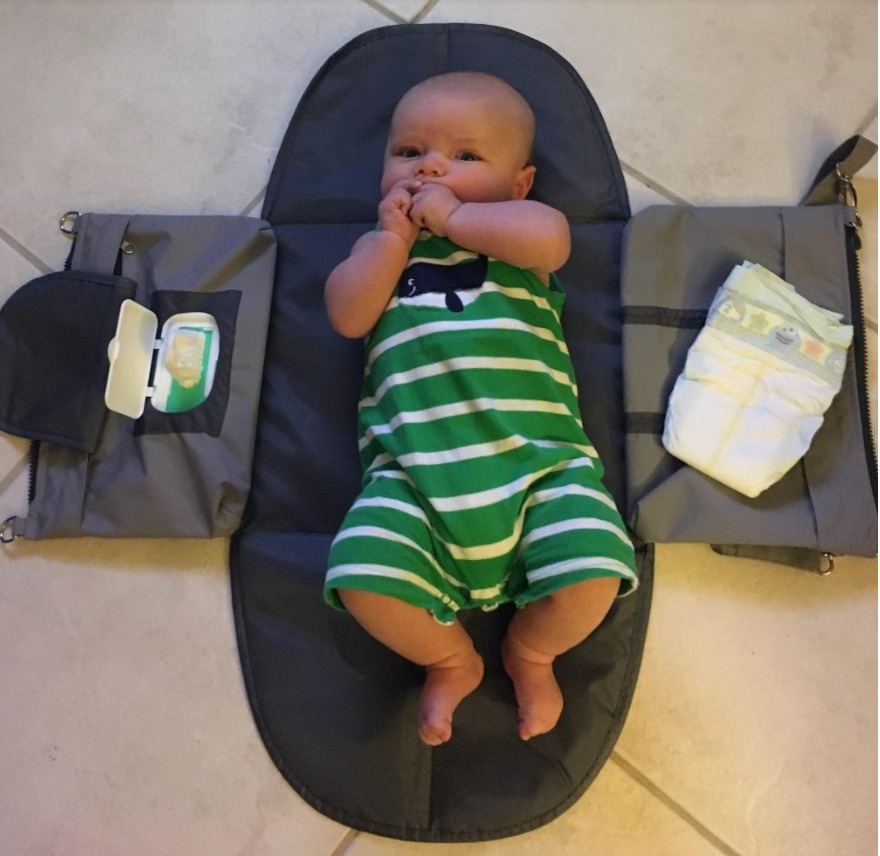 The thing that I like most about the Peke•Buo is that you open it up, everything you need is right there, accessible with one hand, which is essential when you're holding the little one with the other!
My husband's favorite part is that it doesn't scream "diaper bag" which makes going out in public or taking it into the men's restroom much easier on him. Bottom line is it keeps everyone happy!
Sandra's Review
I am a mother of four children and with the birth of each child, I also purchased a new diaper bag. I loved something about each of those bags, but all of them allowed my diapers and wipes to get jostled around.
As you can imagine, with two children currently in diapers, my diaper bag goes everywhere with me. It contains a mini village in it. Need a snack? I'll give you a granola bar. Bored? I've got crayons, books, and cars. Messy diaper? Well, give me a minute and I'll produce a crumby diaper and hopefully a half full wipes container.
But ever since I have had the Peke•Buo diaper bag in my possession, diaper changing time has become so much easier. Finally, a high-quality bag, roomy enough to hold a couple of diapers in two different sizes, wipes, diaper cream, and a few other things all in one spot!
And even better, it fits inside my current diaper bag, so all I have to do is reach in, pull it out, use it, and return it when finished. It's so easy! I also just grab it and go when I'm making a quick trip to the grocery store or to Costco with one of the kids. It has an inside zipper pocket for me to put all my essential cards in that I would need for that trip out. This is the ultimate, go-to diaper bag that any mother would need.
Stacie's Review
We didn't even have to use this bag for 24 hours before we fell in love with it.
This morning my husband and I decided on an impromptu trip to an old friends house and I thought it would be the perfect opportunity to try out the Peke•Buo!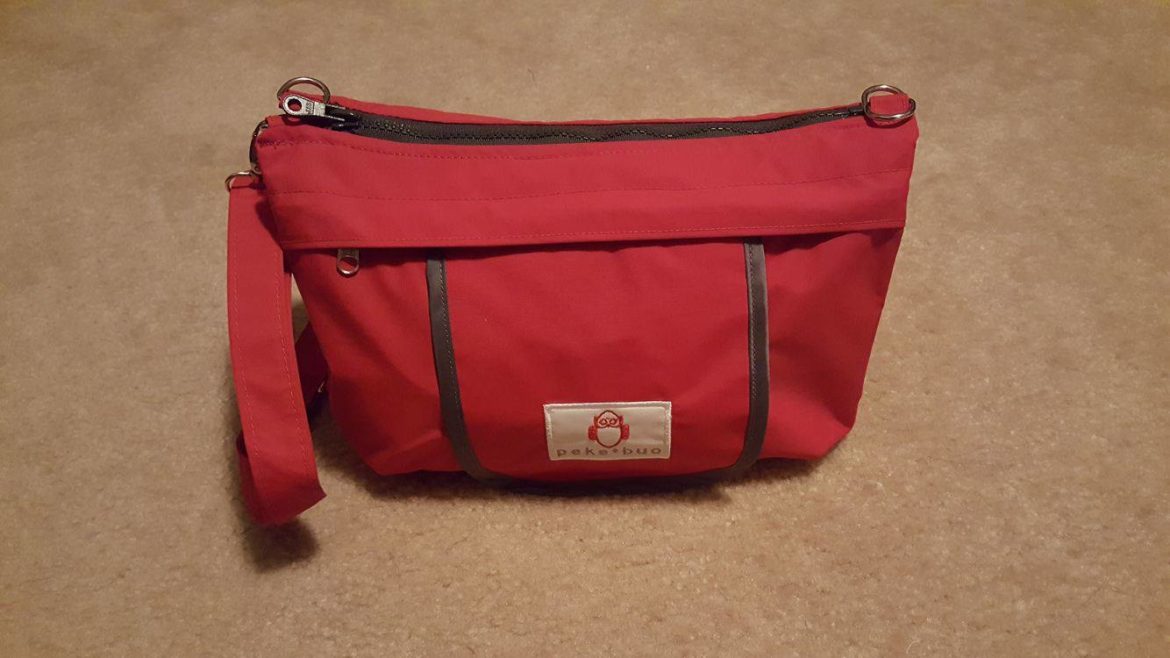 I packed it up and was immediately surprised at what I could fit inside. We traveled with six diapers, an entire clean outfit, a brand new pack of wipes, her travel size eczema lotion, travel wash for sticky hands, and the wonderful NoseFrida that we never leave the house without.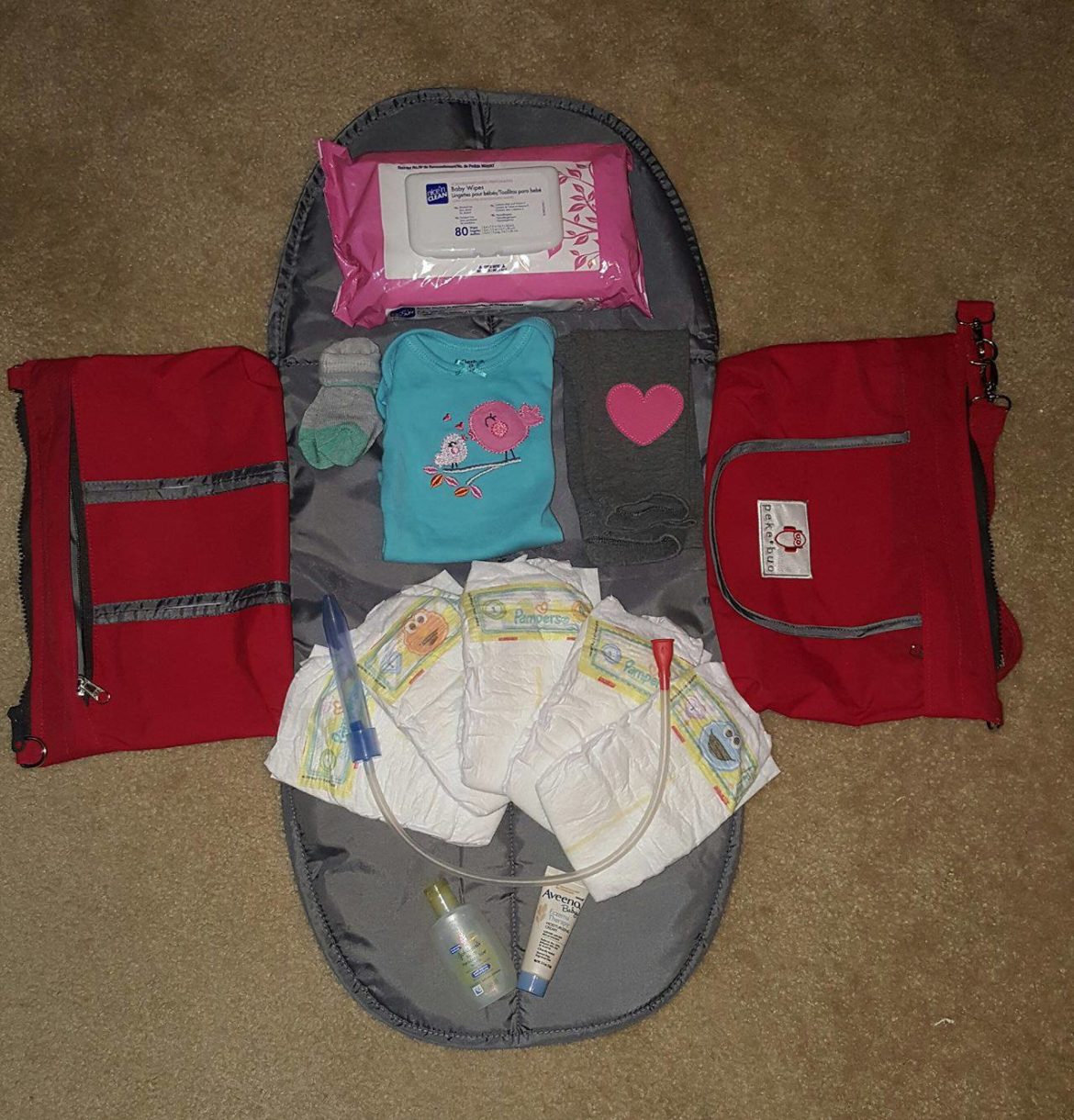 Even with all of these items inside, there was still room for more; we could have easily fit another outfit or more toiletries if needed. Once at our friend's house we set her up for a diaper change (which was extremely easy all you have to do is unzip it) and got to show it off.
The area the baby lies on is comfortable and so easy to wipe down if any messes happen; which of course my 5 month old was kind enough to provide us with one. The only issue we had was one zipper sticking but it just seems like it needs to be used a bit to loosen it up. All in all, this compact bag is genius and a perfect go-to bag for any busy parent. My friend is in the process of purchasing one for herself and I've found a new baby shower gift for all my expecting friends!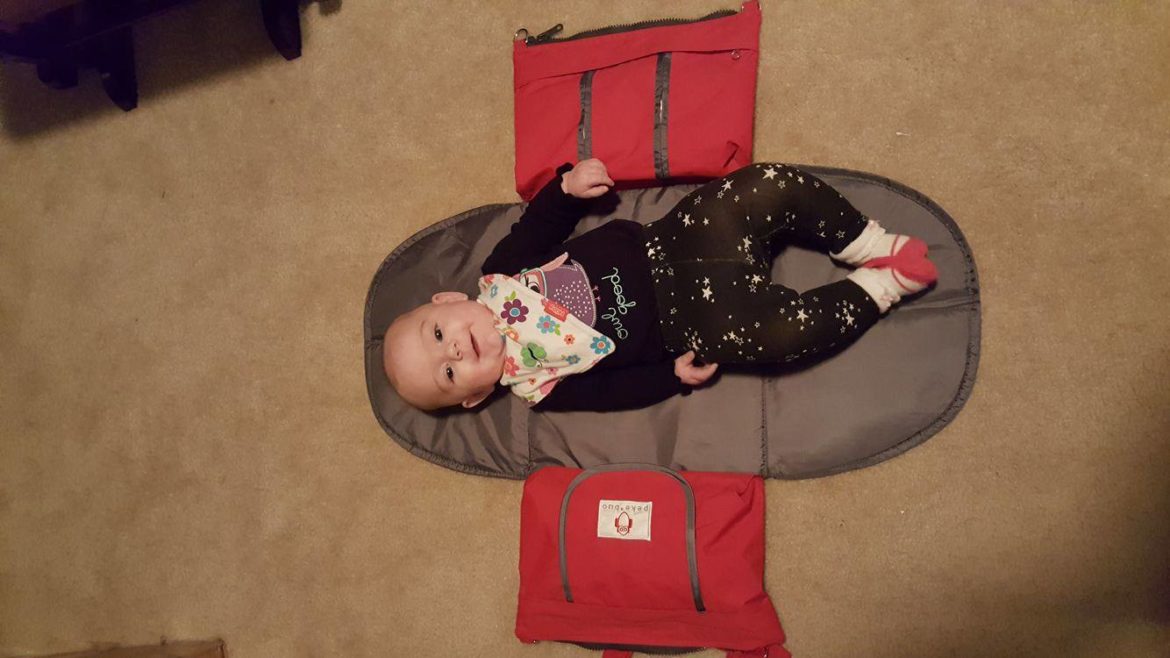 BUY ONE NOW – USE CC35 for 35% off any bag!