The Internet can be a wonderful, educational place. However, it presents many dangers for children and families. Here is everything you need to know about protecting your children online, and what kind of threads your children might be facing.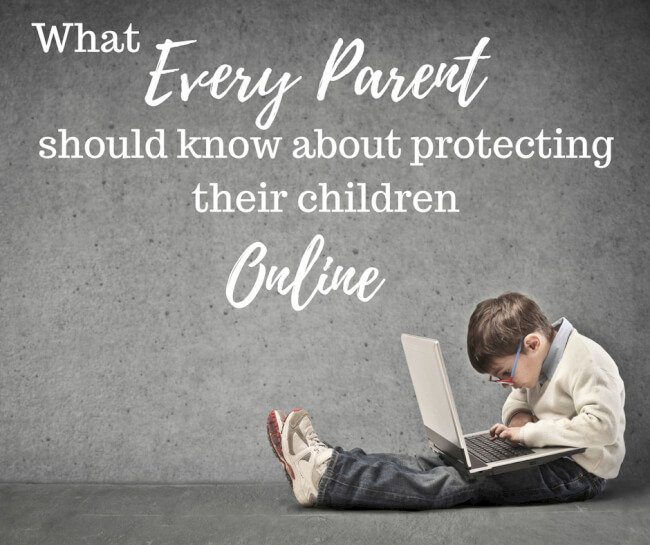 We live in a very tech-enabled world where children often know how to use electronics better than their parents do.
While I'd be lying if I said Jack never played on our tablets or on the Wii, I do feel strongly that we need to limit his consumption of the Internet and electronics. Not only do I think the best childhood memories come from outdoor time and imagination, but I think some of the greatest dangers my child may face stem from the Internet.
I believe that as parents, we need to be so proactive about our children's exposure to the Internet. Children are being exposed to scary and inappropriate things earlier and earlier, and that terrifies me.
While I know that I can't protect my children from all the bad things in the world, you can rest assured I will do all I can to protect them from filth and others that may harm them, especially as their minds are still developing and growing.
So, here is everything I think parents should know about protecting their children online. Whether you just brought your baby home from the hospital, or they are well into their teen years, hopefully all can learn something from this.
Talk with them
It's so important to keep an open dialogue with your children – no matter how old they are. You are doing nobody any favors by avoiding "awkward" or scary topics.
Believe me, the last thing you want is for your child to stumble on something on the Internet, be terrified to tell you, and then it somehow spiral out of control from there.
You want them to know that they can talk to you about everything. Jack is only four, but I often talk to him about making sure he tells me if he ever sees or hears something inappropriate.
Talk to your children about the dangers of the Internet. They need to know that while the Internet can yield many great things, there are a lot of people and services designed to hurt them.
I mean, it's good to even just talk about how they shouldn't download programs, click on weird links from emails, etc. because they can download harmful malware (though hopefully you have a quality computer protection installed in case this does happen!) I don't think most kids are looking for trouble, but if they are aware that trouble can find them, they can be more proactive.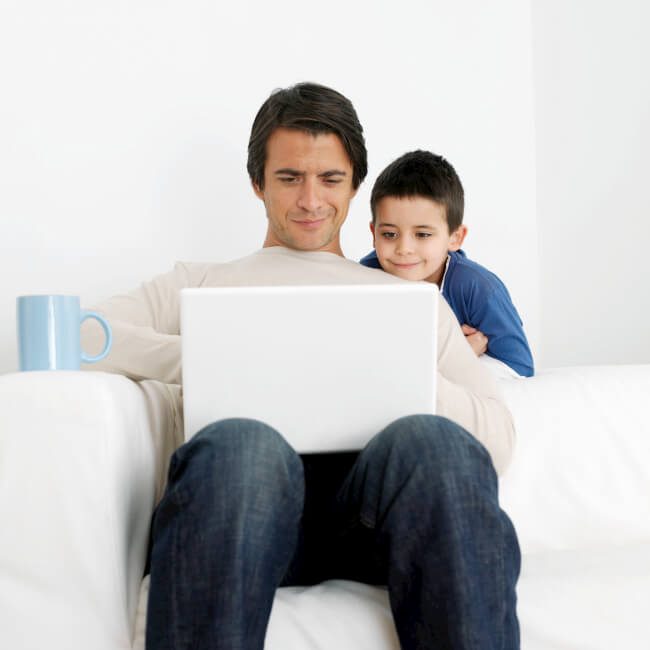 Keep computer in high trafficked area
This is one of the most important things. We always tease my parents because they had their computer when we were growing up in probably the worst possible place – a dark corner in the basement.
There is no reason a child, teenager, or really, anyone, should have a computer in their room or be in an area that doesn't have people walking through regularly. Not only does it draw people away from their family, but in my opinion, it's just a recipe for disaster.
Keep your computer in a well-lit area where people often are – such as in the kitchen or family room.
Online Protection
I read an article recently that was about children being exposed to pornography on the Internet at alarmingly young ages. The children were all asked if they had any kind of filtering on their computers, and most of them said, "No, my parents just assume they can trust us."
No matter how trustworthy your child is, there is no reason to not have a filter on your computer. Bad things can pop up even if someone isn't looking for it. They might accidentally download a malicious file when looking for a game, or they could accidentally give out personal information on a website. You just never know. Every computer should have a filter – even for adults!
Safe Search
Hopefully, your online protection will block these things from sneaking through, but it's always good to have all the resources you can put into action. On Google, you can activate "safe search" – here are instructions how. YouTube has Kids YouTube (though some of the shows on their might make you ban it), and you can also enable restricted mode so they can avoid questionable content.
Limit social media
There are so many social media sites, and young people are probably the biggest consumers of it. But don't feel like you have to allow them to be on everything. It's okay to limit their consumption of it. Will they try and sneak it? It's always a possibility. But honestly, I think by limiting what they can and cannot do is important.
Your child doesn't need to be on every social media (especially when they are younger.) Social media can do a lot of good, but it also breeds contention, jealousy, and is just a huge time suck. You are the parent – you can say no.
Random checks
Don't be afraid to check your children's social media accounts and computer activity. While you should absolutely allow your children to have their privacy, when it comes to the Internet, my philosophy is that if they are under your roof, you can have access to their accounts.
Check electronics in at night
Don't allow your child to take tablets, phones, etc. to bed. There is absolutely no reason they would need it at night in their room. All devices should be turned in before bed, and I would recommend keeping them in your room. Electronics are addicting – you never know if they'll try and sneak them!
If they want to read at night on their phone or device, encourage them to pick up an actual book. Libraries and bookstores still exist for a reason!
Be aware of sketchy apps
There are a lot of sketchy apps out there that can be downloaded to mobile devices. Just be proactive about seeing what your child has access to. There are apps out there that are designed to "trick" parents into not thinking certain apps are on the phone by hiding them. This is a great article that goes over apps all parents should be aware of. My friend, Kristina, wrote an excellent post about what every parent should know about Instagram. I agree with it 100%.
Ban Chat Rooms
Chat rooms, forums, and Facebook groups can be very helpful. I often look at forums and am a part of a lot of Facebook groups, but I know how to keep myself safe. I'm not in them looking for new friends – I am in them looking for advice (mainly in regards to parenting topics, some health problems I have or that my sons have had, etc.)
Children really don't have any reason to be chatting with strangers in these types of places. That is the scary thing about the Internet – people can be whoever they want to be on the Internet. And unfortunately, sickos love finding places like this to prey on innocent children.
Dangers of the Internet:
It's easy to become complacent and not be aware of the dangers lurking online. Here are several things I think all parents should know about Internet dangers that face their children.
Cyberbullying: The internet, texting, and social media was just starting to get popular when I was in high school, but cyber bullying started right off the bat. I mean, even among adults you can see this. People really love that anonymity that comes with the Internet, and the ability to say whatever they want online. It's really scary.
When I was in middle school, there was a website called Xanga. You could write down your thoughts, talk with others, etc. I started one because I loved to write! I followed a few people from school, and soon after, I saw them commenting back and forth to each other about how I just was trying to be cool like them and was not. It wasn't horrible cyberbullying, but it really made me sad. I can only imagine how bad it has gotten since then, and I've seen some very sad things happen as a result of cyberbullying.
Talk to your children about cyberbullying – help them to feel confident in confiding in you about topics like that. Not only should you talk to them about telling you if someone is cyber bullying them, but make sure they know that they should not do it themselves. I'm sure all of us think the best of our children, but cyber bullying is a real thing, and unfortunately, someone's child is the bully. Be aware of what they are saying to others, and if you see them cyber bullying, stop it before it gets worse.
Pornography: I'm sure this is what most people think of when they hear people talk about the dangers of the Internet. No matter how you feel about pornography, no child or teenager should be exposed to it (and there is plenty of research that says why.)
I feel very passionate about making pornography much more difficult to access. It ruins lives, desensitizes the minds, and is running rampant throughout our society. It truly is addictive as drugs, and just as we hope our children don't gain access to drugs, we need to make sure they don't get access to pornography.
I highly recommend checking out the website "Fight the New Drug" for more information on how to fight pornography and protect your family.
Sexting: This scares me so much. I feel like sexting is an epidemic among teenagers. Teenagers should NOT be sending provocative text messages or photos to others for any reason. Not only is it not appropriate behavior, but these messages can easily be saved and distributed among peers very easily.
Sexual Predators: It literally makes me sick to think about all the perverts and pedophiles in the world who use the Internet to lure in victims. They troll children websites. They try and act like they are kids. Do not allow your children to use Internet forums or chat rooms. I think this is one of the places that predators hang out the most.
Catfish Schemes: As I mentioned earlier, people can be whatever they want to be on the Internet. Someone can easily create a new Facebook profile, steal a photo from the Internet, and act like they are someone they aren't. Sometimes, a person takes on a whole new persona and creates relationships with others based on the lie. This is called catfishing. There's a whole show on MTV about it (though your kids shouldn't watch that, either!)
I see a few catfishing stories happen over the years, and they are always quite sad. The person doing the manipulating creates a relationship (often romantic) based on these lies.
Limits Imagination: I dread the day my children start to lose their creative imaginations. I hope that we can cultivate it so it doesn't disappear completely – but a part of growing up means losing it in some ways. I have no desire to push that along any faster than it happens.
One of my sisters told me to resist Jack loving video games for as long as I can, because it's like they forget totally how to have an imagination after that. I agree with her, and I think the same can go for phones, tablets, and computers.
Malware, Scams, and Viruses: There are so many scams out there! I mean, think about all the emails you get from some Nigerian prince telling you that you inherited his fortune. While those are pretty dumb, there are more cleverly set up ones online that even adults might fall for.
Educate your children on not signing up for things without your permission, setting up your computer so they can't download things without your permission, etc. And don't let them know your credit card number so they don't sign up for things!
What have you done to help your children stay safe on the Internet?
To learn more about Norton by Symantec products, visit the Learning Center
.