Need some great school lunch ideas for school? Here is the ultimate list of ideas, hacks, and more to make your school year go much more smoothly!

Kids Lunch Box Ideas
Although I knew Jack was starting Kindergarten this fall, well, since he was born, I was not anticipating that he would be eating lunch at school.
We've always planned on sending him to half-day Kindergarten, and I had just assumed they didn't serve lunch.
Well, we found out that school we are sending him to recently decided to have the half-day kiddos stay for lunch so they can interact with the full day kids.
So for the past few weeks, I've been trying to figure out the best method for making school lunches as unstressful as possible. I've found a lot of great tips, and combined with my semi-recent experience with my own school lunches, hopefully, this guide will be helpful!
Published on August 12th, 2017; updated August 2019
BE SURE TO JOIN OUR LUNCH BOX IDEAS FACEBOOK GROUP!
Lunch ideas for School Kid
Best Lunch Boxes for Kids
Which lunch box should you choose for your child? It doesn't seem like it should be a difficult thing – can't you just send them to school with a brown paper bag?
Well, yes. But if you want to keep anything cool or hot, that's really not going to cut it. Plus when you are in elementary school, the way your lunch box looks is totally a big deal!
After doing some research and talking to different people, I ordered Jack a "Packit" lunch box. This is really cool because it has an ice pack built into it. You just place it into the freezer (yes, the whole lunch box) and it's ready to cool the next day. They have all sorts of fun designs as well.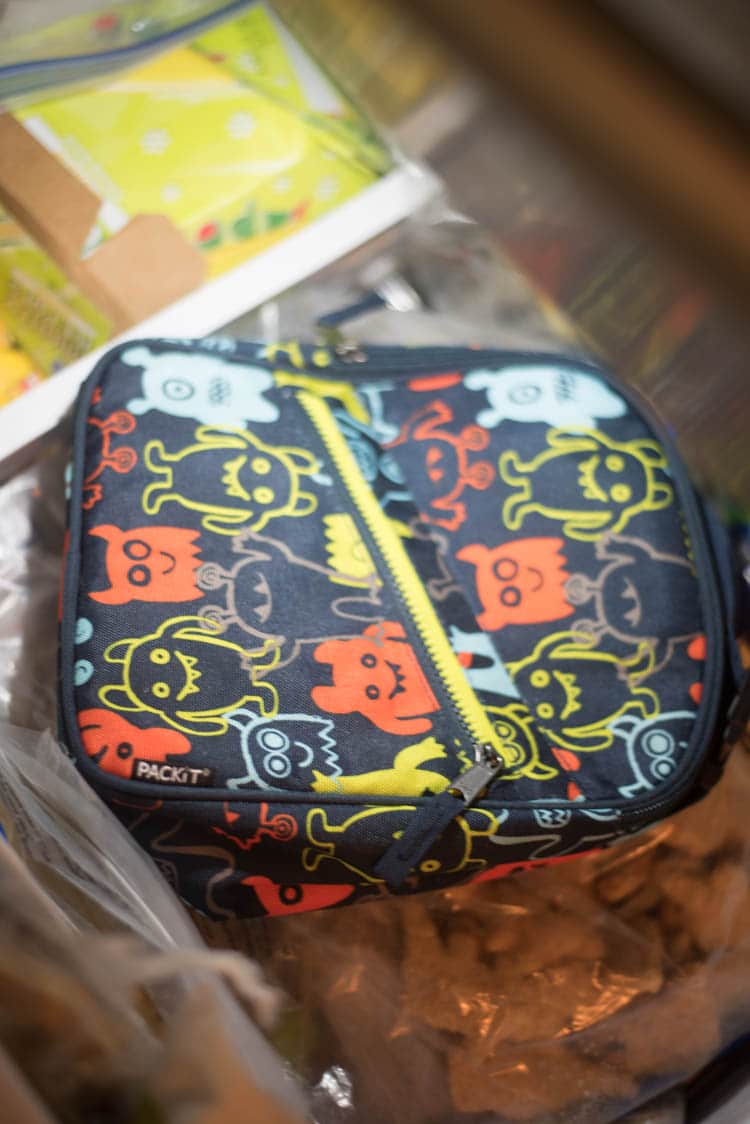 Bento Boxes are extremely popular right now for kids and adults. If you aren't sure what a Bento Box is, it's basically a food container that is split into different sections, and it's secured with a lid.
They are very popular right now, as they are reusable and make it easy to send different items to school.
There are durable Bento Boxes, which are a little more expensive but are definitely high quality. These can be placed into a lunch box, or some of them can be used as a lunch box themselves. I personally bought a bunch of reusable black containers on Amazon. They are a little flimsier, but they had great reviews!
My friend did a great job on this post comparing some different popular Bento Boxes for kids.
I also bought a few smaller containers for when I send a thermos (more on that below) since the thermos wouldn't fit with our food containers.
Here are a few other popular options for kids:
Keeping Things Hot, Cold, and Not Messy
If your child wants more than just a PB&J for lunch, you may find yourself scrambling for ways to keep things cold or hot.
Thankfully, there are lots of great ways!
Thermos – My sister told me that she loves to send macaroni and cheese, chicken nuggets, etc. with her daughter to school in one of these food thermoses.
It keeps the food hot until lunchtime – no need to reheat in the microwave even! I just bought this one for Jack, and I'm so excited. It's perfect for putting in his lunch box.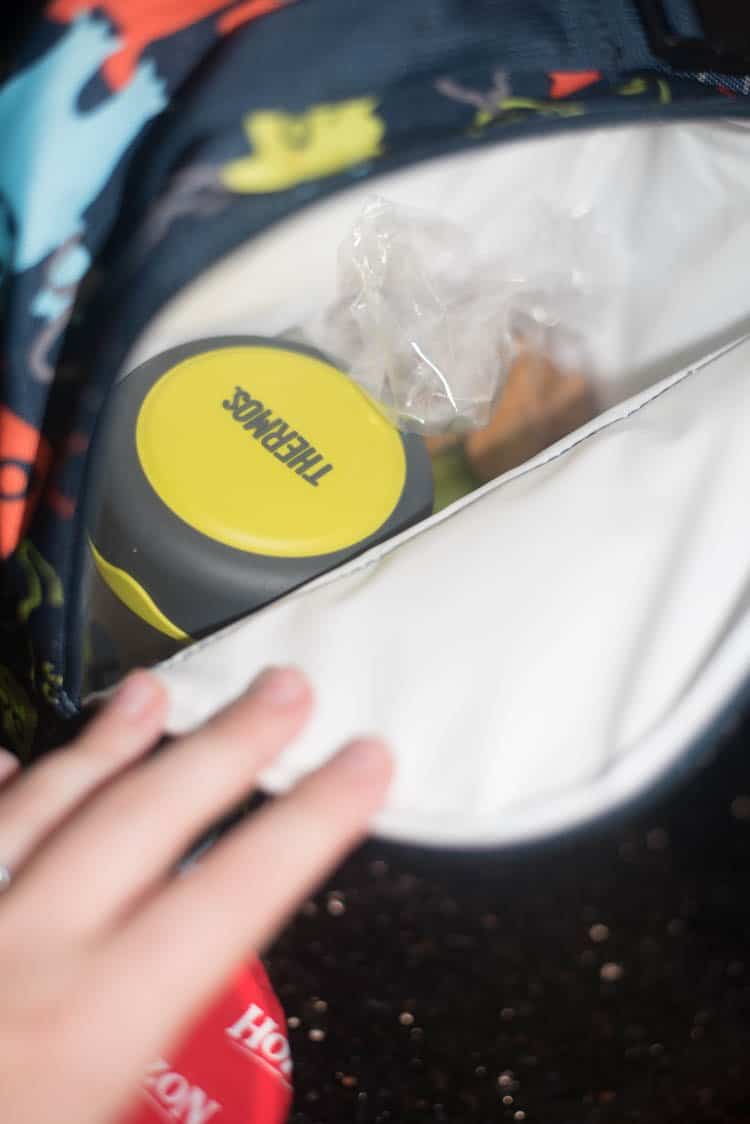 Alternatives to Ice Packs
There are great ideas if you don't have a lot of extra space for an ice pack…or you worry about your kiddo throwing it away 🙂
Frozen Fruit in a box (grapes work great!)
Freeze fruit drinks
Frozen Sponge
You will want to put them in a baggie so they don't leak out and make other food soggy.
If you want some reusable ice packs, here are some affordable ice packs.
Lunch Box Essentials
When deciding what to put in your child's lunchbox, this is what I think each meal should contain:
Main Dish with protein
Side Dish or Snack
Fruit and/or vegetable
Dairy
Sweet Treat/Dessert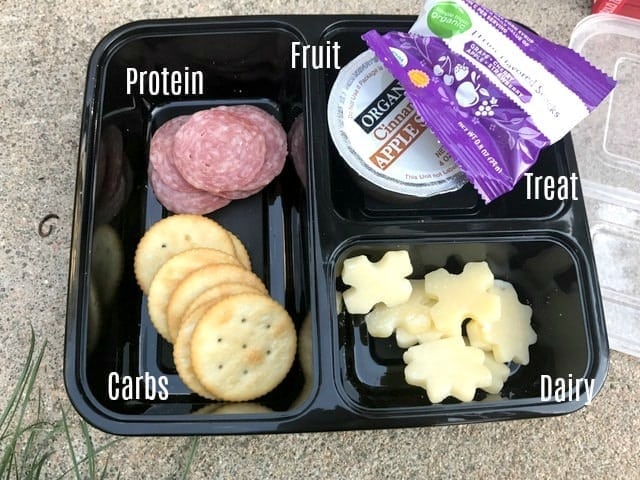 The thing that appeals to me about sending my kids to school with lunch is that I can have a little more control over what they are eating. I know there has been a big push to make school lunches better, which is great. But I still like to know what my kids are eating.
Lunch Box Ideas for Kids
Below you will find TONS of ideas for school lunches – sandwiches, non-sandwich ideas, snacks, treats, and more! You can get a FREE printable version of this list by clicking on the download button below:
[purchase_link id="90013″ text="Purchase" style="button" color="blue"]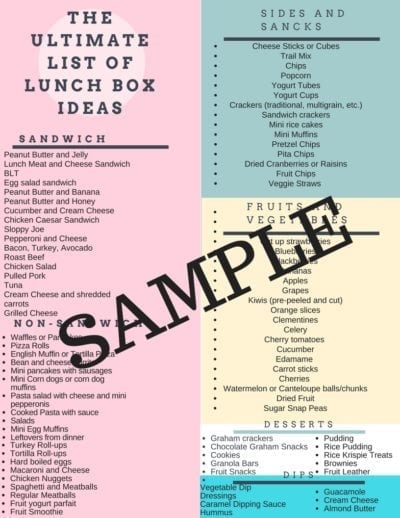 We personally love using these little meal portion containers!
Main Dish – Sandwiches
I know that not everyone loves sandwiches, but they sure are easy! When I was searching around for ideas, I actually found it hard to find any – it seems like everyone is just sharing non-sandwich lunch ideas.
Sandwiches can really have so many things on them – you can also experiment with different kinds of breads to mix things up. Here is a good sandwich bread recipe if you are wanting to make your own at home! Sandwich sealers are great options – especially for kiddos who don't like the crusts!
Also, you can substitute peanut butter with any other kind of nut butter. Always double check your schools rules on peanuts and peanut butter.
Most schools have a table for children with food allergies – but if your child has a friend with a food allergy, keep that in mind when making their lunch so they can sit with their friend!
Peanut Butter and Jelly (or any kind of nut butter) – these can easily be frozen, and they will be perfectly defrosted by lunchtime!
Lunch Meat and Cheese Sandwich (turkey, ham, etc.).
BLT
Egg salad sandwich
Peanut butter and banana
Peanut butter and honey
Cucumber and cream cheese
Chicken salad sandwich
Chicken Caesar sandwich
Sloppy Joe
Pepperoni and cheese
Bacon, Turkey, Avocado
Roast beef
Pulled pork
Tuna salad
Cream cheese and shredded carrots
Grilled cheese (cut into smaller pieces to keep it warm in a thermos
Main Dish – Non-Sandwich
Turkey Roll-ups – put a thin layer of hummus on the turkey, a piece of lettuce, and cheese and then roll-up.
Tortilla Roll-ups – you can add lunch meats, cheeses, cream cheese, pizza toppings and sauce, etc. Very versatile option!
Hard-boiled eggs
Macarnoi and cheese
Chicken Nuggets
Spaghetti and meatballs
Crackers with cheese and salami or pepperoni – there are premade versions of this, but you can also make your own!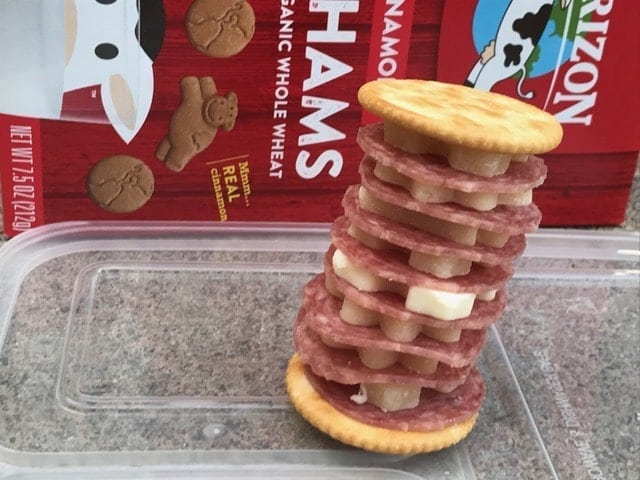 Regular Meatballs
Fruit parfait – granola, yogurt, fruit
Fruit Smoothie – freezer jam jars are great for this!
Waffles or Pancakes
French toast sticks
Pizza Rolls
Bagel Bites
English Muffin or tortilla pizza
Bean and cheese burrito
Mini pancakes with sausage
Mini cord dogs
Corn dog muffins
Pasta salad
Cooked Pasta with red or white sauce, pesto, or even just butter. Add chicken or ground sausage for extra protein.
Salads – send lettuce/spinach and various toppings – keep toppings separate from lettuce. You can send a condiment cup with dressing. You could do taco salads, garden salads, chicken caesar salads, greek salads…the sky is the limit! There are also little mason jars you can buy that are specifically for salads. All the ingredients can be pre-mixed, and there is a container on top for the dressing.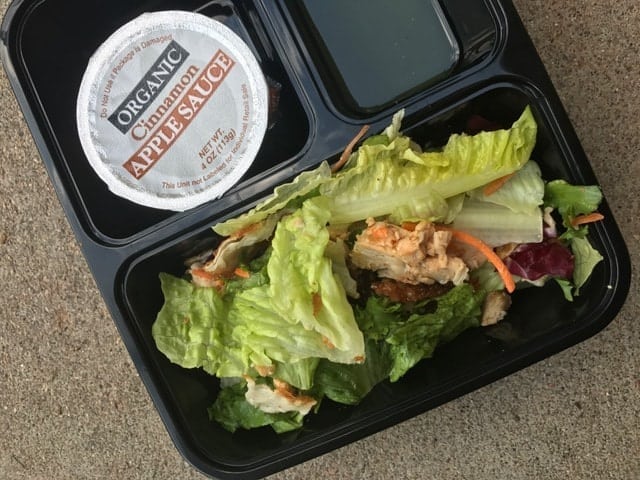 Leftovers from dinner the night before
Mini Egg Muffins
Snacks and Sides
Cheese Sticks or Cubes
Trail Mix
Chips
Horizon Organic Good & Go! Line (Pretzels and cheese, Apple Crisps and Cheddar)
Popcorn
Yogurt Tubes
Yogurt Cups
Crackers (traditional, multigrain, etc.) – Horizon Organic Cheddar and Whole Wheat crackers are delicious!
Sandwich crackers – Peanut butter or cheddar
Mini rice cakes
Mini Muffins
Pretzel Chips
Pita Chips
Dried Cranberries or Raisins
Fruit Chips
Veggie Straws
Fruits and Veggies
Grapes
Cut up strawberries
Blueberries
Blackberries
Bananas
Apples
Kiwis (pre-peeled and cut)
Orange slices
Clementines
Celery
Cherry tomatoes
Cucumber
Edamame
Carrot sticks
Cherries
Watermelon or Canteloupe balls/chunks
Dried Fruit
Sugar Snap Peas
Dips and Sauces
Vegetable Dip
Dressings (put in a little condiment cup)
Caramel Dipping Sauce
Hummus
Guacamole
Cream Cheese
Almond Butter
Drinks
Water (in small bottle)
Fruit Juice (low sugar – 100% juice if possible)
Milk – white or chocolate
Flavored Water
Desserts/Treats
Brownies
Graham crackers
Chocolate Graham Snacks
Cookies
Granola Bars
Fruit Snacks
Fruit Leather
Pudding (pudding cup or homemade and stored in an airtight container)
Rice Pudding
Lunch Box Hacks
Portion snacks yourself – while it is convenient to buy pre-packaged crackers, chips, etc., you definitely do pay a premium for it! Instead, just buy the snacks you want and portion them into baggies yourself!
Fill bag with air and then put chips, crackers, etc. inside to prevent chips from breaking in the lunch box
Wrap apples in plastic wrap to prevent browning
Use a Cookie Cutter to cut sandwiches, lunch meat, and cheese into fun shapes
Muffin Liners inside bento box to make more compartments and separation. I love these silicone muffin linershttps://amzn.to/2OFZ29T.
Wooden Skewers for more fun presentation
Get Organized – Make it easier to pack lunches – and get the kids involved – by making designated areas for food. I've seen people who have put crates and boxes in the fridge or pantry that are labeled with different food groups and how many a child can choose for each. Super smart! I'm not that organized though. I have a dedicated shelf of food supplies in the pantry, and I've moved our favorite items to the front of fridge.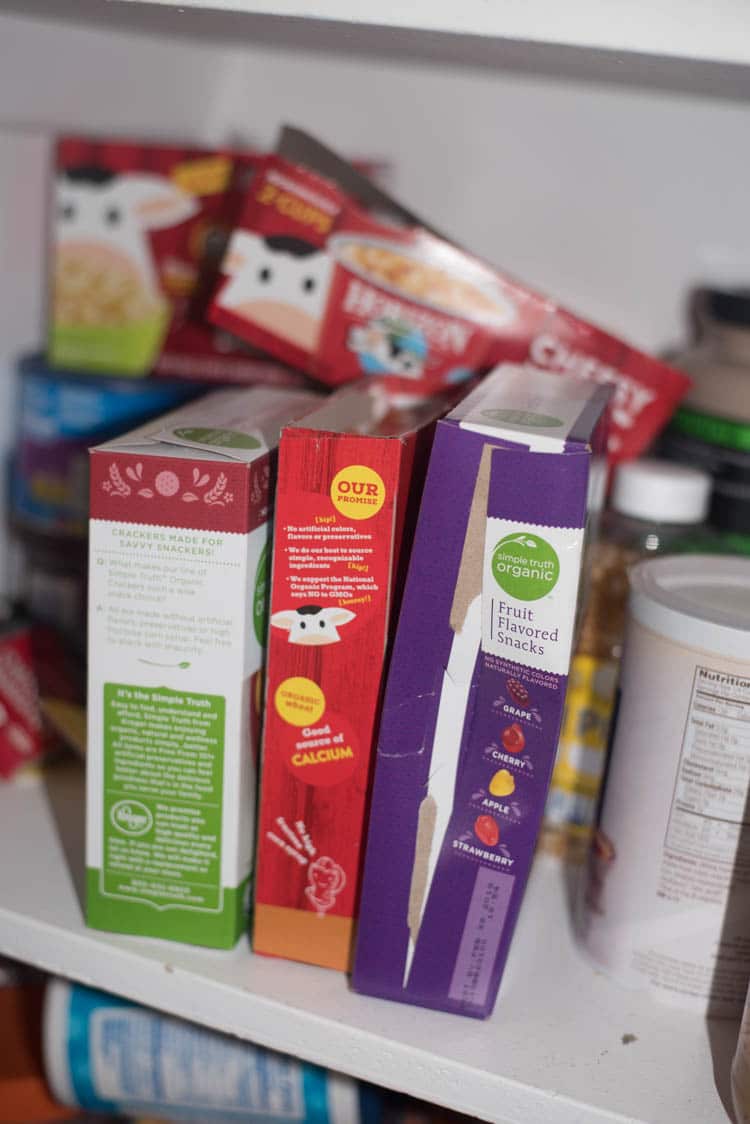 Lunch Box Notes
My mom sent me with a note in my lunch every day until I graduated. I just loved it! She always just sent it on my napkin, and I looked forward to reading her little messages each day.
You can see my big list of lunch box notes here!
Other School Posts You May Enjoy: