Summer pregnancies can be MISERABLE! Here are our top picks for a summer maternity capsule wardrobe that will make life a little more bearable.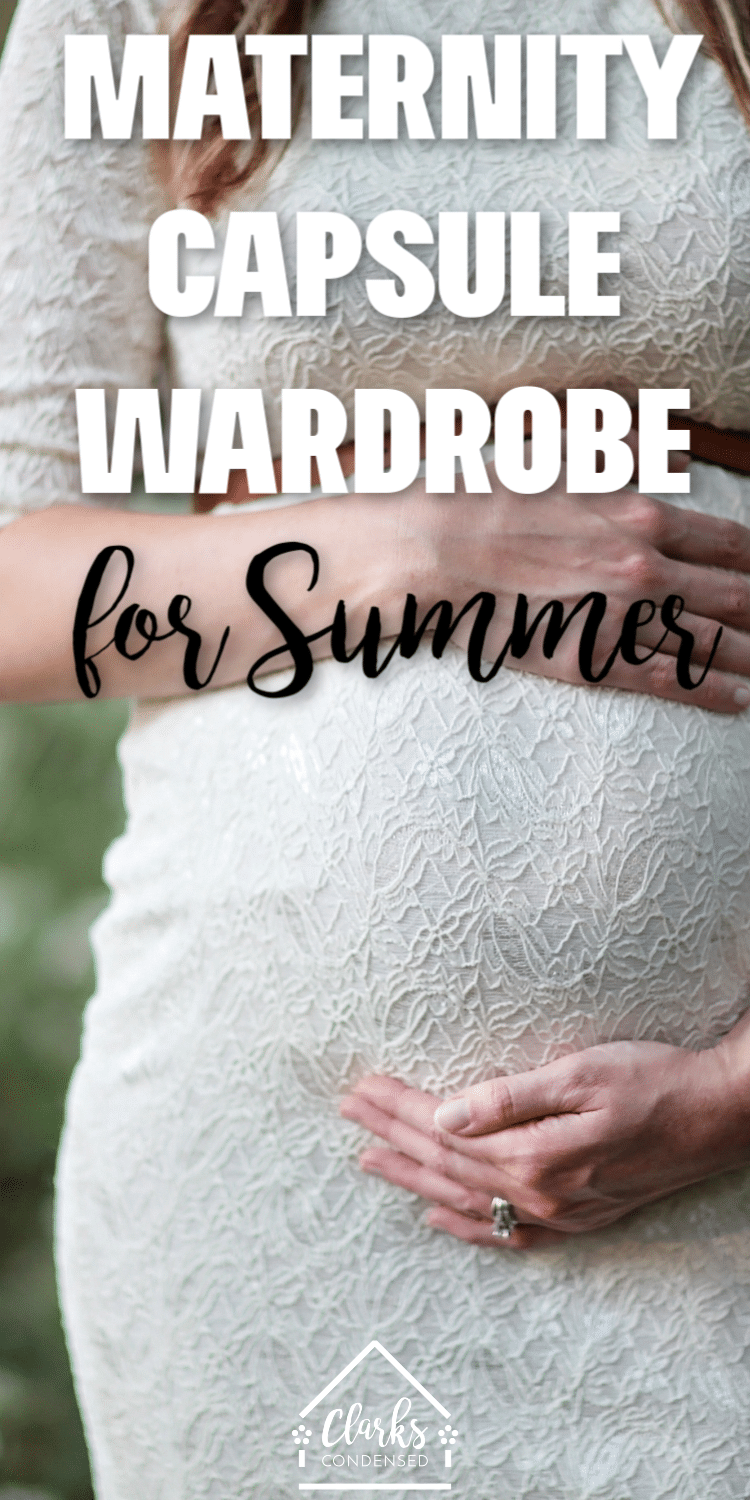 Summer Maternity Clothes
I am just about to enter my second summer pregnancy.
Can I just saw how grateful I am to be in a house that has air conditioning this time around?
Last time, we lived in a house with no A/C, and our neighbors were always smoking (especially at night), so opening the windows was a no-go either.
Let's just say I spent a lot of time at my parent's house.
The maternity clothes you wear during the summer can really make or break your pregnancy, so since I do have a bit of experience with that, I thought I would share some necessities for a summer maternity clothes wardrobe.
Be aware that these are suggestions for people who are having a typical, warm/sunny summer (70+ degrees).
I'm excited to be partnering with JoJo Maman Bebe to share some staples for summer pregnancies. They sent me some samples of their clothes, and I've been really impressed with the quality! I have provided some examples under each section of what you can get!
First, I'll just share a short list with all the things I personally own and love during summer pregnancies. Then I'll go into more details with some different recommendations.
Lightweight dresses
Capris
Shorts
Swimming Suit
Jeans or longer pants
Short sleeve shirts
Stretchy pants
Exercise pants and shirts
Lightweight long sleeved shirts
Cardigan
Pajamas
Maternity Bras and Underwear
Maternity Clothes Tips
I've shared in the past tips for buying maternity clothes, but here is a brief overview:
Typically you will be your pre-pregnancy size – so if you were a medium before, get a medium in maternity.
Wait until the second trimester to buy clothes if you can. There is plenty of early pregnancy bloat, but you can usually get by with a maternity band for your pants.
Buy as you go – I wouldn't recommend buying TONS of clothes from the start. You may be larger or smaller than you think when you actually need to start wearing them
Buy items that you can wear postpartum and while nursing!
Maternity Summer Clothes
Maternity Summer Dress
I know not everyone is a dress person, but I think they are so nice during summer pregnancies.
You don't have to deal with the tightness of pants (because even the maternity pants panel can be annoying toward the end), they are lightweight, and just so comfy.
If I'm not in my stretchy pants, I'm definitely in a dress. I recently went to a conference for a few days – and I was a speaker for one of the sessions. I wore dresses almost every day, and it worked out perfectly.
So definitely have several dresses in your wardrobe. I recommend ones that don't have zippers and are just stretchy and lightweight.
Recommendations:
Capris or Shorts
Although Colorado isn't one of the hottest places, our average temperatures during the summer are in the 80s (and it's not uncommon to have them get up to the 90s).
Sometimes, dresses or stretchy pants just aren't appropriate for the situation – so having some comfortable capris or shorts are a must.
I am personally not someone who wears shorts that go above my knees, but during my last pregnancy I got a couple of pairs of comfortable capris that I loved.
When it comes to pants, you will either find full length maternity panels or ones that are shorter. I personally prefer the ones that go all the way up over my belly.
Swimming Suit
Pregnancies during the summer often equal lots of time in the pool or at the beach.
Embrace your bump – getting some comfortable swimming suits that you feel confident and comfortable in.
This is the first summer that I actually got a maternity swimming suit, and I'm not sure why I resisted in the past. It is SO comfortable and specifically designed for a growing belly.
I have swimming suits that I've worn in the past that got stretched out because they weren't specifically maternity suits.
This is the one I have from JoJo Maman Bebe – they have TONS of different styles, and I love wearing it – which is not something I have oft said about swimming suits. It offers SO much support and is really just so comfortable.
Recommendations:
Maternity Jeans
I rarely wear maternity jeans during my summer pregnancies, simply because they are just heavy and make me HOT.
However, there is a time and a place for them, so I would make sure to have one or two pairs that you like that have a maternity panel.
Recommendations:
Short sleeve shirts
This is pretty self-explanatory – while you may want some longer sleeved shirts for rainy or windy days, short sleeves will definitely be the majority of what you wear.
Honestly, I wear a lot of t-shirts (more on that later), but I do like having some nice, lightweight shirts that I can wear to parties or nicer events.
Stretchy Pants
I've mentioned these a few times, and they generally aren't maternity (though I'm sure you can find some great maternity options).
I just like joggers, leggings, and yoga pants that have a naturally stretchy waist and legs. I practically live in these all summer long!
Light weight, long sleeved shirts
I primarily wear short sleeves, but if you get summer thunderstorms like we do or go up in the mountains, these can be nice to have on hand.
Active Wear
One of the things that makes me feel best when pregnant is exercising…even if it's often a struggle to actually get there!
Whether you are going to the gym to take advantage of their air conditioning, exercising at home, or going on a nice, summer hike, definitely invest in some comfortable active wear.
I have exercise pants and shirts that I wear, but they just don't work as well with pregnancy. Much prefer my pregnancy-specific items.
Recommended Products
Oversized t-shirts
Big t-shirts that you can just feel comfy and not restricted in have to be mentioned. There's nothing better – especially to sleep in!
Lightweight Cardigan
Just a helpful accessory to have on hand. I love cardigans, and I will often pair them with short sleeved shirts when I'm not sure if the weather is going to cooperate.
Pajamas
I wear my regular pajamas as long as I can, but they do tend to start to get a little uncomfortable – especially in the third trimester.
Get some lightweight pajamas that you won't get hot in during the summer nights. Even though we have air conditioning, I still get flaming hot at night, so the more lightweight, the better.
Maternity Bras
This is a must-have no matter what season you are pregnant in – a good fitting maternity bra!
Other Posts You May Enjoy: