I looked behind me, expecting to see Jack hopping along.
I didn't see him.
The only children I saw were my nieces, Oliver (who was in my carrier) and countless other children who were visiting Disneyland with their families. I looked back and forth several times, certain I was mistaken.
I wasn't. No Jack.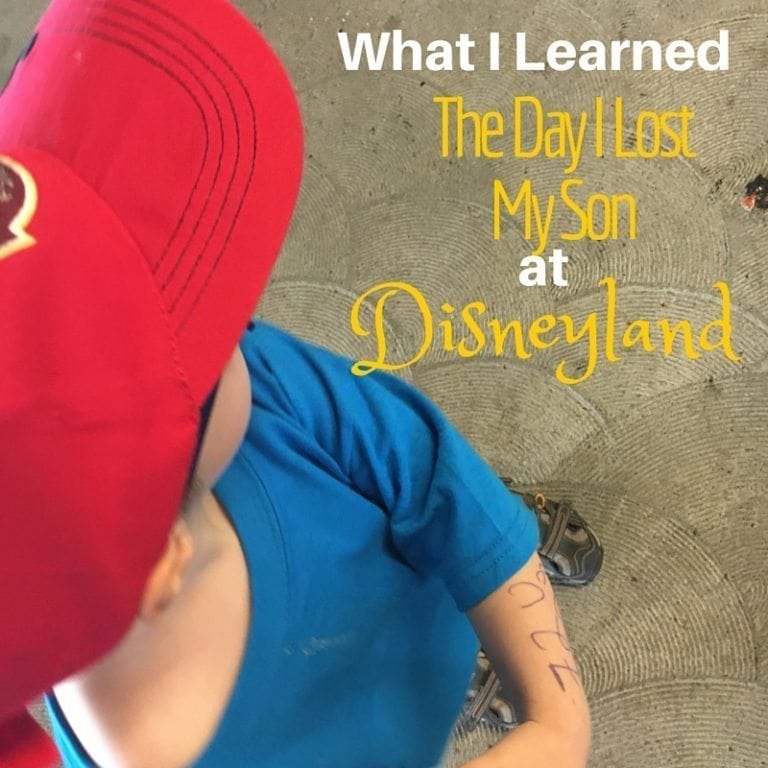 A few weeks before we went to Disneyland, my sister had texted me about some identification bracelets she was ordering on Amazon. She had told my mom about them, who told her to make sure she told me about them.
I wasn't sure if they would get here in time, and I figured I would come up with something on my own.
Until we went to Disneyland, I kept thinking that I needed to come up with something. Even minutes before we left for our character breakfast, something in the back of my head was telling me to make sure he had our phone numbers with him.
But, I forgot. I've been really forgetful lately, and with the craziness of rushing out of the house, I just forgot.
The moment I realized he was missing, I felt like time stopped. It felt like I instantly went into shock. How could he be missing? My kids don't get lost, I thought.
I immediately started retracing my steps, not caring who I was running into or how crazy I looked. I started yelling his name, hoping that he wasn't that far behind.
I couldn't help but start to think the worst. How on earth would I find him in such a huge, busy place? How could I trust that there weren't bad people lurking in the park at that moment? Jack is such a social, friendly kid…would he go with someone he didn't know? Had I even talked to him about not talking to strangers?
About five minutes after I started looking, I heard a small sob about 30 feet away. I couldn't see him, but I knew it was him. I ran over, and thankfully, one of Disney's workers was there trying to help him.
For the rest of the trip, we were all hyper aware of where Jack was at every moment. His sweet little cousins kept saying, "Where's Jack?!" or "Grab a hand, Jack." He was shook up by it too. He told me at church a few days later he told me, "Mommy, I want you to hold my hand so I don't get lost."
Even a month afterward, he said he's afraid of getting lost forever.
He was only missing a few minutes, but it felt like an eternity. It was probably the scariest thing I've experienced as a parent. And from it, there were a few things I realized from this experience:
I truly feel that we are interconnected with our children. When he was lost, I felt like part of me was lost, too. It made my heart hurt for people who have lost their children in this life – I can't imagine feeling the way I felt for those five minutes for the rest of my life. As I listen to him play in the other room, I can't help but feel gratitude that we didn't lose him forever. It may sound dramatic, but the thought did cross my mind that maybe we did.
It reminded me that he's only four.
Sometimes I treat him like he's older than he really is. But he's only four. He told me that he stopped because he wanted to go on the Dumbo ride. We had talked about that ride for months, and when he saw it, he thought he should stop. He didn't know he was going to get lost. He's only four.
Scary things can happen in an instant. Jack is fast. And he sometimes wanders. He doesn't really think about it – like I said, he's only four.
(and I certainly wish I had one of these before he got lost, because, well, he wouldn't have gotten lost if we di. You can get 15% off using the code Clark15 until September 3rd…maybe you won't end up with a story like mine.)
I realized you should never assume.
I assumed that since we were with several other adults, he wouldn't get lost. But he did. And it was my fault for not making sure I knew where he was.
No matter how young your child is, it's important to teach them what to do in situations like this. I never really have talked to Jack about what to do when he gets lost. I asked him what he did, and he said, "I started looking for you and cried." It broke my heart. He didn't know what to do. And that was my fault. We need to talk to our children about what to do in scary situations, even if we don't think they will happen.
[clickToTweet tweet="We need to talk to our children about what to do in scary situations, even if we don't think they will happen." quote="We need to talk to our children about what to do in scary situations, even if we don't think they will happen."]
Now he knows to stay where he is. And I now know to have some kind of identification on him. For the rest of the trip, he had my phone number written across his arm.
Good parents make mistakes.
This is something I keep learning time and time again, and I have to remind myself that I'm not a bad parent just because I make mistakes. I take care of my children. I love them more than anything. But I still make mistakes. Fortunately, this one ended well. But it's one that I'll never forget.
And most importantly, I realized how important it is to listen to that voice in the back of your head telling you to do something. I'm a big believer in mother's intuition, but sometimes I don't pay attention as close as I should.
What I felt that day is something I never want to feel again. I can't even describe the panic, shock, and fear I felt when I realized he was missing.