Serving others is one of the greatest things we can do. Here are 10 meaningful and memorable ways to serve others as a family.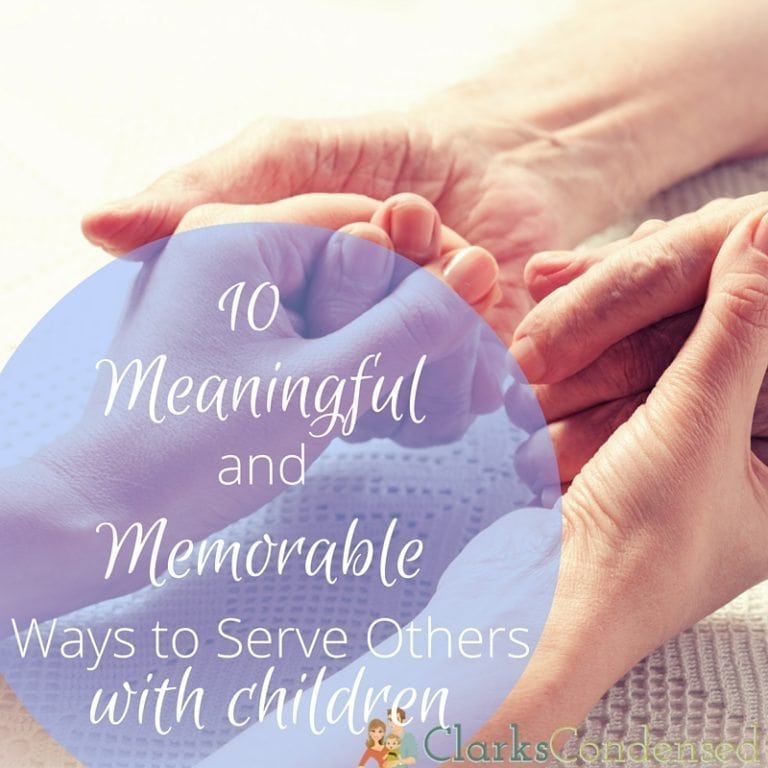 I was compensated by World Vision for my time in writing this post. All opinions are my own.
When children learn how to love and serve others when they are young, they set a pattern of service for the rest of their lives. Often children teach the rest of us that showing love and service doesn't have to be big and grandiose to be meaningful and make a difference. – Cheryl A. Esplin
I loved this quote from a talk I recently heard that was about serving others. I believe one of the greatest values we can instill in our children is a desire to serve others.
It is very easy to get stuck in our own "world view." I see a lot of entitled children (and adults.) I'm guilty of not looking outside my own little circle at times.
The best antidote for that?
Serving others.
The fact is, there are so many others struggling out there. Some people may not know where their next meal is coming from. Others don't have any parents. Someone else may have lost their job and not know how they can support their family.
I thought I would share five ways to help your children serve others. These are some simple ways to encourage a giving spirit with your children. I think it's the perfect antidote for an entitled attitude, help each other feel a little more grateful, and make a difference in other's lives.
1. Sponsor a Child
I remember when I was growing up, I would often see those commercials on TV encouraging people to sponsor a child from another country. I always thought this would be so cool to do.
Now that I'm older, I still think it would be, and I think it's an amazing thing to involve your children with. You can sponsor a child in another country – similar to the ages of your own children – and help them learn about what other children around the world are going through. They can learn to love and serve others on a more personal level. I think by realizing how much they are helping another child their own age, they will be more impacted by the experience.
I recently came across World Vision, which is a non-profit organization whose goal is to build a better world for children. They have a great sponsor-a-child program. You are able to choose a child (boy or girl) to sponsor for $39 a month. The money goes toward providing them with clean water, school fees, education, nutrition, etc. depending on their individual circumstances. You can even send your sponsored child small gifts or cards directly, which I think would be a really cool thing to involve your children in doing. You can watch this video to learn more about child sponsorship.
For example, you could sponsor a child like Isabella: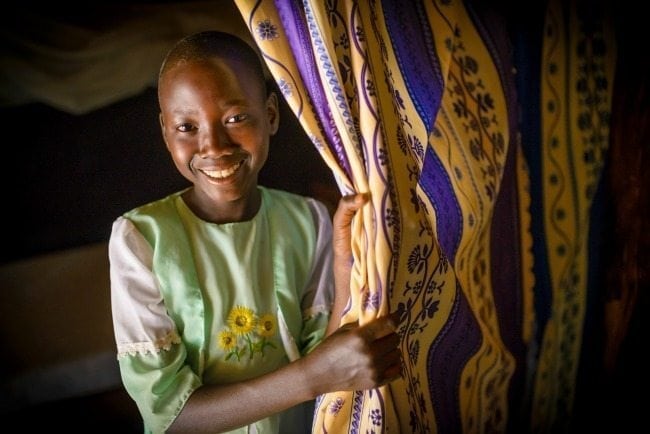 She lives in Adit Camp in northern Uganda with he family. The rebels had burnt everything to the ground, and they were left with very little. World Vision gave them cassava, maize, beans, and greens to help the family's father start farming again. The gifts sent to Isabella by her sponsor, Susan, helped not only her, but her siblings as well, to get education, buy goats, put up mosquito nets to prevent malaria, etc. Isabelle's mother, Stella, says:
We wouldn't be this far without Susan . . . All my children can go to school. The children in this family will go on to support other children. I always pray for Susan, that God will bless her. And I pray that she will continue blessing people.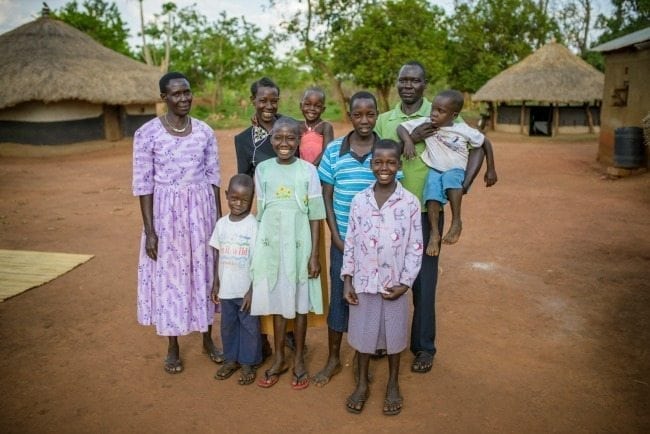 This is one of the neatest opportunities, and it's a great thing to do as a family. You can choose a child together, send them cards, and receive updates. Children often have the biggest hearts, and I can imagine them getting really excited about doing something like this. You can search for a child directly from this widget:
2. "Adopt" a family
You don't have to go across the world to help others. There are so many people in need of service in your own neighborhood. As a family, talk about families you know who might need a little extra help. Then, over the next weeks or months, come up with some ideas of what you could to do help them. It could be dropping by a meal anonymously, putting together a care package, etc.
3. Make Kindness Bags
This is a great thing you can do to give to homeless people you may see. I think this is a much better idea than giving them money (since you don't know how they will use that.) There are a lot of ideas on Pinterest for what to put in these, but you could put granola bars, space blankets, water bottles, etc. You can take your kids to the store (the Dollar Tree is a great option) to pick out what to put in them.
4. Volunteer at the Ronald McDonald House
The Ronald McDonald House is an incredible organization. Oliver was in the hospital several times over the past year, and I can't even imagine what it would have been like to be further from home than we were. The Ronald McDonald House provides housing and other resources for families who have children in the hospital. The housing and meals are often available for people who live over 50 miles from the hospital. At one of the hospitals Oliver was at, they had a Ronald McDonald family room, which had a kitchen area, toys, a TV, etc. They are set up to make a hospital stay a little more bearable.
They are always looking for volunteers, and it's a great thing to do as a family. You can go with your family and prepare meals, visit with people staying there, etc. You can contact your local chapeter to find out what is needed in your area.
5. Clothes and Toy drives
Periodically have your children go through their toys and clothes and pick a few items that they would like to give away. This is great to do especially during the holidays when there are a lot of toy and clothes drives going on.
You could also have your children spend some of their own money to buy a new toy or outfit to donate to a drive.
7. Soup Kitchen
I've never volunteered at a soup kitchen, but it seems like it would be a wonderful experience. This is a great place to go with your family to serve (especially around the holidays.)
8. Visit a retirement home
I remember going to a lot of retirement homes growing up – to sing with youth groups, volunteer as a teenager, etc. While some people there have family that come and visit them frequently, many people never get any visits. Children often cheer up people who live in retirement homes, especially those who may have grandchildren that can't come to visit!
You can contact local retirement homes to see when you can bring your family in to visit. You can sing songs, play games, or just sit down and talk.
9. Invite others for dinner
One thing my parents have always done is open up their home to those in need. Most holidays have non-family members there (either single or widowed people, people without family nearby, etc.) I'll admit sometimes I was kind of annoyed when they did this, but now I'm so grateful that they did. It showed me that acts of service don't have to be huge – simple things like inviting others for dinner can make a big difference.
10. Random acts of kindness
I wrote a post awhile back about 40+ random acts of kindness ideas, and I was so happy to see how popular it was. I think this is one of the easiest ways to serve with your family, because there are opportunities all around you to do random acts of kindness.
Sondra D. Heaston said at a BYU devotional awhile back:
What if we could really see into each other's hearts? Would we understand each other better? By feeling what others feel, seeing what others see, and hearing what others hear, would we make, and take, the time to serve others, and would we treat them differently? Would we treat them with more patience, more kindness, and more tolerance?
I really believe that as we take the time to truly serve others, it can soften our hearts and make our lives better. It helps us to understand and love others easier when we take a look into their lives.
For more ideas on how to serve and help others, visit World Vision's Facebook, Twitter, or Instagram pages.