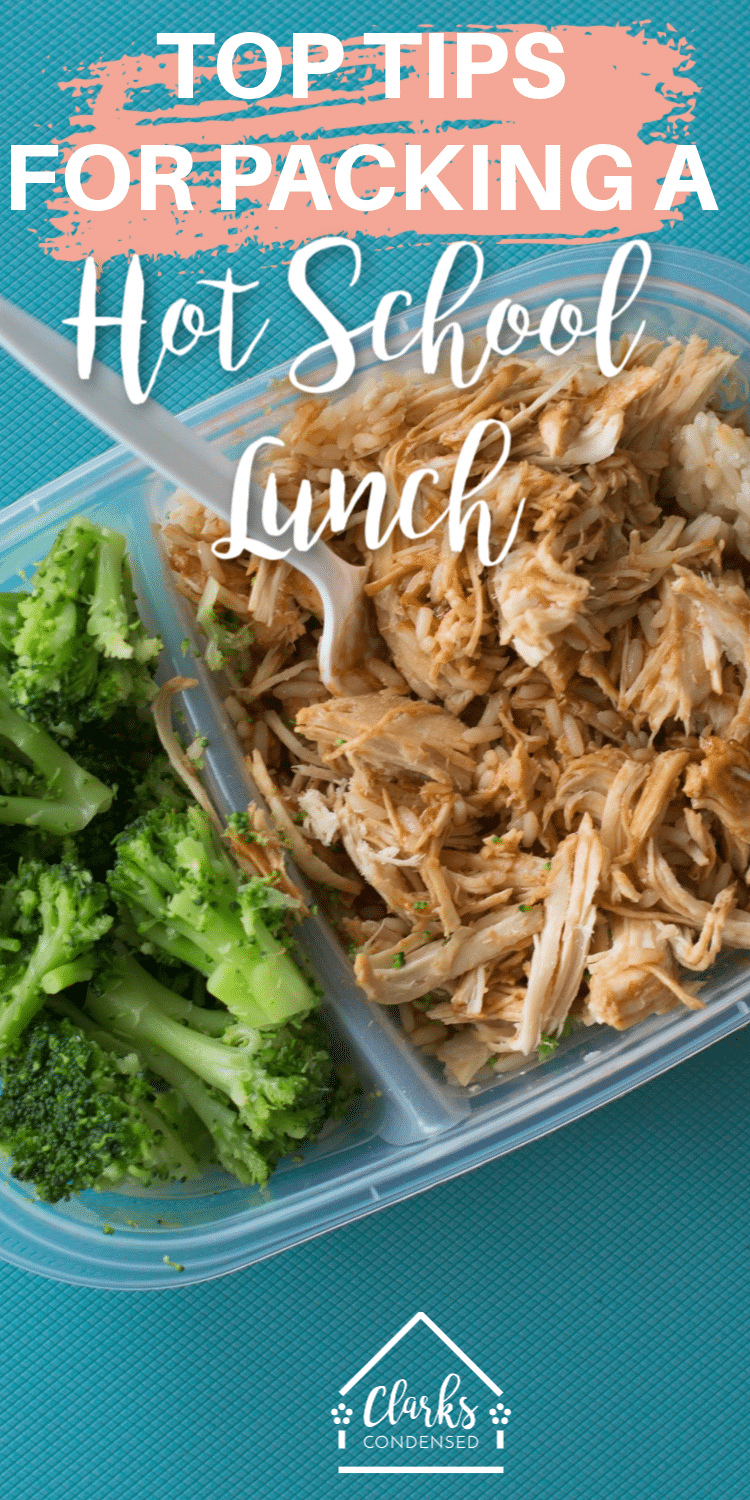 It doesn't matter if this is your first time making a hot lunch for your kids, or your head is still stuck in summer, then you may run out ways to make a peanut butter and jelly sandwich look appetizing.
If your kids are anything like mine, then this only takes about two days.
Your kids don't have to have a cold lunch every day just because you choose to pack their lunch!
Here are ten tips for packing hot school lunches for your kids!
Be sure to join our lunch ideas Facebook group!

How to Keep Lunches Hot for School
Use a thermos to keep food warm
Keeping food warm is half the battle with a hot lunch. Store your warm food items inside of a thermos to make sure that it stays warm in time for their lunch!
Keep in mind that it's best to put items that have some kind of liquid or sauce in them in a thermos. Soups, pastas, and sauces are always popular.
Some children have trouble taking lids off of thermoses, so this is something that would probably be worthwhile testing at home before sending them with one.
The best way to prepare a thermos is to put very hot or boiling water in a thermos for about 10 minutes before putting the warmed food in. Make sure to wipe out all the water.
Foods like bagel bites, taquitos, and pizza rolls don't have a lot of water content, and they can get hard. One suggestion is to cover them with tin foil and put a wet paper towel on top of the tin foil to keep them from drying out.
Keep your cold items far away from the thermos
The job of a thermos is to keep your food items warm for a long time. Make sure that your cold food isn't laying right under the thermos or you may end up with everything at room temperature!
If you plan on sending a thermos regularly, you may want to consider getting a lunch box that has a separate zippered pouch where you can put the thermos instead.
Pack your hot food last
When putting together your child's hot lunch, you want to wait until the last second on the hot food items. This will ensure it lasts until lunch!

Wrapping hot foods in tin foil can also help to insulate them to stay warm and not soggy. Placing the wrapped food in a thermos will help retain the heat as much as possible.
Keep a list handy of go-to hot lunch options
It's easy to run out of ideas or forget just how long it takes to whip something up for their lunch. Keep a list of go-to hot meals ready to choose from and pick whichever one you want for that week!
Here are some different hot lunch ideas that children generally enjoy:
Macaroni and Cheese
Grilled cheese
Chicken Nuggets
Leftovers from dinner
Pasta with sauce
Ramen Noodles
Ravioli
Scrambled eggs
Mini Pancakes
Waffles – cut up
Pizza
Chips with cheese sprinkled on top after thermos is warmed
Chili
Fried rice
Ground beef for tacos (wrap warmed tortillas in tin foil to place in lunch box – include other fixings such as lettuce, cheese, guacamole in other container or plastic bags)
Soup – homemade or from a can! You could even put soup in a thermos and make a grilled cheese sandwich that you wrap in tinfoil for a fun lunch (cut into strips for dipping!)
Hot dogs
Corn dogs
Buy a few backup thermos options to keep at home
Handwashing a thermos that has liquid can be a pain.
Give yourself some grace by having backup options ready so that you can meal prep ahead of time!
Insulated Lunch Box
If you plan on sending a lot of hot lunches, you . may want to consider getting an insulated lunch box and buying microwave gell packs.
Use a thermos as a mini heater in your child's lunchbox
A thermos can also be used as a mini heater in your child's lunchbox. Many thermos containers will end up letting off some heat from the contents of the thermos.
Use this to keep other items at room temperature or even to give it a quick burst of heat!
Hot Water Bottle
Don't have a thermos? If you have a small water bottle that you can put water inside, you can heat this up to put next to the hot food. Just make sure your child doesn't try to drink it!
Don't forget the other food!
It's easy to get so caught up in the food we are making that we forget about everything else! Grilled cheese is a great lunch, but it likely won't be enough!
Make sure that you are packing other food items and spending time putting those together too.

Use leftovers for hot lunch options
Leftovers are a great and easy hot lunch option! Reheat it in the morning, and you're ready to go.

If your child's school has a microwave, take advantage!
Many schools will have a microwave in the cafeteria! Use this to create a hot lunch for your child and store it cold in their lunchbox until then!
Hot School Lunch Containers
Here are some different options that might work for your child:
As you can see, there are many creative ways to pack a hot lunch for your kids! I hope this list gives you more ideas for what to pack in your child's lunch to provide them with a hot lunch option from time to time.
Other Posts You May Enjoy: