RSV is a nasty virus that can hospitalize children. All three of my babies have gotten it, and I thought I'd share what I wish I'd known during the first one.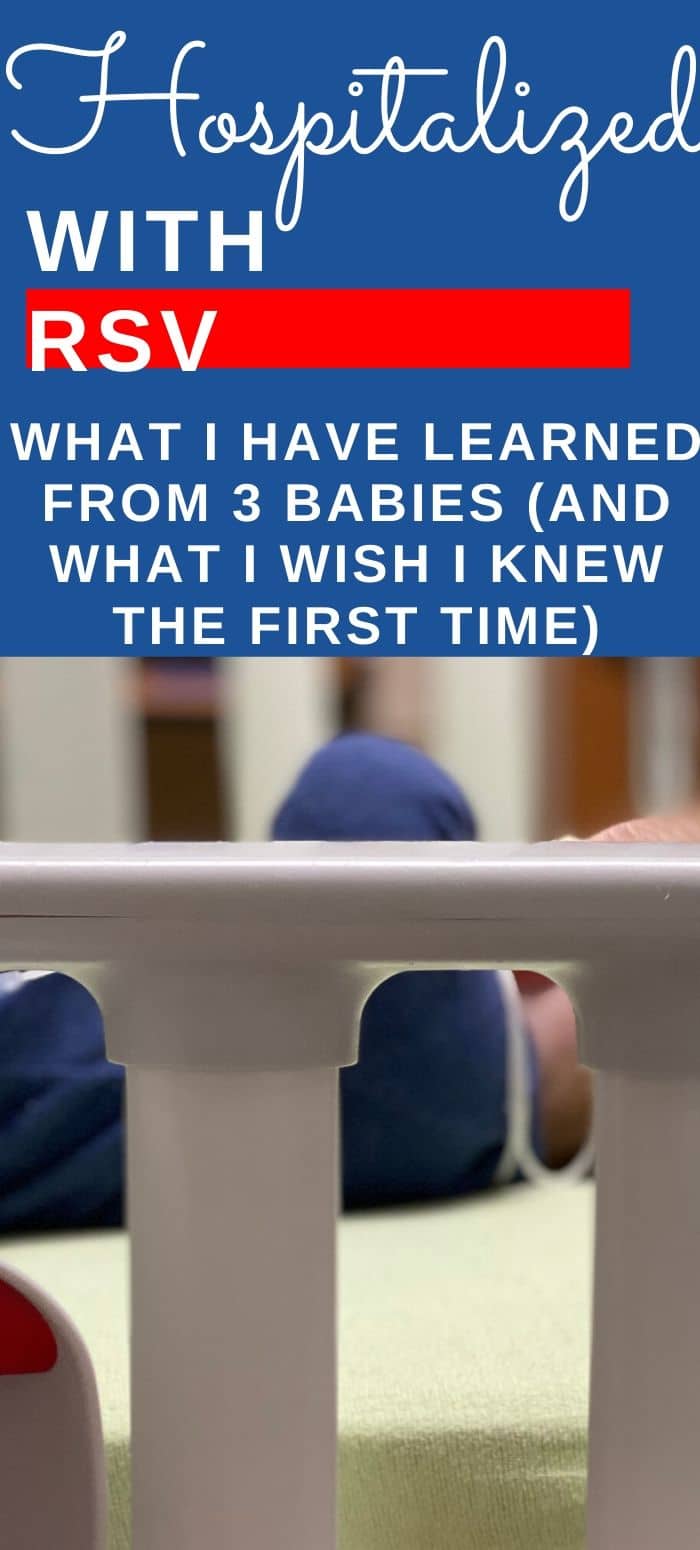 Sometimes we had things to our parenting resumes that we'd rather not to.
For me, it's experiencing having a baby not only catch the RSV virus – but be hospitalized with it.
Not just one baby.
Three.
I was almost to the point where I *thought* we might make it through the season without Andrew getting it, but alas, we just came home from a multi-night stay at the hospital where hew as admitted.
When my first, Jack, got RSV – I had no idea what it even was. I was scared out of my mind that my two-week-old couldn't breathe on his own and was having to get his nose suctioned almost hourly.
While it was still scary with Andrew – it's never a fun experience to have a sick child in the hospital – I felt a lot more at ease. I knew he was in good hands and the progression of the sickness and generally want to expect.
As I was sitting in the hospital, I started thinking that I should write a blog post about our experiences with a hospitalized baby due to RSV – just in case there's some other mom out there scared silly with her baby's diagnosis.
It's so important to feel confident in your child's care, especially with a scary illness like RSV. Having an app like Abridge is awesome, because it allows you to record your conversations with your doctor. It can be so overwhelming to have a sick baby, and I know I am constantly second guessing our conversations (especially after sleepless nights in the hospital!).
I've talked about what parents need to know about RSV, as well as RSV symptoms and treatment, but today, I want to focus on the experience in the hospital.
Not all baby's get hospitalized, but RSV is one of the leading causes of hospitalization in infants.
I can't believe that all my kids have gotten it. I really try to be so careful with them to try and avoid getting sick. Jack got it without us even leaving our house!
But as I was in the hospital, I did some research and read that current studies are showing that children who are predisposed to asthma are more likely to get severe RSV.
Our two older boys have asthma, so I can't help but think maybe that's why it happened.
When to take a baby to the hospital for RSV?
This is such a hard decision to make. I would 100% be in contact with your doctor – but be aware that they might not always catch it.
Listen to your intuition – if your baby doesn't seem well, don't be afraid to get help.
What we generally look for (not just one of these, typically, but combined).
Fever – if they are under 3 months and have one, that's usually automatic grounds for the hospital in my experience
Extreme nasal congestion – we're talking snot streaming out of their nose. Not just the sniffles
Trouble eating – coughing, sputtering, choking or pulling away from the bottle or the breast because they can't breathe
Lots of mucousy drool
Retractions in the chest or neck
Nostrils flaring
Labored breathing
Wheeziness
Bad cough
Sneeze coughs – sounds weird, but if you hear them, you'll know what I'm talking about
Low O2 – if you have an Owlet monitor and notice it dropping pretty regularly below 90, I would get help. Be aware that some babies will be okay on room air but not asleep – this was the case with Andrew, so the first time we took him into urgent care, they acted like it was a non-issue. However, when he would eat or fall asleep, it would drop quite low. So insist they are monitored in that state.
Again – you know your baby best. Be in contact with your trusted medical provider and always get help if you are worried.
Why might a baby be hospitalized for RSV?
The main reason a baby is hospitalized for RSV is that they need supplemental oxygen to help them breathe.
The other big reasons include dehydration – since many babies will have trouble eating due to the secretions – and the need to be suctioned by a machine that is more powerful than a home nasal aspirator.
RSV Hospital Treatment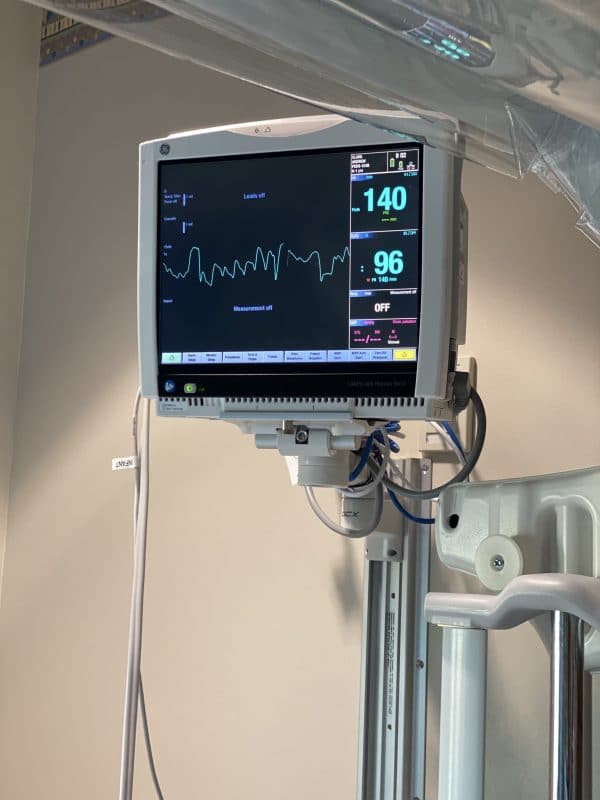 While this will vary depending on the hospital, we have been at three different hospitals for RSV treatment, and it's all been pretty much the same.
Your child will have a nasal cannula put in their nose, and they will be given oxygen through that. They may play around with the amount and monitor baby's O2 levels to make sure it's at the right level.
After baby is stable, they will typically try and start weaning them down to lower amounts of oxygen. Our kids always get down to the smallest amount pretty quickly – but whenever they do a room air trial, they drop. So don't be surprised if your baby just hangs onto that tiny bit of oxygen, either.
If your baby has a lot of secretions coming from their mouth and nose, they will likely be suctioned. When Jack was a baby, they did this really intense deep suctioning with a tiny tube, but that's not as common anymore.
Instead, they use a suctioner that's attached to the wall, and it's pretty powerful. It has a mushroom tip, and they can get a lot.
This can be pretty distressing to watch – especially if you aren't prepared for it. Babies hate it, and it is really intense. However, it really clears them out well.
Typically suctioning will occur on an as-needed basis – but it's especially helpful before feeds.
You may get a visit from the respiratory therapists. With Oliver, they came a few times a day and did some therapy where they patted him on the back with a little device to help break up the mucous. They also gave him albuterol for breathing treatments because he had a lot of wheeziness.
With Andrew, they came once but didn't feel that he needed extreme treatment. The nurses monitored his lungs pretty regularly, though, to make sure he wasn't taking a turn for the worse.
I really love respiratory therapists. All of the ones I've ever worked with have been so upbeat and friendly.
You will probably have to save all of the baby's diapers to monitor output. In my experience, they usually just have a bin you put them in (sans wipes), and they will weigh them. My kids usually meet the diaper weight requirement with one or two diapers!
You'll likely see the on call pediatrician once or twice a day, and they will be the ones discussing the plan going forward.
There are typically gowns, masks and gloves on the outside of the door that any medical person or hospital staff (such as food services or housekeeping) have to put on before coming in your room. One of the biggest dangers of being in the hospital is contracting another illness, so this helps to prevent your child's contact to other illnesses – and spreading your child's illness to others!
Beyond that, a lot of it is watching, waiting, and monitoring baby's vital signs. Because RSV is viral, there isn't really a medication to treat it – though Tylenol can be given for comfort or fevers.
Although it can be an exhausting and distressing experience, I always get comfort knowing that my child is being watched and monitored super closely.
If your child gets really bad and can't eat, they will likely be given IV fluids. If it progresses into pneumonia, then more intense breathing treatments (or even getting a breathing tube) may happen. But we've never experienced that.
How long will my baby be in the hospital for?
There's no real timeline – a lot of it can depend on when your baby was brought in, and where they are in the progression of the sickness.
If the RSV gets caught early and gets hospitalized might be there longer than one who came in when they were really having a hard time.
A baby generally has RSV for several days before symptoms start – and once symptoms start, it typically peaks around day 5. And yes, it does get worse before it gets better.
Jack was two weeks when he was admitted – and it was at the VERY beginning of his sickness. He was there for eight days. Oliver was in pretty bad shape once we got there, and he also had influenza, which I think prolonged his stay – which was five days.
With Andrew, we stayed for two days. Because we had experience with babies and oxygen, as well as a better-than-average suctioner at home, we were able to leave a little earlier than we might have otherwise. We are still watching him very closely for any signs of worsening or a secondary illness.
Sleep
Honestly one of the HARDEST parts of being in the hospital is sleep for both you and baby.
This is not a time to worry about getting off your schedule or interrupting your routine or sleep training or whatever. The goal is merely to survive.
Your baby will be poked and prodded a lot around the clock. They will be in an unfamiliar environment with lots of people they don't know – it is VERY overwhelming for them.
Your main job is to help them be comfortable. I would strongly recommend bringing any type of blanket or swaddle or comfort item they are used to at home.
I brought Andrew's Nested Bean Swaddle, his Wubbanub pacifier, and played white noise on my phone, and he actually slept pretty well. The nurses even commented on it!
Your sleep might not be great either. When Jack was hospitalized, I slept in a chair next to his hospital bed. With Oliver, there was a couch bed – which was comfortable, but not ideal, because it was about 10 feet from his bed.
With Andrew, they actually had a hospital bed in there for me. At first, I was about in tears, because Andrew would not stay asleep in the bed unless I was standing right next to him with my hand on him.
So I finally asked the nurse if I could move his bed next to mine. I raised my bed up as high as it would go (which was actually really high). It wasn't the perfect situation – but he liked it.
I also had him lay next to me on my bed whenever he took his naps. That's what we do at home. I was 100% awake during this, and it helped him get his rest.
Breastfeeding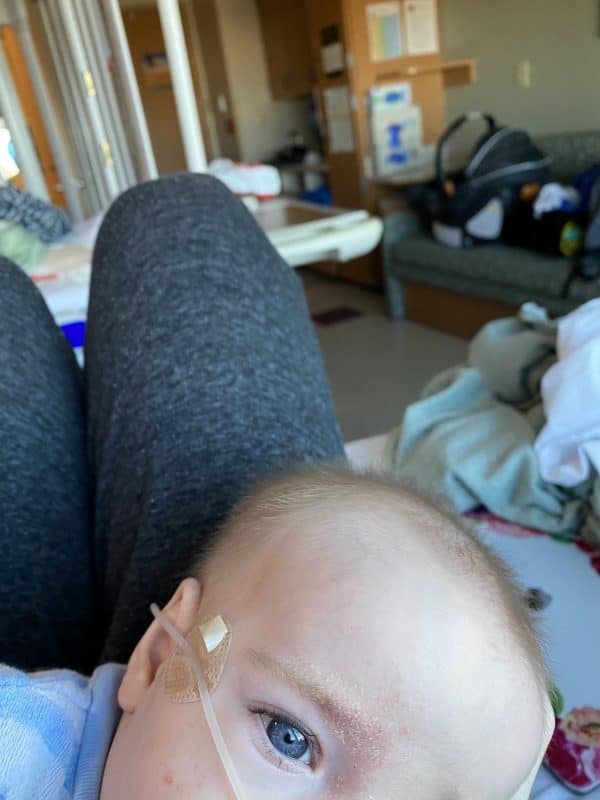 I add this section for moms who might be breastfeeding and worried if RSV will hurt their supply or make it hard for their baby to breastfeed.
I nursed all three of my kids through the entirety of their sickness. I feel like it was the best thing I could do for them, especially since my milk was hopefully making the antibodies they needed to fight it off.
RSV can definitely make breastfeeding harder, though. Because their little noses get so filled with mucus, the act of nursing and breathing can be really hard.
This is why suctioning is so important. Always make sure to request it before baby nurses – night and day. It makes a HUGE difference.
With my kids, they will sometimes have trouble coordinating breathing and nursing, and they end up choking or sputtering. If this happens, just unlatch, make sure they are okay, and consider changing positions. Side-laying might seem most comfortable, but it's probably one of the most likely for the baby to have trouble with. Laidback nursing is always a good option, as is the football hold.
It can also make them super tired, which can make it hard for them to eat as much. The threshold for diapers isn't super high, but if the baby isn't eating regularly, they may need IV fluids.
If the baby isn't eating as much as they would, be prepared to pump. I would recommend bringing your own pump – many hospitals have them, but there's no guarantee it will be available for you to use.
While I stay with my kids the whole time, sometimes this isn't always possible. If we had stayed a few more days, I would have had to leave for a couple of hours – and I was SO worried. Andrew doesn't do bottles, and while I could time the feed pretty well, there's no guaranteeing he wouldn't want to eat while I was gone.
If your child doesn't take a bottle – and you don't want to mess with trying to get them to take one – you could always do cup or syringe feeding, or if they old enough, use a sippy cup or straw cup.
I was about to have Forrest bring my Kindest Cup to the hospital. This thing is amazing! It makes it easy to either collect milk while you nurse (like a Haaka) or hand express in to and then you can easily feed your baby with it like a cup.
It's a pretty new product, but it's something I think would be super handy to have in situations where you might need to feed a baby who won't or doesn't take a bottle.
Preparing to Go Home
One of the scariest parts is when they start to talk discharge and you aren't sure if you are ready to go home.
Chances are, your baby will still be sick and need extra care. Don't be afraid to ask for questions, signs you need to go back, etc. You don't want to feel like you are the blind leading the blind once you get home.
When you go home, take things easy. Limit you and your baby's exposure to people who could be sick as much as possible. Your baby will still be at a high risk of catching a secondary illness or having their RSV turn into pneumonia. Make sure your baby rests as much as possible and get plenty of fluids.
There are a few items that we have at home that have made it easier to come home:
Owlet Baby Care Monitor – We had this with Oliver, and it alerted us to his oxygen being low before he was admitted. The same thing happened with Andrew – thankfully, it's a lot more main stream than it was with Oliver, so the doctors and nurses didn't bat an eye when we mentioned it.
While it's not a medical device, it can help you get a little bit more reassurance that their oxygen isn't starting to drop again or their heart rate isn't getting too high or low.
Just last night, we realized that Andrew's oxygen cord was kinked and not getting to him because his levels weren't where they should have been being on oxygen. We were able to adjust the cord, and they went right back up.
Nasal Aspirator – One of the big reasons why you may not leave the hospital is if the baby is needing to get their noses suctioned by a high power suctioner regularly.
We actually have a BabySmiles nasal aspirator that works *just* about as good at the hospital one. I was SO grateful we had this from a blog post we did a few years ago.
I have a BabyBubz nasal aspirator (similar to the NoseFrida), which is a lot better than the bulb syringe. But Andrew's mucus was extremely thick. I couldn't get it out, and I almost passed out trying. Those are not meant for the extreme secretions that come from RSV.
Forrest was having trouble finding all the parts to this one, but when it was very clear Andrew needed something more powerful, we found everything we needed, and this cleared him right up. He started breathing and acting better. It is pricey, but it is 100% worth having (most babies won't ever need suctioning this powerful. But if they do, get one).
Make sure you use lots of saline, though!
Most babies DO go home on oxygen, however, they usually want to see that they are desating only to the 80s and not below that. Both Jack and Oliver were on it for more than a week upon going home.
Make sure you ask for portable oxygen tanks and a backpack. The large tanks are good for sitting next to your bed, but they are pretty difficult to take anywhere.
Follow-up care is essential. You will likely need to follow up with your doctor within 1-2 days after discharge.
Tips
Make it feel more like home
I already mentioned this, but I made sure to bring Andrew's typical swaddle and other familiar items to help him feel like it wasn't a scary place.
It was important to me that my children always had someone they were somewhat familiar with nearby at all times. The last thing I wanted was for them to feel like we were just leaving them in a scary place by themselves.
Don't be alarmed by weight loss/lack of weight gain
It is not uncommon at all for a sick baby to not gain weight or even lose a little. The most important thing is that they are hydrated.
So don't be surprised if they have a stall in weight gain. I think it took my kids a couple weeks to really rebound, and their doctors were never concerned. It takes a lot of energy to fight off sickness!
Bring a Sleep Mask
I already talked about how sleep is hard, but I strongly recommend bringing a sleep mask. There are lights from monitors everywhere, and it can be hard to sleep. I slept so much better once I pulled mine out.
Ask questions – nothing is dumb
This is your child – you have an absolute right to know exactly what people are doing and why.
I have never had a problem with hospital staff glossing over my questions or not explaining things well. But it can happen – voice any concerns or questions that you have.
The Oxygen Monitor is Annoying
Your baby will be on a monitor to track their oxygen and heart rate while they are in the hospital.
When you watch it, if the pattern isn't regular and is all over the place, it's not picking up. So try not to get distressed by that. If baby is wiggly, this happens a lot.
It will probably fall off quite a bit too. They usually have to change it 1-2x a day, and it is hard to keep it on their foot. Make sure they have a sock on – that helps a lot.
Interact with your Baby
It can be hard to see your baby in such a fragile state – but typically, you can hold them, snuggle, and play.
Unless I was resting or needing a little break, I had Andrew with me during waking hours. I think it helped him feel more at ease to see that I was treating him the same. You have to make sure you are extra careful with hand hygiene, but you should be able to interact quite freely.
Baby Might Cry More
Andrew picked up pretty quickly that if someone came in the room with a mask, gloves, and a gown, that they were probably there to mess with him.
He would burst into tears whenever they came in the room. It was kind of sad – but not abnormal.
They might just not be acting themselves either. I mean, they probably feel pretty cruddy – but it's a place that's so unfamiliar to them. It's hard!
Wash your hands frequently!
This should go without saying, but wash your hands and wash them frequently!
The hospital is full of SO MANY germs – and there's a decent risk of you or your child picking up another virus. So make sure you wash your hands pretty much every chance you get.
It's okay to feel overwhelmed, scared, and/or sad
Even though we were there for the third time, I had a couple of near meltdowns when I was in the hospital with Andrew.
I texted Forrest and told him I just didn't think I could handle being there. It all just felt so unfair and overwhelming.
I felt that way various times with all of my children when they were in the hospital. It's just a very emotional time where you don't have much control over everything.
Leave the Room
With Jack, I didn't leave the room for the first five days. Not once. I finally left for a few minutes when some family came and insisted they sit with him while I went downstairs…but it was hard.
With Oliver, the nurse made me leave. I think she could tell I was quickly deteriorating.
And with Andrew, I knew I had to make myself leave the room. I kept the blinds and curtains open as much as I could. I knew that if I didn't, I would feel depressed.
It doesn't have to be for long. A quick walk to the nutrition room or around the hospital can do great things for your soul.
The hospital is not a fun place to be. Those small rooms feel more cramped with each day. It's easy to feel like the days will never end – but I promise they will. This last time, I just kept telling myself, "You made it through this before. And you'll do it again. Just enjoy this uninterrupted time you have. to snuggle your baby."
Prepare for lots of waiting
Although RSV is serious, it typically doesn't make for a super intense hospital trip. Most of the time, you are just waiting for the next time the nurse comes to take vitals or for the doctor to take a listen.
It might be really boring, and don't feel bad for feeling that way. Find a way to entertain yourself. It's very easy to go a little stir crazy with all the waiting and sitting around.