Bringing a baby home is such an exciting time – but it can also be a bit overwhelming as you try and find the new "normal". Often, it can be difficult to find the best ways for a new dad to help a new mom – and bond with a baby (especially when mom is breastfeeding!) Here are some easy ways for dad to be involved in a way that will help a new mom, as well as bond with their new child (most of which don't involve feeding!)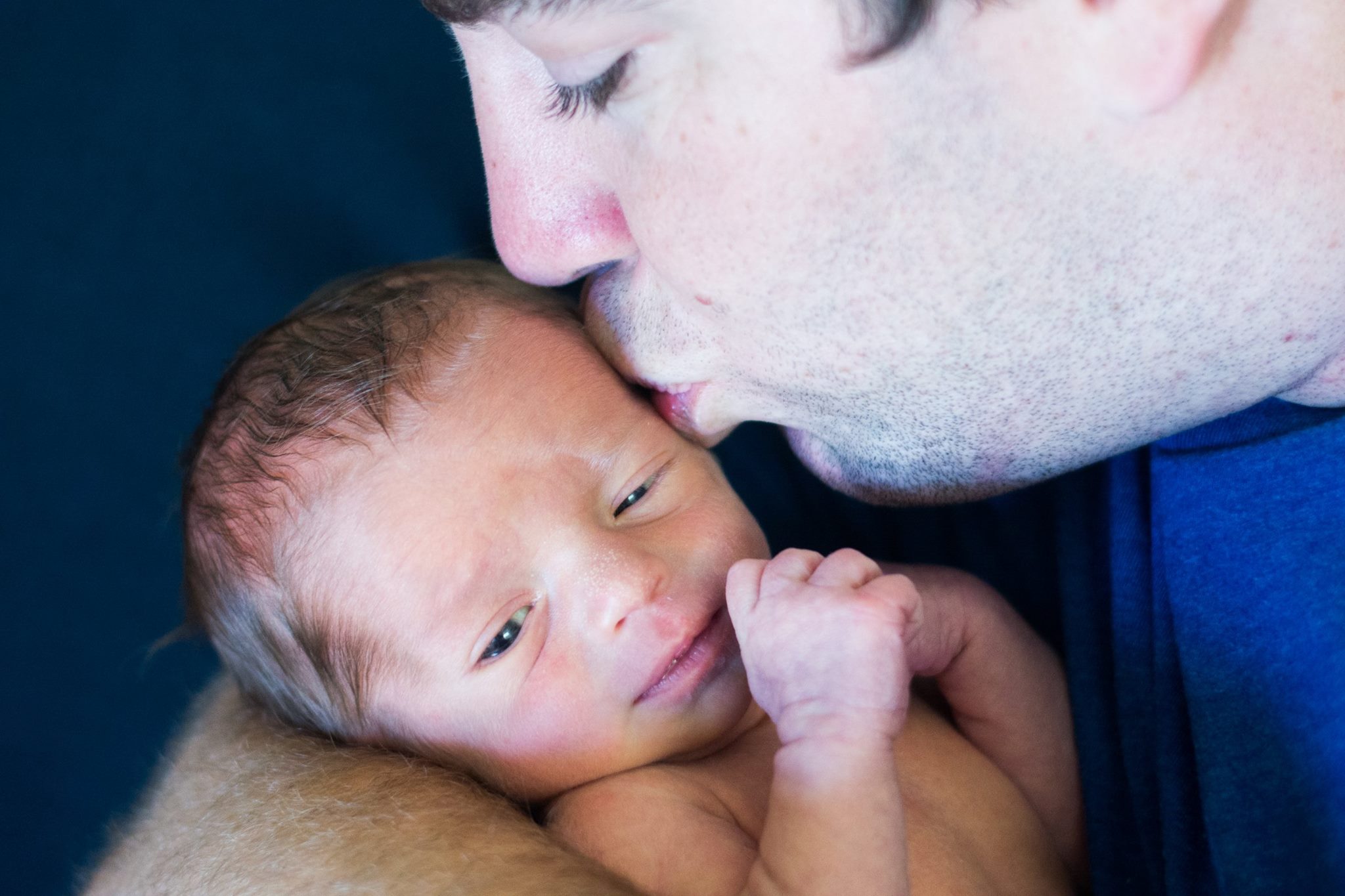 How to Bond with Baby
Thank you to Sam's Club for partnering with us on this post.
When your baby is firstborn, it may seem like all you do is feed them and change their diaper.
And, in all honesty – that is about all you do!
A lot of this responsibility tends to fall on the new mom – especially if they are breastfeeding. Some mothers feel like they have to pump and bottle feed in those early weeks so dad can participate in that. Some well-meaning dads offer to give a bottle so mom can sleep, but in order to maintain a healthy supply, mom will have to pump anyways, which kind of defeats the purpose.
So often I hear mothers saying that their child's father wants so desperately to help in some way, but they just don't know what's helpful or if there's anything they can do besides feeding the baby.
Or maybe they feel like they are missing out on some kind of bonding experience because they can't feed the baby. This can make any new mom feel a little bit guilty!
But the truth is – there are SO many new ways to help a new mom that doesn't involve feeding them. And there are plenty of ways to bond with a baby. My husband gave Oliver a bottle a few times, and I don't think he ever gave Jack one…and they have a beautiful bond.
Because of these struggles I often see, I thought it might be helpful to share some tips on how a new dad can best help a new mom – because it is a partnership that can work beautifully.
The responsibility of raising your child and running a household isn't just on the mom. I think it's important for new dads to feel encouraged and know they are playing an active role in the rearing of their new child. It's a partnership – and it should work like one!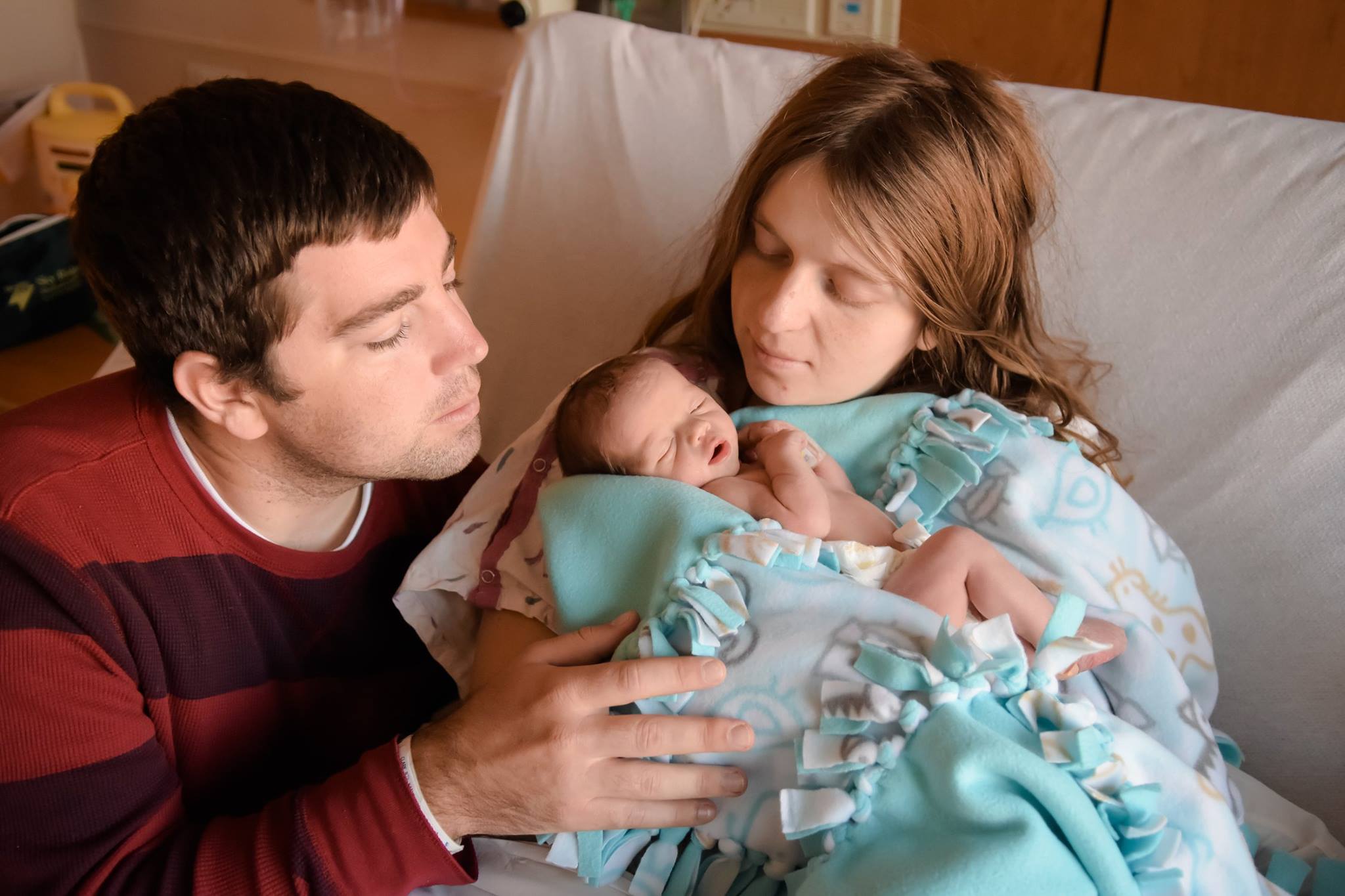 Also, this list can be shared with anyone who is looking for a way to help a new mom – lots of great suggestions for anyone!
Help for New Moms at Home
originally written in 2018; updated in 2020
Ways to Help During Feeding
I know I said there would be ideas that don't involve feeding – but I actually mean that don't involve the action of feeding. Dad can be very involved in the actual breastfeeding relationship if he wants to be. Although these suggestions are geared toward dads of breastfed babies, if your child is formula-fed, they can definitely do these things, too.
Encouragement – the #1 thing I see moms who are breastfeeding need is support and encouragement. Those early days of breastfeeding can be brutally hard. You are sleep deprived, often wondering if the baby is actually eating, and if you do have a problem, it can feel super overwhelming. Having someone there to tell you it will be okay and that you are doing great can make all the difference.
Hold baby's hand – a couple of moms said their husband just enjoys being next to them as they nurse and holding baby's hand or stroking their hair. This can calm the baby down and make for an easier feeding session.
Grab supplies for mom – just because mom is breastfeeding doesn't mean
Burp – Burping is a necessity! Why not let mom rest a little bit between feeds and burp baby. It can take a surprising amount of energy!
Snack and water – just make sure she has a little snack and water. Breastfeeding can make you equal parts starving and thirsty, and it always seems to set in during a breastfeeding session….which isn't super convenient!
And if your baby is bottle fed, then definitely feed them a bottle. When Oliver was a newborn, he had trouble growing, and I had to pump and supplement with my breast milk. It made me really sad to feed a bottle, so I was grateful that Forrest was willing and able to feed some of those bottles.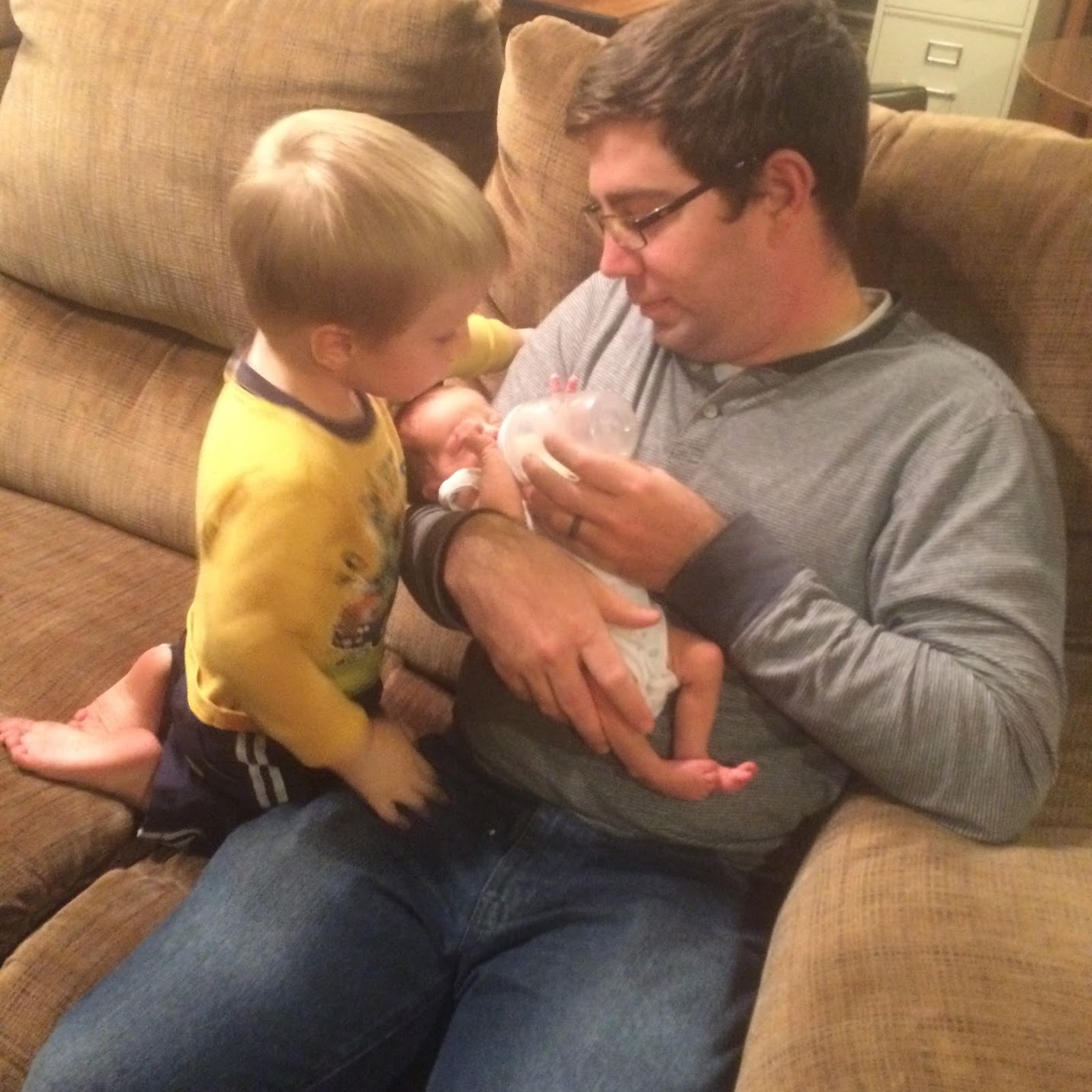 Bath Time
Many mothers I asked said that bath time has quickly become a bonding experience for their child and their father. It happens pretty regularly, and it can be a very soothing time. They can get the water started, wash baby, dry them off, and dress them at the end – dads are completely capable of doing all of these things and more!
Play Time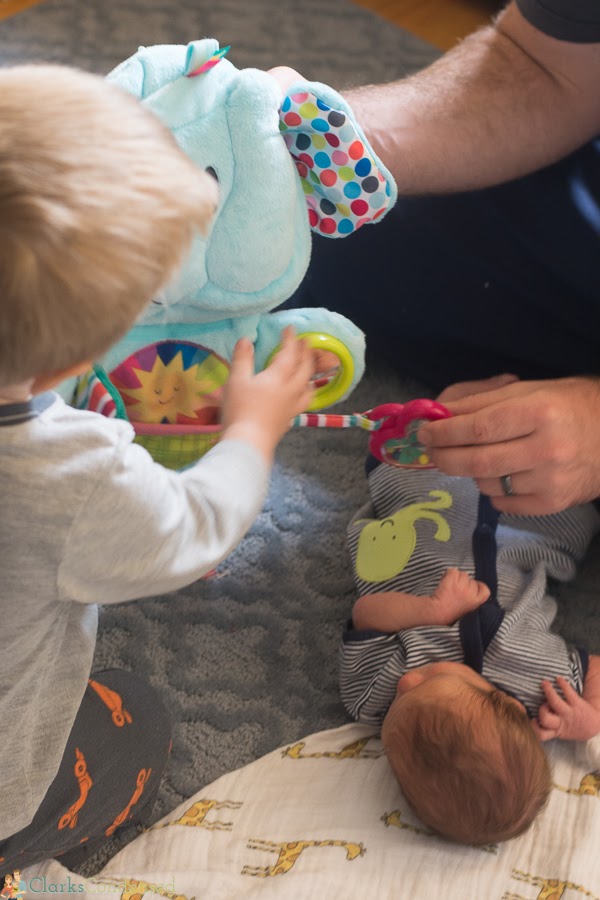 Sure, babies don't actually play (especially in the beginning), but interaction is great. Singing with baby, playing peek-a-boo, and trying to make baby laugh are all great things to do with baby.
Tummy time isn't always a favorite time for baby – but it can be a good thing for the new dad to be involved with as well.
Run Errands
After the baby is born, the mother needs to recover – which means probably not going out to run errands right away. However, life still goes on and things need to be picked up from the store.
Some moms might be dying to go back to the store and won't mind taking the baby…but a lot won't. Going to pick up groceries and other necessities are such a great and practical way to help the whole family.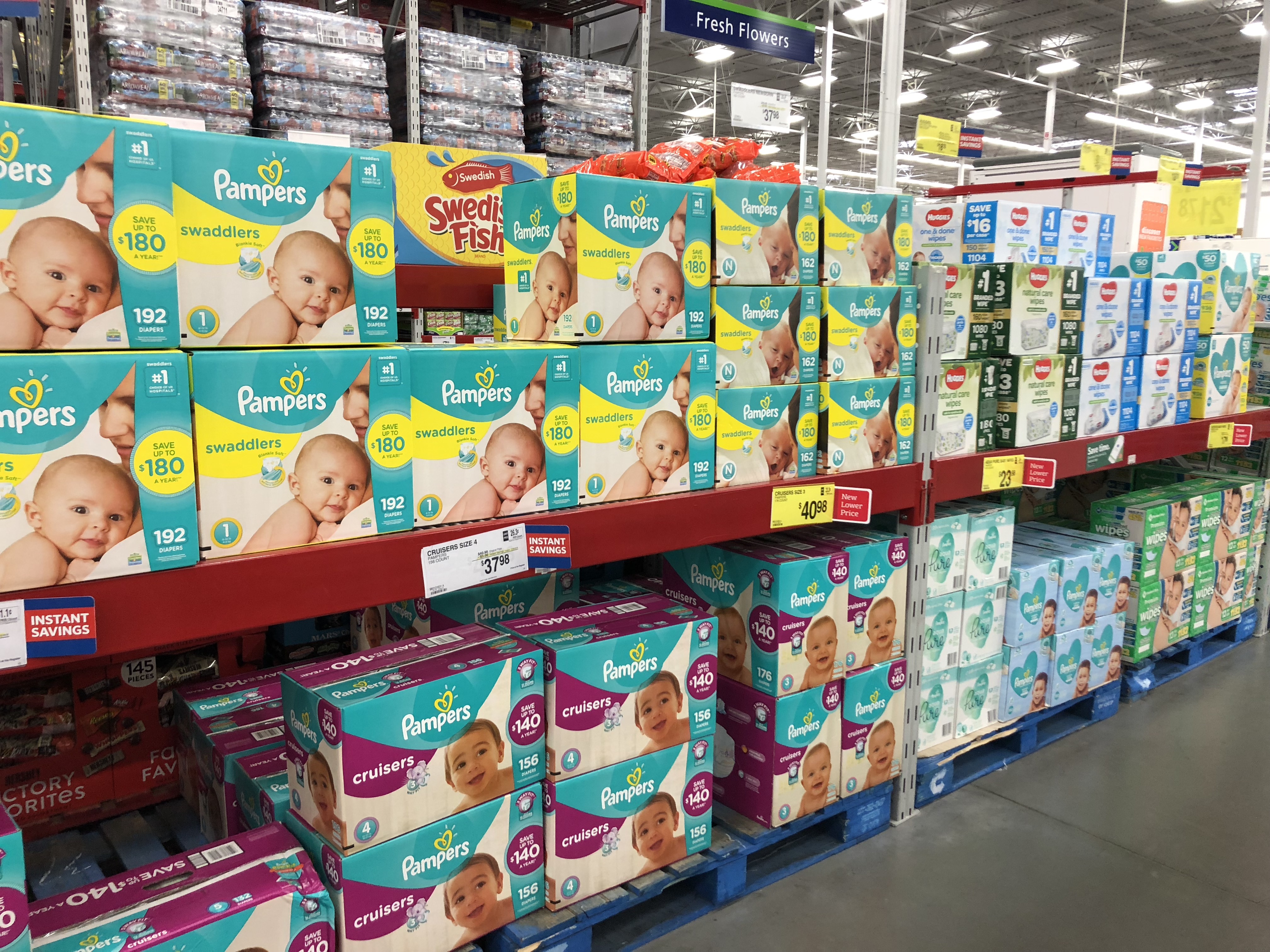 Babywearing
Babywearing is one of my all-time favorite practices – and it's not just for moms. In fact, I think it's a wonderful way for dads to bond with their child while helping mom to have a little bit of a break.
Most babies love being all close and snuggly to their parents this way, and it frees up your hands. It's also a great way to encourage a secure attachment.
Forrest wore our kids a lot, and I loved it! I think he did, too 🙂
Keep Essentials Stocked Up
Life doesn't stop when a baby is born, which means you will be going through everyday necessities like toilet paper, groceries, etc. still. Plus, you'll have some new necessities, such as diapers and wipes.
Dad can keep an eye on these things and make sure the family doesn't run out of toilet paper in the middle of the night. As I mentioned earlier, if you have a Sam's Club membership, it can be as easy as setting up a subscription for your most used items to make sure they arrive before you need them.
Here are a few essentials from Sam's Club to consider stocking up on:
Let Mom Sleep
Sleep is a precious commodity for new parents – and I think both parents feel it! However, a new mom especially needs her new sleep because not only is it an around the clock job in those early weeks, but she needs to recover from childbirth as well.
If mom is breastfeeding, unfortunately, she can't really sleep through those sessions and have dad feed (because she'd have to pump either way!), but if the baby doesn't need to eat – dad can take care of things while mom is sleeping.
Just because the baby starts to cry doesn't mean that mom has to be woken up. Getting even 30 minutes of uninterrupted sleep can make all the difference.
Dad can also encourage mom to make sure she is sleeping. I remember feeling like I had so much to do and couldn't sleep – and oftentimes, I would forget to rest!
But I think if dad can ensure mom is getting rest when she can (and taking over many of the duties I mention here can help), it will make everyone happier and healthier.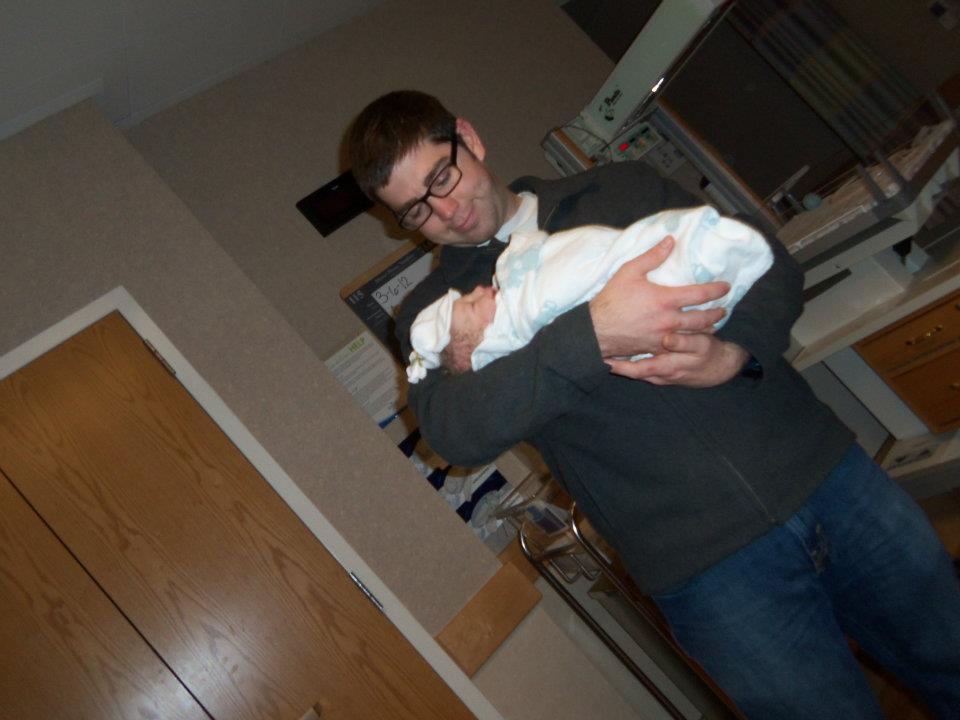 Cook
I see so many new moms forgetting to take care of themselves – including eating. However, it is SO important to keep fuel, but it can be overwhelming to make meals.
So, dads – you can step in here as well! Maybe it just means throwing a frozen meal into the oven, or maybe you want to channel your inner Julia Child and make a feast, or maybe it's ordering a pizza. It doesn't matter! Just find a way to make sure mealtime happens.
Before the baby is born, I always recommend making freezer meals. But if you don't get around to that, there are lots of frozen food options now. You can buy them for good prices at Sam's Club, and they have a huge variety. While I don't recommend frozen food all day every day, it can be really helpful in a pinch.
Attend Appointments
There are all sorts of appointments in the first few weeks and months of life – dad can make an effort to be there. I know that if Forrest hadn't been at some of the doctor appointments with Oliver, I would have had a nervous breakdown. In fact, at one point, I had to send him by himself because the thought of going sent me into a near panic attack.
Hopefully, your child won't have significant health issues – but even if they are the healthiest of the bunch, having dad there can help him to feel more involved in the caretaking, and it can help mom feel like they are on a team.
If mom is breastfeeding, attending lactation appointments can be really helpful as well. I went to a breastfeeding support group a few times, and while Forrest wasn't "allowed" to attend those, he still came with and visited with the lactation consultant afterward. With both our boys, he was at all the doctor's appointments, and it made a world of difference.
Be Supportive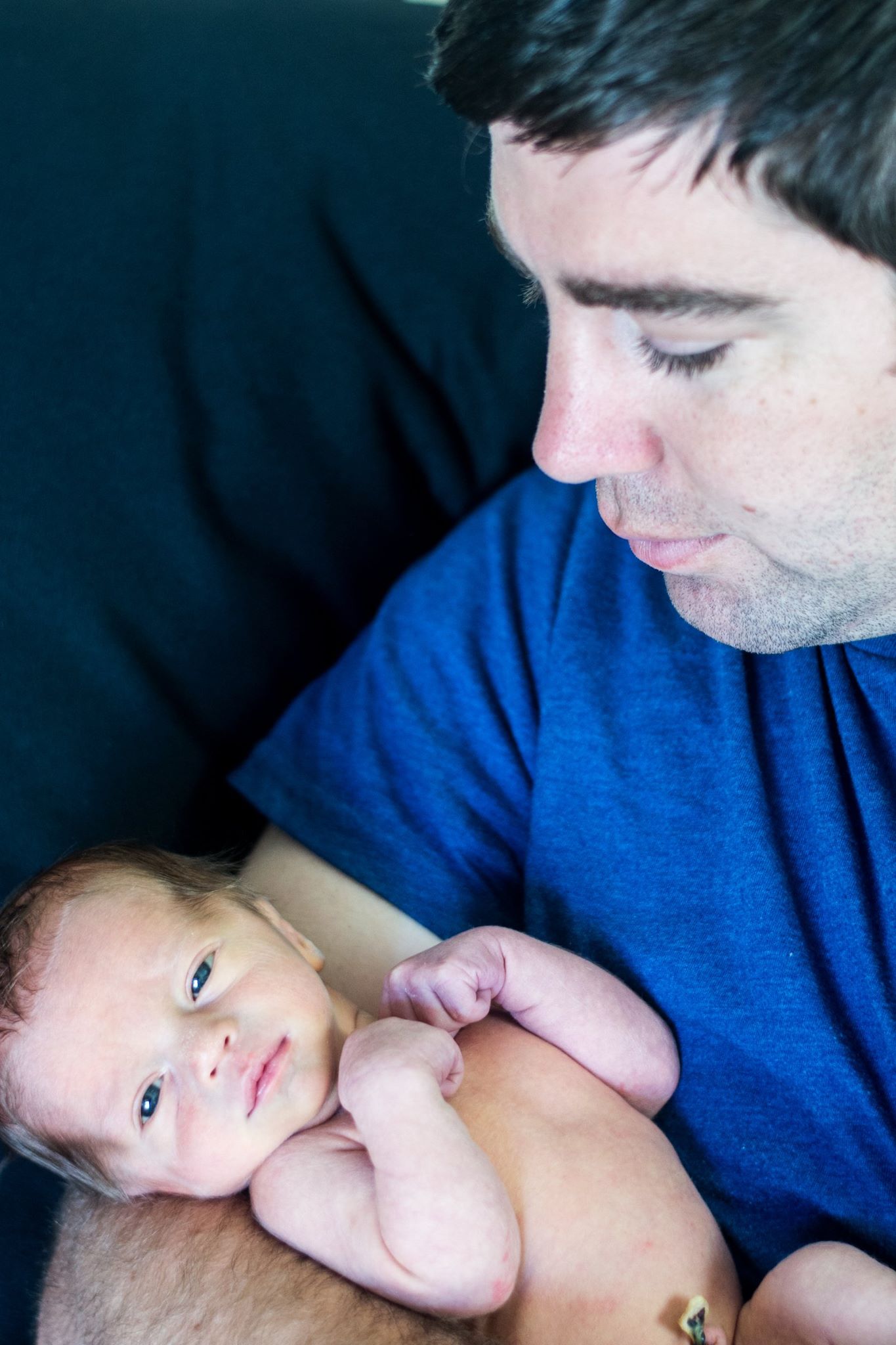 There are a lot of decisions during the first year, and there can be hiccups along the way. Maybe breastfeeding isn't going as planned. Maybe you have family members that are critical of the decisions you are making as a parent. Or maybe you just feel a little overwhelmed. It can be stressful at times!
I would encourage dads to be as supportive as they can. Mom and dad should communicate about the decisions they are making in regards to their child, and they should stand together united on those.
When I asked in my breastfeeding group about the best way to their husband was involved, so many women commented on how they were just supportive. It makes such a difference!
And be supportive of her by trying to connect with her. Romance changes after you have a baby – but even just planning a fun couple games for after the baby is asleep can be helpful.
Skin to Skin
I think skin to skin is one of the most natural and beautiful ways to bond with a new baby – and it's not just for moms.
I always recommend dads doing skin to skin, especially if they feel like they are missing out on some bonding experience. There are so many benefits of skin to skin for baby, and it's a great way for dad to be involved.
Music
Sing, play an instrument, or just listen to music together.
Housework
Yes, housework isn't that glamorous. But it's a necessity. I don't know about other moms, but I know when I look at my house and see that it's a disaster, I just feel depressed. And when you are recovering from childbirth, doing any heavy housework really isn't recommended.
Make a list of chores that need to be done. Maybe dad already helps with them – that's great! But if not, talk with him about the different things that need to be done.
But, give yourself some grace, too. No one expects a perfectly kept house from someone who just had a baby 🙂
Pamper Mom
Give her a foot massage, bring her chocolate, or give her a shoulder rub. Making a new mom feel a little bit pampered never hurt anyone, and it's a simple way to show you appreciate her.
Give Mom a Break
A lot of the suggestions I've given above are pretty much to take on some of a load of parenting so its not all on mom. It's a partnership, after all.
However, in case it needs to be said again – dads can just keep their eyes and ears open and jump in whenever mom seems like she's struggling or just needs some time alone. There are lots of suggestions here on how to interact with baby if you are feeling a little overwhelmed by that
Help with Bedtime
A bedtime routine is a huge part of a baby's life – and it's really important for helping the baby to establish a good routine.
A lot of dads will take over bedtime, and I think that's great. But even if you don't want to take that on entirely, having both parents involved can be good for everyone.
Read to Baby
There are benefits to reading to baby, and it's a great thing for dads to do.
Change Diapers
No one likes to change diapers – but it's one of the most necessary and simple things you will be doing. There's no rule that says only moms need to change diapers – so don't be afraid to step up and change them.
Baby Swimming Lessons
I thought this was a fun suggestion that someone gave – dad and baby swimming lessons! While these aren't typically until the baby is a little older, it can be a really fun activity for both dad and baby.
Get Baby Dressed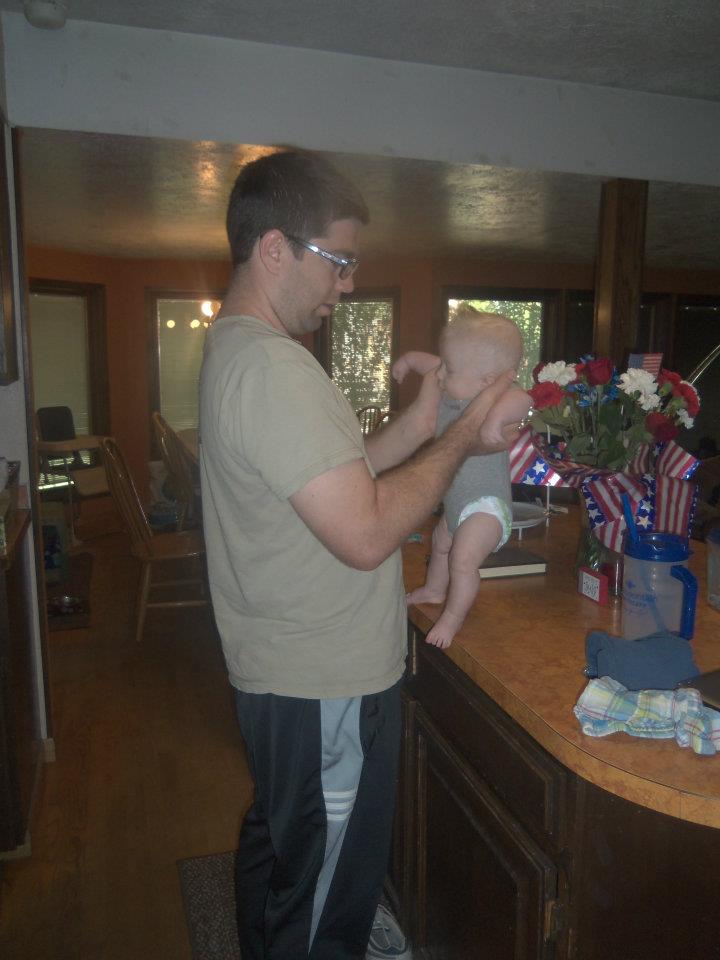 This is pretty self-explanatory – just get baby dressed!
Tips from Other Moms
I asked moms in my breastfeeding groups to share what their child's father does,
My husband is useless at night. He does not hear the baby and is more cranky on less sleep than I am. ? Bless his heart. ? So I handling the feedings. But he plays with the baby, rocks her, sings to her, plays peek a boo, carries her, soothes her, feeds her baby food, gives her hugs and kisses…. You know all the other things you can do to bond with a baby. – Katelyn
One example, the other night we laid a burp cloth I'd been using through the day, across my husbands chest and while baby was sleeping on me we gently transferred my little guy over to his chest while my husband resumed gently bouncing and patting him. He stayed asleep like that none the wiser while I cooked dinner. ? My husband is good about trying whatever he needs to and he never pushes a bottle because he knows that's not what our little guy wants. I really appreciate those things ? – Angela
When baby is fed he holds him & cuddles & rocks him to sleep if unsettled, he rubs his tummy if he seems to have belly ache, when I'm feeding, he does a lot of the burping him & he sings to him, baby is only 8 weeks old & although he settles best with me most the time, there are now occasions when he settles for daddy after not doing at first, the effort & time obviously works x – Sarah
My husband does morning routine out of PJs into clothes and the nighttime routine into PJs and prayers. She's then handed off to me to feed and put to bed. He'll walk her to if she wakes up after I fed her. Any naps or anything is just who she's with at that time. He definitely has a special bond with her. I see it when a family member is holding her and he hears his voice. ? – Megan
My husband is an angel. Our girl is 9 months in a few days and he still does the majority of the housework since I breastfeed, pump at work, and nurse at night. I cook dinner/make lunch/breakfast but he cleans up afterward and all other duties in regards to our daughter is happily split even. He also watches her all day on Mondays so she doesn't have to go to daycare all week. He's such a wonderful dad, we are so lucky ♥️ – Ashley
My husband loves holding our baby any chance he gets. I catch him singing to LO when he thinks I'm not around. He also reads to him. As for support in breastfeeding, he is 100% behind me and understands that it's my decision to continue to breastfeeding or switch to pumping. I am taking grad classes so when I am gone to those, he is able to bottle feed him. I personally like giving LO a bottle before bed so I know he'll sleep with a full tummy and in return sleep a little longer for us. – Jessica
My husband holds our daughter a lot when we're out and about and when we are just sitting around at home. He talks to her and plays with her, changes her diapers, and clothes. When I get frustrated because my daughter won't latch on and stay latched, he will rock her until she calms down. Really just being consistently present and building a relationship with her has been critical for their bonding. Our baby girl is a total daddy's girl unless she wants to nurse? – Shala
My hubby burps her, does skin to skin, helps her fall asleep, dances and sings to her, gives her a bath. He has been my biggest supporter. Encourages me to not give up, reassured me that I'm doing a good job, at night he'll stay up and talk to me as a feed her, in the beginning, he helped me latch her properly. He makes sure I drink and eat enough, gives me massages, makes sure I shower daily as he knows how relaxing that is for me. He defends our choice to breastfeed and co-sleep to those who disagree (this is a big one) – Mel
My husband always gets our son ready for bed. He changes him, gets his sleeper on and rocks him a bit. He also talks to him and plays with him a bit in his crib before getting him ready. Another way they bond is tummy time when my husband is home. He will also prop our son on his bend legs so they are facing each other and have a "chat". As for support of breastfeeding, he always asks if I need some water or a snack when I'm feeding our baby, he makes sure I'm eating during the day, has been supportive of me working with an LC and when I had worries about my supply and my sister and mom were suggesting formula supplementation, he said at the end of the day it was my choice, but he really didn't want our son to have anything, but breastmilk for at least 6 months. He then suggested we start taking our son to the public health center twice a week to weigh him, so I could see he was gaining weight (albeit slowly!) in between my appointments with my LC. – Kristen
A reminder for new moms
I see a lot of new moms afraid to let their husband/partner take on any responsibility with their child. I really would encourage you to have him be as involved as possible – it's all a learning process, and he deserves to be part of this exciting new adventure. He is likely completely capable of doing all of the things above – and more! If he doesn't know how to do something – be willing to teach.
Sometimes dads can feel a little overwhelmed, like this: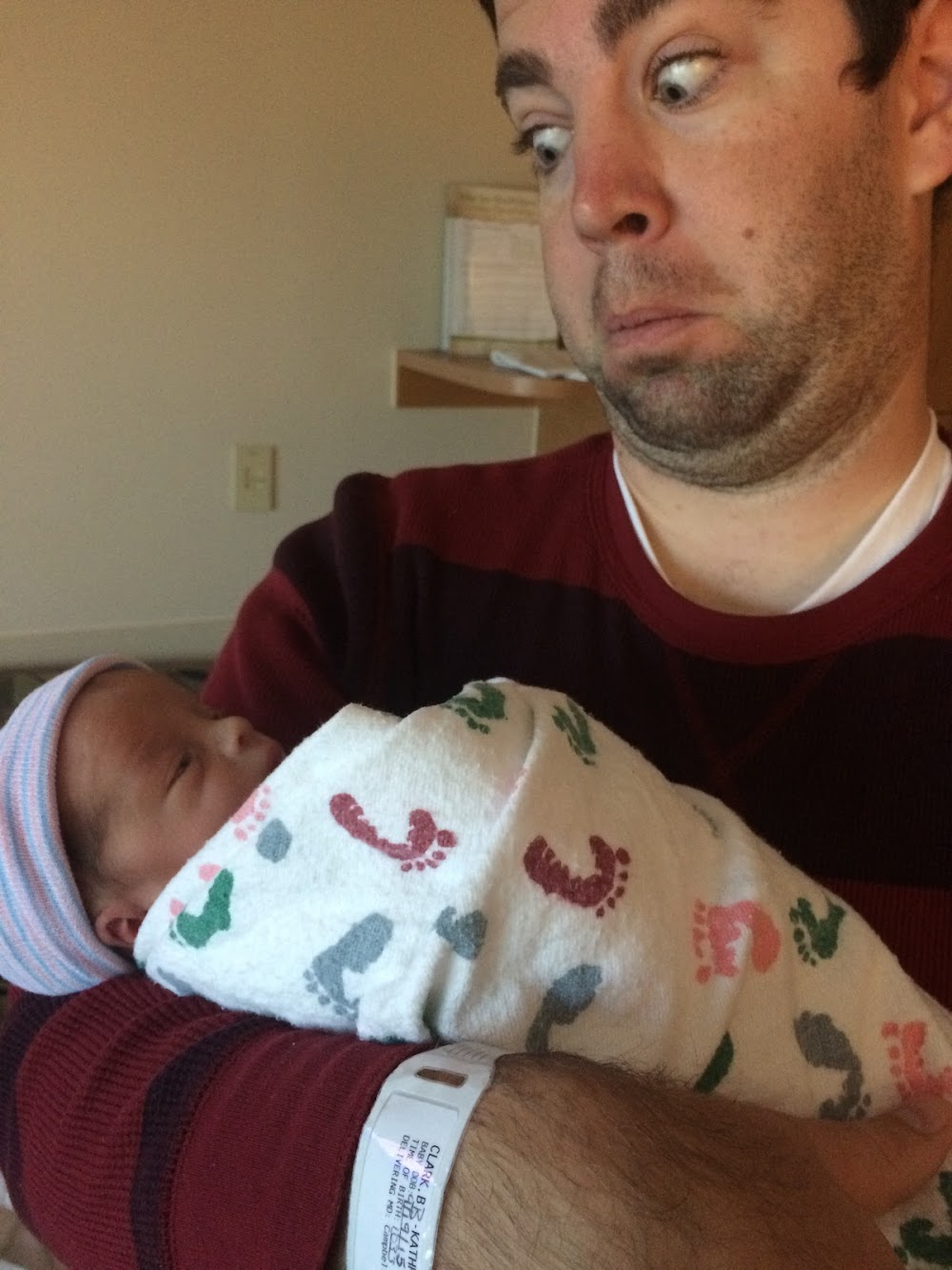 But I promise you – they usually get it 🙂
Along the way, you will hopefully find a new normal where mom and dad can both be involved in the way that works best for your family.
Don't forget to check out Sam's Club and see how they can make the transition to life with a baby just a little bit easier!
Other Posts You May Enjoy: