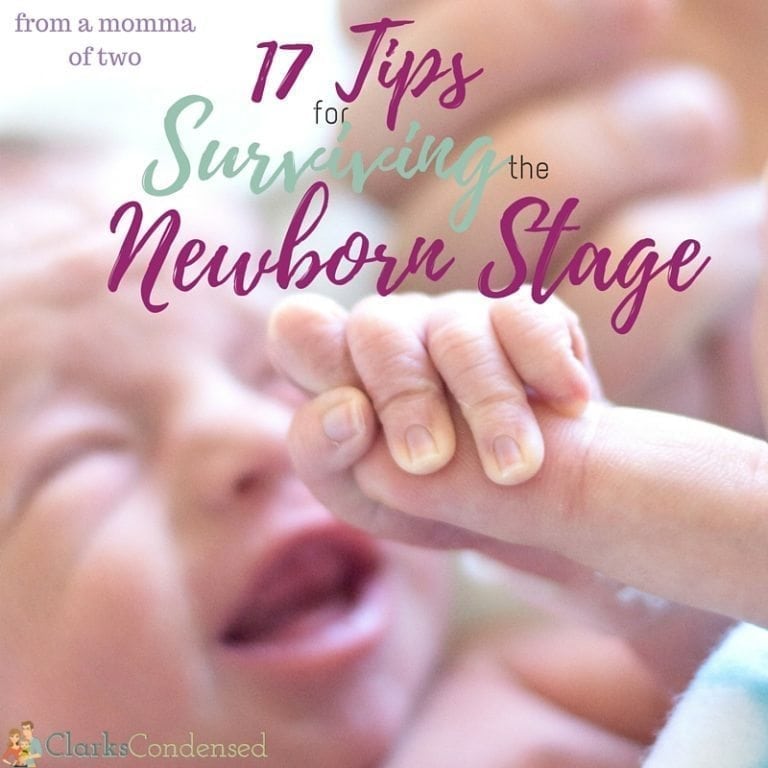 Call me crazy, but I love the newborn stage.
The fresh, new baby smell (someone needs to create an air freshener with that scent!) The snuggles. A good excuse to not do anything but enjoy your sweet little baby.
I love it. As much as I enjoy watching my babies grow and learn new things, I always am a little bit sad when that sweet newborn stage is over.
With that said, it can definitely be a challenging time. I mean, if you've read my post about the week after giving birth, you know I struggled at times!
So if you are in that newborn stage and are wondering if it will ever end, or perhaps you are about to have a baby and aren't sure what to expect, take heed. It does end. You might miss it, you might not. But you might as well embrace it while you can!
Awhile back, I wrote this Newborn Survival Guide – it has just about everything you need to know about the newborn weeks. However, I decided to write a little about how to survive it yourself, since that was more geared toward baby. So I hope you find this helpful!
[thrive_leads id='31149′]
1) Co-sleeper
I know co-sleeping is a controversial topic, so I'm not going to tell you to bedshare with your baby. However, I do think co-sleeper beds are heaven sent during the newborn weeks. You can get them for fairly inexpensive, and they are great!
I think they make those middle-of-the-night feeds a little bit easier, and as you are recovering from child birth, it's nice to not have to move around too much. I did not have a c-section, but I've heard from many people that these are great to have when recovering from those. I didn't use a co-sleeper with Jack, but I did with Oliver, and I really feel like it made life easier.
2) Diaper changing station
Have a little basket filled with diapers, wipes, and diaper rash cream. I recommend having one of these in your room, one in the baby's room, and one in the living or family room. You'll be changing lots of diapers!
3) Five Minute Spruce Up
Some people really bounce back to normal quickly and are ready to wear nice clothes, do their hair, and put on makeup right away.
I am not one of those people. And don't feel like you have to be. I'm a big believer in letting yourself heal and recover for as long as you need. It took nine months to grow that baby – cut yourself some slack!
Still, there may be sometimes where you want to look somewhat presentable to guests, need to run to the store real quick, or maybe you just want to feel a little more human. In that case, have your five minute spruce up routine.
For me, that starts at night by taking my showers before bed. I know some people must blow dry their hair, but for me, I'm okay with sleeping on wet hair. Then, in the morning (or whenever I decide to make myself look presentable), I have a five minute routine. I don't look super fancy, but I do feel better about myself and more ready to take on the world.
So, here's how it goes. I flat iron my hair – not perfectly but just a few times through. I invested in a high quality flat iron last year, and it actually takes just about 1-2 minutes to straighten my hair.
Then, put one some foundation and mascara and a little bit of Lipsense.
See – simple and fast. Perfect for a new mom.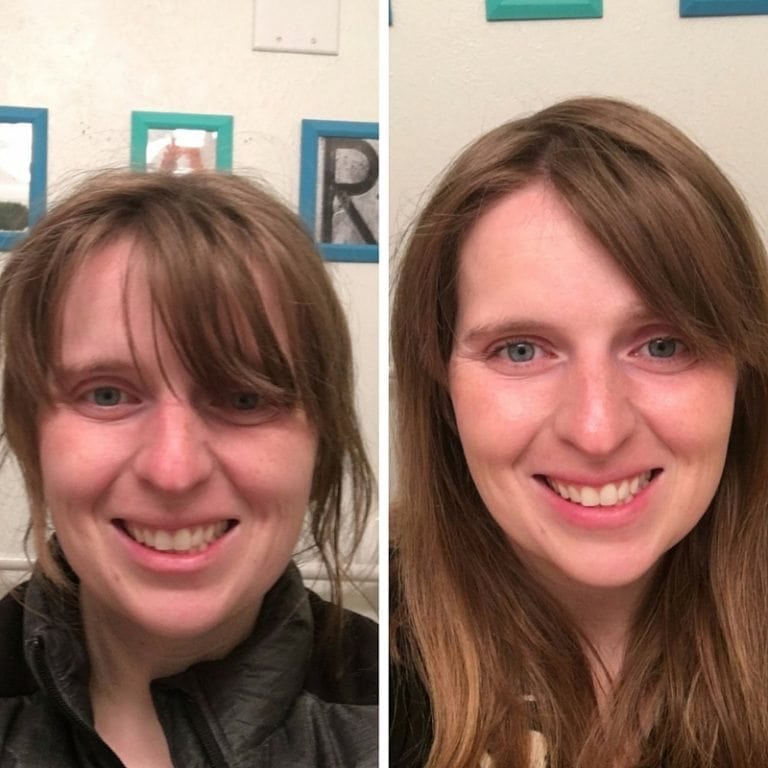 4) The Woombie
You may have heard in the news recently that swaddling is linked to a higher risk of SIDS. The new information says that babies who are swaddled and lay on their sides or stomachs are twice as likely to succumb to the syndrome, and that it can lead to overheating as well.
Well, most advice I've seen when it comes to swaddling is that when they start to roll to their sides or stomachs, you should stop swaddling. And if you are swaddling, it's important to use a thin blanket. I would always just put my boys in onesies when I swaddled them.
My boys both loved to be swaddled though, and I think if you do it safely, it is fine. We discovered the Woombie when Oliver was born, and I am obsessed with it. It's made to help your baby feel like they are still in the womb, but it's breathable, thin, and I think a better alternative to traditional swaddling. Oliver loved having his hands right next to his face while sleeping, so I especially loved the convertible version where you can unzip an opening for them to move their arms out of. I like that it has two zippers, which makes middle of the night diaper changes so easy.
5) Onesies and soft pants
Don't even worry about putting your baby in cute, designer outfits. Chances are, you'll be changing their outfits multiple times a day due to blowouts, spit up, etc. So just stock up on some onesies and matching pants. I really love the Carter brand of onesies – they are high quality and soft!
[thrive_leads id='32174′]
6) Stretchy Pants
You have plenty of time to fit back into your pre-pregnancy clothes later on. Embrace the stretchy pants. Heck, I'm still embracing them and I'm eight months postpartum 😉
7) Feeding Station
Set up a comfortable place to feed your baby. Whether you are breastfeeding or bottle feeding, I think it's important to be comfortable. Those early feeds can be very long (but don't worry – babies get a lot more efficient the older they get!) I love the Boppy pillow for feeding my babies. I also love having a nice stack of burp clothes (these ones that my friend, Amber, made me are the best I've ever used!) as well as a blanket close by. Some people think that a rocking chair might be a splurge, but it's one of my favorite baby products.
8) Babywearing
I am a huge advocate for babywearing. My boys both have loved it so much. In the early months, I use my Moby Wrap a lot. It's easy to put them in, it's soft, and they sleep really well in it. I feel like it helps to have both of my hands back. I love my Ergobaby carrier now, but unless you have the infant insert (or their newest carrier which can be used with a newborn), I'd stick with a wrap like the Moby Wrap (or something similar.) You can even make your own pretty easily!
Read more about Babywearing in these posts:
The Basics of Babywearing
11 Reasons to Love Babywearing
9) Simplify meals
We were given a lot of restaurant gift cards before Oliver was born, and I LOVED having them for the first month. It was nice to be able to order one of the to-go options from places like Chilis and Olive Garden. So if people ask what you want for a shower (especially if you have everything else you need), consider asking for a restaurant gift card.
In addition to that, you can try and prepare some freezer meals before the baby comes, pick up a good cookbook with slow cooker recipes, and if someone offers to bring a meal, let them! Even doing something like Blue Apron (which delivers meals) can be helpful during this time.
10) Make sure someone sleeps
Ah, sleep. We all know that infant sleep can be hard to deal with (make sure you read my ultimate guide to infant sleep for help in that area.) However, it's important that someone sleeps. If you are breastfeeding, your husband probably doesn't need to wake up for every feed with you. Letting him sleep can better prepare him to help during the day or after work (so you can sleep!)
I was never one that could sleep when my baby was sleeping…I just wanted to hold them too much! However, it is important to take naps when you can. If you have older children still at home…good luck 🙂 If you can get them on the same napping schedule, that can help a lot.
And I know it can be hard to sleep even when your newborn is sleeping – I know I was always so worried about my boys and if they were breathing. We got an Owlet Baby Care monitor with Oliver, and it has literally been the best thing I've bought. It alerted me when Oliver's oxygen was dangerously low when he was a month old, and it actually helped us to diagnose him with Central Sleep Apnea and Ataxic breathing.
Make sure you check out the Owlet Coupon Code page for all current offers – the only coupon codes will be available here. They also offer refurbished ones for $199.
11) Go with the flow
Try not to have too high of expectations. Don't feel like you need to get back to church, volunteering at school, or entertaining guests too soon. While it's great to get a baby on a schedule eventually, don't worry about it too much those first few weeks. Feed the baby, change the baby, and enjoy the baby. That's my philosophy for the first month or so!
12) Entertainment
As I already mentioned, feeding the baby can take a long time during the newborn stage. I think it's nice to have some kind of entertainment – you'll probably come to enjoy it! I know people who find a TV series on Netflix or Hulu that they reserve only for feeding sessions. I personally love VidAngel for watching movies and some TV series. You pay $20 int he beginning, and then rentals are only $1 a day after that – PLUS you don't have to leave your house. Win Win.
13) Snacks and water
Make yourself a little basket of snacks to have nearby when your baby is born. It's important to make sure you stay fueled so you don't get exhausted so easy. I love having granola bars, some chocolate, and fruit nearby.
You also should make sure you are drinking enough water! Buy a big cup or bottle for water (or use the one from the hospital) and make certain it's always filled! We have this water dispenser that I loved using right after Oliver was born. I felt like I couldn't get enough water!
14) Get Fresh Air
I think the number one thing I hear new moms lamenting on is that they feel like they are trapped in their house. There is no rule that says you can't go outside. Go on a walk. Sit outside on the grass. Do something to get fresh air and some sunlight. Those two things can do wonders for the soul. Plus, your baby might like it as well. Sometimes, the only way I could get Oliver to calm down was to take him outside. Obviously don't take them out in a snowstorm, but a little fresh air is good for everyone.
15) Skin to Skin
I believe that skin to skin is one of the best things you can do postpartum. When I was feeling totally overwhelmed, it was very calming to me, and I found that Oliver responded well to it. It helped with his struggles to breastfeed, and I believe it helped regulate his temperature a lot more after he was born. Babies love to skin to skin. It's also something that dad can do to feel a little closer to the baby.
I found that there were two things that made skin to skin even easier – nursing pajamas and/or a robe and kimono onesies. The hospital I delivered at dressed babies in these kimono onesies, and I thought they were genius. It made it so you didn't have to totally undress your baby to do skin to skin, and it also makes it easier to
16) Journal
I'm not the best at journaling, but I always make sure I write in my journal a little bit right after my babies are born. I cherish reading those memories that have faded since giving birth. I think writing down your child's birth story, your initial feelings, etc. is really important – even if you are the only one to read it.
17) Accept help
If people want to help you, let them. And if you need help, don't be afraid to ask. I know it's hard to ask for help at times, but if there's one time you don't want to overdo it, it's right after you have a baby. On the same note, don't feel like you need to entertain people. Politely ask people not to stay for dinner or to keep their visits with you and the new baby short.