This time of the year, I always find myself trying to make extra money so I can afford those extra gifts for the holidays. BUT I don't like giving up time with my kids.
How do we solve this problem? Find some gigs that we can do to make extra money from home while being a kickass mom (excuse my french LOL)!
So now I'd like to help you mamas find a way to buy those fun gifts or get your bills paid on time without struggle. Take what you can from this.
1.Sell unused items
This here is a no brainer!! Selling unused things around the house can bring in some serious extra cash! But where do you even start selling?
Facebook marketplace is a place I always go to. You can reach a handful of people and can specify who you are selling to and what you are selling. Aside from marketplace, there are local Facebook pages that were created to allow users to put out an ad about what they are looking to get rid of. Sometimes you even come across free items that people just want out of their house.
Try selling to used kids stores. We as mamas tend to accumulate lots of kids things over the years that we just never get rid of or toss. SELL THEM! One of my favorite stores to make extra money from is Once Upon A Child. They accept used (but in good condition) kids clothes, shoes and toys! There are over 380 stores in the world so hopefully there's one close to home for you!
2. Take surveys
Survey taking is a stupid easy way to make extra money! It can be tedious and repetitive but making money, has never been as easy! You can't expect to make a whole lot of money fast with surveys but it's easy to make an extra $50 a week just answering questions.
I use Survey Junkie the most. Some of the surveys pay as much as $45! My second survey site that I use to make extra money is User Interviews.
3. Start an Etsy store
Don't fret, this is a lot easier than it sounds!! Everyone at some point in their life is looking for a cheat sheet or list that someone else has provided, to make their life easier.
Have you ever needed an invitation template for your kids birthday parties? Or game ideas for a baby shower? OR a chore list for your kids? ETSY HAS ALL OF THESE!
Someone took the time to create a product and has it showcased on Etsy to help others out. You can do the same. Here's a simple guide on how to start an Etsy store to make extra money.
The best thing about this is you can sell numerous pintables WITHOUT having any inventory! It's all online:)
HOLD UP…. BEFORE YOU GET ANY FARTHER!! Get my FREE copy of over 20 additional ways to make some extra money.

[mailerlite_form form_id=4]
4.Start a blog
Well, well.. looky here! Who would of thought that you can make money BY WRITING TO OTHERS! Believe it or not, you sure can!
I started my blog to share a passion of helping other moms but I also wanted to start a side income!
I had heard about mom bloggers who made thousands a month by helping others! Check out Elna from Twins Mommy! She is what I thrive to be some day!
If you're looking to start a blog, let me help you with this resource post!
5. Babysit
We all have our own kids so we know how to care for kids, right?
COOL, make an income out of it! Start by babysitting some of your friends kids so they can have date night and have them recommend you to their family and friends! Before you know it, you could be making enough money to go on a trip and get away from all things kid related :p
Care.com is a great place to look for local babysitting gigs!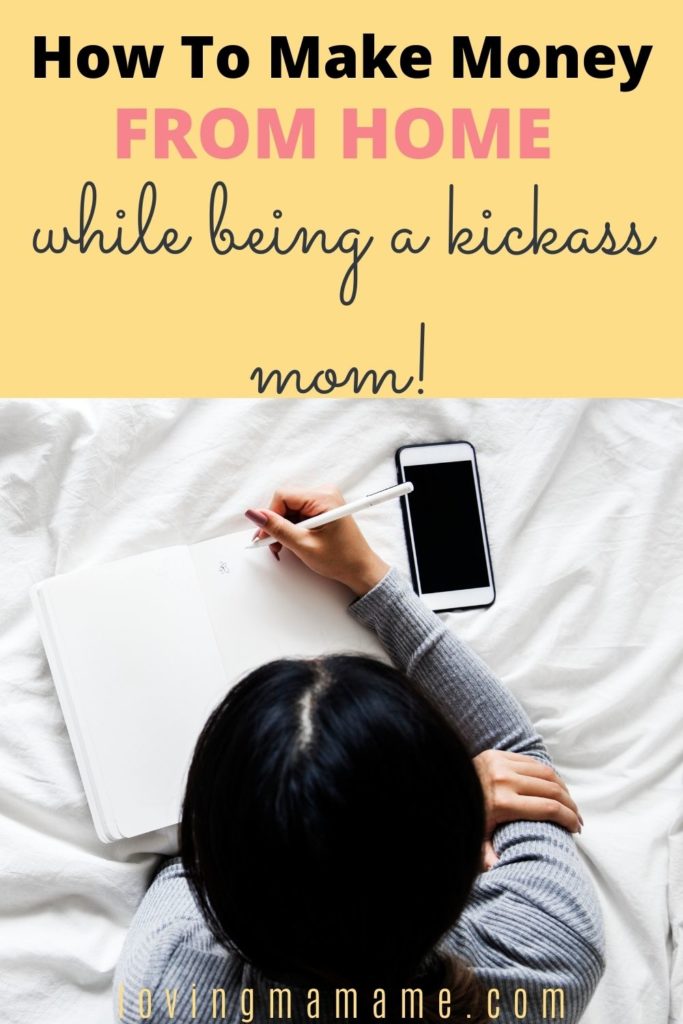 6.Make extra money by sharing your skills on Fiverr
Fiverr is a site that allows you to share your skills with others. You choose a price for what you'd like to be paid for a certain skill!
Web design, writing, video clip creation, graphic design, and virtual assistant are just a few of the skills that you can share with anyone registered to Fiverr.
Another great website to promote your skills and make extra money is Upwork.
7. Tutor students online
Tutoring online is something you can do to make extra money if you have a college degree. Put your brain to work and help those in needs. The hours are flexible and you can do this with a laptop, Ipad or cellphone (depends on the tutoring sites).
Some resources to check out are Kidz to Pros and VIP Kid.
8.Sell your photos
I personally have never used this tactic but I do love taking photos! This is a gig that you of course need to be good at but it's still pretty simple!
You can sell photos on ShutterStock or 500px. There are so many different places that you can sell your photos but these are just a few I have heard of.
9.Walk dogs
Here is a great way to make money and get your kids out for fresh air! Of course being your little ones are with, this will be weather permitted LOL!
There are many people that don't have time every day to walk their dogs or simply aren't capable of walking their dogs! That's where you come in! Put an ad out on Facebook and see if anyone is in need of a dog walker! You might be surprised in how many people might be interested!
10. Proofread
Proofreading is a gig that is simple and can pay around $15 an hour! If you have a way with words and want to catch writing mistakes, this is a job for you! There are even entry jobs available that allows you to proofread others work without having a college degree!
THAT'S A WRAP! <3
So what do you think? Ready to make some money?
Hopefully some of these ideas will help you get ahead of bills and allow you to spend a little extra time with your family!
What are some ways that you have made extra money from home? Lemme know! xoxo