If you are pregnant, or want to be come pregnant, you're probably drowning in information overload. However, there is one topic you really shouldn't overlook, and that is prenatal vitamins.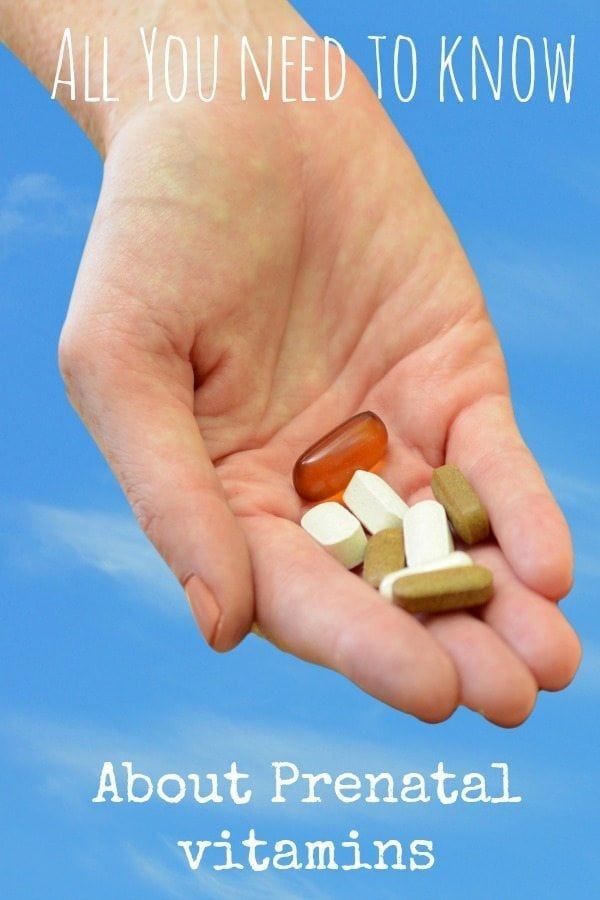 Why Prenatal Vitamins Are Important
Why should you take a prenatal? Most importantly, it helps make sure that you are getting all the nutrients that not only you need, but your developing baby as well. While you may get bits and pieces of all these nutrients from things you eat, a prenatal vitamin ensures that you don't
When Should You Take Prenatal Vitamins
So when should you start taking prenatal vitamins? Well, there are varying opinions on this. For the most part, if you are a woman of childbearing age, you should be getting 400 mcg of folic acid daily anyways, regardless of your pregnancy status. And because some of the nutrients in the prenatal are essential for the first few weeks after conception (as in, when most people don't even realize they are pregnant,) you don't want to wait until you are already pregnant. I'll mention several reasons why later.
However, the general consensus is to start taking prenatal vitamins several months before you even conceive, during the entire duration of your pregnancy, and even afterwards — especially if you are breastfeeding. Personally, I always take a prenatal vitamin — I figure it's important to take some kind of multi-vitamin every day, so I might as well take one that would benefit a baby if I were to become pregnant unexpectedly.
What a Prenatal Has to Have
So what should you look for in a prenatal vitamin? To start out, make sure that your vitamin contains the following nutrients (according to WebMD):
400 mcg folic acid
400 IU of vitamin D
200 to 300 mg of calcium
70 mg of vitamin C
3 mg of thiamine
2 mg of riboflavin
20 mg of niacin
6 mcg of bitamin B12
10 mg of vitamin E
15 mg of zinc
17 mg of iron
If anything, it is absolutely essential to have folic acid and iron in your supplements. Why? Well, folic acid helps significantly reduce the risk of neural tube defects, which can include spina bifida and anencephaly. The risk of Spina Bifida can be reduced up to 70 percent by taking folic acid not only in first few months of pregnancy, but before you even conceive. Some even say it can help reduce the risk of Autism. If you've had children with neural tube defects, or there is a family history, your doctor may suggest an additional supplement of folic acid
As for iron, it helps to support your growing in many ways, as well as prevent anemia. Iron deficiences are also linked to fatigue, decreased immunity, delayed physical development, and much more. Many infants suffer from iron deficiencies, and by helping to keep those levels high before the child is even born, it can prove to have long-lasting effects. If you are breastfeeding, the iron from the vitamin can be absorbed through breast milk to your child.
Where To Buy, Cost, and Brands
You should also know that not every prenatal is created equal. Some have odd additives, others don't contain the correct amount of essential vitamins. There are tablets, chewable, or drinkable. When I was pregnant, I loved getting the gummy ones (what can I say…I'm a kid at heart.) However, what I didn't realize was that I may not have been buying the best ones for me.
Prenatal vitamins have varying costs, and well, you get what you pay for. It may be tempting to buy the $4 bottle that has 300 capsules, but make sure it's high quality. Most of the time, your physician will be more than happy to give you samples of different prenatal vitamins. It's probably a good idea to try out different vitamins, because sometimes, there are side effects to different vitamins, such as nausea. It would be unfortunate to buy a big bottle of prenatal vitamins, only to find out you don't handle them well. Some insurances will cover prenatal vitamins as well, so be sure to look into that.
So what brand should you get? Well, there isn't a set-in-stone answer, but I want to introduce you to a brand that I can whole-heartedly endorse. It's not the prenatal I took while I was pregnant, but I wish I had. I was sent this product to review, and I was very impressed!
Liquid Health manufacturers liquid and all-natural nutritional supplements. The company recently released the Liquid Prenatal Multi, an organic, liquid prenatal vitamin.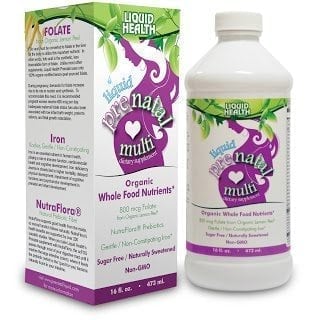 What makes this prenatal different than others? Well, here are a few reasons:
Because of it's liquid form, it is far easier for the body to absorb the nutrients than in a capsule or tablet form. There is also no fillers or additives in the formula.
It contains folate, rather than just folic acid. Folic acid is the synthetic version of folate, which is what most prenatal vitamins contain. The Liquid Health Prenatal contains 100% organic certified lemon-peel extract, which is an excellent source of folate. And, there is 800 mcg in this supplement, which is about twice as much as most other supplements.
None of the vitamins or nutrients in this are made from synthetic material or preservatives, and are free of pesticides or fertilizers.
The iron is gentle, and not likely to cause constipation (which is actually a common complain with prenatal vitamins)
It contains NutraFlora, which helps with your digestive system and also improve calcium absorption.
It is gluten-free, is sweetened with stevia leaf extract, and is a tropical berry flavored.
For more information on what the vitamin is made of, why it's so good for you, as well as frequently asked questions, check out this page.
As I mentioned, when I first started taking prenatal vitamins, I just picked up the cheapest bottle at the store. It looked like it had everything I needed! However, I didn't look at the actual ingredients, and when I compare that vitamin ingredient list to the Liquid Prenatal Multi, I'm blown away. While this vitamin is full of organic and natural occuring forms all these nutrients, the other bottle has additives and syntheticly created forms. Just for fun, here is a little comparison I did with this prenatal vitamin, and the store brand that I also had (feel free to click on the photo to see the information larger):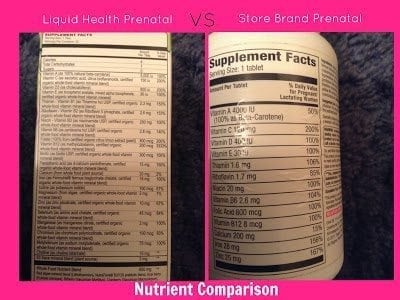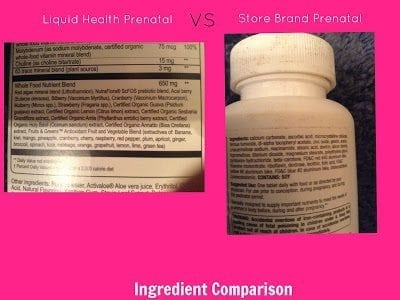 This prenatal is easy to take — just one tablespoon a day! It does need to be refrigerated for best results, and yes, it is more expensive. But it is definitely worth it for the health of not just your unborn child, but for you as well. It has been created to help maximize the nutrition of a woman, whether she has a child or not.
I'm seriously so excited to have found this prenatal vitamin. Although I'm not currently pregnant, nor do I want to be right now, I think it's a great product and it is definitely worth the cost if you can afford it. I strongly believe that taking any prenatal vitamin is better than not taking one at all, but if are able to get a higher quality product, this is definitely the one for you.