What are baby boy pregnancy symptoms? While nothing is fool-proof, here are some signs that your bundle of joy might just be a boy!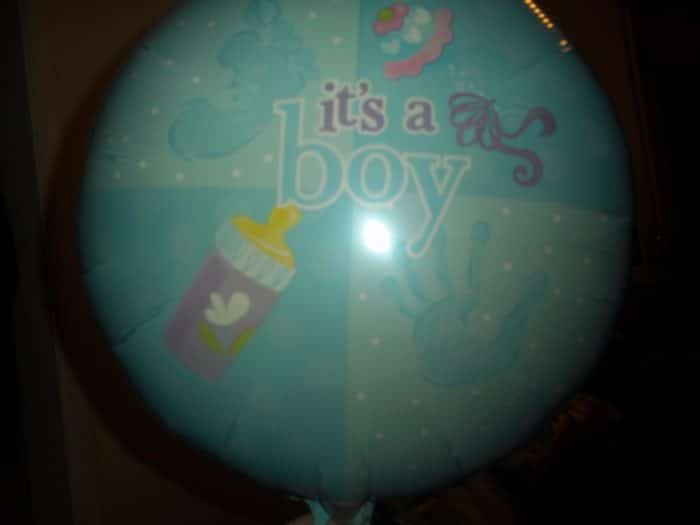 Symptoms of Having a Boy
As soon as you announce you are pregnant, the "guesses" start rolling in about whether you are having a boy or a girl.
Suddenly, everyone is an expert on the topic – and more importantly – on reading your symptoms to interpret whether you are having a boy or a girl.
I've addressed the topic of gender prediction myths in the past, but today I wanted to focus specifically on signs you're having a boy.
Now, the only sure fire way to know what you are having is to, well, give birth to your child or get a blood test done during pregnancy that can confirm gender (often as early as 10 weeks!). Ultrasounds are generally pretty accurate, but after my sister had a boy – despite multiple ultrasounds saying girl – I'm a little more skeptical.
However, there are some pregnancy symptoms that tend to lend themselves more toward boy pregnancies than girl pregnancies. Here are some signs you are pregnant with a girl!
Now that you are starting to prepare for your baby, make sure you take this AMAZING online prenatal class, taught by one of the best Labor and Delivery nurses around! It's 10x better than any hospital class I took. There is an option for EVERY budget. Use the code CLARKS for 10% off anything!
Signs You Are Pregnant with a Boy
Spitting/Excessive Saliva 
I know what you are thinking – gross! Unfortunately, excessive saliva (also known as ptyalism) can be very common during pregnancy.
In fact, I experienced excessive saliva during pregnancy with Oliver (and let me tell you – that was NOT fun).
Since I wrote that post, I get tons of people coming to that post searching about whether or not that is a sign of having a boy. And in talking to people, almost everyone I know who experienced this symptom had a boy.
Do I have any scientific reasoning behind this? Not really – it's all anecdotal. But it does seem to be tied more to boys than girls!
Lower Heart Rate
People often believe that boys have lower heart rates and girls have lower heart rates in utero. From what I've read, there isn't a ton of scientific basis behind this, but with me, one of my boys had a super high heart rate the whole pregnancy, and the other was pretty low.
Less Morning Sickness
Well this one was a big fat lie for me – and makes me worry if I ever have a girl, because I can't imagine my sickness throughout pregnancy getting worse! However, they do say that girls tend to make you more sick (extra hormones? I don't know!).
You may enjoy: Tips for Managing Morning Sickness
Long and Beautiful Hair
Women who are pregnant with boys are said to have their hair grow faster and be shinier/luxurious. I always get comments on how nice my hair looks during pregnancy – and it definitely grows really fast.
Better Skin – But Some Pimples?
As I was doing research, I saw two schools of thought – one that a boy gave his mother better skin (a glow, shall we saw), but others have said you are more likely to breakout because of the excess of testosterone. So, I guess your skin will look bright and glowing…just with a few pimples along the way 🙂
Urine Darker
Not sure what the basis of this one is, but apparently boys make your urine darker. I always thought that was because you dehydrated 😉
Carrying Low
I carried low with both my pregnancies. We initially thought maybe Oliver was a boy, because I was carrying low, and the same way as I did with Jack. I have observed a lot of moms carrying girls seem to carry higher.
Chinese Calendar
There is a Chinese Gender Calendar that can apparently predict what you are having based on when you conceived.
It was right with one of my pregnancies and wrong with one 🙂
Craving Salty and Sour Foods
This was definitely me! Girls apparently bring out the more "sweet" side of a mom. I couldn't get enough of those little cutie tangerines with my boys – the more sour, the better!
Mood – Aggressive, bold and dominate
It's said that mothers carrying boys tend to be more aggressive, bold and dominate (because of testosterone).
Cold Feet
Not sure if this is literally referring to cold feet or to nerves about having a baby 😉 I don't really remember having cold feet, but I guess it was possible!
So there you have it! Do you think you're having a boy? If you already know, I'd love to hear what symptoms you had!
OTHER POSTS YOU MAY ENJOY: